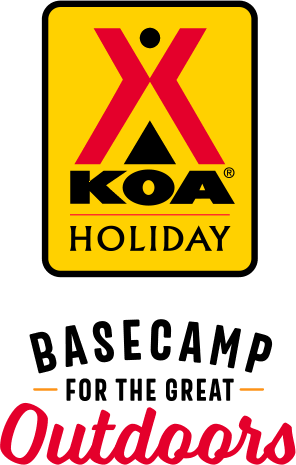 KOA Holiday Campgrounds
Whether you're exploring the local area or hanging out at the campground, KOA Holidays are an ideal place to relax and play. There's plenty to do, with amenities and services to make your stay memorable. Plus, you'll enjoy the outdoor experience with upgraded RV Sites with KOA Patio® and Deluxe Cabins with full baths for camping in comfort. Bring your family, bring your friends, or bring the whole group – there's plenty of ways to stay and explore.
KOA Holidays Feature:
RV Sites with a KOA Patio®
Deluxe Cabins with full baths
Premium Tent Sites
Group meeting facilities
Directions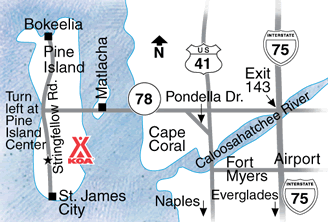 I-75 or Route 41 turn west Route 78. Turn left at Stringfellow Road.
Get Google Directions
Oct 19, 2021
This park is always a joy to stay in! All of the workers are so nice and great to talk to. We also enjoyed talking to our neighbors. They have a great pool area and nice laundry room!
Oct 19, 2021
PROS: Pre-check in. They escorted us to our site and helped guide us into the spot. Has many amenities (pool, tennis, etc.). Close to Winn-Dixie, 50 minutes to Ft. Myers Beach, 5 minutes from kayaking, 10 minutes from local restaurants. CONS: Distance between sewer & electric is far. Asked to move one spot for extra room, were told it was reserved. No one ever showed.
Oct 19, 2021
We really enjoyed the Pine Island KOA. The staff were extremely helpful and pleasant. The bathrooms had been recently remodeled and very clean. I only wish there were more trees and no noseeums. We stayed at a site on one of the ponds and watched the birds!
Oct 19, 2021
Very nice campground. Arrived late and greeted by George who took us to our site. Nice location and very quiet New hookups good water. George and Doris were excellent hosts for our first stay and went out of their way to insure we enjoyed our stay. Wi-Fi was ok, not too slow. Good T-Mobile signals.
Oct 13, 2021
Everyone was pleasant and friendly. Checked to be sure we were set up and trouble free. Off-season so was very quiet. Conveniently located.
Oct 12, 2021
Beautiful place,Clean and well-maintained had a great time
Oct 10, 2021
Quiet and comfortable. Our site was easy in and easy out. The office staff was helpful and even when we were delayed on check out they called to make sure we were not having any issues. I explained we were just running a little late and simple Lt said, " no problem". Great customer service
Oct 04, 2021
Online said only 2 sites left but camp was almost empty. Nothing within walking distance, no ocean, shops, etc. Staff is great!! Barely any shade.
Oct 02, 2021
One of the cleanest bathhouses we have ever seen. Quiet and pleasant stay. Staff friendly and accommodating.
Oct 01, 2021
Our stay was great! Everyone was very friendly and helpful. Bath houses were immaculate! The only reason I gave 4 stars instead of 5 is because it's a bit pricey compared to other campgrounds. Especially when it's not quite the season for the snowbirds yet. We stayed in June for less with the Florida resident rates which ended Sept.1st. It might be a good idea to extend those til at least Oct. 1s
Sep 21, 2021
It was relaxing and quiet! Clean restrooms and welcoming staff!
Sep 20, 2021
Weekend getaway. We had a KOA patio site, it was roomy and clean. Very quiet. we had a wonderful time and will return for sure.
Sep 16, 2021
My husband and I enjoyed our stay at your campground. The camp site was exactly as I pictured it when I made the reservation. Bathrooms and showers are new and very clean. Pool was beautiful. It is a quiet and beautiful campground on Pine Island, which we love. Thank you! We will be back.
Sep 13, 2021
We had a great weekend, the cabin was perfect and well cleaned. Thank you!
Sep 13, 2021
��
Sep 09, 2021
We had a wonderful stay at Pine Island KOA! Nice big campground, spacious sites, great pool & hot tub area, playground, dog park, etc. The staff was very friendly and accommodating.
Sep 08, 2021
Bob was great but it was more of a trailer/mobile home park than a campground and the people who live there full time are extremely rude and unfriendly. This park is like paying to stay uninvited in a strangers backyard. Would not recommend this place!
Sep 08, 2021
I always look forward to staying at any KOA, but unfortunately this time my expectations were not met at all. The Deluxe Cabin was dirty, cards/trash under the bunk mattresses. I had to clean doorways with smuggles. The 2nd room is closet size, sheets are too thin, towels had stains, sheets had blood stained. Hotel staff said I was lying about cabin being dirty and stained towels and sheets.
Sep 07, 2021
Very friendly staff, very clean. The only negative is there is no shade. Looks the sites that did have any shade were taken by full timers or mobile homes.
Sep 07, 2021
The park is nice and the staff are friendly. However, it is pretty far from anything of real interest and seems a little expensive for the location.
Sep 07, 2021
Friendly staff and very clean.
Sep 07, 2021
Friendly, clean, quite
Sep 03, 2021
Nice campground
Aug 31, 2021
The park is clean and attractive. Really nice landscaping throughout! staff is friendly and helpful. We stayed in a cottage which was very cute. It had everything we needed. Including a flyswatter! The pool is immaculate. Thanks for making our stay AWESOME! Deb & Phil, Naples, FL
Aug 30, 2021
Great place. Well maintained. Facilities are top notch. RV pads are concrete, nice and level. Very good RV park.
Aug 27, 2021
Friendly staff, clean campground. Great location. Would definitely come back again!
Aug 26, 2021
It was a very nice stay
Aug 23, 2021
El lugar muy ordenado y espacioso. La limpieza extraordinaria. Sigan así
Aug 17, 2021
Wonderful place! Very nice people. We will be back!
Aug 15, 2021
If pictures can be deceiving, this place can get #1 place. What is shown on their website, do not represent what you get, specially paying for a site $120.00 a night, next to a pond, with patio fireplace and furniture. Non existent that campsite.
Aug 09, 2021
Everyone here has been pleasant to work with and more than helpful. We are really enjoying our stay here.
Aug 07, 2021
It was very nice and we had fun and will try it again in the future
Aug 06, 2021
The no see ums were terrible!! For $120 a night it was our second worse stay at a KOA. I've traveled from the west coast to Key West. Not coming here next year.
Aug 03, 2021
The staff is helpful and friendly. We would definitely stay there again. Thank you Mary for all your help!
Aug 03, 2021
Very disappointed, park in the middle of nowhere, so nothing to do. No cable even though we were told handyman would fix-he told us we needed cable to hook up to next lot over so no help from him. Store ( not sure can even be called that) had hardly anything in it & closes at 4pm. Will NEVER go there again!
Aug 02, 2021
GREAT FISHING GUIDES AND RENTAL BOATS AND A VERY FAIR RATE----RESTURANTS WERE ALSO GOOD----KOA CABINS WERE VERY CLEAN AND COMFORTABLE AND AN AWSUM PARK
Aug 01, 2021
Great stay! Friendly, professional management! Very helpful. Quiet, fisherman friendly!
Aug 01, 2021
Pas d'activitée Pas de service pour la récupération des déchets Loin de la plage Pas facile d'accès
Jul 31, 2021
Love the large back in sites. Only negative, septic drops are to high.
Jul 26, 2021
The staff was amazing and friendly. The grounds were very well kept and clean. Probably one of the cleanest campground pools we have ever swam in. We will defiantly be back!