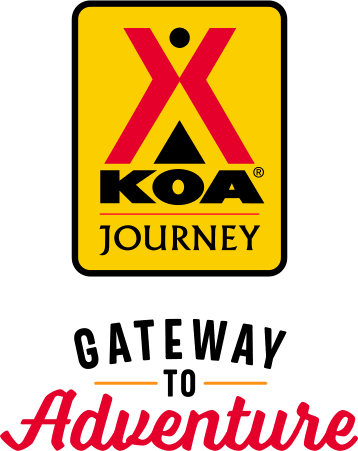 KOA Journey Campgrounds
KOA Journey campgrounds are the perfect oases after a day on the road. Whether it's along the way or a quick getaway, they've got you covered. Located near the highways and byways of North America with long Pull-thru RV Sites, they deliver convenience to the traveling camper. Pull in, ease back and take a load off.
KOA Journeys Feature:
Pull-through RV Sites with 50-amp service
Premium Tent Sites
Well lit after hours check-in service
Directions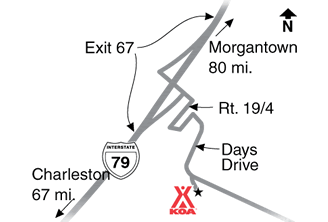 I-79, Exit 67: Turn right at the stop light. Approximately 100 yards turn left onto Days Drive. Follow the Days Inn & Suites/KOA signs up the hill to registration which is located inside the Days Inn & Suites at guest registration.
GPS: N38.698407, W80.661910
Get Google Directions
Aug 01, 2021
Campground was clean, but very few campers there, no camp ground staff around, we only stayed one night we were going to stay three nights, after we got there and saw that there was hardly any one there, we decided to only stay one night, it was kind of a weird feeling compared to how busy other koa campgrounds are now.
Jul 30, 2021
Enjoyed the KOA however I would like to suggest that the sight we had needs some work
Jul 30, 2021
Nothing to do there. People were nice. Facilities were nice. Nothing for the kids to do.
Jul 29, 2021
shoet overnight stay. wpuld definitely come back; f in the area. sites are spacious and clean; park is quiet. we enjoyed the walking trail and was able to have dinner delivered from a local restaurant, which was very nice after driving all day. staff was friendly and helpful
Jul 28, 2021
We only stayed for two nights on our way back to PA but enjoyed our time at Flatwoods. We will likely return again.
Jul 28, 2021
We were just an overnight stay, we were traveling to Pennsylvania. What we got to see was nice.
Jul 27, 2021
Pleasant place. No cable. We couldn't drain our sewer because it was uphill from our drain (we have an RPod). This might be something the person assigning sites might consider. Pool in Days Inn. Very quiet, even though the highway wasn't far away. Good value for the price.
Jul 27, 2021
Beautiful campground with lots of opportunities to take advantage of the Days Inn next door. Sites were large and pretty. We did miss a place to buy firewood and ice at the campground. Be sure and read about check in, you must park before you enter the gate and check in at Days Inn.
Jul 27, 2021
GREAT �
Jul 27, 2021
No camp host. Unable to check in until 1 pm even though campground was almost completely empty. Security drove through twice each day.
Jul 27, 2021
Nice and quiet. Our spot was a bit sunny � but told it was the last spot available
Jul 27, 2021
Only stayed over nite, but it was very nice, staff was great!
Jul 26, 2021
Lack of shade at sites. OK for a one night stop over.
Jul 26, 2021
Nice campground. See you in a couple weeks.
Jul 26, 2021
At the campground there was no excitement. No kids riding bikes, playing music, no one outside cooking( but us), nothing. Boring
Jul 26, 2021
A great place to stay! Clean, quiet and a great layout! This is definitely a place that we have placed on our "return list".
Jul 26, 2021
Nice place. I highly recommend it. The restrooms were extremely clean.
Jul 26, 2021
Reserved two weeks before and requested site specifically. At check in was told because I only booked for one night i was relocated for some who booked multiple nights. Grass wasn't mowed. Trash all over park. Kids with pools at sites. People washing campers. Bathrooms were very clean though.
Jul 26, 2021
We were a bit surprised when we arrived at Flatwoods KOA. It isn't like other KOA's we have stayed at in the past. The amenities are located with the hotel that the KOA is associated with and they looked quite nice. The hotel staff were very friendly and helpful. We found this KOA to be very clean with good sized sites. We would recommend it for those who like quiet places.
Jul 26, 2021
Very clean all around.
Jul 25, 2021
Good campground. Quiet and nice sites but on a steep hill.
Jul 25, 2021
Wonderful campground. Convenient to the interstate and grocery store. As it is associated with the Days Inn able to use their facilities including 2 pools. The campground is divided into 4 sections. When we were there we had no more than 3 other campers in our area. The restrooms were clean and convenient. Only issue was needed more washers and dryers.
Jul 25, 2021
Very interesting operation. Loved the animals, and woods.
Jul 24, 2021
Only one night but wish it had been longer. When we first approached this KOA, behind a Days Inn, we were not very hopeful that it would be a nice campground. We were so surprised when we got up to our site...it was lovely! Quiet and secluded. What a nice surprise.
Jul 24, 2021
The gravel pad on a hillside was not flat and was impossible to level correctly. Even with few campers the Wifi was unusable. A speedtest only managed a download rate of 1.5MB a second - a very weak signal.
Jul 24, 2021
Bathrooms too far away!
Jul 24, 2021
Beautiful Park co-located with a hotel so I had access to the swimming pool and the fitness room fantastic location.
Jul 23, 2021
Very well kept and quite
Jul 22, 2021
Lovely grounds and delightful people that work there.
Jul 21, 2021
Because our motorhome has a smart power management system it detected an open ground and would not let us use the 50 amp power. We had to back down to the 30 amp which did work. I contacted the front desk and they offered to move us but by this time we were set up and did not feel like moving. I am just thinking they should have a regular monthly check of all the power outlets.
Jul 20, 2021
Strange set up with Days Inn and no real services in park.
CAMPGROUND RESPONSE / COMMENTS:
We appreciate the information and we'll be looking to add some more amenities and services in the near future.
Jul 20, 2021
Sites were nice. Views were comforting. Was not expecting the steep decline from top campsite area.
Jul 19, 2021
Great bathroom and shower facility.
Jul 18, 2021
Had a great week at Flatwoods. Had site #1 and it was perfect. Had great shade and only neighbors on our backside,with easy access for our 42ft rv. Will definitely request this site on our next trip.
Jul 18, 2021
2 nights while traveling through the area. The site could use a little leveling but it was nice having the concrete pad and lots of grass was really nice.
Jul 18, 2021
Great roads and lot size for our 45' motor home with a tow vehicle.
Jul 18, 2021
Absolutely amazing will be doing again in the future
Jul 17, 2021
The view was gorgeous and very close to the route but Wi-Fi was very sketchy and amenities were connected to the hotel. The town has nothing in it. The site was still lovely.
Jul 26, 2021
Very nice, quiet, friendly place!
- Michael Anthony on Google
Jul 11, 2021
Visit again: Yes, very convenient location to enjoy Charleston (1.5 hrs drive. Stonewall Resort (45 minute drive). Sutton Lake (10 minute drive). Westen Glass Museum is a surprising find, we spent over an hour here, could have stayed longer (30 minute drive). The town of Flatwood has beautiful views and surrounding area/homes are just a pleasure to drive around and enjoy. Campground for the "Mature" RVers: Yes nice, calm, quiet, clean and pleasant. No evidence of long-term tenants. Felt safe: VERY, had marked security drive through often. Site condition: some sections are tiered to give a more vacation feel, others are even side by side. Nearly all sites appeared easy to enter; pull-thru or back-in. Spacing between sites: Plenty of space for your rig, your truck, your table, chairs and still have more room available. Views: we were in section 1- 12, it was quiet, for mature campers, trees all around but not cramped or stuffy. Hook-ups: All in working order, easy to locate, all in one spot, clean, too. Noise (road or campground): very quiet. This campground is up and above a hotel deep in the trees and away from the traffic of the highway. Staff: SWEET!!! Very kind, patient despite being very busy. The staff is inside the Days Inn Hotel. You call them, check-in there and see them in the lobby always with a smile in the voice and a sincere Thank You. Services: Funny but we were most excited about the firewood being very well seasoned and dry. It was $11 a bundle but generous and everything burned within 2 hours. This was a 1st for us. Ease of drive to grounds: A bit odd exit from the highway. You turn at the Buick dealership, pass it, curves around to the right and you go up up up to the Day's Inn Hotel parking lot. Check-in at the lobby of the hotel before going to the KOA entrance gate. Things to do: We enjoyed dinner at the hotel restaurant. Swimming pool is small but pleasant. Just to walk the grounds is worth is everyday. The grounds are beautiful maintained, green and lush. There is an amphitheater on the grounds but there wasn't any entertainment at the time of our visit.
- Annemieke Philippi on Google
Jul 31, 2021
Not bad for an overnight place to stay in an RV. Not much more than that though. Unfortunately the lawn mowers really "needed" to.get their job done while we were sitting outside on the patio instead of moving on to other areas first. (There were plenty of vacant spots they could have done first).
- Heath Pagel on Google