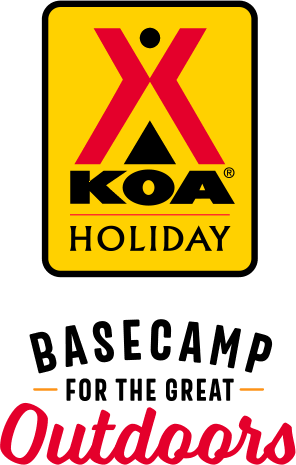 KOA Holiday Campgrounds
Whether you're exploring the local area or hanging out at the campground, KOA Holidays are an ideal place to relax and play. There's plenty to do, with amenities and services to make your stay memorable. Plus, you'll enjoy the outdoor experience with upgraded RV Sites with KOA Patio® and Deluxe Cabins with full baths for camping in comfort. Bring your family, bring your friends, or bring the whole group – there's plenty of ways to stay and explore.
KOA Holidays Feature:
RV Sites with a KOA Patio®
Deluxe Cabins with full baths
Premium Tent Sites
Group meeting facilities
Directions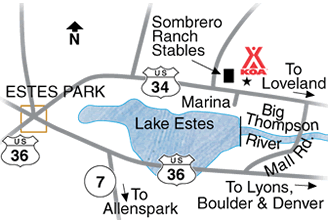 1.5 miles east of downtown Estes Park on the north side of Highway 34 across from the east end of Lake Estes.
GPS: N40.3796. W105.4887
2051 Big Thompson Ave, Estes Park. CO 80517
Get Google Directions
May 11, 2020
The staff was great: friendly and very accomodating. The park is very nice. They have made some beautiful additions with decks and patios to make spots bigger.
May 11, 2020
The staff was so accommodating and understood what I wanted and they made it happen! Thank you!!!
May 09, 2020
The best campground
May 09, 2020
Awesome staff very friendly and personable! Thanks guys! My dogs loved them and dogs are the best judge of character!!! Beautiful place!
May 05, 2020
The spots were completely ontop of eachother. There was 0 room between our slideout & our neighbors awning. If we opened our curtains we could see in their camper. We asked to stay an hour or two after "check out time" & we couldn't. They had no one coming into our spot. It was Sunday & it cleared out. When we arrived it rained the entire day & we stayed 1 night, we didn't even get to hike
May 04, 2020
Just used for winter storage, but will probably stay there some this summer.
Oct 20, 2019
Such warm and friendly hosts with a top notch campground. Great attention to detail and very helpful!
Oct 20, 2019
It was our 1st camping trip ever and the KOA Estes Park was the 1st campground we've stayed on our tour. We found everything we needed: coffee in the morning, dish washing station and a nice clean bathroom with some extra space for privacy in front of every shower. Staff was totally supportiv. We even saw elks on the gampground. Perfect location to explore the RMNP and perfect stay for us.
Oct 19, 2019
Very level spot. Very easy to setup. Family style bathrooms and laundry were very nice, clean and convenient. My kids really enjoyed the playground. Beautiful views as well.
Oct 17, 2019
great stay, all employees helpful
Oct 17, 2019
We have stayed in a few KOA campgrounds over the years. While we generally enjoy our stays, I must say this location is probably the best kept, cleanest and friendliest of those we have stayed at. I am sure we will return to this one!!!
Oct 16, 2019
Amazing! Employees were so awesome, friendly and knowledgable!!
Oct 16, 2019
The cabin was nice and clean, the playground was fun for the whole family, and close to Rocky Mountain National Park! Will definitely take the family back.
Oct 16, 2019
Super friendly, warm welcome. Very kid and dog friendly. Wonderful happy staff. Great playground for the little one. Thank you!
Oct 16, 2019
Great customer service!
Oct 15, 2019
They packed us in like sardines.
Oct 15, 2019
Could not recommend this park to anyone for the simple reason it is just too crowded , could not put our awning up because it would have hit the trailer next to us , once we unhooked there was hardly any room to park our tow vehicle thought for sure that was going to get damaged before we got out of there , simply stated there was absolutely no privacy to be had in this park would not evev go back
Oct 15, 2019
This place was AWESOME! We found our new Go-to spot! if you are looking for a KOA.. check this place out! We arrived at the KOA @330 am, booked online, and when we arrived we had some questions and they still picked up the phone to assist us! strongly recommend! Also- if you have kids & looking for something for them to do, head over to the Stanley park!
Oct 14, 2019
Absolutely Great people working at this KOA!!
Oct 14, 2019
It was sunny but very windy. The staff was friendly and helped back our trailer into a small site.
Oct 14, 2019
It was great!!
Oct 14, 2019
The people were wonderful, the bathrooms cleaned very well, the little store nicely stocked; BUT ... the gravel upon which we had to put out tents made it VERY difficult to insert the pegs. It took a long time -- in the rain. By the time we had the tent up, we were soaked. I shivered until 2.30 am when finally I went into the car with a blanket and turned the heat all the way up to get some sleep
Oct 14, 2019
Nice facility with great amenities.
Oct 14, 2019
The cabin at KOA was just what we needed. Check in was a breeze and our check in agent was friendly and welcoming. Thanks!
Oct 12, 2019
Great stay and staff is always great
Oct 10, 2019
Fabulous cabin at DC1 and super friendly and helpful staff!
Oct 09, 2019
Already have reservations for June 2020
Oct 09, 2019
The facilities were clean and the staff friendly, but if you choose to stay there you need to know that it is a glorified parking lot. The cram as many rv's as they can in and there is zero ambience to the place. Given its location in Estes park you would hope for some trees at the very least. Not much different then parking at Walmart.
Oct 09, 2019
The owners are wonderful and helpful people. The site is well cared for and I felt very comfortable there. I'd definitely return. Thank you!
Oct 09, 2019
Nice clean camp ground. Close to all the site seeing activities. Very friendly staff. Well organized. This is more than we have ever paid at a camp ground with the same amenities . We enjoyed our stay here.
Oct 08, 2019
Great place!! Great people!! Second time back
Oct 08, 2019
Well taken care of KOA!!! Calling about questions, all questions were promptly answered A block away fishing at Estes Park lake, 1 mile from downlown Estes Park and parking We are already making reservatons to stay in 2020!
Oct 08, 2019
This was my first time camping at a KOA and I will definitely be back! The hospitality was unmatched and the hosts were super sweet and helpful answering any questions I had or just checking in to see how my stay was going. They even went the extra mile and let me borrow a heater and extension cord so I didn't freeze in my camper when the weather dropped into the teens at night. 10/10 recommend!
Oct 08, 2019
We were only there one night, but we were very impressed by the facilities and services available, from clean, warm showers to the rocks provided for 'staking" our tentand everything in between!
Oct 07, 2019
Our stay was wonderful. The deluxe cabin was very clean. The whole camp ground was well taken care of. I purposes to my girlfriend. And she said yes! We shared our blessed moment with the staff and they gave us a complentory wine bottle. We are planning on having our wedding in Estes and having our family and friends stay at the Koa in Estes. We thank you for your dedicated service and God Bless.
Oct 07, 2019
Very friendly staff and well maintained campground.
Nov 20, 2020
Great cabins and location. Packers flag out front 👍
- Leo Cross on Google
Oct 15, 2020
Clean, comfortable, Deluxe Cabin. Fully equipped cabin. Well-stocked store. Quiet campground even though it was fully occupied. The staff and owners went out of their way to help us in a difficult situation. Without our asking, the owner loaned us his car to drive to Denver to pick up a replacement tire for our car. We will definitely stay here again.
- Jacquelyn McDonough on Google
Oct 12, 2020
Great views, clean facilities, attentive staff. We will be back.
- John Tedesco on Google