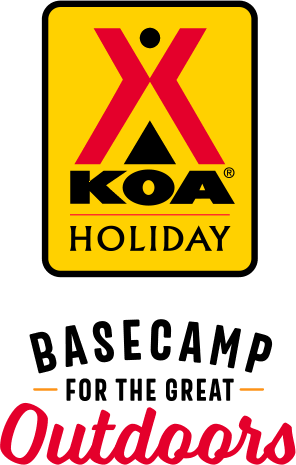 KOA Holiday Campgrounds
Whether you're exploring the local area or hanging out at the campground, KOA Holidays are an ideal place to relax and play. There's plenty to do, with amenities and services to make your stay memorable. Plus, you'll enjoy the outdoor experience with upgraded RV Sites with KOA Patio® and Deluxe Cabins with full baths for camping in comfort. Bring your family, bring your friends, or bring the whole group – there's plenty of ways to stay and explore.
KOA Holidays Feature:
RV Sites with a KOA Patio®
Deluxe Cabins with full baths
Premium Tent Sites
Group meeting facilities
Directions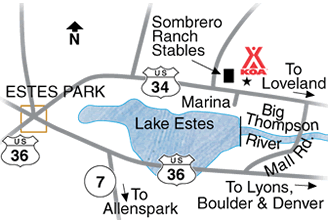 1.5 miles east of downtown Estes Park on the north side of Highway 34 across from the east end of Lake Estes.
GPS: N40.3796. W105.4887
2051 Big Thompson Ave, Estes Park. CO 80517
Get Google Directions
Oct 14, 2021
Very nice folks here and a well-run campground.
Oct 13, 2021
Wonderful KOA! Very clean and nice site sizes. Staff is so helpful and friendly. Location is perfect for exploring. Wish we had time to stay longer!
Oct 11, 2021
Clean bathrooms! Fun playground!
Oct 10, 2021
I felt very safe staying there. Bathrooms were clean and it was nice to have the option of a private bathroom if needed.
Oct 10, 2021
Campsites are too close to even put out your awnings and I are very crowded. Large RVs have difficulty in getting parked. Also no grass. However the gentlemen who worked there were very friendly, accommodating, hospitable and helpful. Ladies not so much.
Oct 10, 2021
Very nice showers. Quiet and clean.
Oct 09, 2021
The campground is compact but nicely arranged. The owners and staff were very helpful and kind. I would definitely stay there again.
Oct 07, 2021
The site we had was too crowded no cable, had to park my jeep down by the road. Even though others parked by their campers??? The owner was a nice fellow it seemed. If the sites were larger and had cable with the full hookups I would think the price was justifiable
Oct 06, 2021
As usual, it was wonderful! Facilities were clean, staff was wonderful, location is excellent! Thank you.
Oct 06, 2021
Our stay was awesome!!! We were very pleased and the staff was excellent!!!
Oct 06, 2021
Wonderful place to stay. Clean and well maintained. Very friendly and helpful staff. We will definitely be back.
Oct 05, 2021
Arrived late but easily found our documents and parking space. Nice place but tight and crowded. A few miles outside of town so not walkable but not too far a drive. Also the RMNP entrance is also not too far.
Oct 04, 2021
The staff there are GREAT!!!! They all care about you and your family!!
Oct 04, 2021
Excellent stay Very quiet Close to everything Staff were very friendly!
Oct 03, 2021
Staff was awesome! Henry and Sparky were extremely helpful and truly an asset to your business. I'll be back!!!
Oct 02, 2021
Given the very compact nature of this campground, we were surprised by how much we enjoyed our stay. A staff member led us to our site and then carefully helped us back our trailer in. Later, another staff member took time to anser general questions about our rv and rving in general. The honey truck option was available for gray/black water. Outstanding!
Oct 01, 2021
This rating reflects our particular site. The staff is five star! We had the site with the deck nearest to the office. While quiet enough, and the views from the deck were superb, the smells were not. It is directly above the dump station and the propane tank. All day, whenever someone dumped or had their tank filled, we got strong whiffs of both odors, on the deck, and in our RV. The staff was
Sep 30, 2021
I felt catfished when we showed up by this franchise. It was not camping, but tailgaiting in a gravel parking lot with hook ups. In fact, a parking spot in a Walmart lot may give you more room. It was beyond rediculous for over $70/night no matter where it was! What was likely once one camp site was two. Many sites had another site's black water hook up/ dump next to their picnic tables too! ICK!
Sep 28, 2021
Location is perfect! We are already booked for 2022
Sep 28, 2021
My original assigned spot was extremely close to 2 others. The customer to the right of me had a camp fire going. I couldn't pull in because it was too close to the fire. Plus you only have 1 dump station for all of the customers. I had to wait.
Sep 28, 2021
Very nice campground and helpful hosts
Sep 28, 2021
Friendly staff. Very clean. Close to National park. Worked great for us.
Sep 28, 2021
We had a wonderful time here. Everybody on staff was helpful, our site had a wonderful view of the surrounding mountains, the pancake breast was delicious and our discussions with the owner made us want o come back. Greg appears to really care about his guests and goers the extra step in making this a terrific campground.
Sep 27, 2021
Our stay at this KOA was outstanding and we will return!
Sep 27, 2021
The KOA is very nice and the people are all very respectful & helpful. The only reason why I didn't give it five stars was the sites were way too close (I did read that in your reviews) and the water pressure was not very good. I would recommend this KOA to others but of course they have to keep in mind the size of their rig and how close they are to their neighbors. We had good neighbors.
Sep 27, 2021
This park has the most attentive and helpful staff of ANY park we have visited.
Sep 27, 2021
It was great! The people working at the camp ground were very helpful and super friendly. We will be back!
Sep 26, 2021
Do you REALLY want to know. To begin with we only had 20 TOTAL feet to fit our small, A frame popup camper in. They charge was $88 and some change. Yes $88 I was APPALLED!!!!!!! Other than that the bathroom was clean. I'm glad we had only reserved 1 night.
Sep 25, 2021
Three night stay while exploring the area and Rocky Mountain National Park. Everything was clean and staff was helpful and friendly. Only two drawbacks were tight spaces with not much room and bad a cable connection. Overall this KOA can't be beat for its location and proximity to RMNP.
Sep 25, 2021
This park is beautiful, nice places to sit around a fire, a great group gathering spot with grills, lots of swings to enjoy the views. All of the people who work here are super friendly and go out of their way to help in any way they can. A terrific place to settle in for awhile!
Sep 25, 2021
Very helpful friendly folks. Level sites, clean restrooms. Only a few minutes away from RMNP.
Sep 24, 2021
nice parks especially the bathrooms...
Sep 24, 2021
We truly enjoyed our stay. All of the staff were so helpful, courteous and friendly, and the facilities were very clean and well maintained. We will stay here again on our next adventure!
Sep 24, 2021
We like KOA's consistency, where ever you go in the US. However, Estes Park takes it one step further. These guys know how to do it right! Highly recommend staying there, even if you don't have an RV or trailer.
Sep 23, 2021
Beautiful place and nice staff. My issues are that the sites are so close to each other. My slide amd slide from neighboring trailer were like 4 inches from each other so could hear everything they were doing. Also luckily when I was leaving the guy on end moved his vehicle so I could make turn with my 33' 5th wheel to exit. I would pay a few dollars more to have more space in between sites.
Sep 23, 2021
This park exudes good vibes. The staff are so helpful and friendly. It's a place you have relax and just enjoy the beauty of Estes Park. The bathrooms are very nice, the location is so convenient and the stars at night are amazing. We enjoyed our stay so much and will be back.
Sep 23, 2021
Beautiful park, great sites and staff was more than helpful and friendly!! Steve and his wife are the best.
Sep 22, 2021
1, low water pressure with several open sites. Biggest issue - bad power at the pedestal. I was told it was my $200 surge protector indicating a ground fault but only when my neighbors camper was plugged in. I had it tested at two different places and it was 100%. That camper neighbor sent me a pic of his plug after they left there 2 days after us, his ground connections were melted at both ends.
Sep 22, 2021
Smaller rv's only ours is 26 ft. A beautiful hillside of terraced sites. An excellent beautiful location.
Sep 22, 2021
Nice park with friendly staff!
Sep 21, 2021
We love this KOA! one of the best!
Sep 21, 2021
They recognized my name and gave me the same wonderful site on the flip side of my trip.
Sep 20, 2021
Great camp site. The KOA employees are fantastic. This is a super friendly place to stay.
Sep 20, 2021
Exceptional place! Everything was so clean and managed so well. Staff were incredibly friendly and helpful. Lots of activities for the entire family and very dog friendly as well! Will come back here any time!
Oct 07, 2021
Quiet campsite with friendly staff! Everyone was friendly and it was an enjoyable experience
- Camilo Castillo on Google
Oct 06, 2021
Very clean. Friendly staff. Had the best view from our site.
- Becky Domecillo on Google
Oct 01, 2021
Awesome people. Great prices considering the location. Veterans discount. I will definitely come back.
- Ray Lang on Google