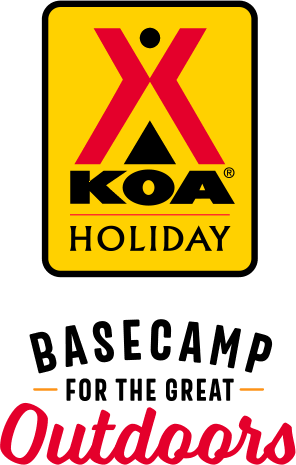 KOA Holiday Campgrounds
Whether you're exploring the local area or hanging out at the campground, KOA Holidays are an ideal place to relax and play. There's plenty to do, with amenities and services to make your stay memorable. Plus, you'll enjoy the outdoor experience with upgraded RV Sites with KOA Patio® and Deluxe Cabins with full baths for camping in comfort. Bring your family, bring your friends, or bring the whole group – there's plenty of ways to stay and explore.
KOA Holidays Feature:
RV Sites with a KOA Patio®
Deluxe Cabins with full baths
Premium Tent Sites
Group meeting facilities
Directions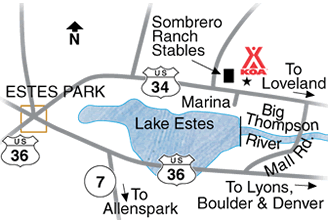 1.5 miles east of downtown Estes Park on the north side of Highway 34 across from the east end of Lake Estes.
GPS: N40.3796. W105.4887
2051 Big Thompson Ave, Estes Park. CO 80517
Get Google Directions
Nov 10, 2020
Loved the all you can eat pancake breakfast. Truly a highlight to the stay. We rented a cabin, but unfortunately they are extremely close to the entrance which didn't give us the true experience.
Oct 14, 2020
The deluxe cabin was clean, well-equiped, and cozy. The RV/campground is well run. The store is well-stocked. The owners and employees couldn't be more gracious and helpful. We had car trouble. A replacement for our flat tire was only available in Denver, 65 miles away. The KOA owner loaned us his car to go to Denver to pick up the tire. We will definitely return to the Estes Park KOA.
Oct 13, 2020
Love this place and the people who work there you are kind and friendly will be coming back for many more years to come
Oct 12, 2020
As always, the staff is amazing and helpful. The campground and cabins are neat and clean. Great place to stay and close to everything.
Oct 11, 2020
Very clean and well kept. We will be back
Oct 10, 2020
Clean cabin great weather beautiful RMNP!
Oct 09, 2020
It was a little mixed up but you all did everything you could to make it a great stay. We love Estes Park KOA��
Oct 09, 2020
Never disappoints.�ϸ
Oct 09, 2020
Friendly staff! Cute and super clean cabin!!
Oct 08, 2020
We have been going there for 13 years and have never been disappointed. Host were great and informative. Just a great place to go!!
Oct 07, 2020
Great place and staff. If you r afraid of Covid, stay home. Staff have no control over the fire ban, the bears, or the mice. Your camping, quit complaining. Check out the campground before you come and the complain. I love this place. Close to Rocky Mountain park and downtown Estes. Bathrooms are Always clean. Will be back.
Oct 07, 2020
We had a great stay. Our dogs loved the dog park. The cabins were clean and warm as were all the facilities. The staff was friendly.
Oct 07, 2020
There was two mice that kept going underneath the door, we couldn't keep them out because the room is sealed poorly. The locks on the windows didn't work and weren't screwed in. There were maintenance trucks that were loud across the street at all hours of the night. The WiFi did not work whatsoever despite being directly next to the main office. Bed mattress was sunken in. Overpriced KOA
Oct 06, 2020
The staff is awesome, and the site is very clean :)
Oct 06, 2020
Everyone was very friendly and helpful! Shower houses and bathrooms were very clean! Our cabin was very nice and well-kept! Overall great experience.
Oct 06, 2020
We were super pleased with the cute little cabins! They were perfect for our family!
Oct 01, 2020
Very very clean, grill ready to go, best Koa or place we stayed out.
Oct 01, 2020
Staff and facilities were great. The cleaning procedures by the KOA were outstanding. Greg stopped by on our last night. It was a pleasure meeting and talking with him. Would recommend and return to this KOA.
Sep 30, 2020
Nice clean paradise
Sep 29, 2020
For the amount if money we spent, $133 For one night in a cabin, I didn't think it was a good value. It is rather crowded and they are having quite a mouse problem presently. I sat on my porch that evening to make a phone call and had to shoo two of the away from the cabin door.
Sep 28, 2020
It was very clean and perfect location! The owners were wonderful and full of awesome tips!! We will absolutely return... can't wait!!!
Sep 28, 2020
Stayed in a deluxe cabin. Very comfortable and beautiful views.
Sep 28, 2020
We had a lot of fun as a family staying in a cabin. It was our son's first time camping and he had a blast at the park. We always enjoy coming here and it's always relaxing. A very hospital and friendly place to stay.
Sep 27, 2020
Loved our cabin!! We have stayed at this KOA before and really like it here. Clean restrooms and showers!!
Sep 27, 2020
Was very welcoming, easy and affordable. Great place to crash on a hiking trip :)
Sep 27, 2020
As always love KOA stays.
Sep 24, 2020
Some staff was a little unfriendly. Not normal for a KOA
Sep 24, 2020
Very clean and patios are nice and well kept - awesome views!
Sep 21, 2020
We always enjoy staying at the Estes Park KOA every year. The VKR weekend is great for our budget and the staff are always friendly and helpful. It's a beautiful location and there's lots to do in Estes. Also, the bathrooms and sparkling clean and the cabin mattresses are comfortable. I appreciate that there are ceiling fans as well as heaters in the cabins. Thank you for a wonderful stay!
Sep 21, 2020
Each year we stay here, you add a little more to the deluxe cabins. This year we were pleasantly surprised to see towels and bedding! Thank you for continually improving the cabins and making our stays better!
Sep 21, 2020
Cabin E5 right on very busy highway On the plus side the bathrooms/showers are close by. Great view of Longs Peak.
Sep 21, 2020
Fantastic Stay! Will be returning soon!
Sep 21, 2020
We stayed at 3 other KOAs on this trip and it had the best and cleanest restroom facilities.
Sep 21, 2020
Beautiful park beautiful scenery.
Sep 20, 2020
We loved our stay! The only negative was the mouse that came into the cabin, but we figured out that a towel along the bottom of the door held them off.
Sep 19, 2020
My husband and I have traveled to many KOA's. So this time I, decided to travel alone to Estes Park and my husband had to stay back. First, time traveling solo, and this KOA, was absolutely amazing! From the time I checked in, to the time I left, restrooms were clean always! A huge plus, community and private rr. The camp ground was great, I can't wait to come back with my husband! See you soo
Sep 16, 2020
I've stayed here multiple times and I'll keep coming back.
Sep 15, 2020
Very friendly
Sep 14, 2020
Perfect location and cabin was great!
Sep 14, 2020
Lovely campground! We stayed in a deluxe cabin and it had so many extras like the gas grill and the fire pit. Yes, the cabins are close together but it's Estes Park plus we had friendly neighbors on both sides. It was a great campground and I'd recommend it to anyone. From tenters to usual motel people, everyone could stay at this KOA!
Sep 14, 2020
Comfortable. Beautiful surroundings. Peaceful.
Sep 14, 2020
We stayed in a cabin. During our stay, it snowed and we were plenty warm. However, there was quite a huge gap in our door that let mice in very easily. They were quite bothersome even though we had no food or trash in the cabin. It was difficult to sleep with so much action from the mice. Otherwise the campground is fabulous!
Sep 11, 2020
Cabins were neat!
Nov 20, 2020
Great cabins and location. Packers flag out front 👍
- Leo Cross on Google
Oct 15, 2020
Clean, comfortable, Deluxe Cabin. Fully equipped cabin. Well-stocked store. Quiet campground even though it was fully occupied. The staff and owners went out of their way to help us in a difficult situation. Without our asking, the owner loaned us his car to drive to Denver to pick up a replacement tire for our car. We will definitely stay here again.
- Jacquelyn McDonough on Google
Oct 12, 2020
Great views, clean facilities, attentive staff. We will be back.
- John Tedesco on Google