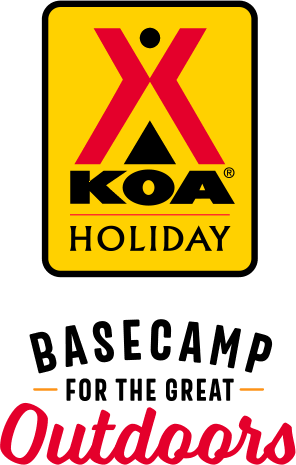 KOA Holiday Campgrounds
Whether you're exploring the local area or hanging out at the campground, KOA Holidays are an ideal place to relax and play. There's plenty to do, with amenities and services to make your stay memorable. Plus, you'll enjoy the outdoor experience with upgraded RV Sites with KOA Patio® and Deluxe Cabins with full baths for camping in comfort. Bring your family, bring your friends, or bring the whole group – there's plenty of ways to stay and explore.
KOA Holidays Feature:
RV Sites with a KOA Patio®
Deluxe Cabins with full baths
Premium Tent Sites
Group meeting facilities
Directions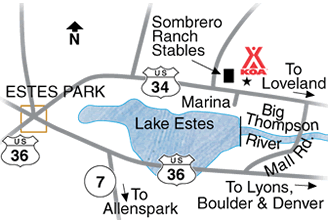 1.5 miles east of downtown Estes Park on the north side of Highway 34 across from the east end of Lake Estes.
GPS: N40.3796. W105.4887
2051 Big Thompson Ave, Estes Park. CO 80517
Get Google Directions
Oct 15, 2021
The owner/host was 100% fabulous and helpful and delightful. We love the campground and will definitely return and recommend to others.
Oct 12, 2021
Cabin was very clean. Friendly staff to where you feel like you're home walking in the door. Location is peaceful and close to everything.
Oct 12, 2021
Great place to stay. Great views, really good people. We will probably be back in the future.
Oct 12, 2021
Our time is always awesome! Love the cabins and the park as a whole. Every year is better and better! See ya next year!
Oct 12, 2021
We love this KOA! The cabins are always really clean, and I appreciate the playground for my kids.
Oct 08, 2021
This was our second stay at this location. It was our first stay in a cabin. I wrote directly to this location to let them know about our cabin and how it didn't seem like it had been cleaned properly. They did respond to let me know that due to some circumstances and being human, sometimes things get missed, but that most of their reviews are positive. We would stay here again. Location is good.
Oct 06, 2021
Get little cabin for our over night stay after visiting Rocky Mountain National Park. The heater keep us nice and warm over night. Loved the outside set up by the campfire. Super cute and functional. Everyone was so nice and helpful. We will return for sure.
Oct 05, 2021
We absolutely love it! Everyone is so friendly and helpful! Can't wait to go back!
Oct 03, 2021
The staff is very friendly and accommodating. The cabins and restrooms are clean. The views are beautiful! We even got to see elk while there!
Oct 01, 2021
Great people running this place and very clean cabins and everything you need while staying.
Oct 01, 2021
We had a very comfortable cabin that was very clean and cozy.
Oct 01, 2021
This was our second time to stay in a Deluxe Cabin at the Estes Park KOA. The staff is wonderful... very helpful and friendly! The cabins have everything you need for your stay. The location is perfect! They are just far enough out of town to have a "country" feel, but close enough for the local conveniences- gas, groceries, food, etc... We will go back again soon!
Oct 01, 2021
Love the stays at Koa,
Oct 01, 2021
Staff was friendly and the Deluxe cabin had everything we needed for our stay and then some. We have stayed here multiple times in both the cabins and our RV and never have had any issues.
Sep 29, 2021
a lot of the campsites are cramped too close to each other...otherwise, everything was great
Sep 29, 2021
Great campground the entire staff were all extremely professional and courteous
Sep 28, 2021
Very enjoyable. Would return on the near future.
Sep 28, 2021
I loved staying at Estes Park KOA. The hosts were so kind and accommodating. I loved the area, elk were present every day giving the feeling of nature and wilderness is right there. Everyone is so respectful of the wildlife. The cabins are the best! Our host turned on our heater since I had called to let them know we were running late. So considerate and gracious! Looking forward to staying again.
Sep 28, 2021
The KOA Staff were very friendly and cabin was cozy. Everything worked out well.
Sep 27, 2021
Clean campground and friendly staff.
Sep 26, 2021
The cabin was clean and neat. With a full kitchen, living area, bedroom and bath, we had everything we needed. We had a wonderful time visiting Estes Park and Rocky Mountain National Park for 11 days. Enjoyed the cabin and the friendly staff.
Sep 26, 2021
Love this campground. Everyone very nice. Have stayed there many time's over a 14 year span. Highly recommend!
Sep 26, 2021
Great cabin on the top of the hill with a view. Clean restrooms Friendly folks that own it Fake grass carpets were genius idea to keep dirt out of cabin.
Sep 25, 2021
I had never stayed in a KOA cabin and was beyond pleased when I arrived. My cabin was clean and well maintained. It had all the amenities I needed for the 3 days I was there. I also loved the convenience of the fenced K9 Kamp for my pups. I've already booked my stay for next year. Keep doing what your doing, it works!!!
Sep 24, 2021
We love Estes Park KOA. we stay there every fall. A Couple camping in a trailer left KOA with their dogs outside and they barked all day for several days. They aren't supposed to do that. We told a worker and he told us they were friends of his and he would talk to them. Barking continued but the next day when they left their site, the dogs were inside. Staff - please monitor barking dogs
Sep 23, 2021
It was very peaceful and my boys loved it the heater didn't really work but we still enjoyed it gonna have to come back and everyone who worked at the KOA camp was very nice and kept up with the cleaning
Sep 23, 2021
Best KOA in America. Clean, amazing amenities, accessible bathrooms, showers, water. The camper cabins are lovely and comfortable, and that little heater does wonders during very cold days. The wifi is excellent. Such a comfortable stay with beautiful views of the Rockies!
Sep 21, 2021
Terrific team of people here! We've stayed in one of the camping cabins twice now in the past month - so close to downtown Estes, + across the street from the lake and the views are incredible. We tried their pancake breakfast and they were made to order, with fresh blueberries! Greg, the owner, is the person who cooked for us and he was so great to talk to. Thanks to Henry, Jesse, and Leah too!
Sep 20, 2021
We love this campground! Bathrooms and grounds are very clean & such a friendly staff who will help in anyway they can. We've been coming up here for years and have had many family get togethers. We stay in the RV sites and family uses the cabins . You have got to try the Deluxe Cabins. Amazing!
Sep 20, 2021
This is a beautiful and well run campground. The little touches and the staff here are excellent. We had a wonderful stay! Highly recommend!
Sep 20, 2021
Great location, friendly staff!
Sep 19, 2021
Last year we booked the Member Appreciation weekend which staff told us was Sept 17-18. When we checked in, we were told it was the previous weekend. We were treated as if we were lying to get the discount and staff took no responsibility for the mistake. We will not be returning to this location.
Sep 19, 2021
We had an amazing time at the KOA at Estes Colorado. Its clean and friendly. They treat you like family. Great location as well. We will definitely be back!
Sep 19, 2021
stayed in a cabin next to the highway. it did not matter. great stay.
Sep 18, 2021
Decided to "run away from home" for a few days and fortunately found KOA! It was just me and my dog and it was a great little getaway. We stayed in a camping cabin which was really neat. My favorite part was the time spent on the porch swing and in the cabin itself. I loved that Lake Estes was just a skip across the road and wow, so beautiful! The staff was exceptionally kind and helpful. Thank yo
Sep 16, 2021
Absolutely amazing staff!! Very friendly and accommodating!! If they didn't know an answer to something, they would find out for you!! Definitely made us want to stay there again!!
Sep 14, 2021
Estes Park is one of our favorite places to visit with mountains surrounding the town, beautiful Lake Estes and all the little shops. The Estes Park KOA is also lovely and the staff and owners are so welcoming and friendly. We come every year!
Sep 14, 2021
Great place to Kamp. Very friendly and helpful folks. Just stay here, you won't regret it
Sep 14, 2021
Lovely time. Clean, quiet, friendly. We will definitely stay here again.
Oct 07, 2021
Quiet campsite with friendly staff! Everyone was friendly and it was an enjoyable experience
- Camilo Castillo on Google
Oct 06, 2021
Very clean. Friendly staff. Had the best view from our site.
- Becky Domecillo on Google
Oct 01, 2021
Awesome people. Great prices considering the location. Veterans discount. I will definitely come back.
- Ray Lang on Google