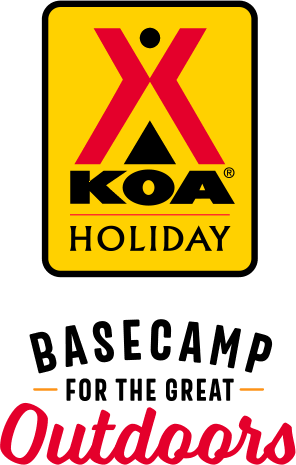 KOA Holiday Campgrounds
Whether you're exploring the local area or hanging out at the campground, KOA Holidays are an ideal place to relax and play. There's plenty to do, with amenities and services to make your stay memorable. Plus, you'll enjoy the outdoor experience with upgraded RV Sites with KOA Patio® and Deluxe Cabins with full baths for camping in comfort. Bring your family, bring your friends, or bring the whole group – there's plenty of ways to stay and explore.
KOA Holidays Feature:
RV Sites with a KOA Patio®
Deluxe Cabins with full baths
Premium Tent Sites
Group meeting facilities
Directions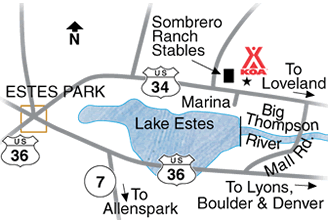 1.5 miles east of downtown Estes Park on the north side of Highway 34 across from the east end of Lake Estes.
GPS: N40.3796. W105.4887
2051 Big Thompson Ave, Estes Park. CO 80517
Get Google Directions
Jun 17, 2021
The staff were gracious and very helpful! The campground was clean and well maintained.
Jun 17, 2021
Friendly people all around,clean,great view.
Jun 16, 2021
Great location. Tent sites are okay; not much shade even with the shelter. Bathrooms next to the tent sites are somewhat clean; the best ones are at the front next to the office. Good home base for exploring RMNP.
Jun 16, 2021
The site maximizes every bit of available space but we didn't feel crowded. Kudos out to the folks on the front desk. All of them were very friendly and helpful . Special shout out to Ally- she was so helpful and engaging - taught me how to get our cable working and she gave us great tips on where to find moose. Always friendly and took a few minutes to chat anytime we saw her. Overall great st
Jun 16, 2021
I camped in a tent area with a shelter. The tent area had 3 individual bathrooms along with an area to wash dishes. I had trouble starting a campfire and stopped in the store for suggestions. One of the employees, who appeared to be getting off work, volunteered to come to my site to help. Later, I found it was one of the owners, Peri, whom was extremely helpful and friendly!
Jun 16, 2021
Everything was great, friendly staff and very clean.
Jun 15, 2021
Beautiful views and cute campsites. Just a little too close to each other. Very friendly and helpful staff.
Jun 15, 2021
A very nice park, but not a lot of room and a bit pricey for the gravel spot in the campground that you get. Beautiful location.
Jun 15, 2021
Pros: Friendly and helpful staff. Well equipped and clean cabin. Good & clean amenities, incl. laundry, store, & bathrooms. Great location -15 min. to RMNP. Cons: The on-site wifi rarely worked. While wifi isn't a necessity for camping, it should work if it is advertised, as I planned to be able to use it. VERY close to other guests - the RV shelter next to my cabin was practically on top of me
Jun 15, 2021
My sister and I stayed at Estes Park's KOA and had such a fun time. We spoke to the kind owner, Greg for a while and learned about different places to adventure to in the US. We talked with other campers and then had a peaceful night fireside at our cabin overlooking the mountains. The bathrooms and cabin were very clean and cozy. I highly recommend booking this KOA.
Jun 15, 2021
Very small spaces and we had very noisy spot next to highway. Bathrooms were clean. Property was well maintained. Does seem that sites farther from highway were quieter.
Jun 14, 2021
The camp and the sites and the view are spectacular, but what really makes the Estes Park KOA special is the people. They are the absolute best!
Jun 14, 2021
This is the best place to stay in Estes Park. The owner and staff are some of the friendliest people you will ever get to meet. Don't miss out, make a reservation asap.
Jun 14, 2021
Great location! Super helpful staff!
Jun 14, 2021
Staff is always friendly and helpful. The entertainment was great and our visit was wonderful.
Jun 14, 2021
Very active KOA…offered pancake breakfasts, church service, ice cream social and entertainment. Clean bathrooms and friendly staff…
Jun 14, 2021
Sites are to close together and there isn't room to park your truck next to your site. They should have less sites so you aren't so crammed in and you can park your truck. Also not all sites have a fire pit. They seem to cater to the tents and cabins. The staff is very friendly and helpful.
Jun 14, 2021
very nice onsite staff, easy access to Amenities and were always clean when I used them. store was stocked for if I needed anything. Internet wifi stretches the edge of the property and had no problems getting on it!
Jun 13, 2021
Had a great time and staff was great
Jun 13, 2021
well maintained and clean facilities; Outstanding WiFi - the best on our entire 2-week trip thru 6 other RV campsites (5 of them KOA's); a little tight fit, but manageable.
Jun 13, 2021
We love this KOA this was our first time in a KOA as we are new members. The facilities were so clean, they really stayed on top of thing. But overwhelmingly the staff were so friendly. I love that they drove by each tent site every evening to see how things were going. They gave us tips for the bears and asked if we needed anything. Very impressive. We will be back.
Jun 12, 2021
The staff was great. Henry made it a point to stop by and check if there was any we needed . However the sites are small and nothing but dirt. The water pressure was very low making it difficult to shower.
Jun 12, 2021
No pool…very hot. Well taken care of. Henry made the stay as good as I could give. He took a long time to help me load my car onto a trailer. Very professional man.
Jun 12, 2021
Bathrooms were good and clean. The campground was nice, and the employees were very helpful and patient
Jun 11, 2021
Excellent location! The staff was so friendly and accessible. And also the mountain views are perfect!!
Jun 11, 2021
The staff at Estes Park was very helpful. Henry in particular has a servant's heart. He knew how to help a man get his car on the trailer correctly after the gentlemen had driven it past the appropriate place on the trailer and got it wedged. Henry did all the hard work and got the gentleman back on the road.
Jun 10, 2021
The campground staff is terrific. The sites are very close together, but it is quiet so you never are bothered.
Jun 10, 2021
Staff was amazing
Jun 10, 2021
Spots are very tight and tetherball is installed too high for regulation.
Jun 10, 2021
Being close to the road was kinda noisy but all the family stuff available makes it worth it. We loved the tent bathhouses and the dishwashing station. My daughter loved the playground and the huge chair :)
Jun 09, 2021
I had a very relaxing time and found way for accommodations than I was expecting very clean restrooms and friendly staff
Jun 08, 2021
Our family chose the Estes Park KOA Holiday to celebrate our daughter's birthday. The deluxe tent site (T9) was WELL worth the extra money for the views it afforded us! It had a shelter, a fire pit with four lovely Adirondack chairs, a swing and a gravel site that easily fit our 3 room tent. The KOA itself was well maintained, clean and offered super fun "train" rides to the kids. We loved it!
Jun 08, 2021
This was the third time I've stayed at this location and by far my favorite! We had a group of friends all together and they made sure to put our cabins next to each other. It made it so easy and enjoyable for our kids. We love the daily activities. Can't wait to come back.
Jun 08, 2021
It was our first stay at a campsite and they were wonderful! Henry went out of his way to help us back into our space and get everything hooked up. It was quiet, relaxing and they were very accommodating. The bathrooms were clean, friendly staff in the office and the store had everything we needed for a short stay. They had ice cream socials, pancakes in the morning and children activities.
Jun 08, 2021
The campground was well-located, had an easy check-in system, and had great amenities (those bathrooms especially). The only downsides to my stay were that the roads weren't very well marked and that my specific campsite was literally right next to the highway, so all night I could hear cars rushing by. Maybe better signage and more noise-canceling bushes would be helpful.
Jun 08, 2021
Great but tent site to close to hwy
Jun 07, 2021
The crew at this location was top notch! They were all incredibly friendly! Henry thank you for all the hospitality you showed!!
Jun 07, 2021
Henry and crew were so welcoming! They made us feel right at home. We loved our nightly visits by the campfire. We will definitely be back!
Jun 07, 2021
I love Estes Park KOA! We always try to make this one of our annual camping getaways. The campground is clean, the staff is friendly and there is so much for the kids in and around camp. I highly recommend!
Jun 07, 2021
We spent 3 nights in a basic camping cabin. We were impressed with the cleanliness of the campground and the multiple dishwashing sites available there.
Jun 07, 2021
The deluxe cabin was clean and roomy with incredible views all around. The management of this KOA was responsive and very friendly. An extra added attraction was watching the children (and some adults) taking the 'train' ride around the campground in the afternoon. The train bell and the bubble machine just added to the fun!
Jun 18, 2021
Great experience! Dog park was close and the dogs really enjoyed the ability to run around. The camp site was enjoyable with the balcony picnic table and the bathrooms were clean and comfortable.
- Tasha Patt on Google
Jun 15, 2021
A beautiful experience! Rocky Mountain National Park is super close and the staff is super friendly! It's a bit of a tight campsite but no problem getting in and out of spots!
- Carl Jr Ruggeri on Google
Jun 15, 2021
Great service good cabins I got help finding a better entrance to Rocky Mountain national fall river is the way to go thank you KOA 😌
- Merry Clark on Google