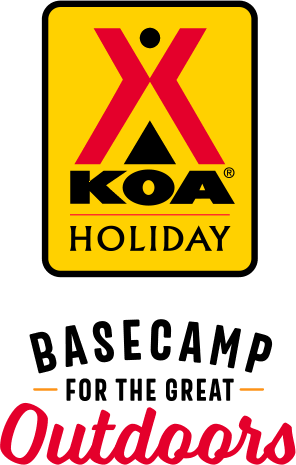 KOA Holiday Campgrounds
Whether you're exploring the local area or hanging out at the campground, KOA Holidays are an ideal place to relax and play. There's plenty to do, with amenities and services to make your stay memorable. Plus, you'll enjoy the outdoor experience with upgraded RV Sites with KOA Patio® and Deluxe Cabins with full baths for camping in comfort. Bring your family, bring your friends, or bring the whole group – there's plenty of ways to stay and explore.
KOA Holidays Feature:
RV Sites with a KOA Patio®
Deluxe Cabins with full baths
Premium Tent Sites
Group meeting facilities
Directions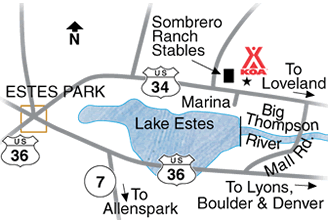 1.5 miles east of downtown Estes Park on the north side of Highway 34 across from the east end of Lake Estes.
GPS: N40.3796. W105.4887
2051 Big Thompson Ave, Estes Park. CO 80517
Get Google Directions
Nov 29, 2020
We stayed right at the end of the official season during the Cameron peak fire threat. This KOA housed evacuees and fire fighters for free! They were kind and wonderful hosts. The bathroom was clean and we loved the facilities!
Nov 10, 2020
Good visit........spaces are a little tight, but no other complaints.
Nov 10, 2020
Loved the all you can eat pancake breakfast. Truly a highlight to the stay. We rented a cabin, but unfortunately they are extremely close to the entrance which didn't give us the true experience.
Oct 20, 2020
Had a great time, easy access to park for day trips!
Oct 20, 2020
Very nice campground with full hookups. Sites are a little small, but we have a small camper so we were fine
Oct 16, 2020
The people running the campground were extremely friendly and helpful... There nightly rates are pretty high in my opinion...
Oct 16, 2020
Staff is very friendly and helpful. It's nice to see a family run business.
Oct 15, 2020
We always have a pleasant stay at this campground. Very clean and upkeep is superb. Pleasant staff and owner who all try to please. Definitely recommend this campground.
Oct 15, 2020
Awesome experience, nice little campground. The staff and owner were great.
Oct 15, 2020
Nice people, clean park and easy to find away from the crowds.
Oct 14, 2020
Very clean, great staff. Loved the raised deck at the deluxe site!
Oct 14, 2020
The deluxe cabin was clean, well-equiped, and cozy. The RV/campground is well run. The store is well-stocked. The owners and employees couldn't be more gracious and helpful. We had car trouble. A replacement for our flat tire was only available in Denver, 65 miles away. The KOA owner loaned us his car to go to Denver to pick up the tire. We will definitely return to the Estes Park KOA.
Oct 13, 2020
Small, tight sites not paved so very dusty. Courteous and helpful employees and very clean bath/showers
Oct 13, 2020
Love this place and the people who work there you are kind and friendly will be coming back for many more years to come
Oct 13, 2020
Great location, amenities, and friendly staff. Renting the propane fire bowl was a great option given the fire ban. Aside from the snow and 60mph winds, we had a great stay and will probably be back next season!
Oct 12, 2020
As always, the staff is amazing and helpful. The campground and cabins are neat and clean. Great place to stay and close to everything.
Oct 12, 2020
Nice park. Only complaint is that the sites are real small and close together. When neighbors awning nearly touches your camper and you have to go into their site to unhook elect and sewer you are too close.
Oct 12, 2020
We loved the location! My only complaint is that all the spaces are really close together.
Oct 12, 2020
Beautiful views, clean facility, attentive staff. Great experience. We will be back.
Oct 12, 2020
Family vacation, the KOA is in a great location, the camp was very clean and the staff were awesome.
Oct 12, 2020
Staff was very friendly. Spaces are tight! The play ground was dismal. I didn't feel that this KOA was secure enough to let my daughter ride her bike around. There is a very busy road close by. The park is clean and I enjoyed our picnic table.
Oct 12, 2020
Clean park, very friendly staff!
Oct 12, 2020
Very nice facility with a nice and helpful staff.
Oct 11, 2020
Very tight. Slide on our RV only 3 inches from slide on the RV next to us. All dirt, no grass or even gravel. Saw a leaving camper hit a parked car. Just no room to move around at all.
Oct 11, 2020
Loved site 13! Loved that you provided a propane fire pit! Loved the proximity to EP! Loved the view from the deck! Loved the friendly staff!
Oct 11, 2020
Very clean and well kept. We will be back
Oct 10, 2020
Staff very friendly and helpful.
Oct 10, 2020
Clean cabin great weather beautiful RMNP!
Oct 09, 2020
Sites are too close together. 2 feet between your slide out and your neighbor. Narrow roads. Should have 20 to 30 percent fewer sites.
Oct 09, 2020
It was a little mixed up but you all did everything you could to make it a great stay. We love Estes Park KOA��
Oct 09, 2020
Never disappoints.�ϸ
Oct 09, 2020
Nice place and location. Very friendly staff, clean and organized.
Oct 09, 2020
Enjoyed it � friendly staff, and very helpful.
Oct 09, 2020
Friendly staff! Cute and super clean cabin!!
Oct 09, 2020
Everyone that worked there was so kind and helpful. It was our first night with a motor home and we needed lots of help and instruction. They were more than happy to help. Such nice people!
Oct 08, 2020
We have been going there for 13 years and have never been disappointed. Host were great and informative. Just a great place to go!!
Oct 07, 2020
Our site was great and the views are amazing!
Oct 07, 2020
Great campground best wi-fi ever
Oct 07, 2020
Great place and staff. If you r afraid of Covid, stay home. Staff have no control over the fire ban, the bears, or the mice. Your camping, quit complaining. Check out the campground before you come and the complain. I love this place. Close to Rocky Mountain park and downtown Estes. Bathrooms are Always clean. Will be back.
Oct 07, 2020
Henry was very courteous and friendly but no accompanying vehicles are allowed next to RV..... they must be parked at a different area. Mostly dirt, very little grass.
Oct 07, 2020
Worst KOA we have ever stayed at! I expect quality camping and don't mind paying a little more $$ at KOAs, however, this was no more than a gravel parking lot. Sites are so close no room to even open your awning. No parking at your site, you need to find a spot in a parking lot. Don't waste your money, find a different campground in Estes Park.
Oct 07, 2020
We had a great stay. Our dogs loved the dog park. The cabins were clean and warm as were all the facilities. The staff was friendly.
Oct 07, 2020
It was very enjoyable. The restrooms were very clean!! The staff was friendly & helpful.
Oct 07, 2020
Super quick & easy check-in with friendly & helpful hosts! We had a great tent site that was clean & level. The dog park is very tiny, but helpful, since our dogs won't go potty on a leash. Camp store was well-stocked. Best part: amazingly clean and modern private bathroom/shower stalls, heated at a comfortable temp. Will definitely stay here again.
Oct 07, 2020
There was two mice that kept going underneath the door, we couldn't keep them out because the room is sealed poorly. The locks on the windows didn't work and weren't screwed in. There were maintenance trucks that were loud across the street at all hours of the night. The WiFi did not work whatsoever despite being directly next to the main office. Bed mattress was sunken in. Overpriced KOA
Apr 08, 2021
On our first RV trip thanks to covid. The staff helped us park. The hook ups were fine. The pancake breakfast was delish. There was parking for our car in front and we could usually find a spot. It is a small park and we were lucky to get reservation when someone canceled. The bathroom was clean. The staff were nice. We had a good new. It is right by a busy road and next to a stable. If we do a RV trip again we will stay here. The people were nice and you did not feel like you were in a big dusty field like some one the spots.
- jessica p on Trip Advisor
Feb 09, 2021
I was skeptical about a campground with such high volumes of traffic and use being it's right next to the most visited national park in the world, but they kept all amenities clean and stocked. Very comfortable campground to stay at. Recommended!
- T P on Google
Feb 09, 2021
Love it
- josh Brooks on Google