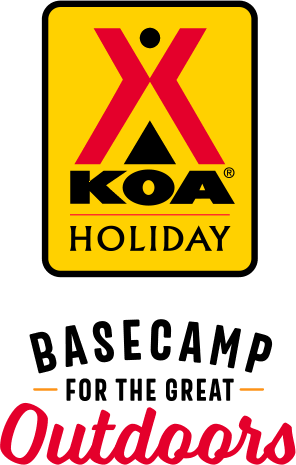 KOA Holiday Campgrounds
Whether you're exploring the local area or hanging out at the campground, KOA Holidays are an ideal place to relax and play. There's plenty to do, with amenities and services to make your stay memorable. Plus, you'll enjoy the outdoor experience with upgraded RV Sites with KOA Patio® and Deluxe Cabins with full baths for camping in comfort. Bring your family, bring your friends, or bring the whole group – there's plenty of ways to stay and explore.
KOA Holidays Feature:
RV Sites with a KOA Patio®
Deluxe Cabins with full baths
Premium Tent Sites
Group meeting facilities
Directions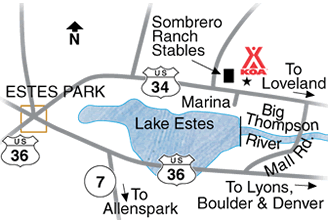 1.5 miles east of downtown Estes Park on the north side of Highway 34 across from the east end of Lake Estes.
GPS: N40.3796. W105.4887
2051 Big Thompson Ave, Estes Park. CO 80517
Get Google Directions
Oct 06, 2021
Very friendly staff!
Oct 05, 2021
Very clean amenities, nice quiet neighbors, and very nice and helpful staff.
Oct 04, 2021
Clean!!!! Well laid out and pretty. Owner was very friendly made us feel welcomed and his daughter checked us in was very friendly and very professional. We WILL be back.
Sep 30, 2021
Very clean and quiet campground. The Elk were a plus. And thank you to the camp staff on the golf cart for letting us know about the RMNP entrance before 9:00am !!
Sep 25, 2021
Excellent staff. Friendly and helpful. Most helpful. Loved this KOA and it had everything we needed in all good locations. GREAT location just outside of town to stay for every adventure you would like to do in the area!!!! We will be back.
Sep 25, 2021
Everything was great as far as staff, amenities and facilities. The road noise was alot from our tent site
Sep 19, 2021
This is a very nice place. There was a barking dog all night long that no one seemed to address. He barked from the moment we arrived at 6pm until 1030pm straight. Then many times throughout the night. Such a bummer. But this place is amazingly clean. Awesome showers. Great front desk.
Sep 17, 2021
We tent camped for two nights here in August. It is a clean campsite with well-stocked store and friendly staff. The bathroom facilities were spacious and clean. It's a great base for exploring Rocky Mountain National Park and the surrounding area. Our tent site was next to a road but it wasn't too busy or noisy at night.
Sep 16, 2021
Great host. Enjoyed our stay.
Sep 14, 2021
I've been staying at different KOAs across the country and this location was hands down my favorite! Beautiful area, well kept, outstanding bathrooms and incredibly friendly site workers.
Sep 13, 2021
Wonderful newly upgraded tent campground. Spacious well functioning bathrooms near by. Older well maintained campground with beautiful trees and greenery. Highly recommend..
Sep 13, 2021
We had a great time camping here two days. Staff very friendly and accommodating. We will return
Sep 12, 2021
Amazing views !
Sep 10, 2021
tent camping was great! Could use more bathrooms, but the staff is just wonderful and location is the best!
Sep 09, 2021
Facilities and campground were great. Road was noisy at times.
Sep 07, 2021
Our three day stay was great. This facility is definitely 5 stars from KOA standards, Bathrooms were clean, sitting area in the tent site, owners were amazing and friendly. Overall, we loved it! We will be back
Sep 07, 2021
Very clean, love that they have things for campers to enjoy like ice cream social and kids train!
Sep 06, 2021
Friendly helpful staff, clean restrooms. Yes, I give this campground a big thumbs up.
Sep 04, 2021
Bathrooms were exceptional. Hosts were great. Odor from nearby horses was not pleasant. Highway noise was bad. Campsites really close together.
Aug 31, 2021
Everything was very clean and the check in/out process could not have been easier. The staff was exteremely helpful with all questions that I had.
Aug 30, 2021
More expensive than when I stayed five years ago. I was disappointed to smell the horse stalls next door when spending $60 for tent camping - but I concede this is out of their control. Bathrooms were excellent and convenient. Parking was spacious for my F-150.
Aug 30, 2021
We stayed on the tent sites. The sites are a little closer together then I would have thought they would be. But overall the place was great. The office was very friendly and helpful. The bathrooms are fantastic. Very clean.
Aug 30, 2021
Way to close to a vet busy road. The noise through the night was rough. You should put up a sound barrier to help decrease this.
Aug 29, 2021
Wonderful stay, Restroom showers was very clean..
Aug 28, 2021
This is a very busy place. Noise from the highway disturbed sleep in tents, as did early departures at 4:30 AM from nearby campsites. Bathrooms were too busy all the time, as tent spaces shared with cabins, and only 3 bathrooms were available to avoid a lengthy walk to the bathrooms located on either side of the office. Sites were large and the gift shop had a wide selection of essentials.
Aug 28, 2021
It was nice and clean and they very nice and helpful.
Aug 24, 2021
A perfect KOA for the family, especially a first experience camping! The owner is fantastic and they have kids in mind from beginning to end. The tent sites are a little close to the highway, but I can't fault them. It's probably the best layout given the property location, which is very conveniently located just outside downtown.
Aug 23, 2021
Great place like all KOA Campgrounds clean and well-kept up the only thing that I can complain about the KOA in Estes Park is if you have an extra car they don't allow it
Aug 21, 2021
The camp sites are rite on the main road to Estes and is loud. I wish that was mentioned on the site description that the noise level can be loud at times. Also, there was an issue with another site who was up drinking and loud at 12:22am. The staff went to talk to them but the next day kept harrowing us and went around telling the rest of the sites we turned them in. Not my best KOA experience.
Aug 19, 2021
Too much noise from the road, made it challenging to sleep day or night. Showers and bathrooms were always clean. Staff was friendly and helpful.
Aug 18, 2021
Very clean and quiet campground. People seem to be in and out in a couple days. The showers are connected with the bathrooms so expect to be waiting if you plan to use them in the morning or night.
Aug 18, 2021
Great setup and friendly staff. Will stay there again.
Aug 16, 2021
Small, but very nice sites. We appreciated the covered picnic tables when it rained. The bathrooms and showers were very clean. The staff was friendly and helpful. We enjoyed the pancake breakfast as well. We will return if we are in the area again.
Aug 15, 2021
This place was great!
Aug 14, 2021
Great people! Loved the bathroom locations! Very clean!
Aug 14, 2021
Check in and check out process was good. The amenities and bathrooms were super clean and nice. The only issue was that the tents were too close too each other so it was a bit noisy.
Aug 11, 2021
Very friendly people, great campground. Had a short, but awesome stay.
Aug 10, 2021
Smelled like outhouses or zoo animals. Noisy highway all night. Very tight parking. We were in tent section with electricity.
Aug 09, 2021
Beautiful view of the mountains! Very convenient locations for visiting RMNP. Bathrooms nice but could be cleaned more often. Tent sites were good size. Packed in tight and driving was very tight in there. Would stay again.
Oct 07, 2021
Quiet campsite with friendly staff! Everyone was friendly and it was an enjoyable experience
- Camilo Castillo on Google
Oct 06, 2021
Very clean. Friendly staff. Had the best view from our site.
- Becky Domecillo on Google
Oct 01, 2021
Awesome people. Great prices considering the location. Veterans discount. I will definitely come back.
- Ray Lang on Google