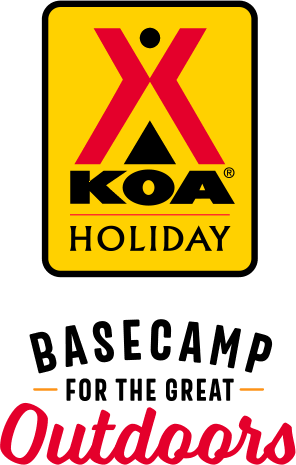 KOA Holiday Campgrounds
Whether you're exploring the local area or hanging out at the campground, KOA Holidays are an ideal place to relax and play. There's plenty to do, with amenities and services to make your stay memorable. Plus, you'll enjoy the outdoor experience with upgraded RV Sites with KOA Patio® and Deluxe Cabins with full baths for camping in comfort. Bring your family, bring your friends, or bring the whole group – there's plenty of ways to stay and explore.
KOA Holidays Feature:
RV Sites with a KOA Patio®
Deluxe Cabins with full baths
Premium Tent Sites
Group meeting facilities
Directions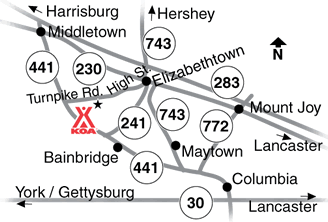 From PA Turnpike Exit 247, take first right onto PA 283 and follow PA 283 directions.
From PA 283, Take PA 743 towards Elizabethtown. At Market Street (3rd Stop Light) turn right. Go 3/4 mile and turn left onto Newville Road (The Bridge is NOW OPEN). Take Newville Rd over bridge, stay left. Turn right at the stop sign onto Turnpike Rd to the campground.
From York PA, US 30 East take PA 441 (Columbia Exit) North 13 miles to Turnpike Road. Turn right 3 miles to campground.
From Lancaster PA, US 30 West into PA 283 towards Harrisburg, follow PA 283 directions above
Get Google Directions
Nov 19, 2020
What can I say that I have not already said. This is my 2nd home and my 2nd family. After 38 years I only fear one thing, The day I have to give it up. How do you say goodbye to people you love. Karl, Linda, Steffy, Tommy, Vicki, and of course Malachi (and soon to be new addition). I love you all, My health is failing my my love will live forever.
Nov 04, 2020
Last weekend of the season this is a great campground with awesome owners.
Nov 04, 2020
clean quiet and easy to get in and out of. Staff were very friendly and even communicated before we arrived.
Nov 04, 2020
Not as quiet as we expected but being on a flight line some noise could not be helped
Nov 04, 2020
Overall the campground was very nice and clean. Only thing that was bothersome was that some of the staff were not friendly at all. We didn't feel a welcoming feeling from them unlike other KOA's that we have stayed at. Most likely won't be returning to this location because of this. Would much rather pay to stay somewhere more friendly and welcoming.
CAMPGROUND RESPONSE / COMMENTS:
We are sorry you did not enjoy your stay.We were aware during your stay that you were unhappy.Unfortunately we were unable to accommodate your particular needs. We wish you the best wherever camping takes you.
Oct 31, 2020
Except for the rain, we had a great time. Nice staff and they went out of their way to make us feel welcomed.
Oct 30, 2020
My family and I had a great stay. The people at the campground were very nice and accomodating. We would definitely go back.
Oct 30, 2020
One nighter. Too far off of 81 to do a one nighter
Oct 28, 2020
Unfortunately not what we were expecting. The store was completely empty. The shelves were bare, completely out of Ice. The staff was unpleasant. It was a Halloween weekend not enough hayrides for the kids. We forfeited one of our nights and left early. We will not be returning.
CAMPGROUND RESPONSE / COMMENTS:
We realize you did not enjoy your time with us. It was clear from our interactions and comments from other guests that we are simply are not compatible with the type of camping you are looking for. We wish you the best wherever camping takes you and your group.
Oct 28, 2020
Our pull through site was very spacious. The campground is very clean and quiet at night which we appreciate.
Oct 28, 2020
Had a great relaxing time!Campground was clean and well run.
Oct 27, 2020
Really liked this campsite. We rented a pet friendly cabin and enjoyed the clean campsite and facilities as well as numerous amenities! Will be back.
Oct 26, 2020
Awesome Time. Every year is a fun experience.
Oct 26, 2020
Great cabin sites. Clean, nice site. Bathrooms kept clean.
Oct 26, 2020
We have stayed at this campground several times. The sites, staff, and bathrooms are nice! There is plenty to do as well!
Oct 26, 2020
Great place to stay! Clean and well maintained with fairly private sites.
Oct 26, 2020
Wonderful campground and sad the season is over.
Oct 26, 2020
Nothing but great things to say. The staff and park exceeded my expectations
Oct 26, 2020
Go every year with my kids! Love this place! Clean, fun and safe!
Oct 26, 2020
We hope to be back next year for the Halloween weekend. The staff was helpful and friendly. The events were fun and the facilities were all kept incredibly clean. Thanks so much for an awesome place to spend much needed time with family!
Oct 26, 2020
Nice clean campground. Fun events ad decorations for Halloween!
Oct 26, 2020
This was our first time at the campground and we loved it. All the staff were friendly and the kids had fun with the halloween activities.
Oct 26, 2020
Disappointed they didn't have extra hay wagon rides. They had 4 scheduled but they were full with a waiting list of 10 campsite deep, and they were not going to add any extra. Considering how many people still want to ride, this was very disappointing.
CAMPGROUND RESPONSE / COMMENTS:
We are sorry you did not enjoy your stay.Covid restrictions and safety considerations required us to limit the wagon rides and alter our normal Halloween activities.
Oct 26, 2020
This is the first time we have stayed at a KOA. After reading reviews, we decided to give this one a shot. The campground overall was nice. The grounds were kept up, bathrooms clean, sites were spacious based on which one you were in. Not all had a ton of room. Activities could have been better and more thought out. Trick or treating and site contest wasn't in the evening which made no sense.
CAMPGROUND RESPONSE / COMMENTS:
We are sorry you did not enjoy your stay with us. Our activities are scheduled with everyone's safety in mind.Traffic,lighting, Covid restrictions etc. all play part in scheduling and operating our various activities.
Oct 22, 2020
Friendly staff, well maintained, nice landscaping. Geared up for Halloween and activities. Social distancing was practiced. Pull thru Site was long enough for our 45 ft class A plus toad. Turns were a bit tight, including entrance coming into right turn. Just go slow! Will return.
Oct 22, 2020
Check in was quick and easy. Everyone friendly.
Oct 22, 2020
The staff was very nice sending someone to help us with the WiFi connection which never worked inside the deluxe cabin that we stayed in. The employee said they were upgrading the WiFi so hopefully in the future it will work better. My overall stay was very nice and I am only giving a 3 star because of the very loud noise of the heating system which was located outside of the master bedroom.
CAMPGROUND RESPONSE / COMMENTS:
We are sorry you did not enjoy your stay. We will look at that furnace and see if we can't quiet it down.
Oct 21, 2020
We had an amazing family weekend getaway. The staff was super friendly. The cabin was clean and spacious. The beds were comfortable. There was more amenities than any other place we've stayed. Our group decided this will be a yearly trip for us!
Oct 21, 2020
Great place with great support.
Oct 20, 2020
Well kept grounds, great setting. Easy hook-ups with no issues, great wi-fi.
Oct 20, 2020
You run a very nice campground, clean and a lot of things going. Yes I will be back in the future.
Oct 20, 2020
You have a mask policy but none of the staff in the camp store actually wear them. This sets a precedence to the people staying at the KOA.
CAMPGROUND RESPONSE / COMMENTS:
We are sorry you uncomfortable during your stay. We follow all CDC and PaDOH guidelines for your safety and the safety of our employees. Those guidelines have exceptions and we follow those as needed.We have added additional safeguards to further protect everyone.
Oct 19, 2020
The campground was very clean, and every staff member I came in contact with was very friendly. The location was pretty convenient to all of the major attractions in the area. I would stay again in the future
Dec 24, 2020
It was awesome to take tbe pictures. And the money went for charity. Lovely place
- Christine Morris on Google
Nov 17, 2020
We love the Elizabethtown KOA. This is our piece of heaven when we need to decompress. Great friendly and helpful staff. Campground is very clean and well maintained. During the Covid Pandemic the owners made it welcoming while keeping everyone safe. We will be back in 2021.
- denniswD7527OX on Trip Advisor
Nov 09, 2020
Lots to do. Nice set up and staff.
- Sarah Thompson on Google