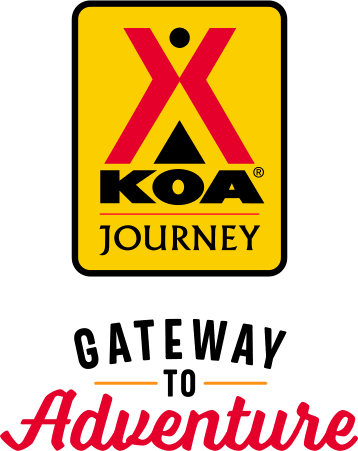 KOA Journey Campgrounds
KOA Journey campgrounds are the perfect oases after a day on the road. Whether it's along the way or a quick getaway, they've got you covered. Located near the highways and byways of North America with long Pull-thru RV Sites, they deliver convenience to the traveling camper. Pull in, ease back and take a load off.
KOA Journeys Feature:
Pull-through RV Sites with 50-amp service
Premium Tent Sites
Well lit after hours check-in service
Directions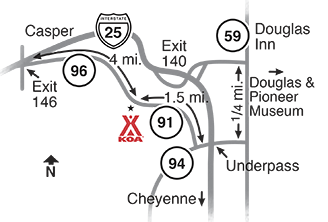 I-25 Exit 140: Turn right at light, in a 1/2 mile turn right on Esterbrook Rd and go under I-25. Then take first right on Hwy 91, and go 1.5 miles on left. Or from Hwy 59: Go 1/4 mile south of the Shell station, stay in right-hand lane, turn right, then first right on Hwy 91. Or from west on I-25: Take Exit 146 and Hwy 96 for 3 miles, at Jct 91 go straight 1 mile, KOA on right.
Get Google Directions
Sep 06, 2020
We intended to stay one night. We stayed 4. A very, very nice campground...spacious....clean......quiet. The people were so very friendly and helpful. We really enjoyed our time there and would recommend to everyone.
Sep 05, 2020
We only stayed two nights and pretty much rested in our Rig the whole day but we were very impressed with the roomy spaces, level and the neat idea of the Trail Scraps boxes so convenient. Very nice and friendly hosts also. We will most assuredly stay here again on our next trip through Nebraska. We camped in a 32" motorhome with a toad.
Sep 05, 2020
Nice clean park with small areas of grass. Dogs loved the dog park and watching the horses, AND chasing the bunnies!!!
Sep 03, 2020
Very friendly staff. Nice, clean, comfortable park.
Sep 03, 2020
Friendly, helpful, very clean,will be back
Sep 03, 2020
Very friendly hosts. Sites are nice.
Sep 03, 2020
My son and I camped in a tent spot. The campground is perfectly located, clean, and the amenties are awesome. Next time, we're playing miniature golf! Everyone there was very friendly and accommodating. We will be back!
Sep 02, 2020
Very kind & helpful staff. Clean and spacious sites for big rigs.
Sep 02, 2020
Stayed in a cabin. Was very clean and comfortable. Restrooms were nice and clean as well.
Sep 01, 2020
We did a one night stop over. Great shower room. The staff was nice and help full. It was a peaceful stay.
Sep 01, 2020
I like staying here as the people are friendly. WiFi is a problem. It is a nice campground
Sep 01, 2020
Sites were clean and location is fine. I liked the trash disposal located within the sites so no need to walk in the dark. The only negative is that the WiFi was terrible, only one of the multiple networks was functioning but the login Was not functioning, so zero service. Having access to WiFi is one reason we stay at KOA so without it, there is little value to us.
Aug 31, 2020
Quiet and that's important to us. Nice location.
Aug 31, 2020
Very nice park. Quiet and clean. Only nit is the WiFi really didn't work for us very well.
Aug 31, 2020
Great, everything went so smooth at checking in, the young ladies were great.
Aug 31, 2020
This was a very nice place to stay nice shade clean shower very nice people to help us as we travel
Aug 31, 2020
Just had a quick 1-night stay here, but if I ever found myself passing thru again I'd certainly stay here again - very friendly staff, easy check-in and clean campsites. Everything worked and we were very comfortable!
Aug 31, 2020
amazing staff - friendly, helpful, etc. Great sites.
Aug 31, 2020
While our stay was brief, the friendliness and cleanliness were obvious! Our site was spacious and level and the hook ups were convenient. It is very disappointing that government Covid restrictions continue to impact businesses and their customers full enjoyment of available facilities.
Aug 31, 2020
Nice, quite and clean the only problem was the on and off ramps getting to the KOA. We will stay here again.
Aug 30, 2020
Nice people and very caring. Facilities immaculate.
Aug 30, 2020
Great place took great care of us
Aug 29, 2020
This place might be fine if you're coming in an RV, but tent camping was not ideal. There's a huge facility right outside the tent area that was completely lit up all night and had loud trucks coming in and out non-stop. Impossible to sleep through. The staff were very helpful and friendly, but I will caution that I did not see anyone wearing a mask (including inside the main office).
Aug 28, 2020
The owner, Jodi, was great. Friendly, helpful and professional. She runs a wonderful campground, clean and well organized. Also, we needed a few trailer parts and she had them in stock. I would highly recommend this KOA.
Aug 28, 2020
That is without a doubt the nicest KOA campground I have stayed in. The lady who checked me in was wonderful and the tent area I stayed in was separated or enclosed on three sides with a white fence.
Aug 27, 2020
It was so hot and the pool was so nice. Perfect temperature and so clean. Bathrooms were spotless and the staff very kind.
Aug 27, 2020
Nice and quiet. Would stay at again.
Aug 27, 2020
It's one of the nicer KOA's we've stayed at. The park has a lot of character!! The personnel are extremely nice and accommodating.
Aug 25, 2020
Awesome campsite! Friendly staff!! Even with all the extra covid rules and cleaning!! We will definitely be staying there whenever in Douglas!!! �
Aug 25, 2020
Very clean and comfortable. Great staff and a nicely stocked store .
Aug 25, 2020
was very nice
Aug 24, 2020
well kept, spacious roads and sites, AND away from freeway noise.
Aug 24, 2020
No trees in the center of camp, mostly along edges. Staff walked thru my campsite to empty garbage when sites on either side were empty. Nice trash containers, but he could have parked next to it instead of using my site.
Aug 24, 2020
I stayed in the camping cabins for a short weekend trip. The cabins were very cozy and clean as well as the shower house. Every staff member we interacted with was very helpful and friendly. There are plenty of activities to keep the kids entertained. We will definitely be back for another stay.
Aug 24, 2020
short,but enjoyable.
Aug 24, 2020
Very nice staff, clean bathrooms, spotty WiFi, nice campground!!
Feb 02, 2021
Such a nice campground & very friendly staff!
- stefan on Google
Nov 19, 2020
Clean and well kept were here during the beginning of the cold so we keep to ourselves the washer and dryers are clean and your able to get mail which is awesome would stay again
- tracie stickland on Google
Oct 31, 2020
We used this a one night stopover on way to Black Hills. We had a pull through site that was perfect. The view from out window was overlooking a pasture with horses. Quick on and off from interstate. Clean, neat and lots of walks for our pups. We will visit again!
- Paul W on Google