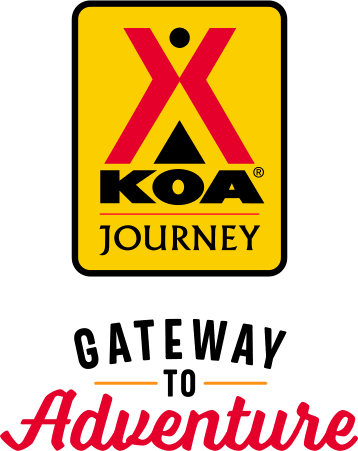 KOA Journey Campgrounds
KOA Journey campgrounds are the perfect oases after a day on the road. Whether it's along the way or a quick getaway, they've got you covered. Located near the highways and byways of North America with long Pull-thru RV Sites, they deliver convenience to the traveling camper. Pull in, ease back and take a load off.
KOA Journeys Feature:
Pull-through RV Sites with 50-amp service
Premium Tent Sites
Well lit after hours check-in service
Directions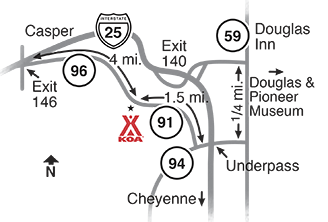 I-25 Exit 140: Turn right at light, in a 1/2 mile turn right on Esterbrook Rd and go under I-25. Then take first right on Hwy 91, and go 1.5 miles on left. Or from Hwy 59: Go 1/4 mile south of the Shell station, stay in right-hand lane, turn right, then first right on Hwy 91. Or from west on I-25: Take Exit 146 and Hwy 96 for 3 miles, at Jct 91 go straight 1 mile, KOA on right.
Get Google Directions
Mar 27, 2021
Wonderful stay. Friendly staff and close to town. Thanks!
Nov 03, 2020
Cozy, warm, simple. The perfect way to road trip when all you need is a clean place to sleep. Thank you!!
Oct 18, 2020
Very peaceful and friendly
Oct 14, 2020
Came up to Douglas from Denver for an Antelope hunt. This was the PERFECT place to stay! The Kabin we rented kicked the crap our of camping and sleeping on the ground. They have a quanset hut with a setup for skinning and cleaning game! Couldn't have asked for a better setup, or friendlier staff. A++++ Will be back!
Oct 12, 2020
I always enjoy staying at KOA in Douglas, Wyoming. The services for hunters are great (lift, cleaning station, etc...) and the staff is always friendly.
Sep 28, 2020
Stayed there the last seven years every year love the place . Already made reservations for next year.
Sep 27, 2020
The staff is the best. They continually go out of their way to make your stay comfortable. Great amenities and great location. We come every year to this area, and we only stay at KOA Douglas.
Sep 11, 2020
My stay in Douglas was fantastic! The whole staff is friendly and goes out of there way to make you feel welcome. The entire camp and is kept very clean. I will definitely visit again!
Sep 02, 2020
Stayed in a cabin. Was very clean and comfortable. Restrooms were nice and clean as well.
Aug 24, 2020
I stayed in the camping cabins for a short weekend trip. The cabins were very cozy and clean as well as the shower house. Every staff member we interacted with was very helpful and friendly. There are plenty of activities to keep the kids entertained. We will definitely be back for another stay.
Aug 03, 2020
Stayed in a kabin. It was just fine for our family of 4. Appreciated AC, clean bathhouse, and play ground.
Aug 03, 2020
I made an error in booking but they worked with me and I loved staying here. One of the nicest KOAs you will stay at. Beautifully decorated cabins, even the bathrooms. Lots of amenities for the kids. Only thing would add a fly swatter! Also the bathroom cleaning is already marked from 10-12. Kind of annoying to be there a little after 9 am & she's putting up a sign "Closed for Cleaning!"
Aug 01, 2020
Well kept facilities. Clean bathrooms. And incredibly friendly service.
Jul 27, 2020
Wonderful experience! Friendly staff and clean facility. Truly enjoyed our stay.
Jul 12, 2020
Very sunny area but a top-notch KOA. My Kabin was nice and cool in 100 degree heat. Highly recommend.
Jul 07, 2020
We loved your campground. It was so peaceful. We loved that you had movie night when we were there. Loved all the rabbits running around. Very clean cabin and bathrooms. Friendly staff. We are the YouTubers Colorado Martini. And we will be featuring your site in our Jackalope/Douglas video coming out soon.
Jun 23, 2020
Very clean and comfortable cabin. Love the bunnies everywhere.
Jun 16, 2020
Excellent. Appreciate help from all especially Dana. By the way, I think the outside light at Kabin 3 is not operating. Thank you all, Berk
Jun 14, 2020
Staff is friendly, helpful and efficient. A maintenance problem with my kabin door was promptly corrected. However, that door is difficult and should be replaced with a normal door like the other kabins before someone is locked out. Also, the men's room soap dispenser that was inoperable a year ago and still is should be replaced.
Jun 06, 2020
This was my first stay at a KOA. Douglas office staff were incredible and so friendly. Thanks to Brooklyn I got my Wi-Fi going on my computer.. Everyone was so nice on both the phone and in person. Had a memorable stay in the cozy cabin and would come back again if in the area. Have already recommended this KOA to some friends who might be traveling. Thanks to all that helped!
Jun 06, 2020
Friendly employees, clean bathrooms and showers. The pool and everything was closed because of covid 19 but the campground cabins were really nice
Jun 01, 2020
The KOA staff members are always so friendly!
May 20, 2020
Relaxing, enjoyable Time.
May 18, 2020
It was a beautiful weekend. Very quiet. Staff was very friendly and helpful. Bathrooms were very clean. Very inpressed
May 06, 2020
No water at outside, sink to wash dishes, weather is past to freeze pipes, everything else was great....
Feb 08, 2020
I got in late but the after-hours instructions were very clear and a light was left on in my cabin as a beacon. The facilities are very well maintained and the staff I met in the morning were very friendly and helpful. I didn't stay long but overall I had a very positive experience and would recommend the campground to anyone.
Feb 02, 2020
It was great, thx.
Oct 20, 2019
We enjoyed the cabins and friendly atmosphere. Staff great and hospitable.
Oct 04, 2019
We enjoy staying at the Douglas KOA annually during the Wyoming state Fair. It is quiet, comfortable, clean, and has such a wonderful hospitable crew. Thank you!
Oct 02, 2019
5 nights in a KOA cabin. Loved the TV in the cabin since the weather was kind of rainy and cold. Very helpful and friendly staff.
Sep 25, 2019
Stayed in Cabin #3, what a fun visit! Very clean and comfortable and convenient to restroom/showers. Easy drive to town of Douglas; wonderful sunrises from the porch!
Aug 12, 2019
This was our second stay with the Douglas Campground but it was our first year staying in the Kabins and they were wonderful. They were clean and cozy and it was lovely to have an air conditioner. The staff as always were friendly and very accommodating we will definitely stay here again
Aug 07, 2019
Very friendly, clean, nice facilities.
Aug 05, 2019
First time staying at this KOA. Everything was great!
Jun 17, 2019
People were very friendly and helpful. We stayed in a Kamping Kabin. Appreciated the TV. The breakfast was a great help too!
Apr 21, 2019
Rented a cabin for a week while I got settled into a new job I started. The cabin and accommodations were first rate. I'll probably use this method of finding long term arrangements again in the future... Thanks.
Apr 04, 2019
If I could recommend anything, it would be to invest in larger shower stalls. I stayed in the basic camping cabin # 3. Take a trip to the Fort Collins, Colorado KOA and check out their showers. I would also suggest better lighting around bathroom paths at night. Use solar as well as electrical lights. One fall and a lawsuit can really wipe out everything you have worked so hard for. E
Nov 07, 2018
Jodi and her crew there are always absolutely wonderful! I've there many times and plan to continue. They're like family to me now ����
Oct 18, 2018
Staff is incredibly nice and helpful. Great experience. Best private campground I've ever stayed at.
Oct 08, 2018
Staff was great! Sites were clean and comfortable.
Sep 23, 2018
Excellent premises and service. Kampong Cabin was well-appointed ...unusually so. We enjoyed the grounds and the good services of the staff. Why do kkabins no longer have screen doors? Creates a fly problem. This criticism is not just here but in the last few we have stayed in .
Sep 10, 2018
Beautiful grounds and very well kept. Reasonable rates. Quite. We will stay agsin��
Feb 02, 2021
Such a nice campground & very friendly staff!
- stefan on Google
Nov 19, 2020
Clean and well kept were here during the beginning of the cold so we keep to ourselves the washer and dryers are clean and your able to get mail which is awesome would stay again
- tracie stickland on Google
Oct 31, 2020
We used this a one night stopover on way to Black Hills. We had a pull through site that was perfect. The view from out window was overlooking a pasture with horses. Quick on and off from interstate. Clean, neat and lots of walks for our pups. We will visit again!
- Paul W on Google