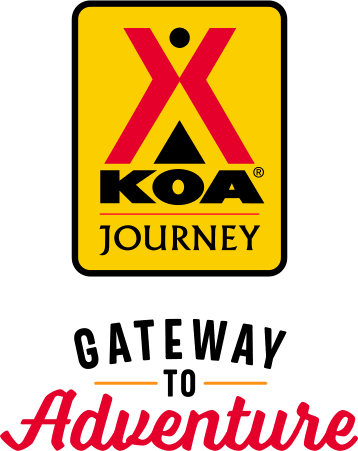 KOA Journey Campgrounds
KOA Journey campgrounds are the perfect oases after a day on the road. Whether it's along the way or a quick getaway, they've got you covered. Located near the highways and byways of North America with long Pull-thru RV Sites, they deliver convenience to the traveling camper. Pull in, ease back and take a load off.
KOA Journeys Feature:
Pull-through RV Sites with 50-amp service
Premium Tent Sites
Well lit after hours check-in service
Directions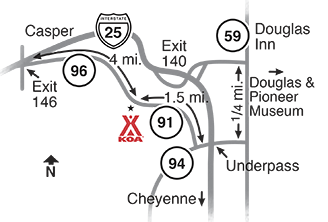 I-25 Exit 140: Turn right at light, in a 1/2 mile turn right on Esterbrook Rd and go under I-25. Then take first right on Hwy 91, and go 1.5 miles on left. Or from Hwy 59: Go 1/4 mile south of the Shell station, stay in right-hand lane, turn right, then first right on Hwy 91. Or from west on I-25: Take Exit 146 and Hwy 96 for 3 miles, at Jct 91 go straight 1 mile, KOA on right.
Get Google Directions
Dec 01, 2020
Talked to owner, she was very nice. WIFI was dead in the water, useless..I have stayed here before, but had a cabin.. same story it was cold, below 32 at night. The main men's shower had no heat. Bathroom does have a mini split AC/Heater it was not on or working...
Oct 18, 2020
Great staff and extremely clean place. It's worth the stop very nice place!
Sep 17, 2020
100 percent good
Sep 07, 2020
I enjoyed my stay. Everywhere you went on the property was nice and clean. The staff was nice and friendly. I would stay again in the future.
Sep 03, 2020
Friendly, helpful, very clean,will be back
Sep 03, 2020
My son and I camped in a tent spot. The campground is perfectly located, clean, and the amenties are awesome. Next time, we're playing miniature golf! Everyone there was very friendly and accommodating. We will be back!
Aug 31, 2020
This was a very nice place to stay nice shade clean shower very nice people to help us as we travel
Aug 29, 2020
This place might be fine if you're coming in an RV, but tent camping was not ideal. There's a huge facility right outside the tent area that was completely lit up all night and had loud trucks coming in and out non-stop. Impossible to sleep through. The staff were very helpful and friendly, but I will caution that I did not see anyone wearing a mask (including inside the main office).
Aug 28, 2020
That is without a doubt the nicest KOA campground I have stayed in. The lady who checked me in was wonderful and the tent area I stayed in was separated or enclosed on three sides with a white fence.
Aug 27, 2020
Nice and quiet. Would stay at again.
Aug 12, 2020
Very nice people who make you feel welcome.
Aug 05, 2020
The place was very nice, I only wish the tent camping wasn't next to a busy road because we got zero sleep with loud trucks going in and out all night.
Aug 03, 2020
Great people
Aug 03, 2020
The workers were wonderful when we arrived and during our stay.
Jul 29, 2020
Other than WIFI challenges (of course...that happens at all KOAs) a good overnight stay. Bathrooms were spotless so I felt safe using them. fabulous staff.
Jul 24, 2020
We enjoyed our stay.
Jul 22, 2020
Very clean restrooms and friendly staff. Though I had a few problems during my stay that were not resolved while I was there, the owners quickly responded to my comments with an apology and refund.
Jul 15, 2020
Very clean campground, clean well stocked restrooms. Great system for use of the pool during this time of covid-19. Thanks!!!
Jul 12, 2020
Nice people. Clean bathrooms. Nice activities. Tents to close to the road.
Jul 05, 2020
Dana and her daughter were a wonderful Host. They made us feel at home and were very accommodating. Thanks for a wonderful stay!
Jun 23, 2020
Staff was amazing! Give them a raise!
Jun 21, 2020
The staff was super courteous and friendly, the campgrounds were super, it was a great stay
Jun 03, 2020
It was a great location, it was quiet, everyone was helpful and friendly and after driving for 3 days it was a great R&R to continue our trip
Sep 26, 2019
Except for the sprinkler that they mistakenly turned on in our campsite in the morning, the stay was very nice.
Aug 18, 2019
Tent area is in worst possible place. Swampy buggy area next to driveway of potholes and speed bump. Pill and pipeline workers are constantly driving in and out any hour of the day or night in big trucks. Tent area is 3 blocks from bathroom.
CAMPGROUND RESPONSE / COMMENTS:
This tenter stayed for 6 nights so I am surprised she stayed if she was so disappointed. We did not hear about this in the office. Just note that we will refund if you feel it is unbearable and do not want to stay.
Jul 27, 2019
Clean, friendly, helpful. Awesome facilities!
Jul 23, 2019
We arrived in our PU truck camper on a very hot day and they were very accomodating and able to find a shady spot for us. This is one of the best and very favorite KOAs in the country.
Jul 19, 2019
We stayedin our tent on the green grassy area. It was clean and the ground was level enough.
Jul 09, 2019
The activities were perfect for kids and the location was beautiful and ideal for a Wyoming stop over!
Jul 03, 2019
Great staff, wonderful activities and extra personalization to camping. Very clean and well maintained. Tent camping private wonderful spots. Can't wait to visit again
Jul 02, 2019
Employés gentils! Belle piscine et beau mini-golf, mais le terrain est rempli de saisonniers et les site de tente sont assez simple! Loin de l'autoroute
Jun 30, 2019
this koa is great. clean and we have a small camper and i requested not to be with the big rigs. the owner put us with the campers, we had elec and grass alllllllllllllllllllllllllllll around. it was delightful and just what i wanted and needed. thank you.pfm
Jun 03, 2019
I went twice to the office for information and both times the door was locked during open hours with nobody around. The site given to me in the tent area was very difficult to get out of. The person who directed me to the site said to exit straight ahead up a hill next to trees but my small camper could not get traction on the hill and I had to back out approximately 70 feet between tent sites.
CAMPGROUND RESPONSE / COMMENTS:
When we are short of workers, yes, sometimes we close the office so that the one worker an get cleaning done. We always put a sign on the door where we are at a phone number; sorry you missed that sign and sorry you had issues leaving the site; we have not had that problem before so we will look into that.
May 27, 2019
This is def one of the smaller KOAs we've stayed at. Love the tent sites because there are little fences around that provide privacy. There was much more road noise than expected. The other KOAs we've stayed at had individual shower rooms. We were def not fans of shower stalls in the bathrooms. The wi-fi was not very good. We were hoping it would be better, esp stuck in our tent during a storm
Nov 26, 2018
We stayed in a tent with our three grandsons. We had a wonderful time and always enjoy our stay here.
Nov 19, 2018
late registration did not provide bathroom lock code that was visible to me. they refused to refund my money because they said it was on the envelope. Does not help if it is not highlighted or otherwise brought to my attention.
CAMPGROUND RESPONSE / COMMENTS:
Bathroom codes are located on a card visible in the nite box and on the site map. This camper was in the nite box when she got a nite registration envelope and site map so if she had read any of the information she would have found them. Also there is a visible card with an emergency number that she could have called. No I did not refund her because she didn't read the information in front of her.
Sep 12, 2018
Had quite tent site with privacy cause of nice fencing. Rabbits were fun to watch. Check in was great and all is clean.
Sep 04, 2018
Great facility, wonderful staff and owner and beautiful views
Sep 01, 2018
As a French girl travelling and camping by my ownin Wyoming , I felt... at home! Thanks to the owner who's a fantastic lady (she helped me to make my plan for my one month travel in this state) and the great staff. A great stay then, facilities are super clean, and there are nice things to do around. Apart from the trails and Ayer's bridge, I recommend the interesting Pioneer Museum in Douglas.
Feb 02, 2021
Such a nice campground & very friendly staff!
- stefan on Google
Nov 19, 2020
Clean and well kept were here during the beginning of the cold so we keep to ourselves the washer and dryers are clean and your able to get mail which is awesome would stay again
- tracie stickland on Google
Oct 31, 2020
We used this a one night stopover on way to Black Hills. We had a pull through site that was perfect. The view from out window was overlooking a pasture with horses. Quick on and off from interstate. Clean, neat and lots of walks for our pups. We will visit again!
- Paul W on Google