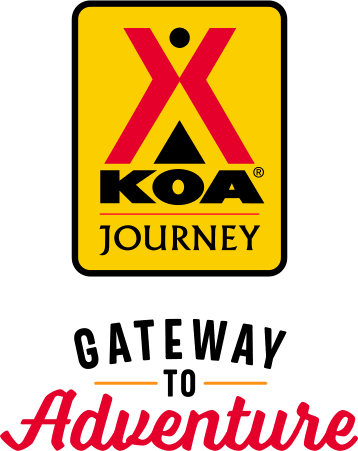 KOA Journey Campgrounds
KOA Journey campgrounds are the perfect oases after a day on the road. Whether it's along the way or a quick getaway, they've got you covered. Located near the highways and byways of North America with long Pull-thru RV Sites, they deliver convenience to the traveling camper. Pull in, ease back and take a load off.
KOA Journeys Feature:
Pull-through RV Sites with 50-amp service
Premium Tent Sites
Well lit after hours check-in service
Directions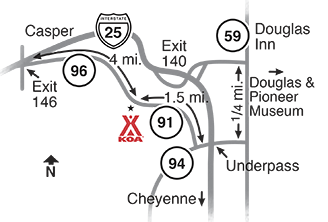 I-25 Exit 140: Turn right at light, in a 1/2 mile turn right on Esterbrook Rd and go under I-25. Then take first right on Hwy 91, and go 1.5 miles on left. Or from Hwy 59: Go 1/4 mile south of the Shell station, stay in right-hand lane, turn right, then first right on Hwy 91. Or from west on I-25: Take Exit 146 and Hwy 96 for 3 miles, at Jct 91 go straight 1 mile, KOA on right.
Get Google Directions
May 02, 2021
It was great!
May 02, 2021
When visiting this well-cared for park, you are surrounded by beautiful scenery and hillsides dotted with Pronghorn. Ducks, geese, and Sandhill cranes fly overhead. The sites are wide enough to park alongside your unit. The grounds are meticulously cared for by a smiling congenial staff. This is, by far, the best KOA we have experienced.
May 01, 2021
Very friendly staff and Beautiful area.
Apr 28, 2021
Our site was clean, level and easy to access. Our camp host, Dana, was very pleasant and actually helped us to our site. Overall this is one of the nicest KOA parks we've stayed and will not hesitate to stay again.
Apr 27, 2021
Great KOA friendly staff and very efficient we will return.
Apr 26, 2021
Very friendly and helpful staff
Apr 24, 2021
The service, help, and consideration by the staff while our truck was in the repair shop was outstanding.
Apr 19, 2021
Great, very helpful staff and a neat, quiet spot
Apr 19, 2021
Stayed in a cabin as camper is still winterized. Cabins were clean and heated. They made sure they cleaned the porch and turned the heat on for us before we arrived. Very friendly staff. Would come again.
Apr 19, 2021
I called an hour before, while enroute, and they were very accommodating.
Apr 14, 2021
Great stay! Staff was very friendly. Campground is very clean.
Apr 13, 2021
Stay was fine. Operators were comfortable and cooperative. Facilities were in good shape.
Apr 07, 2021
We had a very good experience there. The staff were so friendly and helpful.
Apr 04, 2021
Friendly staff, warm and clean bathrooms.
Apr 01, 2021
We only stayed one night and accommodations were great. Very clean and the staff was very friendly. I would definitely stay again. We were in a fifth wheel
Apr 01, 2021
We stayed for three night staff awesome
Apr 01, 2021
Nice park, very clean, well layout and good spacing between spots. The staff was helpful and friendly. Far enough off the freeway that you didn't hear the traffic.
Mar 27, 2021
Wonderful stay. Friendly staff and close to town. Thanks!
Mar 10, 2021
Very good. The host Dena did an outstanding job!
Mar 02, 2021
We needed a place to stay the night on our way back to Denver. It was super cold but we were still able to have full hook-ups with water. This is a super nice campground and I'm sure it is lovely in the warmer months. Jodie the owner was very helpful.
Jan 07, 2021
Very nice welcome when we arrived. Showed us to our site and said to be sure to let them know if we needed anything. Beautiful grounds. Great little dog park a plus. Really enjoyed the evening walking our dogs enjoying the grounds and other RV folks. Would love to come in spring to see it in full green instead of winter. Would be even more beautiful.
Dec 19, 2020
Nice people Very clean.
Dec 11, 2020
Our stop on way south for the winter and again on our return home. Office staff has always been gracious.
Dec 01, 2020
Talked to owner, she was very nice. WIFI was dead in the water, useless..I have stayed here before, but had a cabin.. same story it was cold, below 32 at night. The main men's shower had no heat. Bathroom does have a mini split AC/Heater it was not on or working...
Nov 19, 2020
Staff was very friendly and helpful.
Nov 03, 2020
Cozy, warm, simple. The perfect way to road trip when all you need is a clean place to sleep. Thank you!!
Nov 03, 2020
The Douglas KOA is a wonderful place to stay. People there are so nice and helpful. We stayed there months back and went out of our way 40 miles to stay there again when headed home from a trip.
Nov 01, 2020
Good experience. Quiet.
Oct 31, 2020
This is our second visit to this KOA. We actually planned our trip to stay here. This is definitely a five star starting with the friendliness of staff and great facility that was built to provide full services throughout the year.
Oct 24, 2020
Very nice facility....clean, quiet, spacious, friendly and knowlegeable staff. Would stay again.
Oct 24, 2020
Couldn't get the WiFi to connect no matter what we tried on several devices. We stayed here while hunting, so were were up early around 530 every morning, there seems to be a large amount of semi permanent residents that all leave for work in loud trucks all at about 600am, so of you're looking to sleep in, might not be for you. Other than that, everything was fine, bathrooms were clean.
Oct 22, 2020
The staff was great, the park was very nice & clean and it was quiet. The dog park is great and right next to the round pen for visiting horses. A true taste of Wyoming!
Oct 21, 2020
Our site was an end site, which we really liked. The site was plenty wide enough for us to put out our slides, and it was long enough that we would not have had to drop the camper if we didn't want to. The girl that checked us in (sorry I don't remember her name) was extremely pleasant, informative, and efficient. We will definitely stay here again if we are passing through this area.
Oct 20, 2020
Very welcoming gal who checked us in, but didn't wear a face covering during these pandemic times.
Oct 19, 2020
Staff is always courteous & helpful!
Oct 18, 2020
Great staff and extremely clean place. It's worth the stop very nice place!
Oct 18, 2020
Very peaceful and friendly
May 05, 2021
More than helpful in every way. This KOA is just like being on a farm. I loved it here!
- Terry Powell on Google
May 02, 2021
Gr8 very well kept grounds, beautiful area. Couple miles outside town, but easy to follow directions. Western Motif.
- Scott Hamilton on Google
Apr 30, 2021
We Stayed two nights here and the weather was perfect. This is an extremely nice park with very nice, clean Bathrooms, great grass areas next to every spot, lots of trees(although they are just coming out of Winter) and the whole place was spotless. We used full hookups. I definitely would recommend for 2021!
- FrontierJ on Trip Advisor