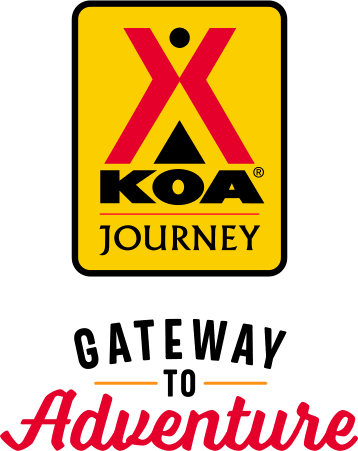 KOA Journey Campgrounds
KOA Journey campgrounds are the perfect oases after a day on the road. Whether it's along the way or a quick getaway, they've got you covered. Located near the highways and byways of North America with long Pull-thru RV Sites, they deliver convenience to the traveling camper. Pull in, ease back and take a load off.
KOA Journeys Feature:
Pull-through RV Sites with 50-amp service
Premium Tent Sites
Well lit after hours check-in service
Directions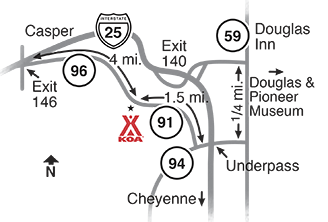 I-25 Exit 140: Turn right at light, in a 1/2 mile turn right on Esterbrook Rd and go under I-25. Then take first right on Hwy 91, and go 1.5 miles on left. Or from Hwy 59: Go 1/4 mile south of the Shell station, stay in right-hand lane, turn right, then first right on Hwy 91. Or from west on I-25: Take Exit 146 and Hwy 96 for 3 miles, at Jct 91 go straight 1 mile, KOA on right.
Get Google Directions
Sep 21, 2021
Was VERY pleased with reception I received. Price was VERY fair - was in conversion van but all I needed was hot shower and level place to park and was quickly accommodated. An employee even guided me by golf cart to my specific site and "spotted" me while I backed van into position. I have felt other KOA's have overcharged me but not this one. I will absolutely recommend.
Sep 20, 2021
Site 106 was a nice long, level site for our 42ft fifth wheel, Clean 50amp power, good water pressure, fair Verizon signal, less than stellar wi-fi Great for a quick layover in the small town of Douglas
Sep 20, 2021
Friendly staff who were eager to help ensure your stay was pleasant. Clean laundry & bathrooms. Pool was not available but a well maintained mini golf was. Cable tv channels were plentiful. Roads were gravel which was a nice alternative to dirt but some places had rather large pot holes. WiFi was a bit spotty. I would stay overnight again
Sep 20, 2021
Folks very kind and helpful.. Thank you. Blessings
Sep 19, 2021
Nice overnight stay. Sewer connection too far back.
Sep 19, 2021
We showed up later than expected which wasn't fun with a tent and four dogs, but we managed. The facility was clean and we took advantage of what we needed on our timeline.
Sep 18, 2021
Sites were decent size, better than most KOA's. WiFi poor. Bathrooms good, clean, plenty of hot water.
Sep 18, 2021
Everything was fine EXCEPT It would help if the WiFi system worked I don't expect anything fancy or speedy but if you offer it HAVE IT WORK!!
Sep 18, 2021
cable tv was terrible snowy , my computer would allow me to use you WIFI as it was not secure for my computer and the sewer is long way from my unit...i did not bother to use your sewer...will try else where next time
Sep 18, 2021
This is a nice stay we ended up staying an extra night. The mini golf was fun nice big laundry machine. We would stay here again when we travel thru
Sep 17, 2021
The staff are exceptionally friendly. Being escorted to the site is very helpful. We did not use or look at the restrooms or laundry. Neither of the two sites we used were level. The supplies we have used for seven years to get level were difficult to use due to the loose gravel on the site. Gravel is preferable to mud on the rare occasions that there is rain, just not so much.
Sep 17, 2021
We just stayed overnight and we were treated like we were staying for a month. The staff was very friendly and the park was very clean and user friendly.
Sep 16, 2021
Clean & Friendly. Would stay again.
Sep 15, 2021
Nice end site. Good satellite reception. Close to town. Good restaurant recommendation. Nice staff
Sep 15, 2021
Our site B09 was crushed stone foundation but not level so we had to use our Andersen levelers. No shade, very little grass around sites, but sites were well spaced. Used the dog run for our dog, but terrain was somewhat slopping to get to dog run.
Sep 15, 2021
Stayed there several times, best campground we have ever used.
Sep 14, 2021
Just one night, but staff was friendly and restrooms/showers were clean and inviting.
Sep 14, 2021
Pleasant location, had our late arrival packet available.
Sep 14, 2021
Nice location and friendly staff, but a little sparse and way too close to our neighbor.
Sep 14, 2021
Staff is helpful. Sites are pretty much level. Quiet. Enough space between RV's. Looking forward to our next visit to Douglas.
Sep 14, 2021
Totally enjoyed the campground and the history of the area.
Sep 14, 2021
Cowboy theme is nice. Water and trash covers unique! Friendly staff. Only thing lacking is shade trees : - ( and some grass. Dog area nice. However; many flying insects at the lights outside the rest rooms and laundry area at night.
Sep 14, 2021
People were friendly, they lent us a cable connection which we returned as we were leaving. Park is clean. Will definitely recommend and use if we pass this way again.
Sep 13, 2021
This was the best KOA I have ever stayed at, which has lots of personal conveniences for campers because of the wonderful management of the long-time owners. I particularly liked the fact that small and medium sized campers were grouped together away from the big RVs. I only hope the new owners will continue with the camper-friendly approach at this site.
Sep 13, 2021
Park was clean and quiet with great amenities. Host of the park were always helpful and very welcoming. We will definitely make this one of our stays again. Thank you for the great hospitality.
Sep 13, 2021
Very clean well run campground
Sep 12, 2021
I stay here 2 x per year enroute to the Pacific Northwest from Kansas. Always friendly staff, clean campground! No unwanted surprises…
Sep 12, 2021
Very helpful staff. Very clean and easy to navigate.
Sep 11, 2021
Very friendly and helpful people and very clean park thank you folks for the help
Sep 11, 2021
Good, clean, quiet place to stay. Greeted by very friendly hosts and looks like they are making some great improvements to property. We only stayed one night there in Jackalope country, but it was a pleasant stay.
Sep 10, 2021
Check in lady was very pleasant. Escorted to large pull thru site. Easy in and out. Nice miniature golf and play area for children. Pool area nice but closed for the season.
Sep 10, 2021
Plenty of washers and dryers for laundry. Bathrooms were clean and showers spacious. Sites had well kept grass. Nice, grassy dog walk area. Park is clean and well cared for.
Sep 10, 2021
Park has one of the better dog parks area in the area! Great stop in middle of Wyoming! Staff/owner is on top of things! Most likely will have to unhook to get RV on level part of site. I've stayed at park several times. Never used facilities.
Sep 10, 2021
Looking for a nice stop over, was given a drive through site so I didn't have to unhook. Very clean and coffee in the morning. If it wasn't for the talky neighbor next to me, I'd been out 10 minutes sooner. LOL.
Sep 09, 2021
Best campground we stayed in. Beautiful!
Sep 09, 2021
We only stayed one night, but we're impressed with the friendly staff, easy check-in, and well thought out amenities. There is a cowboy theme throughout - so appropriate for Wyoming. The large, fenced in dog park was really appreciated since we travel with three dogs. We loved the endless views of the prairie, and especially the sunset!
Sep 08, 2021
I appreciate your efforts to accommodate my allergies, and it was fun to stay in the Yurt. Thank you.
Sep 08, 2021
Everyone is awesome… very friendly and personable… clean and well kept!!!
Sep 08, 2021
The kindest, most caring campground owners we have ever run across. Mere words cannot express the level of our gratitude. The campground is spacious and accommodating. The cost is very reasonable and the location is convenient to the interstate.
Sep 07, 2021
Spotty Wi-Fi -you didn't have enough bandwidth to use it - no pages would download. Super clean bathroom - thumbs up!. Enjoyed putt putt golf course. Thanks for mini store- very helpful and when we needed a few doggie poo bags host happily helped. biggest recommendation: MORE trees!! We were baking in the sun with little grass. Only few lucky perimeter sites had trees - majority didn't.
Sep 07, 2021
Friendly staff. Easy access to highway. Laundry facilities were nice and clean.
Sep 07, 2021
Nice park friendly staff and very helpful and accommodating!
Sep 06, 2021
Very good staff and park is clean.
Sep 11, 2021
Nice facility, well taken care of.
- Carolyn Hines on Google
Sep 08, 2021
Great people and very helpful the campground is very clean and nice
- jerry simmons on Google
Aug 30, 2021
We stopped here just for overnight. It is very neat and clean. They had very nice restrooms and showers. There was a lot of stuff to do if you had kids. They have a pool and some entertainment at different times. We stayed in the tent area and it was very comfortable. The hosts were super nice and very accommodating.
- Nancy Horton on Google