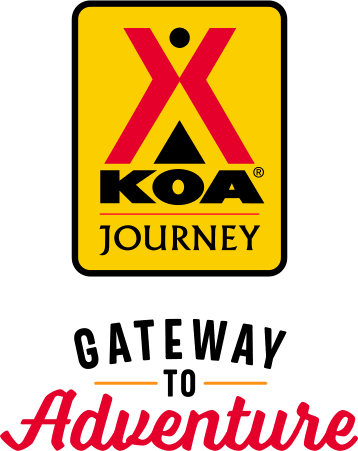 KOA Journey Campgrounds
KOA Journey campgrounds are the perfect oases after a day on the road. Whether it's along the way or a quick getaway, they've got you covered. Located near the highways and byways of North America with long Pull-thru RV Sites, they deliver convenience to the traveling camper. Pull in, ease back and take a load off.
KOA Journeys Feature:
Pull-through RV Sites with 50-amp service
Premium Tent Sites
Well lit after hours check-in service
Directions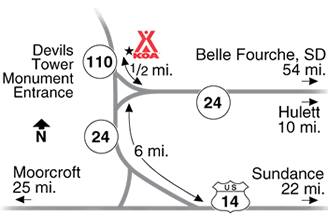 Westbound traffic take I-90 Exit 185 in Sundance just 28 miles.
Eastbound traffic take I-90 Exit 153 in Moorcroft just 32 miles.
Follow signs to Devils Tower National Monument, we are located just outside the monument gate on the right hand side. The registration desk is located in the Cowboy General Store.
Get Google Directions
Sep 20, 2021
Great place nice people
Sep 20, 2021
Friendly and efficient staff. Clean facilities. Beautiful campground. Quiet and peaceful. Great experience. Enjoyed watching deer walk around in the mornings. View of devils tower can't be beat. Exceeded all expectations. Thanks!
Sep 20, 2021
Nice roomy site, great view, good showers
Sep 20, 2021
Great KOA experience. The views are spectacular and the staff friendly and helpful. Would highly recommend!
Sep 20, 2021
This campground is ideal for visiting Devils Tower. Very nice clean campground with many amenities. Staff at front desk seemed overwhelmed at times but very polite. Not much for RV repair items if you might need. We will plan on staying at this campground again.
Sep 20, 2021
Great place to stay. Beautiful view, nice, friendly staff and very clean. Amenities were great and super clean.
Sep 20, 2021
The view was spectacular!!!
Sep 20, 2021
We didnt have any electricity after 7 PM and they didn't give us a discount or anything that would want us to comeback. Jackie
Sep 20, 2021
Perfect location with great amenities. Just wish the RV hookups were in the back, by the river and the cabins were up front in the dirt slots.
Sep 20, 2021
It was busy! I renewed my Membership and didn't get my free coozies though!!! And Like I said, it was way too busy to even bug the poor workers for them!
Sep 20, 2021
We had wanted to stay right at the base in the campground but it was full and the KOA had one spot left which suited us perfect! Had a beautiful spot with a view of the tower, the dogs were very happy! The showers were dry clean, gift shop fun and everything was perfect, as KOA's usually are!
Sep 20, 2021
We were going to Devils tower and called to stay here and we couldn't be more happy. The view was breath taken and everyone was so nice. We will go back.
Sep 19, 2021
Unnecessary mowing is annoying. It should not be a pastime. One day,someone mowed the "field" for over three hours and brought 2 1/2" grass down to 2" grass. The next day, he started to mow the area where 97 is located. I pointed out how disruptive the previous day's noise was and showed him how short the lawn was that he was about to mow. He went away quietly. Larry Johnston
Sep 19, 2021
The ladies at check in were welcoming and very friendly - that first impression makes all the difference.
Sep 19, 2021
Beautiful location. Staff was friendly especially Patrick who drove the tractor for the amazing hayride. Fun having the movie at night. Amazing store on site. Patrick needs to be a Chiefs fan not a Broncos fan lol. Only downside is paved sites would be nice with all the dust and wind.
Sep 19, 2021
Bathrooms were far from cabins, and no paper towels in bathrooms. Would be helpful to have, to clean up any messes made.
Sep 19, 2021
You can't beat the location right next to the park. Check in area needs improved. Lots of confusion in the parking area on where to park and not block other rigs.. The section of campground where we stayed was more of a field with strips of gravel with hook ups. There was hayride and nightly outside movie. The store was nice with nice staff. I would have rated higher if the grounds were improved.
Sep 19, 2021
The restrooms and other facilities were clean. Campground has an excellent view of Devil's Tower. Easy site to place the camper in. Good power and hookups.
Sep 19, 2021
Absolutely the best KOA we have ever stayed at. t was clean, roomy, and the surrounding scenery was fantastic!
Sep 19, 2021
Loved the location. Was a little put off they we were unable to check in before 1pm unless we paid an we extra $10. They were not busy in TY he office and many empty sites. We came from the East and changed time zones so we were a little over an hour early. Every other camp ground we have been to has met us come in early without any questions or charges.
Sep 19, 2021
Way overpriced for the facility. We got placed out in the field, facing away from the Tower, with not shade trees ... even though their were other spots in the old area of the campground available. Sites are tight and drives are hard to maneuver. We even witnessed a collision one day.
Sep 19, 2021
Campgrounds were clean, restrooms were clean. Wifi did not work unless you were in the store.
Sep 19, 2021
Not friendly. Not helpful. The advertised and expected food service was missing (open 11 to 4, hardly the breakfast, lunch and dinner advertised). Grocery section was poor. Short staffed should not make a place unfriendly. This was the worst KOA experience we've ever had.
Sep 19, 2021
We stayed at the Devils Tower KOA for 1 night. It is a fairly large campground, supporting both RV and tent camping. The tower itself was framed looking out our Motorhomes front windshield. Its the best views around. The Office/Camping store is large and has a huge assortmet of Devils Tower Gifts and Souvineers (there is also a place right across the street - but KOAs is actually much nicer!).
Sep 19, 2021
There aren't enough words to say how peaceful it is here and everyone is so nice. Your here and you forget all the problems going on in the world for a whille. I told my cousin in Ca and they are coming next year. Thank so much so much for everything. We will be back....
Sep 18, 2021
Super quite. One of the most peaceful places I've been.
Sep 18, 2021
Very pleasant, quiet and great location
Sep 18, 2021
Great campsites with gorgeous scenery everywhere you look, plus Devils Tower right in front of you. What else could you ask for?
Sep 18, 2021
Booked a site online and arrived and was assigned a site. We went to site and it had been assigned to another guest. Then the office said we had to move to a different site which cost more and we would have to pay more for that site. Quite disappointed in this poor management.
Sep 17, 2021
Great location. Excellent courteous staff who are very attentive to everyone's needs. Nightly movie was a bonus.
Sep 17, 2021
Beautiful park and amazing view of Devils Tower!
Sep 17, 2021
Great place! Very clean and a friendly staff. You could not ask for a better view!! Can't wait to come back some day.
Sep 17, 2021
Started with the rude lady in the office. Wanted to charge me $ to check in early. We have stayed at many KOAs and this is a first. Well it didn't stop there. They wanted to charge $ for mini golf and the hay ride. Mount rushmore koa, vernal koa, Olympic peninsula koa, Missoula koa, mt.lassen koa all DID NOT charge for early check in, mini golf or hay ride....was really surprised and disappointed
Sep 17, 2021
Awesome KOA! Fantastic views, great facilities and friendly staff. Loved my stay here.
Sep 17, 2021
Fantastic! Loved watching the movie Close Encounters of the Third Kind with Devils Tower behind the big screen in the background. Full on amazing view of DT from our campsite.
Sep 17, 2021
Nice campground, spacious spots, friendly staff, great views and loved watching "Close Encounters" with Devil's Tower in the background!
Sep 17, 2021
Beautiful campground. Lots of great amenities. Staff very kind and helpful. Will definitely stay again.
Oct 12, 2021
I loved this campground. I was only in the area for 1 night, and was pleased to find there was availability for my tent when I drove through in August. I found the campground to be wonderfully maintained, and the bathhouse spotless. I was told upon check in that the movie would be shown at 7 pm. What movie? I asked. Silly me. Close Encounters, of course! Fortunately, I arrived early enough in the day to hike a circuit of the National Monument, and then enjoyed the view of same from my campsite even more. This is just a great place to stay and is worth the extra couple dollars it costs to stay at a KOA for the cleanliness, the view, the proximity to the monument, and the fun. PS, all of the photos attached to my review were taken in the campground.
- Deb InVA on Google
Oct 09, 2021
Very nice campground, very friendly staff. We did not go on the hay ride or watch movie, but thought that was a great treat especially for kids. Great place to walk our dog and the view is worth a million! WIFI was very good. We did not use the facilities other than laundry which was in very good condition. We had a lovely walk around the campground with the tower and Belle Fourche River, great location.
- Carol Henderson on Google
Oct 09, 2021
Fabulous!
- Eileen Wolf on Google