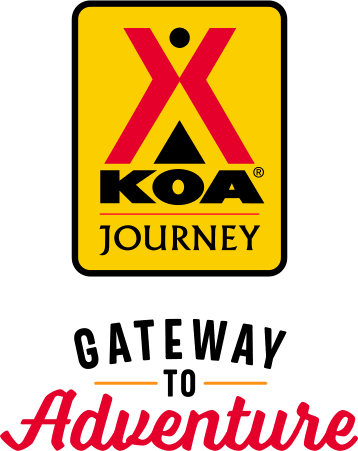 KOA Journey Campgrounds
KOA Journey campgrounds are the perfect oases after a day on the road. Whether it's along the way or a quick getaway, they've got you covered. Located near the highways and byways of North America with long Pull-thru RV Sites, they deliver convenience to the traveling camper. Pull in, ease back and take a load off.
KOA Journeys Feature:
Pull-through RV Sites with 50-amp service
Premium Tent Sites
Well lit after hours check-in service
Directions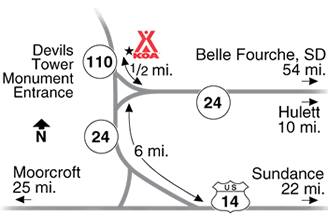 Westbound traffic take I-90 Exit 185 in Sundance just 28 miles.
Eastbound traffic take I-90 Exit 153 in Moorcroft just 32 miles.
Follow signs to Devils Tower National Monument, we are located just outside the monument gate on the right hand side. The registration desk is located in the Cowboy General Store.
Get Google Directions
Mar 22, 2021
This was our first RV trip to DT area. First time we brought kids, grandma and dog in an RV. We had a GREAT time! LOVE LOVE this KOA. Clean, amazing views and friendly people. This was July 2021 with Covid, a grandma scared to be around people and everything was perfect. This is our new GO TO when it comes to a place to see the Tower and a good jumping off point for longer trips.
Nov 13, 2020
Our truck broke down in their parking lot on the way to Devils Tower. They gave us a name of a mechanic. The KOA staff was very Friendly and helpful. We had no reservation, but they found a spot for us for two nights at their campground. Highly recommend this KOA
Nov 08, 2020
Great place and great people.
Oct 31, 2020
We liked the campground & amenities but never felt really safe due to lack of social distancing & masks. Staff was friendly and helpful though and the grounds are very pretty with the bluffs and river running nearby. No one including the campground had any idea that the road to Devil's Tower was closing which was disappointing. Nice gift shop.
Oct 30, 2020
Great campsite accommodations. Friendly staff. Wish we would have taken an extra night!
Oct 29, 2020
we had great a great stay.
Oct 26, 2020
This is a great location, right at the base of Devil's Tower National Monument. Friendly staff, and delicious fudge! We thoroughly enjoyed our stay, and we think it's awesome that the campground shows Close Encounters of the Third Kind daily, 365 days a year.
Oct 22, 2020
This time of year the park was pretty much empty but the staff was excellent! Friendly, informative, helpful and made us feel welcomed even with limited services. The location can't be beat and the park was well maintained. Did not use showers or laundry facilities so I can't rate them.
Oct 20, 2020
Incredible stay, as always. An amazing place to relax, reflect and commune/connect with nature. I've been here three times in the last year and this has become my #1 favorite destination getaway. All of the staff are warm, welcoming, helpful and super friendly. A BIG shout out to Tracy and Angela!
Oct 19, 2020
great location, nice place friendly people.
Oct 18, 2020
A beautiful area!
Oct 16, 2020
Excellent location for the park. Right at entrance to Devils Tower National Monument with great view!
Oct 15, 2020
Got there early with two other parties that made separate reservations - they went out of their way to make sure we were near each other. The Staff was helpful and polite. Couldn't ask for more.
Oct 15, 2020
Great campsite for our RV. The price was a bit high for the service we received but it was still worth it.
Oct 14, 2020
Amazing view of the tower!
Oct 14, 2020
Easy late check-in, clean and comfortable. Loved the nightly showing of Close Encounters!
Oct 13, 2020
Just a beautiful place to have a KOA loved everything about the campground.
Oct 13, 2020
Beautiful and very accommadating.
Oct 13, 2020
My husband talked me into going to Devils Tower. I was skeptical but OMG, it was the most awesome! Take the hike! Walk the KOA campgrounds! Some of the most beautiful pics of our trip!
Oct 13, 2020
Such a beautiful place to stay! Friendly staff! Very nice!
Oct 13, 2020
As far as view, no better place. The gal at the counter couldn't be friendlier. Overall everything was convenient, a very nice place to stay.
Oct 12, 2020
Perfectly placed campground at the entrance of Devils Tower! Quite empty as it was close to closing time for the season but still well kept and friendly staff
Oct 12, 2020
Location, location, location to Devil's Tower. The place is right at the entrance of Devil's Tower. Grounds were well kept and the shower rooms are AMAZING! Will definitely recommend and will definitely be back.
Oct 12, 2020
Clean and quiet. K9 camp well kept.
Oct 12, 2020
It was absolutely wonderful! We really enjoyed our time there. The campground was clean, the staff was very nice, the location is perfect and we really enjoyed having the evening movie. We were sad to have to leave and will most likely be back again.
Oct 12, 2020
Pulled in at night and sat in awe of the amazing night sky with the dimly lit profile of Devil's Tower in the background. woah. Amazing showers.
Oct 12, 2020
Great place to stay with an awesome view of Devils Tower!
Oct 12, 2020
Beautiful, clean and fun
Oct 11, 2020
It was very nice, the weather was great, a bit chilly in the evening and morning , the movie was fun to see again, saw lots of animals around the campground(turkeys, squirrels, deer ) we had fun. Getting around the back side of devils tower was a bit of challenge with not much parking, not your fault on that.
Oct 11, 2020
Beautiful setting with Devil's Tower in view from nearly every site. Right at gate tot he park. Very nice staff. We even decided to stay for a third night.
Oct 11, 2020
Extraordinary view of the tower! Clean and friendly place to stay.
Oct 11, 2020
Over priced and poorly kept
Oct 10, 2020
very good park and the staff was very professional
Oct 10, 2020
Great location. Lots of room at the park for our rig.
Oct 09, 2020
Very clean and welcoming. Great view.
Oct 09, 2020
Great hosts and unbeatable views of the Tower. Bathrooms were always immaculate. Location is unbeatable as it sit right at the park entrance.
Oct 09, 2020
Beautiful campground, very well maintained
Oct 08, 2020
Amazing view of Devil's Tower, and although some of the activities ended on September 1, we enjoyed our time at DTKOA.
Oct 08, 2020
Tent site w/power + water. Slight hill behind us gave wind protection. Trees offered shade most of day. Grass kept up very well, no dirt spots. Store was big with tons of "whoops we forgot.." handy. Laundry was very reasonable and coin machine worked! *Coins were an issue elsewhere. Individual shower rooms were nice and roomy. Hot water both days for me. Nice Campground!
Oct 08, 2020
Everyone was pleasant, the grounds are well maintained, the location is perfect, WiFi was good, trading post was well stocked
Oct 08, 2020
This is our third trip to Devil's Tower KOA over the last two years and have thoroughly enjoyed our stays each and every time. The campground is always clean and the KOA personnel are friendly, courteous, and professional. The location is excellent and the views of the Tower itself are phenomenal. I would definitely stay here again!
Oct 08, 2020
Stayed in oct 2020 not busy at all and great location. Only negative is no fire rings at rv spot. Stayed in 5th wheel
May 04, 2021
Very nice and clean. Great view of Devils Tower. Enjoyed the outdoor movie too!
- Kathy Davey on Google
Mar 26, 2021
I cannot wait for another visit there. I know it is temporarily closed, but allow me to tell you of our last time there. My name is Roger Browning the author of 'The Reckoning of Rance.' A western for your search is to where it resides, but I feel it more of a modern day saga of a ranching family in Texas, that live the dysfunction with troubled inheritance they provide. A making by some with choice, while others deal in the misery of their making. I want to tell you though about our experience so beloved for this campground. We traveled to the land of the tower, with popup trailer in tow and we were allowed the most perfect spot near enough to the bathrooms and showers and right below the sheltered limbs of a tall cottonwood tree. After making our camp, we made our ways over to the camp store for goods, where the lady behind its counter there so graciously welcomed us in. She helped with everything the campgrounds had to offer and we stocked up on hotdogs, buns, beenie weenies, drinks and popcorn just to top everything off. We arranged a wagon ride with her help, for a tour of the surrounding camps countryside and what an enjoyable ride it was our very first evening and just before that night. My youngest daughter and grandson played the swing and merry-go-round and later that night we sat the yard of the store and watched 'Close Encounters of the Third Kind,' something of a tradition enjoyed, while eating popcorn from the vantage of our brought along camp chairs, with sodas for the kids, but for us a bottle of wine. A chill of that night with blanket made it more cozy for us there, while we watched along while enjoying the movie a firelights glow. It sat atop of the great tower off into the nights existance, that of climbers that chose to camp atop it and to take in the vastness of the night stars as only they could feel them. A vantage only to them, left out for us below. I love this place and cannot wait until it's open for us once more. My name is Roger Browning and my book out now on amazon, is known as 'The Reckoning of Rance.'
- ROGER BROWNING on Google
Nov 21, 2020
Lady is super nice and they able to provide parking even for visitors with semis)
- First Last on Google