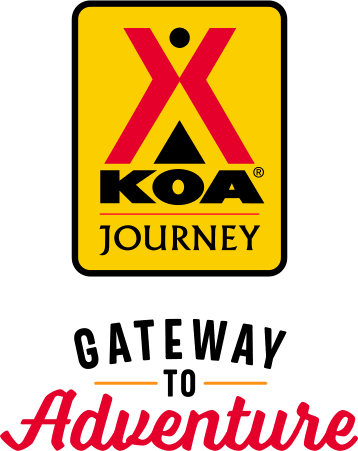 KOA Journey Campgrounds
KOA Journey campgrounds are the perfect oases after a day on the road. Whether it's along the way or a quick getaway, they've got you covered. Located near the highways and byways of North America with long Pull-thru RV Sites, they deliver convenience to the traveling camper. Pull in, ease back and take a load off.
KOA Journeys Feature:
Pull-through RV Sites with 50-amp service
Premium Tent Sites
Well lit after hours check-in service
Directions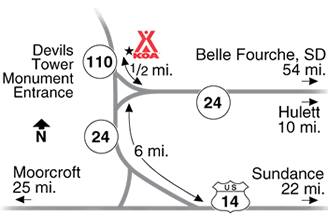 Westbound traffic take I-90 Exit 185 in Sundance just 28 miles.
Eastbound traffic take I-90 Exit 153 in Moorcroft just 32 miles.
Follow signs to Devils Tower National Monument, we are located just outside the monument gate on the right hand side. The registration desk is located in the Cowboy General Store.
Get Google Directions
Jul 27, 2021
Fabulous as always! Friendly staff, Clean restrooms, always love doing my laundry there, and who can beat the view?
Jul 27, 2021
Perfect location. Great amenities.
Jul 27, 2021
Absolutely Beautiful place to stay, the views are stunning and everyone was so friendly. Highly recommend and would stay again!
Jul 27, 2021
We loved that there was on onsite restaurant & ice cream. We liked the little store & souvenir shop too. The site #85 we stayed at was amazing & the views are great!! The grounds were very well manicured. The cabins next to the river look nice too. We highly recommend this KOA.
Jul 27, 2021
Great staff and delicious ice cream in the KOA store. WiFi needs improving
Jul 27, 2021
We were in site #36 with an unobstructed view of the tower. This KOA is all about location - at the entrance to the National Monument. They have great gift shop/camp store, restaurant and every evening they play the movie "Close Encounters of the Third Kind" outside under a view of Devils Tower. Really enjoyed our stay here.
Jul 27, 2021
Our stay was great at this campground. We were very thankful we were given one of the very few sites with shade for our 2 day stay here. Since we had a pop-up with no air, it would have been miserable in the 90 degree weather we had while we were there and so glad the nights cooled off! Enjoyed dinner at restaurant in the cool air conditioning, cool pool and nightly movie.
Jul 27, 2021
We had reservation for one night. Great Location. Excellent amenities. Wish we had planned for a longer stay.
Jul 27, 2021
This was an amazing stay!!! 100% recommend this KOA!! Not only was the area so fun and amazing, with being able to really see Devils Tower up close and personal and watch Close Encounters of the Third Kind with the Tower in the shadows, but the people there were AMAZING!!! So friendly and kind!! Always a smile! Absolutely loved it!!! One of our best vacations ever, if not THE best!!
Jul 27, 2021
Cabins were nice. Great air-conditioning. Need a small fridge; my insulin needs cooling, so I had to improvise. Several flies always in the cabin no matter what we did - maybe a bug zapper or electric fly swatter? Cafe closes too early & breakfast was limited but not bad. Great hay ride! LOVED the movie, but please tell campers to let it play to the end of the credits before shutting it off
Jul 27, 2021
It was awesome to stay and watch the movie while viewing the Devils Tower. Having the restaurant and shops on site were very handy. Only negative was all the mud around the dump station. Pretty messy when trying to dump and hit the road. Thanks for a great stay!
Jul 27, 2021
Very nice campground at the bottom of Devils Hill Tower where you can see the Tower from every site. Nice sites, full hookups. Very nice campground staff. Enjoyed our stay!
Jul 26, 2021
So close to the tower. Campground is tight in Some of the areas and unlevel camp sites but our was great.
Jul 26, 2021
If I could have given you a score of 11 I would have. It is obvious that this team loves their KOA camp. The spot was great! The golf was themed to the area. The staff was knowledgeable about Devils Tower and courteous. We need to come back when you finish the new pool!
Jul 26, 2021
So close to Devils Tower monument! We loved seeing it from our campsite! The kids enjoyed the playground, mini golf, and the pool. Nice staff. Grounds were well maintained. Clean bathrooms, showers, and laundry room. Overall, a great stay!
Jul 26, 2021
Great location and within hiking distance to devils tower.
Jul 26, 2021
It was really hot and far away. Can you move it closer and cool it down. Kidding. Great place ama I get view.
Jul 26, 2021
There are a few teenage kids working in the store who probably need some more training or to be properly supervised by an adult. Other than that our stay was great.
Jul 26, 2021
We had a short stay but enjoyed the location and amenities!
Jul 26, 2021
Lot's to do!
Jul 26, 2021
Amazing campgrouds. Great host and very clean. Literally at the monument, the entrance is literally next to the parking lot. So many activities for families and shops have almost all your needs. Closets groceries is about 15min north in Hulett, so don't go back to main hwy (south) which is about 30-45mins away. Clean bathrooms/showers. We loved our stay so much.
Jul 26, 2021
it was good. vert convinent
Jul 26, 2021
The best KOA we've ever stayed at, and we've stayed at a TON! Perfect location, absolutely nicest staff ever and insanely clean and big showers. The wifi was amazing the entire time (we were in the tent site w/ electricity cause we work full time remotely). The KOA has so many fun things to do on-site that we were able to take advantage of, all without leaving the premises. Highly recommend!!
Jul 26, 2021
Great views, clean showers, good selection in gift shop. RV drive extremely bumpy & uneven. Watching Close Encounters was a nice nostalgic touch.
Jul 26, 2021
Very clean site! They have everything you need,showers, laundry, bathrooms, water spout at every site: cabin/tipis/rv/tent!! You can't get close to the Mato Tipila tower than this. The red rock and Bell Fouch river are absolutley beautiful. Try to make it on a full moon , it's amazing!
Jul 26, 2021
I am typically a National Forest camper, but I was truly impressed with this campground. The views were amazing and the staff was exceptional. I was traveling alone with my two dogs and was easily able to go in and place an order to go in the restaurant and the buffalo burger was awesome. Showers were clean and restrooms well maintained. Absolutely no complaints at all!
Jul 26, 2021
Very nice and helpful staff. Nice clean campsites.
Jul 26, 2021
Wonderful campground! We had a beautiful view of devils tower. We ate at the restaurant and food was excellent! We shipped the gift store for postcards and bought some fudge too! We watched the nightly movie close encounters of third kind. We are new to KOA just signed up this trip. I'm pleased as we have stayed in threeKOA's. I did pay for a premium spot, and would have preferred on the
Jul 25, 2021
Great campground and we would stay here again! Quick check-in, clean bathrooms, and friendly staff. P.S. Mini golf is $5/person now.
Jul 25, 2021
Grass was completely worn down. Very dirty and dusty. Some parts of park had good trees, but our area had none. This was not clear in reservation system. It was very hot. Sites laid out with good view of tower but fully exposed to hot, setting sun.
Jul 25, 2021
This is, without a doubt, the most beautiful KOA I have yet seen (and I've stayed at several!) My cabin had a river just outside the back window, with a bunch of deer on the other side. Scenery = awesome! One of the nicest aspects was all the green grass: It seems that RVs are a second thought here, which is quite the opposite at many other KOAs I've stayed at.
Jul 25, 2021
Normally I'd give this place four or five stars, but they had a giant backhoe and a couple of bobcats digging a giant hole right in the middle of the campground. I can understand construction to improve the place, but work normal hours 9-5. These guys worked until it was too dark to see which was around 9:45 pm - almost bed time. How inconsiderate.
Jul 25, 2021
My family and I really enjoyed our stay at this campground. We wish we could have stayed longer and was able to do go on the wagon ride. This place was beautiful.
Jul 25, 2021
The only thing I think was wrong. Paying for the hay ride. Then be told the ride is full. They could have done 2 rides so everyone could go.
Jul 25, 2021
Extremely friendly staff. Great view of Devil's Tower. We loved watching Close Encounters in the outdoor theater with Devil's Tower in the background. The restaurant served great food and the grandkids loved the ice cream parlor.
Jul 25, 2021
We stayed 1 nt and it was easy in out. Clean. Enjoyed the movie, close encounters outside they show nightly. Mar elous views. Restaurant food was good ice cream was better.
Jul 25, 2021
Nice campground. Very clean, well maintained. More shade would be nice.
Jul 25, 2021
Enjoyed our stay
Jul 25, 2021
It was close to devils tower, just outside the gate in fact. Very clean campground, well taken care of. And the show Close Encounters of the Third Kind every night with devils tower in the background.
Jul 25, 2021
Beautiful views of Devil's Tower from our campsite. Bathrooms and showers were clean and easy to get to. Friendly staff at the restaurant and gift shop
Jul 25, 2021
Enjoyed watching the movie with our granddaughter. Had an beautiful view of Devils Tower from our site
Jul 25, 2021
It's a KOA, so if you're tent camping it's just a big field. BUT you're view of the night sky and Devil's Tower is unparalleled. It was quiet and had good facilities, plus the crew working the campground and store are super nice. Would come back again!
Jul 25, 2021
First time at a KOA! We usually stay in federal campgrounds but chose this KOA due to the location. We paid more for one of the premium view sites and it was worth it. Very friendly staff. Pool was small and very crowded but they are putting in a new one. We had a great time and got some amazing photos.
Jul 25, 2021
Lovely campground. Definitely worth it.
Jul 25, 2021
We were placed in a campsite right beside the road where the back hoe was working and was loud. The dump station was very muddy because the water hose hanging down leaked and got you wet when you were trying to wash out our slinky hose.
Jul 30, 2021
We love this park!!!
- Josh Osteen on Google
Jul 29, 2021
Staff was very professional and nice. Campgrounds was amazing and the shower and bathrooms where clean.
- John Holt on Google
Jul 29, 2021
Amazing showers! Very cool to sit and watch movie Close Encounters of the Third Kind outside with Devils Tower in the background!
- Amy Myres on Google