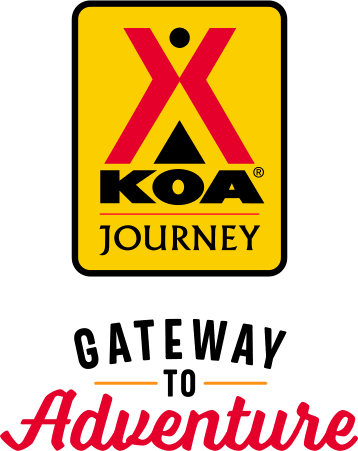 KOA Journey Campgrounds
KOA Journey campgrounds are the perfect oases after a day on the road. Whether it's along the way or a quick getaway, they've got you covered. Located near the highways and byways of North America with long Pull-thru RV Sites, they deliver convenience to the traveling camper. Pull in, ease back and take a load off.
KOA Journeys Feature:
Pull-through RV Sites with 50-amp service
Premium Tent Sites
Well lit after hours check-in service
Directions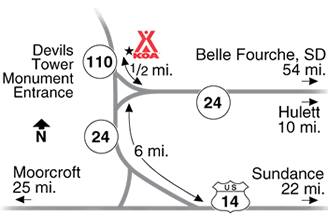 Westbound traffic take I-90 Exit 185 in Sundance just 28 miles.
Eastbound traffic take I-90 Exit 153 in Moorcroft just 32 miles.
Follow signs to Devils Tower National Monument, we are located just outside the monument gate on the right hand side. The registration desk is located in the Cowboy General Store.
Get Google Directions
Oct 17, 2021
Wonderful stay, as always. This is my fifth time staying at the Devil's Tower KOA in the last two years and it has become my "happy place!" Amazing views of the National Monument and the entire KOA staff are exceptional and A+++ Love the nightly showing of "Close Encounters of the Third Kind"
Oct 13, 2021
The deluxe cabin was everything me and my group of friends needed for a warm, liveable stay. Heater was excellent, water was hot, and lots of options for places to sleep. Neighbors were friendly enough to help supply a compressor for a flat tire too!
Oct 11, 2021
Very quiet and tidy campground with beautiful views and modern and clean bathrooms. Good store and restaurant as well. Will come again!
Oct 11, 2021
only disappointment was not being able to see the "3rd Encounters" movie in the evening. But pouring rain sort of made that impractical. Otherwise - all very good!
Oct 06, 2021
My cabin was comfortable and the staff was friendly and helpful. The campground was Well maintained and being next to the entrance to Devils Tower I spent 2 days enjoying local restaurants, enjoying the deer early morning grazing in the campground, watching climbers and friendly conversations with campers. I learned quickly the night temperature requires both blankets I had packed. �next year
Oct 04, 2021
While the view was great…. Our experience wasn't. Both afternoons we were there they were pounding in fence right behind our cabin as the kids were trying to snooze. There were sharp screws poking out from several places in the cabin on the beds and door. The staff was super short handed and stressed/rude. I was told there was a restaurant but wasn't informed it was closed the only two days
Oct 03, 2021
We had a nice stay in the deluxe cabin. It was great having a bathroom. The kitchen was stocked with everything you need to prepare meals. You have to bring your own bed linens and towels. Bring Clorox wipes for the mattresses. It was the end of the season so the food section in the store was limited. I think there shouldn't be an additional fee for miniature golf. Overall, recommend this spot.
Oct 02, 2021
Best KOA I've ever stayed at. First class operation here and gorgeous views from every part of the campground. Everything was excellent. Keep it up!
Oct 01, 2021
Very relaxing and fun place to stay. Got to watch Close encounter of third kind even thought I froze my self for not wearing proper clothing. My would always come back here to stay.
Sep 30, 2021
Cabin was great. Only problem was the bathroom was dirty. It was a disappointment
Sep 30, 2021
We loved our stay. The cabin was very comfortable. The proximity to the tower was perfect. The staff was very kind, courteous and helpful. I look forward to coming back.
Sep 29, 2021
Beautiful area and views, clean bathrooms, well maintained campground.
Sep 25, 2021
Great location, friendly staff.
Sep 21, 2021
Very peaceful and beautiful. Perfect view of Devils Tower right from the front porch of our cabin. The area is beautiful with the Bell Fourche river running right behind our cabin against a red rock formation. Very picturesque!
Sep 19, 2021
Bathrooms were far from cabins, and no paper towels in bathrooms. Would be helpful to have, to clean up any messes made.
Sep 18, 2021
Great campsites with gorgeous scenery everywhere you look, plus Devils Tower right in front of you. What else could you ask for?
Sep 16, 2021
Had a fabulous time and loved the little cabin!
Sep 12, 2021
We had a great time but wanted to rent a tee pee and they said there was only one bed and we needed 3 ,so we got a cabin , then the next morning we looked at a teepee and it did have 3 beds, Someone brought their dog that did alot of barking unable to control their pet it disturbed the tranquility of the campground and chased away all the wildlife . Restaurant hours are a real joke.
Sep 11, 2021
Best Devils Tower location for cabin, teepee, or camping. Enjoyed a hayride and movie night too.
Sep 08, 2021
Weather was great. I didn't like going to the bathroom during the night, but everyone had to do it. The place was quiet and the people nice.
Sep 08, 2021
Great location. Stayed in deluxe cabin. Recommend air conditioner in bedroom. One in front doesn't reach back there. Also change to a real queen mattress. Glad to see air conditioners put in the other cabins. Recommend more deluxe cabins, similar to KOA by Badlands. Other than that, glad to finally make it back.
Sep 07, 2021
The stay was great. The only problem was the men's bathroom needed cleaning and service for the two days we were there. This was at the end of July, 2021.
Sep 07, 2021
We stayed in one of the Tipis and loved every bit of the experience. The staff were very kind. The grounds were well maintained, the location was absolutely unbelievable. Will definitely stay there again.
Sep 06, 2021
Really nice place. Super clean & very helpful staff. Quiet. Peaceful. Right at Devils Tower. Rainstorm came up and we watched as groups of deer ran for cover across the river from our Kampers Cabin window. Then the rain cleared out and I watched the showing of Close Encounters of the 3rd Kind in the shadows of the tower. What an incredible experience!!! Thanks so much. Highly Recommended
Sep 06, 2021
Great place to stay, loved watching Close Encounters Of Third Kind under the stars with the tower right behind the screen. Great staff, we forget to bring towels and Vicki was so kind as to let us borrow a few of hers�. Looking forward to when we can stay there again.
Sep 04, 2021
The Deluxe Cabin met our needs perfectly for a wedding with Devils Tower backdrop.
Sep 02, 2021
Beautiful scenery right at the entrance of Devil's Tower. Our cabin was clean. The shower stalls had hot water. Bonus movie night. General store available for snacks.
Aug 31, 2021
Bathrooms and showers were very clean. Great view of the river and Devil's Tower.
Aug 30, 2021
i was soooo happy to see heat in my cabin..someone said that there was no heat in them...i am glad that they were wrong...
Aug 30, 2021
Cabin was sufficient for our one night stay. Located at the base entrance for Devils Tower. However, one of the reasons we chose to stay there is because they have a Cafe to get food. They had the Cafe closed during our stay and never told us before booking which was disappointing. Some of the staff was super nice and friendly.
Aug 30, 2021
The facilities, campsites and staff were excellent. We will be back! 1 complaint: there was a wedding at the KOA the night we stayed. They played loud music till after 11pm. We were shocked. We tried to go to bed early since we'd been traveling all day. It was too loud. We wish the new couple well, but feel even special events should heed the KOA rules and obey quiet hours in respect to others
Aug 29, 2021
Excellent KOA! We stayed in a Kamping Kabin and it had an awesome view of Devils Tower. The best mini golf course we have seen in a KOA! Parks for the kids were great, they are in the process of building a new pool, which looks really cool. Clean and spacious bathrooms, staff was very friendly and helpful, really good fudge in the store, and walking distance to Devils Tower National Monument.
Aug 29, 2021
Beautiful views! Clean campground! Friendly people! Will definitely be back
Aug 29, 2021
Wonderful time very informative desk personnel. Only stayed one night but cabin was very clean and maintained.
Aug 27, 2021
Great like being at a resort
Aug 26, 2021
Loved every minute of our stay. Really enjoyed movie by the tower. All staff members were very friendly.
Aug 26, 2021
Great relaxing place to enjoy!! The staff is Awesome.
Oct 12, 2021
I loved this campground. I was only in the area for 1 night, and was pleased to find there was availability for my tent when I drove through in August. I found the campground to be wonderfully maintained, and the bathhouse spotless. I was told upon check in that the movie would be shown at 7 pm. What movie? I asked. Silly me. Close Encounters, of course! Fortunately, I arrived early enough in the day to hike a circuit of the National Monument, and then enjoyed the view of same from my campsite even more. This is just a great place to stay and is worth the extra couple dollars it costs to stay at a KOA for the cleanliness, the view, the proximity to the monument, and the fun. PS, all of the photos attached to my review were taken in the campground.
- Deb InVA on Google
Oct 09, 2021
Very nice campground, very friendly staff. We did not go on the hay ride or watch movie, but thought that was a great treat especially for kids. Great place to walk our dog and the view is worth a million! WIFI was very good. We did not use the facilities other than laundry which was in very good condition. We had a lovely walk around the campground with the tower and Belle Fourche River, great location.
- Carol Henderson on Google
Oct 09, 2021
Fabulous!
- Eileen Wolf on Google