Devils Tower / Black Hills KOA Journey Recreation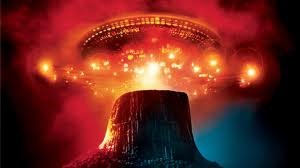 Nightly Viewing of the Movie Close Encounters of the Third Kind
In 1977 the sci-fi master Steven Spielberg ventured to Devils Tower in order to film the cult classic "Close Encounters of the Third Kind." The film features a young Richard Dreyfuss as a man obsessed with seeing Devils Tower, what he encounters however is extraterrestrial in nature. Many scenes in the movie were filmed right here on the campground. The film was released to wild acclaim. Each night we show the movie outdoors, in the shadow of Devils Tower, at no charge to our guests. (June 1 to September 1)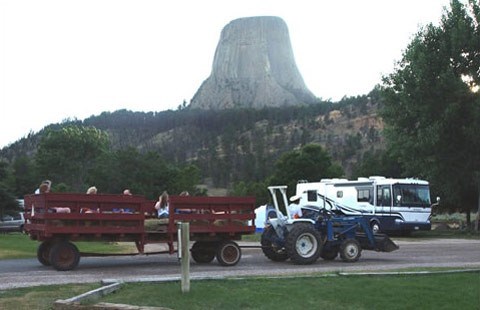 Nightly Hayride
Devils Tower KOA offers a nightly hayride through neighboring ranch country, with amazing views of Devils Tower. Campstool Ranch is one of the oldest ranches in Wyoming and the Driskill family has been ranching at Devils Tower since 1851. The hayride takes just a little more than one hour and goes through some of the most scenic areas of Northeast Wyoming. Agricultural lands provide abundant feed and forage for a wide variety of animals that may be seen during the hayride. Guests have seen Mule Deer, Whitetail Deer, Miriam Turkeys, Fox, Coyotes, Bald Eagles, Skunks, Raccoons and a wide variety of other animals. In addition to impressive wildlife viewing the hayride also offers the opportunity to witness ranching operations on a more personal level. Long pants and bug spray are recommended. The hayride requires a minimum number of riders and will not run in inclement weather or when road conditions are poor. (June 1 to September 1)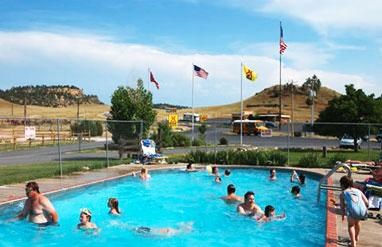 Heated Outdoor Pool
Campers will love our newly renovated, heated, outdoor pool. Nothing beats a hot summer day like being poolside in the shadow of Devils Tower! The pool starts at 3 feet deep and gradually increases to 6 feet with a floating divider. Tables and pool chairs are on the pool deck for those who prefer to sunbathe or simply watch the swimmers. The pool is open from June 1st to September 1st.
Wildlife Viewing
Our area abounds with wildlife native to the Black Hills of Wyoming. Don't be surprised to see a whitetail deer wandering through your campsite, or a raccoon exploring in the moonlight. There is also a wonderful collection of birds around the campground, including many varieties of woodpeckers, bluebirds, swallows, finches, robins and the Wyoming state bird, the meadowlark. You may see the American Bald Eagle circling or a flock of wild turkeys along the river.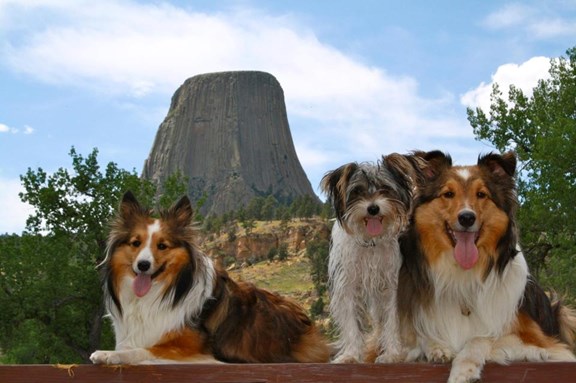 Dog Run
The Devils Tower KOA is a pet friendly establishment. The campground does have a leash rule, but also features a large fenced dog run where your pets can play. There are benches by the dog run so you may sit and enjoy the great scenery! Star Gazing
The night sky here at Devils Tower is phenomenal. Our rural location means that there is very limited light pollution allowing for pristine views of the Milky Way and stars. Occasionally the Northern Lights make an appearance. Our campground is the perfect location to sit back, relax and do a little star gazing around the central fire pits. Community Camp Fire
Gather round our community campfire in the RV area to meet your fellow campers for s'mores or a roasted hot dog. Local musicians and storytellers stop in occasionally to share their talent.  The fire is lit at 7:30 PM every night, weather permitting. (June 1 to September 1)
The tenting/cabin area has a large group fire pit.  Large groups may request a campfire in the area.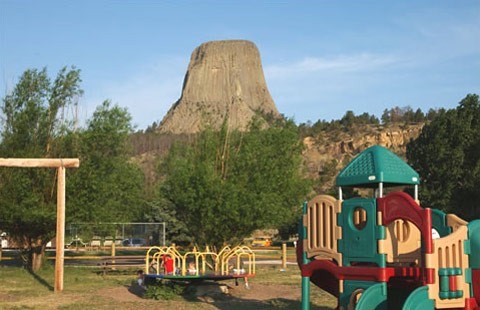 Playground
Our playground is a fun place for children to run and play! The playground has swings, a merry-go-round and a playset. A time honored favorite at the playground is a unique, custom-made wooden stagecoach complete with a team of horses!
Local Area Recreation