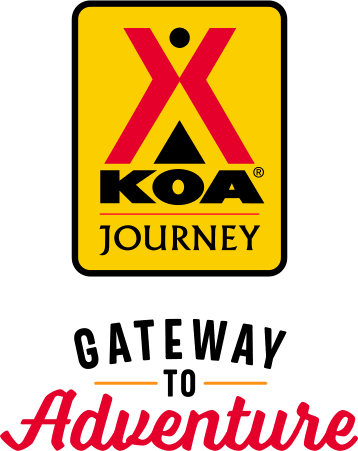 KOA Journey Campgrounds
KOA Journey campgrounds are the perfect oases after a day on the road. Whether it's along the way or a quick getaway, they've got you covered. Located near the highways and byways of North America with long Pull-thru RV Sites, they deliver convenience to the traveling camper. Pull in, ease back and take a load off.
KOA Journeys Feature:
Pull-through RV Sites with 50-amp service
Premium Tent Sites
Well lit after hours check-in service
Directions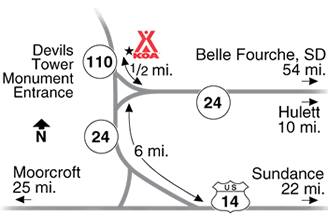 Westbound traffic take I-90 Exit 185 in Sundance just 28 miles.
Eastbound traffic take I-90 Exit 153 in Moorcroft just 32 miles.
Follow signs to Devils Tower National Monument, we are located just outside the monument gate on the right hand side. The registration desk is located in the Cowboy General Store.
Get Google Directions
Oct 16, 2021
Great staff really helpful , was on a 5400 mile 9state ride on my Harley never stayed at a KOA but that has changed will be my first choice for now on ��
Oct 12, 2021
The shower had cold water Out of 5 stars I rated it because of the cold shower. The water never got hot or warm.
Oct 11, 2021
We were delighted with our stay. We did have to drive a bit to find a restaurant (the KOA restaurant was closed for the season), but we did not mind. The location is outstanding. Facilities were great. Clean, updated showers. The only thing I missed was a trash can near the camping area(s). We ended up putting our (very small amount of) trash in the rest room's small trash can.
Oct 10, 2021
We were here at the end of September, were the only tent in the tent section, and had an amazing view of Devil's Tower. Would definitely stay here again.
Oct 07, 2021
Beautiful spot! Waking up and looking out your tent window to see the tower is magic. The viewing of Close Encounters of the Third Kind was such a treat.
Oct 05, 2021
My wife and I pulled in after sundown and the checkin process was easy. There was a loud revolving sprinkler next to our site that ran for the entire duration of our stay. We thought it would go off with a timer, but never did and it kept us up all night. My wife showered in the morning and the water was ice cold, so I had to opt out of taking one.
Oct 02, 2021
Nice campground close to the park. We stayed after labor day so campground was in the late season mode but still nice stay
Oct 01, 2021
Staff were very friendly. Clean property. Bathrooms/showers some of the best I have seen. We were on a tent site. The wildlife visited us all day long.
Sep 29, 2021
We loved it!!! Wish the restaurant was open so we could have had breakfast on the morning we left. We tented it and the location was nice, loved the power for the heaters we brought, but breaker kept popping with 2 space heaters running, so we got a little chilly at night . But the views were amazing!!! Accommodations clean and love having REAL BATHROOMS LOL, and showers. Well be back
Sep 27, 2021
Love the clean bathrooms and dish washing station!!
Sep 25, 2021
Beautiful view, nice area, wifi mostly worked unlike most of the other KOAs I've been at, including the one I'm at right now in MN. The store was very nice and has cute things and practical things.
Sep 25, 2021
Way too much
Sep 23, 2021
Quiet, peaceful campground. Shower/bathroom facility worked well. Price was fair at $40 for one night. Outdoor theater showing the movie was great. Sound system made the movie easy to hear and enjoy. Having Devil's Tower in the background made the experience surreal.
Sep 22, 2021
We Loved the View of The Tower. Everything was Great. Friendly Staff. Thank You!!
Sep 20, 2021
Friendly and efficient staff. Clean facilities. Beautiful campground. Quiet and peaceful. Great experience. Enjoyed watching deer walk around in the mornings. View of devils tower can't be beat. Exceeded all expectations. Thanks!
Sep 19, 2021
Campgrounds were clean, restrooms were clean. Wifi did not work unless you were in the store.
Sep 18, 2021
Very pleasant, quiet and great location
Sep 17, 2021
Awesome KOA! Fantastic views, great facilities and friendly staff. Loved my stay here.
Sep 16, 2021
Great location and amenities. The movie at night is a very nice feature!
Sep 16, 2021
We wish we stayed longer! We came on a weeknight and had our pick of tent sites. The bathrooms were clean, and there are individual rooms for the showers (hot water also a plus). Incredible views of the Tower. Definitely would come back again, and we'll arrive early enough for the movie next time around!
Sep 15, 2021
While the first spot we were assigned had everything we wanted, it didn't have shade (important in the hot weather). But Ashley went above and beyond to get us into a shady, very nice spot--much appreciated. It's a beautiful setting, and the campground is large and spacious. Many campgrounds have too many lights at night (along with gaudy lights on some RV's), but it wasn't too bad here.
Sep 15, 2021
Very helpful and friendly staff. Went above and beyond! Clean sites and facilities. Thank you!
Sep 15, 2021
Beautiful setting. Lots of green grass perfect for rent camping. Bathrooms and showers conveniently located but had trouble getting hot water in the showers. Lots of idyllic wildlife in and around the park which is in the shadow of devils tower. Be prepared for rain if tent camping. WiFi signal strength and coverage is the best I have ever experienced at any KOA.
Sep 14, 2021
This was a good KOA for Tent camping, There was a large field in the back for tents with good space between tents and a few trees for shade, facilities where close enough and very clean, the staff was also very helpful.
Sep 14, 2021
Quiet Comfortable Clean with an awesome view of Devil's Tower
Sep 12, 2021
Came in late and very hard to see. Left map saying this was tent camping which was nice once daylight and could see but the sprinklers went off all night in the tent area. ground was wet so we slept in the car instead of tents. Bathrooms very nice and clean.
Sep 12, 2021
We really enjoyed our stay here! We will be back next time we come to the area! Our kids loved the playgrounds and the views were incredible. Thanks again!
Sep 10, 2021
We had a great time. Staff was very friendly and helpful.
Sep 08, 2021
just an exceptional campground & staff
Sep 07, 2021
Excellent camp site, right at the base of the tower. Friendly staff, clean facilities, nice store. Great time in the evening watching close Encounters of the Third Kind at the outdoor theater. Thank you for an enjoyable stay.
Sep 06, 2021
I probably won't stay at another KOA unless I absolutely had too. If you're looking for a quiet place to get a decent night's rest then it seems like this place is hit or miss. The night we stayed there was a wedding, which in itself wasn't a problem, but after the wedding our camp neighbors (who went to the wedding) partied until 4am despite us asking nicely to be quiet.
Sep 06, 2021
Love Devils Tower and this Koa. Great place to stay with an extremely pleasant and professional crew. We will be back.
Sep 06, 2021
I stayed for 2 nights in late August in a tent. I loved how I could pitch next to whichever tree I wanted. The tent-site was a vast and well maintained green commons area with interspersed big, healthy trees. The view offered was by far the best of any KOA I've been to. Devils Tower was on display no matter where I decided to pitch. The staff was excellent. Make sure to attend the movi
Sep 06, 2021
Nice staff and clean campground!
Sep 03, 2021
Enjoyed my stay. Met some very nice people. Nice view of Devils Tower.
Sep 02, 2021
Beautiful views. Clean campground. Friendly staff.
Aug 31, 2021
It was an awesome experience, beautiful view, and had lots of fun things for the kids to enjoy. I would definitely come back and do it all over again!
Aug 30, 2021
the tent spots were very nice, however I left for ~30 minutes in the evening and came back to see my site had been soaked by the sprinklers. There also seemed to be a wedding reception or similar event on site with a live band that played loudly into the night making it difficult to sleep.
Aug 30, 2021
Had a very nice time! The location and the view were great. Loved that I could reserve a spot ahead of time (unlike the NPS campground which is first come first served).
Oct 12, 2021
I loved this campground. I was only in the area for 1 night, and was pleased to find there was availability for my tent when I drove through in August. I found the campground to be wonderfully maintained, and the bathhouse spotless. I was told upon check in that the movie would be shown at 7 pm. What movie? I asked. Silly me. Close Encounters, of course! Fortunately, I arrived early enough in the day to hike a circuit of the National Monument, and then enjoyed the view of same from my campsite even more. This is just a great place to stay and is worth the extra couple dollars it costs to stay at a KOA for the cleanliness, the view, the proximity to the monument, and the fun. PS, all of the photos attached to my review were taken in the campground.
- Deb InVA on Google
Oct 09, 2021
Very nice campground, very friendly staff. We did not go on the hay ride or watch movie, but thought that was a great treat especially for kids. Great place to walk our dog and the view is worth a million! WIFI was very good. We did not use the facilities other than laundry which was in very good condition. We had a lovely walk around the campground with the tower and Belle Fourche River, great location.
- Carol Henderson on Google
Oct 09, 2021
Fabulous!
- Eileen Wolf on Google