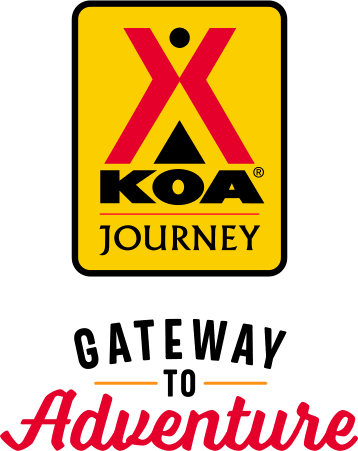 KOA Journey Campgrounds
KOA Journey campgrounds are the perfect oases after a day on the road. Whether it's along the way or a quick getaway, they've got you covered. Located near the highways and byways of North America with long Pull-thru RV Sites, they deliver convenience to the traveling camper. Pull in, ease back and take a load off.
KOA Journeys Feature:
Pull-through RV Sites with 50-amp service
Premium Tent Sites
Well lit after hours check-in service
Directions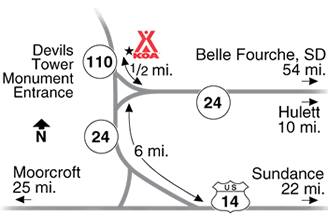 Westbound traffic take I-90 Exit 185 in Sundance just 28 miles.
Eastbound traffic take I-90 Exit 153 in Moorcroft just 32 miles.
Follow signs to Devils Tower National Monument, we are located just outside the monument gate on the right hand side. The registration desk is located in the Cowboy General Store.
Get Google Directions
Sep 27, 2021
It was a good jumping off point for Devils Tower however I think the check-in and the cafe should communicate a bit better now that they are changing the hours and the limited menu.
Sep 27, 2021
We had a great stay overall. The gal at check in was not particularly welcoming. Looked annoyed both times I came in. The tractor ride was fun Friday night, however a vehicle nearly lost control trying to slow down behind us because he didn't realize we were there soon enough. A chase car for the highway would be a wise idea, or at least some signs notifying SB traffic
Sep 27, 2021
Thank you! Great laundry, showers and proximity to the park!
Sep 27, 2021
Love the clean bathrooms and dish washing station!!
Sep 27, 2021
This KOA is great! Very clean & well-maintained, with nice amenities & a gorgeous view everywhere you look.
Sep 27, 2021
The one night we could watch the movie the staff couldn't figure how to play it. Very disappointing.
Sep 27, 2021
We had a wonderful stay at the Devil's Tower KOA!! Everything was clean and tidy and the folks there are SO friendly!! The hay ride was great too!!
Sep 26, 2021
Great park for an overnight stop.
Sep 26, 2021
We were very happy with the staff an accommodations.
Sep 26, 2021
We had a great time at your facility! The location is absolutely breathtaking and since we were fortunate to have been there during the full moon it was spectacular to see the moon over the Tower every morning! The people working for you go out of their way to give your guests a memorable experience! We will definitely comeback to your facility soon! Thank you all very much!
Sep 26, 2021
It was a good stay. We enjoyed that the RV park is next to the National park.
Sep 26, 2021
Best KOA! Second time we've stayed there. Our site was on the outside closest to the view. Gorgeous. This place is clean, well kept. Very close to the the National Park.
Sep 26, 2021
Very nice, quite, clean
Sep 25, 2021
Beautiful weather, beautiful views, lots of wildlife and friendly campers.
Sep 25, 2021
Nice one night stay, next to Devils Tower
Sep 25, 2021
Beautiful view, nice area, wifi mostly worked unlike most of the other KOAs I've been at, including the one I'm at right now in MN. The store was very nice and has cute things and practical things.
Sep 25, 2021
Way too much
Sep 25, 2021
Great location, friendly staff.
Sep 25, 2021
Everything was fantastic. Beautiful view of Devils Tower and the town is very quaint. Our only complaint was that during the movie two gentlemen never stopped smoking or talking during the whole feature.
Sep 24, 2021
It was excellent
Sep 24, 2021
Nice roomy sites with an excellent view of Devil's Tower. Friendly staff.
Sep 24, 2021
site was billed and priced as a desired spot (35). most of this row has large trees obscuring the Devils Tower, very disappointing. registration kiosk was closed so campers have to check in at the store along with heavy convenience store shoppers.
Sep 23, 2021
Excellent, clean, though for the money paid trash pickup or propane pickup would be a nice perk. We paid extra for an end site, but the dog park and propane fill were right outside our driver's side window and it could be busy there with noise. The view of Devil's Tower was excellent though.
Sep 23, 2021
Quiet, peaceful campground. Shower/bathroom facility worked well. Price was fair at $40 for one night. Outdoor theater showing the movie was great. Sound system made the movie easy to hear and enjoy. Having Devil's Tower in the background made the experience surreal.
Sep 22, 2021
great views, great campground great place to get away!!!!
Sep 22, 2021
We Loved the View of The Tower. Everything was Great. Friendly Staff. Thank You!!
Sep 22, 2021
Wonderful staff. The cafe has amazing burgers! The view is, obviously, amazing. And some of the best bathrooms I have ever seen in a KOA- especially the showers.
Sep 22, 2021
Bathrooms were great. Movie didn't start till we tracked some one down to start it 30 min late.
Sep 22, 2021
This is our 3rd visit to Devils Tower KOA and we enjoy the quiet and the location. Only one complaint, the laundry room was in serious need of cleaning.
Sep 22, 2021
This was the best KOA we stayed at on this trip. The campground is beautiful with the view of Devils Tower. Huge camp store. Helpful and friendly staff. Facilities are nice and clean. If I could give six stars, they would get it.
Sep 22, 2021
Was way too expensive for what we received. We were already having bad luck due to our dog getting sick. My husband got up to take a shower so we could head on to vet clinic in Rapid City. He didn't get a shower due to one house closed for construction and the other only had cold water. We'll drydock somewhere first before paying that again.
Sep 21, 2021
Very nice staff and excellent location! Thank you, Trisha
Sep 21, 2021
We loved our stay at this KOA!
Sep 21, 2021
Loved the view and the movie!
Sep 21, 2021
Spent two nights, rode our ebikes into and around the tower, that was fun. We came in a day early, and they were able to accommodate us. My brother will be arriving in a week or two.
Sep 21, 2021
Love the place but need exit signs placed throughout the campground to reduce confusion when leaving. This also goes for signs to help guide campers to their assigned sites.
Sep 21, 2021
Very peaceful and beautiful. Perfect view of Devils Tower right from the front porch of our cabin. The area is beautiful with the Bell Fourche river running right behind our cabin against a red rock formation. Very picturesque!
Sep 21, 2021
One of the nicest KOA's we've ever stayed in! And the saying, location, location, location is very appropriate, as you're camped right below the tower. Check out the charming town of Hulett!
Sep 20, 2021
Awesome staff/check in. Loved watching Close Encounters!!!
Oct 12, 2021
I loved this campground. I was only in the area for 1 night, and was pleased to find there was availability for my tent when I drove through in August. I found the campground to be wonderfully maintained, and the bathhouse spotless. I was told upon check in that the movie would be shown at 7 pm. What movie? I asked. Silly me. Close Encounters, of course! Fortunately, I arrived early enough in the day to hike a circuit of the National Monument, and then enjoyed the view of same from my campsite even more. This is just a great place to stay and is worth the extra couple dollars it costs to stay at a KOA for the cleanliness, the view, the proximity to the monument, and the fun. PS, all of the photos attached to my review were taken in the campground.
- Deb InVA on Google
Oct 09, 2021
Very nice campground, very friendly staff. We did not go on the hay ride or watch movie, but thought that was a great treat especially for kids. Great place to walk our dog and the view is worth a million! WIFI was very good. We did not use the facilities other than laundry which was in very good condition. We had a lovely walk around the campground with the tower and Belle Fourche River, great location.
- Carol Henderson on Google
Oct 09, 2021
Fabulous!
- Eileen Wolf on Google