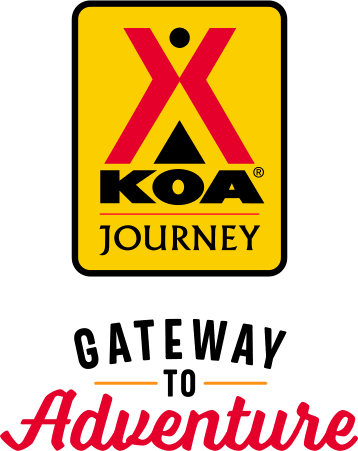 KOA Journey Campgrounds
KOA Journey campgrounds are the perfect oases after a day on the road. Whether it's along the way or a quick getaway, they've got you covered. Located near the highways and byways of North America with long Pull-thru RV Sites, they deliver convenience to the traveling camper. Pull in, ease back and take a load off.
KOA Journeys Feature:
Pull-through RV Sites with 50-amp service
Premium Tent Sites
Well lit after hours check-in service
Directions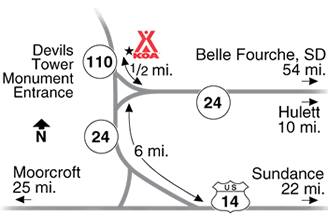 Westbound traffic take I-90 Exit 185 in Sundance just 28 miles.
Eastbound traffic take I-90 Exit 153 in Moorcroft just 32 miles.
Follow signs to Devils Tower National Monument, we are located just outside the monument gate on the right hand side. The registration desk is located in the Cowboy General Store.
Get Google Directions
Oct 05, 2021
My wife and I pulled in after sundown and the checkin process was easy. There was a loud revolving sprinkler next to our site that ran for the entire duration of our stay. We thought it would go off with a timer, but never did and it kept us up all night. My wife showered in the morning and the water was ice cold, so I had to opt out of taking one.
Oct 05, 2021
We arrived after closing but easily found our information packet and found our spot for the night. The campground seemed clean and well maintained. The showers were warm (not hot) but fine and wifi was good. The electrical hookup and water at the site worked as expected. We left first thing the next morning, so didn't try any of the other amenities.
Oct 05, 2021
The views are incredible. Great campground and friendly employees .
Oct 04, 2021
One of the checkin staff was not the kind of person you want to be the face of your practice. Campsites were not level. Surprising that there weren't more items for sale in store. Great location. Great laundry but $3.00 a load is really high. Hayride great. Dog walking areas great. Easy satellite access. Great play areas with miniature golf. Lots of poop on ground probably from wildlife and dogs
Oct 04, 2021
What a beautiful campground! So clean and well maintained!. We stayed down on the lower level, near the tent camping and river, and it was perfect! Deer wondering through the grounds, lots of nice green grass - and the playground! No kids, but you can bet we played on that merry-go-round!
Oct 04, 2021
Very organized and smoothly operated, check in was a breeze. Perfect amount of information given quickly at check in to allow us to get in and out of office to set up our camp. Host were out and about with good knowledge of the Native lore of Devils Tower. Close Encounters movie was a nice surprise on the outdoor screen with tower in sight. We enjoyed it.
Oct 04, 2021
This campground has a great view of Devil's Tower and the surrounding scenery is beautiful. Facilities were clean and staff was very helpful. Nice playgrounds for kids to burn off some energy after a long trip.
Oct 04, 2021
The office staff was very nice and helpful. The bathrooms were clean. The views of Devils Tower from the campground are amazing.
Oct 04, 2021
Devils Tower KOA is outstanding. The location is the best I have experienced in staying at KOA's. The host/staff are outstanding, the place is well maintained and one of the best WiFi's too. Look forward to returning to this KOA.
Oct 04, 2021
While the view was great…. Our experience wasn't. Both afternoons we were there they were pounding in fence right behind our cabin as the kids were trying to snooze. There were sharp screws poking out from several places in the cabin on the beds and door. The staff was super short handed and stressed/rude. I was told there was a restaurant but wasn't informed it was closed the only two days
Oct 04, 2021
It was a great place to stay to see the tower. The only negative is that we paid more for a site with a good view of the tower, but most of the sites faced the wrong direction... unless you want to sit in front of, or behind your rv.
Oct 04, 2021
Great campground. Friendly staff, clean restrooms, beautiful site.
Oct 04, 2021
Excellent park. Would love to stay there again. About 1 minute from the entrance to Devils Tower. Enjoy the deer and wild turkeys walking through the campground.
Oct 03, 2021
We had a nice stay in the deluxe cabin. It was great having a bathroom. The kitchen was stocked with everything you need to prepare meals. You have to bring your own bed linens and towels. Bring Clorox wipes for the mattresses. It was the end of the season so the food section in the store was limited. I think there shouldn't be an additional fee for miniature golf. Overall, recommend this spot.
Oct 02, 2021
Wish we had more time to spend at this KOA and the area. Best KOA store and sites we've stayed in and we've stayed in some greats!
Oct 02, 2021
Nice campground close to the park. We stayed after labor day so campground was in the late season mode but still nice stay
Oct 02, 2021
Best KOA I've ever stayed at. First class operation here and gorgeous views from every part of the campground. Everything was excellent. Keep it up!
Oct 02, 2021
Excellent location. Will be back every year.
Oct 02, 2021
Outrageous prices and extremely poor customer service!
Oct 01, 2021
The best KOA we have ever been to! Love the Close Encounters movie in the evenings...campground was clean, organized and efficient. Oh...and the staff were just the best!!!! We even went on a hay ride. Very relaxing and enjoyable. Will definitely stay here again!
Oct 01, 2021
Staff were very friendly. Clean property. Bathrooms/showers some of the best I have seen. We were on a tent site. The wildlife visited us all day long.
Oct 01, 2021
Very relaxing and fun place to stay. Got to watch Close encounter of third kind even thought I froze my self for not wearing proper clothing. My would always come back here to stay.
Oct 01, 2021
It was fun, the movie was a great idea, we really enjoyed it.
Sep 30, 2021
Cabin was great. Only problem was the bathroom was dirty. It was a disappointment
Sep 30, 2021
We loved our stay. The cabin was very comfortable. The proximity to the tower was perfect. The staff was very kind, courteous and helpful. I look forward to coming back.
Sep 30, 2021
a bit high price for the camp ground
Sep 29, 2021
Great location, right at the entrance to Devil's Tower Nat'l Mon. Easy access, clean facilities. Not the best customer service to charge $10 to check in 1 hour early when site was obviously ready.
Sep 29, 2021
We stayed at site 33 in a 35 foot 5th wheel for 3 nights. Site was very level and was satellite friendly. Quiet campground away from road noise. Right at the foot of Devil's Tower. Well appointed store. Bathrooms were clean and well maintained. No locks on the doors. Looks like they are installing a swimming pool next to the playground.
Sep 29, 2021
Beautiful area and views, clean bathrooms, well maintained campground.
Sep 29, 2021
We loved it!!! Wish the restaurant was open so we could have had breakfast on the morning we left. We tented it and the location was nice, loved the power for the heaters we brought, but breaker kept popping with 2 space heaters running, so we got a little chilly at night . But the views were amazing!!! Accommodations clean and love having REAL BATHROOMS LOL, and showers. Well be back
Sep 29, 2021
Certainly the best location for seeing the monument. However, we arrived at 11:30 and had to wait until 1:00 check in. All the while, the park was basically empty. Late in the travel year it might be helpful to loosen that rule. I wasn't inclined to shop the store because of this less than welcoming policy.
Sep 28, 2021
Location was great. View of DT was amazing! Laundry and bathrooms/showers were very clean. Site was level, right next to nice Camp K9 for our dog to enjoy. Store was well-stocked, mini-golf was enjoyable although there was an extra charge. Small disappointment - the Close Encounters of the Third Kind movie didn't work the first night and the second night, it stopped right at the climax.
Sep 28, 2021
Everything went well. Our site was clean and the campground attractive as per KOA standards.
Sep 28, 2021
The park is very nice and clean. Bathrooms were spotless. The park is situated right in front of Devils Tower. The movie at night is great. The only comment I have is for the registration/checkout staff. Don't talk crap about your customers wanting to check in early while your customers are still in line! Very unprofessional.
Sep 28, 2021
One of the best campgrounds that we have ever stayed at loved the atmosphere the trees the scenery. Thanks KOA
Sep 28, 2021
Not the best KOA customer service, but located in a great area. I hardly ever saw any staff. We have stayed here before and will stay again.
Sep 28, 2021
A beautiful park...we had a wonderful site with unobstructed views of Devils Tower. We'll stay longer next time...
Sep 28, 2021
Very nice camp ground with view of Devils Tower! A bit spendy though, especially for end of September.
Sep 28, 2021
Nice park, dog area. Showing Close Encounters in the shadow of Devils Tower was awesome.
Sep 27, 2021
The Koa site is large and open, with extremely friendly staff and wonderful amenities
Oct 12, 2021
I loved this campground. I was only in the area for 1 night, and was pleased to find there was availability for my tent when I drove through in August. I found the campground to be wonderfully maintained, and the bathhouse spotless. I was told upon check in that the movie would be shown at 7 pm. What movie? I asked. Silly me. Close Encounters, of course! Fortunately, I arrived early enough in the day to hike a circuit of the National Monument, and then enjoyed the view of same from my campsite even more. This is just a great place to stay and is worth the extra couple dollars it costs to stay at a KOA for the cleanliness, the view, the proximity to the monument, and the fun. PS, all of the photos attached to my review were taken in the campground.
- Deb InVA on Google
Oct 09, 2021
Very nice campground, very friendly staff. We did not go on the hay ride or watch movie, but thought that was a great treat especially for kids. Great place to walk our dog and the view is worth a million! WIFI was very good. We did not use the facilities other than laundry which was in very good condition. We had a lovely walk around the campground with the tower and Belle Fourche River, great location.
- Carol Henderson on Google
Oct 09, 2021
Fabulous!
- Eileen Wolf on Google