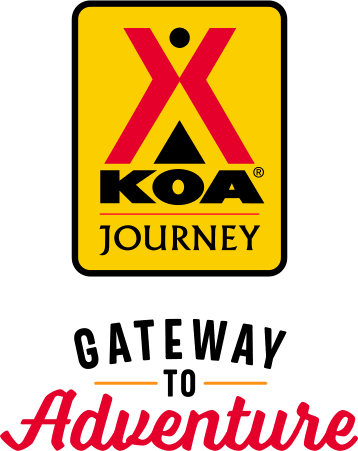 KOA Journey Campgrounds
KOA Journey campgrounds are the perfect oases after a day on the road. Whether it's along the way or a quick getaway, they've got you covered. Located near the highways and byways of North America with long Pull-thru RV Sites, they deliver convenience to the traveling camper. Pull in, ease back and take a load off.
KOA Journeys Feature:
Pull-through RV Sites with 50-amp service
Premium Tent Sites
Well lit after hours check-in service
Directions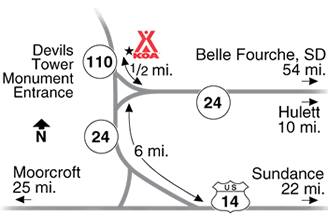 Westbound traffic take I-90 Exit 185 in Sundance just 28 miles.
Eastbound traffic take I-90 Exit 153 in Moorcroft just 32 miles.
Follow signs to Devils Tower National Monument, we are located just outside the monument gate on the right hand side. The registration desk is located in the Cowboy General Store.
Get Google Directions
Nov 09, 2021
Spacious campground with ample sites and breathtaking views. Lovely dog park. Really enjoyed the movie showing.
Nov 05, 2021
We really enjoyed our stay. We lucked out and had a fanastic view of the Tower. Loved the movie every night also.
Nov 05, 2021
We love that this is right at the base of Devil's Tower and that you can just walk in. The evening movie each night is fun. We have stayed before, but this trip we made sure to include the hayride in our activities. We love the store, and always find some fun gifts and souvenirs here. We always pay a little extra to get a spot with a view of the Tower. Beautiful!
Oct 30, 2021
Campground is very well kept and the staff are friendly and helpful. Devils Tower is a peaceful place to stay.
Oct 26, 2021
Stay was great, staff was kind and generous.The location of the park is cool and is kept clean.We loved it a bunch, however we never received points for our stay at Devil's Tower KOA. Just wondering if this is the standard at your KOA or not, thanks as all should know if planning a lengthy stay and expect points to be credited to their accounts when participating at a KOA instead of other RV Parks
Oct 21, 2021
We were booked after the busy season and the park was preparing for winterization. There was nobody present for signup or information. Yes, a call and voicemail was sent prior to our arrival, but attempts to contact the hosts were unsuccessful. We were not able to connect to wifi or inquire about any other services. A discount for reduced services would have been appropriate. Nice location.
Oct 21, 2021
Great stay right at the entrance to the park. Got snowed in and ended up staying for 5 days
Oct 17, 2021
Wonderful stay, as always. This is my fifth time staying at the Devil's Tower KOA in the last two years and it has become my "happy place!" Amazing views of the National Monument and the entire KOA staff are exceptional and A+++ Love the nightly showing of "Close Encounters of the Third Kind"
Oct 16, 2021
Great staff really helpful , was on a 5400 mile 9state ride on my Harley never stayed at a KOA but that has changed will be my first choice for now on ��
Oct 15, 2021
This is the BEST KOA I've ever been to..Everything gets ten stars..I'll be back.
Oct 15, 2021
Second time staying here. Beautiful scenery surrounding the property. Staff was very friendly.
Oct 13, 2021
The deluxe cabin was everything me and my group of friends needed for a warm, liveable stay. Heater was excellent, water was hot, and lots of options for places to sleep. Neighbors were friendly enough to help supply a compressor for a flat tire too!
Oct 13, 2021
Gorgeous view of Devils Tower! Great camp ground, super friendly and knowledgeable staff. Maddy was awesome! Would definitely recommend staying here! We'll be back!
Oct 12, 2021
Wonderful place!
Oct 12, 2021
The shower had cold water Out of 5 stars I rated it because of the cold shower. The water never got hot or warm.
Oct 12, 2021
Beautiful setting, nicely laid out to appreciate the view of the monolith, showers clean and hot, laundry facilities in good order, kids had a nice place to play. Pretty morning view with wild turkeys and deer nearby. Appreciated having an open campground in early October, understandable that the restaraunt was closed.
Oct 11, 2021
Excellent campsite, well maintained and clean. Special shout out to Patrick who helped us with dead battery on RV, he went above and beyond and getting back on the road.
Oct 11, 2021
Showers cold.
Oct 11, 2021
Very quiet and tidy campground with beautiful views and modern and clean bathrooms. Good store and restaurant as well. Will come again!
Oct 11, 2021
The campground was nice and we enjoyed our stay. The showers could use better signage.
Oct 11, 2021
Such a beautiful spot! We had a wonderful time.
Oct 11, 2021
only disappointment was not being able to see the "3rd Encounters" movie in the evening. But pouring rain sort of made that impractical. Otherwise - all very good!
Oct 11, 2021
We were delighted with our stay. We did have to drive a bit to find a restaurant (the KOA restaurant was closed for the season), but we did not mind. The location is outstanding. Facilities were great. Clean, updated showers. The only thing I missed was a trash can near the camping area(s). We ended up putting our (very small amount of) trash in the rest room's small trash can.
Oct 11, 2021
First off I ask for a site with a view of devils tower. We were in a site behind the play ground with trees blocking our view.. there was dog poo everywhere around the grounds. You had to be care full everywhere you stepped. We went out to watch the movie that they show nightly & the smell of something dead was so overwhelming you could hardly breathe. The 2 ladies in the office were ok .
Oct 10, 2021
Most convienent location to view Devil's Tower. Well run campground that looks to be making improvements. Biggest improvement needed is a dedicated place to walk dogs. Believe this is underway.
Oct 10, 2021
The nightly movie showing was a great touch! Very cool location and experience!
Oct 10, 2021
I stayed at this KOA with 2 of my grandsons in early August 2021 and came back again while on a road trip in early September. The location is perfect for visiting Devil's Tower. The amenities are top notch and the area is well maintained. Nice restaurant and gift shop. It's the nicest KOA I have visited.
Oct 10, 2021
STAYED HERE JUST OVERNIGHT BECAUSE WE ARRIVED AT DEVILS TOWER SO LATE. THEY GAVE US 2 SPOTS THAT WERE ACTUALLY TO SMALL FOR OUR CAMPERS SO WE HAD TO IMPROVISE HOW WE PARKED TO FIT. SITES WERE GRASSY AND NOT VERY LEVEL. STAFF WAS OK BUT NOT AS FRIENDLY OR HELPFUL AS WE HAVE FOUND AT OTHER KOAS. SOME OF THE OTHER CAMPERS THERE WERE NOT VERY FRIENDLY EITHER. MADE US WISH WE HAD JUST MOVED ON.
Oct 10, 2021
We were here at the end of September, were the only tent in the tent section, and had an amazing view of Devil's Tower. Would definitely stay here again.
Oct 10, 2021
Very nice campground, very friendly staff. We did not go on the hay ride or watch movie, but thought that was a great treat especially for kids. Great place to walk our dog and the view is worth a million! WIFI was very good. We did not use the facilities other than laundry which was in very good condition.
Oct 10, 2021
We arrived after sunset and setup to go to bed. The view in the morning was breathtaking. The staff was great and the days events kept us busy. I recommend this destination as a must see for everyone.
Oct 09, 2021
Nice large campground and store.
Oct 09, 2021
Movie didn't work one night , dead deer stinking just on the other side of fence , could have been dragged away somehow you would think ....
Oct 09, 2021
Just an overnighter, want to come back when we can explore the area. Very friendly office ladies.
Oct 08, 2021
Beautiful view in V5!
Oct 08, 2021
Very friendly people and a great place to stay
Oct 08, 2021
Nice campground at season's end so restaurant was not open. Level sites, trees, easy on and off highway. Outstanding views and right at the entrance to Devil;s Tower National Park. Can't beat the location. Nice staff. Just an overnight stay so did not use any facilities. Showing the movie in front of the tower was nice. Stayed in a 26' travel trailer.
Oct 07, 2021
Beautiful location. Staff very friendly. Facilities were maintained and clean. The view of Devil's Tower was amazing.
Oct 07, 2021
Beautiful spot! Waking up and looking out your tent window to see the tower is magic. The viewing of Close Encounters of the Third Kind was such a treat.
Oct 06, 2021
Our stay was amazing. The touch of watching the movie AT THE MONUMENT was surreal. Nice touch.
Oct 06, 2021
My cabin was comfortable and the staff was friendly and helpful. The campground was Well maintained and being next to the entrance to Devils Tower I spent 2 days enjoying local restaurants, enjoying the deer early morning grazing in the campground, watching climbers and friendly conversations with campers. I learned quickly the night temperature requires both blankets I had packed. �next year
Oct 06, 2021
Far exceeded our expectations. This time of year, when the leaves are turning makes for beautiful views in every direction. With very few RVs in the park, it was very roomy. Watching the International Space Station rise over the Tower one night was an unbelievable sight.
Oct 05, 2021
Great location and love how each site has a view of Devil's Tower. Fun to shoe movie Close Encounters, too. Only complaint is we were told bath/showers were closed, but later say people using it. Could have been nice to notify us as I did laundry farther away.
Oct 12, 2021
I loved this campground. I was only in the area for 1 night, and was pleased to find there was availability for my tent when I drove through in August. I found the campground to be wonderfully maintained, and the bathhouse spotless. I was told upon check in that the movie would be shown at 7 pm. What movie? I asked. Silly me. Close Encounters, of course! Fortunately, I arrived early enough in the day to hike a circuit of the National Monument, and then enjoyed the view of same from my campsite even more. This is just a great place to stay and is worth the extra couple dollars it costs to stay at a KOA for the cleanliness, the view, the proximity to the monument, and the fun. PS, all of the photos attached to my review were taken in the campground.
- Deb InVA on Google
Oct 09, 2021
Very nice campground, very friendly staff. We did not go on the hay ride or watch movie, but thought that was a great treat especially for kids. Great place to walk our dog and the view is worth a million! WIFI was very good. We did not use the facilities other than laundry which was in very good condition. We had a lovely walk around the campground with the tower and Belle Fourche River, great location.
- Carol Henderson on Google
Oct 09, 2021
Fabulous!
- Eileen Wolf on Google