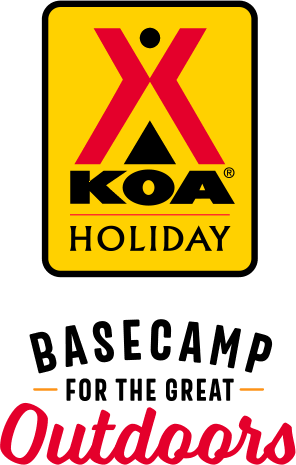 KOA Holiday Campgrounds
Whether you're exploring the local area or hanging out at the campground, KOA Holidays are an ideal place to relax and play. There's plenty to do, with amenities and services to make your stay memorable. Plus, you'll enjoy the outdoor experience with upgraded RV Sites with KOA Patio® and Deluxe Cabins with full baths for camping in comfort. Bring your family, bring your friends, or bring the whole group – there's plenty of ways to stay and explore.
KOA Holidays Feature:
RV Sites with a KOA Patio®
Deluxe Cabins with full baths
Premium Tent Sites
Group meeting facilities
Directions
18 miles west of I-35/I-80 interchange on I-80 Exit 106. North 1.5 miles on paved CR P-58 (L Avenue).
GPS: N41.541910, W94.079558
Get Google Directions
Oct 21, 2021
Only issue was site electric was cross-wired at my assigned site and one next to it. Site on other side of us was fine so staff let me plug into it for the night without having to move. Otherwise campground was immaculate and widely spaced. Great overnight for my 38 ft class A and tow car. Would definitely stay again.
Oct 20, 2021
Call Campground. Lots of activities still open this late in the year. Great Wi-Fi signal.
Oct 20, 2021
Wonderful quick overnight stop. Campground was clean, tidy and neat. Showers were great! Sites were level.
Oct 19, 2021
We had a wonderful time we love your KOA kind friendly helpful service!! We will come back next year! ♥��♥��♥�����������
Oct 19, 2021
Always a clean campground and friendly staff. Love that pizza and firewood are delivered to your site and garbage is picked up, little things but they're a big help!
Oct 19, 2021
They take care of you and the camping areas to perfection. Very nice place to stay and friendly help.
Oct 19, 2021
Great location. Staff was very nice. It was very appreciated that they dropped off the wood bundles to our campsite. Thank you!
Oct 18, 2021
We had a great stay and staff were very accommodating. Everything was great
Oct 18, 2021
It was wonderful, very clean and there were many activities and things to do. I look forward to seeing here again.
Oct 18, 2021
Clean nice cabins however parking was confusing for deluxe cabin area no markings nor enough space. Great place to stay
Oct 18, 2021
I was very impressed with the cleanliness of the cabins the view around the cabins And all the amenities The only thing Was I thought they were a little small there was 3 adults and one child in mine and it was cramped But overall I think it would be great for a couple of people
Oct 18, 2021
We were on site 59 which was under a very bright street light 24/7. Night time fires were interrupted. We spent 5 nights at this KOA. A suggestion would be to assign this site for those staying one night.
Oct 18, 2021
Very well-managed KOA Campground everyone was friendly and made our experience a great one thank you very much keep up the good work
Oct 18, 2021
We needed a long lot for a motor coach and a towed car. The site we had was gravel and very level. Staff was nice and the park was pretty quiet.
Oct 18, 2021
Nice park, staff friendly, showers great
Oct 18, 2021
Very nice workers, very nice campground
Oct 17, 2021
Beautiful KOA! Friendly staff, clean and well taken care of. Family and dog friendly!
Oct 16, 2021
Very nice campground that had lots of activities going on when we arrived. Everything was neat and clear. Really enjoyed the deluxe patio!
Oct 16, 2021
I had a reservation for one day ended up staying two days. Had my muffler fall off, Larry was there to try to strap it up so I could get to the muffler shop. Ended up he had to cut it off. He is the best
Oct 15, 2021
well maintained and friendly staff
Oct 15, 2021
The staff forgot to give me the WiFi password and I missed the zoom conference I had specifically chosen KOA to get the signal for. When I arrived the staff person driving around on a golf cart with a pretty young woman was very dismissive wheni asked for help with the layout. Not to speak of the manager and cleaner
Oct 14, 2021
By far the best run KOA we have been to. Michael and his crew are great! Lots of family-friendly activities and a nice, clean and quiet park. If we're ever in the area again we will stay there.
Oct 14, 2021
Staff was always very helpful and polite.
Oct 14, 2021
late check in was hard to find . no place to put the check in form. space was hard to figure out how to get in since no directions were available
Oct 14, 2021
The buddy system is awful. You have no room at all. It is not advertised well. The price was the highest we paid on our whole trip.
Oct 14, 2021
My first stay at a KOA was really nice. It's a beautiful facility with a nice dog run and plenty of room to move around. I have a micro camper and was put on the edge of the rv area so I didn't feel swallowed up by the big rigs. Great view of the pond and fields around the campground. Clean, private bathrooms. Really good pizza! A plus!
Oct 12, 2021
Really enjoyed the Spooktacular. Thanks! Perfect for a five year old. He also had rig delivered pizza and his first campfire and s'mores, which was fun. He enjoyed mining for shark teeth. The staff is fantastic, cordial and helpful. Only downside is relative lack of shade, which would not be great in hot weather.
Oct 12, 2021
One exception to all good! Teenagers were in the kids bounce house and before I could get my grandson out, they started to bounce & do flips and landed on him dislocating his elbow. Should be an enforced rule against older teens in the kids play areas.
Oct 11, 2021
We enjoyed some of the activities. We wish The bounce pad was up and going. Instead there was a jump house that was very dirty and smelled terrible. Also for the price of the cabins there could be a TV in the bedroom and living room not just living room. There was no hot pads and a broken can opener and a broken chair outside that staff took away but never replaced.
Oct 11, 2021
Could the sites be more level side to side as the step out of the camper on some of these sites after leveling is pretty steep for kids and some people
Oct 11, 2021
What an amazing KOA!! It just so happened I booked it on the best weekend of the year. Trick or treating, face painting, dance party for the kids were just SOME of the activities going on! The General Store has everything you need and more, the showers and bathrooms were clean and the camp staff went over and above to make sure that we had everything we needed! DEFINITELY RECOMMEND!
Oct 11, 2021
Awesome staff! All were friendly and helpful! We were made to feel at home. Lucked out in booking a Halloween trick or treat weekend! What a great time for us and our grand daughters! We enjoyed ourselves so much we made reservations for next year.
Oct 10, 2021
I'm hooked on KOA Campgrounds I've only stayed at him four times but every time it's been wonderful the staff the cleanliness everything I even stayed much longer at each one of them that I should have
Oct 10, 2021
This is a beautiful KOA. Large spots, if you have kids there is a big playground area. Lovely people
Oct 10, 2021
This is our second stay at this campground and it will not be our last. We are not KOA members, however this lovely little piece of heaven is worth staying at. My husband and I manage a large Event Center in SD. I also purchase all of the inventory for gift shop. I am a little envious of your store and that's a heck of a thing for me to say since my store is a 10. Loved everything here...A+
Oct 09, 2021
We had a lovely stay in a cabin. Bathrooms were beautiful and clean. Very nice camp store. Looks like many activities for kids. Great place to stay.
Oct 18, 2021
One of my favorite places to visit.
- Kristy Morse on Google
Oct 10, 2021
Great service and great staff they go all out
- ROY NOBLE on Google
Oct 09, 2021
Great place! Nice lawns or options for deck space, and tons of stuff for the kids and family to do! During October they offer all sorts of family themed activities, staff is great and amenities are clean. 10/10
- Dustin Cox on Google