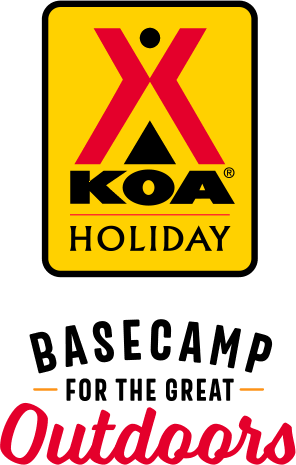 KOA Holiday Campgrounds
Whether you're exploring the local area or hanging out at the campground, KOA Holidays are an ideal place to relax and play. There's plenty to do, with amenities and services to make your stay memorable. Plus, you'll enjoy the outdoor experience with upgraded RV Sites with KOA Patio® and Deluxe Cabins with full baths for camping in comfort. Bring your family, bring your friends, or bring the whole group – there's plenty of ways to stay and explore.
KOA Holidays Feature:
RV Sites with a KOA Patio®
Deluxe Cabins with full baths
Premium Tent Sites
Group meeting facilities
Directions
18 miles west of I-35/I-80 interchange on I-80 Exit 106. North 1.5 miles on paved CR P-58 (L Avenue).
GPS: N41.541910, W94.079558
Get Google Directions
Jun 09, 2021
We really enjoyed this KOA. The staff is all very nice and they do a great job taking care of the place. We had a nice patio site with a fire pit and BBQ grill. The only thing that would have made it any better would have been more trees.
Jun 09, 2021
We had a great site (#69) - could enjoy the sounds of nature. The sites are well separated.
Jun 09, 2021
Peaceful and clean
Jun 09, 2021
Everything is beautifully kept and everyone was fabulous!!!!
Jun 09, 2021
Comfortable, peaceful and quiet and clean!
Jun 09, 2021
Unfortunately, I accidentally reserved a "buddy" site which was very undesirable. The campground as a whole was great, well cared for and with a beautiful pond. Just need to be aware of and avoid the "buddy" site next time.
Jun 08, 2021
We held our family reunion with people staying in cabins and camping spots everyone was happy said it was a great place to stay. Total of 85 people
Jun 08, 2021
Staff was friendly and the campground and facilities are in top shape! New management has really improved this campground since we last visited. Fun activities for children and families. Would 10/10 recommend.
Jun 08, 2021
Great location, very nicely done Park. A little removed from things to do and see but if looking for a quiet time away this works great.
Jun 08, 2021
My grandkids and l had a great time. Only thing bad was pool heat was broke and jump pillow was way too flat to jump on.
Jun 08, 2021
We will be back, clean and very family oriented.
Jun 07, 2021
Toilet and swing were broken. The check in person told me it was fixed so my children were in it and a day later it came to get fixed. Kids kept sliding off the toilet when trying to go to the bathroom. All staff were very kind and helpful!
Jun 07, 2021
Pro- we received a text asking if we wanted to order pizza and wings upon our arrival. Anyone who knows camping knows how great this was. Con- the pool was kind of gross. Lots of people were using it and when my daughter was diving for rings she pulled out a pop can. It had quite a bit of debris floating so a quick skim would have helped too. Umbrellas would be a nice addition.
Jun 07, 2021
Love our stay there. Was part of just a one night stay on our way to Yellowstone. We liked the park so much we plan on coming back to stay a few days with the family. Hookups were good, staff friendly and very clean and well kept. This park has so much to do you'll find it a fun get away. Pizza, wings, ice cream and a great gift shop. We thought this is definitely a nicer KOA. Stayed in spot 15.
Jun 07, 2021
This is always a great place for a quick get away. Friendly staff, clean campground.
Jun 07, 2021
Very easy driving in the park. The site was well groomed gravel and grass It was pretty spacious for a KOA campground. Lots of activities available for all ages. We had a problem with the electrical circuit breaker and it was fixed reasonably quickly. If I were in the area longer I would be happy to stay here.
Jun 07, 2021
CONS: Grounds are WAY too dusty; oil gravel or pave roadways. Dirty bathrooms; need daily attention. PROS: Good for people with kids. Nice gift shop.
Jun 07, 2021
Very nice facility, clean, quiet and well equipped. The manager is very friendly. Joe
Jun 07, 2021
Campsites on top of each other first site our slides wouldn't go out due to the camper next to us campsites need leveling and upgrade to 50 amp service won't stay again.
Jun 06, 2021
Had everything we needed and then some. The employees were so friendly !!
Jun 06, 2021
Great place to stay, very friendly people.
Jun 06, 2021
Beautifully set up and immaculately kept. Right next to a camping world, which is very convenient. Staff are super friendly.
Jun 06, 2021
Check in procedures after hours should be more clear
Jun 06, 2021
The staff were all extremely friendly and the campground was in great condition!
Jun 06, 2021
Awesome facility. The best KOA we've ever stayed at!
Jun 06, 2021
We had a wonderful time cabin camping; I have to say I'm impressed with how clean everything is!! Fantastic staff; delivers your wood and a pizza from the shop right to your door!! Pizza was pretty darn good too!! Lots to do for kids of all ages,,,I highly recommend staying here, I know we'll be back!!
Jun 05, 2021
Bathrooms dirty. Cement walks need to be swept. Rotting walls need to be replaced.
Jun 05, 2021
Friendly staff and very helpful! On site shop has everything you need in case you forget something. Will definitely go back!
Jun 05, 2021
Nice place to stay.
Jun 04, 2021
By far our family's favorite KOA. We are traveling across the country and staying at KOA's along the way. This KOA is the best one we've stayed at by far. The store is beautiful and updated. They have their own pizza kitchen. The kids activities are plentiful. If we're ever in Iowa we'll stay here. Love love love!!!
Jun 04, 2021
Beautiful Park with very nice & helpful staff. In fact, excellent staff. Loved getting a text as we were on our drive there asking if we'd like to have a pizza once at the park. YES!! And it was one of the best pizzas I've ever had.
Jun 04, 2021
Friendly staff, great situation with pizza and snacks, and they deliver to your site. They pick up bagged trash. The sites have nice picnic tables and fire rings, thick grass areas, and the parking areas are covered with crushed rock, so no muddy footprints on your floor.
Jun 04, 2021
Easy access and great accommodation.
Jun 03, 2021
People constantly walking through other peoples campsites. Maybe install walk ways.
Jun 03, 2021
sight 59 one leg of the electrical was not working, tree had been trimmed recently small branches all over the place gravel had just been put down, it was very rough and soft, none of the 6 legs were solid. the location outside that should have been a flat area was not level in any spot from our stairs to the fire pit. no picnic table. This sight look like it was just put in by a 10 year o
Jun 03, 2021
We stopped here to see the Bridges of Madison County. This is by far the BEST KOA we have ever stayed at! Big sites, plenty for families to do on site. This is a must stop for RVers or families to rent a cabin. Ponds, fish, playgrounds- they have it all. Fabulous spot and will recommend to all...
Jun 03, 2021
They went out of their way to set up extra campsites for the holiday weekend, which made it possible for us to camp during an emergency drive home.
Jun 05, 2021
I don't camp or do the RV thing. But if I did, I would totally stay here. It just looks like the quintessential campground. The kind grandma & grandpa took me to when I was a child. Every time I ride by on my scooter I think to myself, "I should get a RV and go camping at that KOA." Then I remember I'm a jobless deadbeat and can't afford a Popup camper let alone a 40 foot RV...
- Lincoln County Choppers on Google
Jun 04, 2021
What an awesome experience! This was my travel trailers 1st trip and it did not disappoint. My neighbors were awesome, and site was clean. So much for the kids to do and fun activities for all ages. Staff was exceptional even though the camp ground was packed full. They bring the firewood to your site and pick up your trash. I will be staying again in August!
- Blake Lee on Google
Jun 02, 2021
Very nice park.Very friendly staff.Lots of activities for all age groups VERY CLEAN AND WELL KEPT. Will stay again.
- Jody Snodgrass on Google