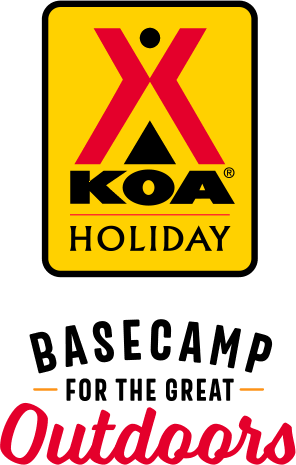 KOA Holiday Campgrounds
Whether you're exploring the local area or hanging out at the campground, KOA Holidays are an ideal place to relax and play. There's plenty to do, with amenities and services to make your stay memorable. Plus, you'll enjoy the outdoor experience with upgraded RV Sites with KOA Patio® and Deluxe Cabins with full baths for camping in comfort. Bring your family, bring your friends, or bring the whole group – there's plenty of ways to stay and explore.
KOA Holidays Feature:
RV Sites with a KOA Patio®
Deluxe Cabins with full baths
Premium Tent Sites
Group meeting facilities
Directions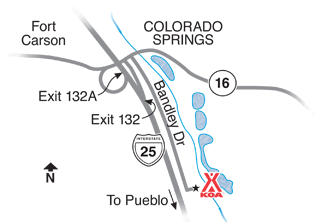 From South on I-25: Exit 132, south on frontage road (Bandley Dr).
From North on I-25: Exit 132A
Get Google Directions
Oct 20, 2021
Great except one hiccup. The front room light bulb was burnt out and we let the office know. We also let them know we we're leaving for the day and wouldn't return until late. Nothing was said and when we returned the front room light bulb has not been changed. Being the room with the kids bunk beds it made that night a bit bumpy. Other than that our stay was nice.
Oct 20, 2021
Great staff and a fun place to stay
Oct 19, 2021
We have a great Halloween experience at the Colorado Springs KOA>. Only problem is it did not last long enough. The owners and staff were very friendly and accomodating. Great place for 3 yrs and up to enjoy Halloween.
Oct 19, 2021
we like to stay Koa bc restroom is very clean and warm but this location is dirty and nobody care the cleaness. We are not gonna come back this one
Oct 19, 2021
great place for the kids and that helps us all Everyone was very helpful. Kids want to know if we are going again this weekend.
Oct 19, 2021
We loved our stay in Colorado Springs! The KOA is under construction in areas but once it is complete it will be amazing. The Kamp Kitchen is such a great idea.
Oct 18, 2021
After some miscues on our reservations, not reserving the correct cabin, the staff worked very hard to help our family of 4 stay for 2 nights. Had to switch cabins the second night and were split up but it all worked out fine. Might want to double check to see if towels and kitchen towels, ect are in the cabin before we have to go to the office. TV cable was out, and TV's didnt work at all.
Oct 18, 2021
We stayed in a cabin and the first night we froze. The second night the breaker kept going out. It didn't have enough pillows for my family or blankets. And it did not have what is said on the add. Then they charged us $20:00 for damage and didn't even have the respect to call and speak with us. Cause there was no damage. I wouldn't recommend it at all.
Oct 18, 2021
Had a great time. Perfect weather and great staff
Oct 18, 2021
Too many run down dilapidated trailers in there now. Very disappointing. The employees are all very nice but it just looks run down now.
Oct 18, 2021
Enjoyed the stay. Plenty to do for the kids
Oct 18, 2021
WAS VERY DISAPPOINTED THAT WE WENT ALL OUT DECORATING FOR HALLOWEEN AND NEVER GOT JUDGED OR TOLD WHETHER OR NOT WE WON ANYTHING. ALL THE OTHER CAMPERS CAME BY SAID WE SHOULD WIN. VERY DISAPPOINTING
Oct 18, 2021
Wonderful stay. People were friendly. Wished there wasn't so much work being done behind our cabin. Got quite a bit of dust coming in to the cabin when utility trucks carrying dirt would make rounds. We mainly kept windows closed to avoid this. Overall, great location, great amenities and the TV was a SURPRISE in the cabin. Wifi is not that great but thankfully we had our hotspot and DVD player.
Oct 17, 2021
We had two cabins and a campsite. One cabin had no heat and we had little babies which caused some issues. The other cabin air wasn't working correctly so during the day it was warm. We really enjoyed our time with family and just feel cabins need some upgrades. The staff was very friendly but not well organized and the schedules of times were not met. The costume event was 4 at 3:45 it was done
Oct 17, 2021
Amazing experience! We had our 3 dogs with us, and greatly appreciated the site that had the fenced in area for our pups. The staff was extremely friendly and helpful with any questions. You can't beat the view of the mountains! The campground has more amenities than most and tons of stuff to do with your family on site.
Oct 17, 2021
It was AWESOME and we will definitely be coming back when we have all the kids! loved that you delivered the food ice and firewood! It helped out so much! The park is so clean and the lady at the front was super nice and helpful!!
Oct 16, 2021
The campground was very well kept! The staff was very friendly!
Oct 15, 2021
Clean facilities, good sized sites, great amenities!
Oct 15, 2021
Incredibly disappointed with our stay at the Colorado springs KOA. My family and I flew into town from Phoenix. We had booked our stay three weeks in advance for a deluxe cabin. We arrived Friday evening to find out that our cabin had been given to another family. We were put into a smaller cabin that didn't fit our family. Our experience and adventure was not pleasant. This should not happen.
Oct 15, 2021
Convenient to Windish RV (right next door) where we had our travel trailer serviced. Site was a bit tired looking with bits of debris here and there, and bathroom (inside and outside) had bits of debris laying around. KOA like everywhere else is probably desperately in need of help and there probably isn't enough staff to maintain the facilities in the manner they usually would.
Oct 14, 2021
As we checked in one of the guys showing us to our site first yelled at my husband ..who told you to park there? When just before he came up a lady came out from office area and ask him to pull up! Then he proceeded to show us to our site, where between the rock and tree we hit a chair on patio with RV! He was directing us in!! Needless to say after a scratch on our RV we were not happy.
Oct 13, 2021
The park itself is very well-maintained and is in a really nice location. River-front spots are best. If you can get it, #104 is on the end with a view of Fountain Cr. The trail is on the east side of the creek; no access from the KOA. Now the downside: the I-25 road noise is unavoidable. The shooting range at Ft.Carson is even louder and into the 1:00AM hours. High-power rifles make noise!
Oct 13, 2021
We stayed in a tent site. We have gone to this campground every year while my children were young. My son has now gone into the Marines and he was home on leave and wanted to visit fond memories. A lot has changed since we used to go there and there are not many tent sites left. But we had a great time. It is a great staging point for the many many things to do in the Springs
Oct 13, 2021
Wasn't able to take advantage of your park as I would have liked. Was looking for a safe, clean, location where everyone wasn't parked on top of each other. Maybe next time I will be able to visit and enjoy as your park was designed. Pretty sure this may be the nicest RV park in Colorado Springs area.
Oct 13, 2021
Very clean and nice facility! Quality & Professionalism comes to mind!
Oct 13, 2021
Nice campground and well-maintained. The staff was very helpful and friendly.
Oct 12, 2021
Easy in, easy out for our 41' coach towing a Jeep. Staff was very friendly and efficient. Space between campsites was more than is common these days. We had registered to stay five nights but a sudden change of plans caused us to depart earlier than planned. With 48 hour notice we were immediately refunded two days camping fees, no questions asked. Campground is expanding significantly.
Oct 12, 2021
Great place, except for all the construction vehicles making noise all day. But totally understand the need for expansion, as it is in a great location!
Oct 12, 2021
2 working washing machines for 200+ campsites is not ideal.
Oct 11, 2021
This is a wonderful KOA. Very welcoming, helpful and friendly staff. Wifi and showers need improvement, but that is common at most KOAs. We enjoyed our stay and will definitely return in the future.
Oct 11, 2021
Employees kind. Site beside us was long term and had trash and multiple piles of dog feces. Asked to be move but told they were full. We were there 2 days and it was not full and neighbors didn't clean up feces. We smelled it!
Oct 11, 2021
The staff really went above and beyond to make our spooktacular stay fun and eventful. They were short-staffed, employees didn't show up, things were running behind, and they blew a tire on the glow ride. But everyone rallied and they still managed to make it special. Kudos to your staff, please treat them like royalty, they are everything!! Thank you!
Oct 11, 2021
The staff are super friendly and they always have fun activities for the kids. Thank You!! My kids loved the haunted hayride!!
Oct 11, 2021
A so so stopover, they're expanding so there was lots of activity on our end of the park.it has a river and nice Greenway. Staff was attentive, the far bathrooms were clean but oddly designed, my wife wouldn't use them. The wifi was useless on the far end.
Oct 11, 2021
Definitely one of the campgrounds we would go to again
Oct 10, 2021
We had full hook up for our 2 day stay. They we very accommodating when we had to alter our stay due to unforeseen circumstances. We will stay there again.
Oct 10, 2021
If you like loud freeway noise, then this is your place.