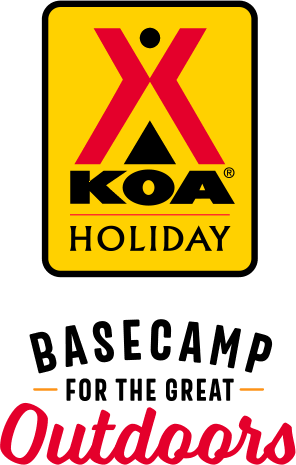 KOA Holiday Campgrounds
Whether you're exploring the local area or hanging out at the campground, KOA Holidays are an ideal place to relax and play. There's plenty to do, with amenities and services to make your stay memorable. Plus, you'll enjoy the outdoor experience with upgraded RV Sites with KOA Patio® and Deluxe Cabins with full baths for camping in comfort. Bring your family, bring your friends, or bring the whole group – there's plenty of ways to stay and explore.
KOA Holidays Feature:
RV Sites with a KOA Patio®
Deluxe Cabins with full baths
Premium Tent Sites
Group meeting facilities
Directions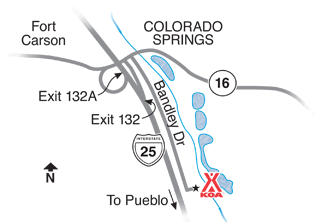 From South on I-25: Exit 132A, south on frontage road (Bandley Dr).
From North on I-25: Exit 132
Get Google Directions
Jul 27, 2021
We rented an RV which was delivered to our site. The KOA was located at a convenient location for all our outdoor activities. Liked that the campground was located by a river with some natural area adjacent to the campground. Also, when we needed assistance Bill was able to help us.
Jul 27, 2021
We were greeted with a warm and personable welcome. We loved the family atmosphere. So many activities for children. My son and I had a yummy breakfast at the cafe one morning. The campground has trees for shade and lots of room. We will be back.
Jul 27, 2021
This KOA is nice, with the water park and jump pad. it is in GREAT need of cleaning. The pool is filthy, almost too icky to swim in. The area around the pool needs to be swept, doesn't look like it has been swept all summer. The big umbrellas are nice but very tattered. I love the golf carts for rent, but need to update the rental policy. 1st come, 1st rent causes a LOT of frustration and anger.
Jul 27, 2021
Great water park, the activity directors were all very friendly and good with the children. The food we had was good at the cafe.
Jul 26, 2021
The bad first I guess.... More than half of the washing machines were down, and the staff was using the available machines to prepare the cabins. The hot tub was down the whole time we were there as well. That out of the way, the staff was nice and there were a ton of activities for the kids to do. I'd stay again, even with the gripes I've made (and I normally don't complain in these reviews
Jul 26, 2021
The bathrooms are disgustingly filthy all hours of the night and day. The staff won't guide you to your campsite and they are not very well marked. Also people from the cabin beside my tent site parked on my site and the office did not make them move. I literally had to park just mere inches from the fire ring on my site. I will not be back to this KOA and I'll be telling everyone I know about it.
Jul 26, 2021
Some of the staff was friendly and others were very rude and did not care about the guests. They blasted music to the point we couldn't hear each other when we were trying to talk. This location is right off the highway and does not feel like camping at all. You hear the highway all day and night it's also very windy. Not an ideal location and will not come back.
Jul 26, 2021
We were quite disappointed that the hot tub wasn't open, since the showers and pools were. A lot of activities for kids, that's why I assume this is a more expensive than many KOAs. People were friendly.
Jul 26, 2021
This KOA is great! There are several ways to keep the kids entertained when you are not out exploring the area, and being able to do laundry in the middle of our trip was a fantastic bonus!
Jul 26, 2021
Love it, very nice except couldn't get the TV to come on but that's OK was to tired to watch it anyway, the bed was nice
Jul 26, 2021
Late check in. 1.5 hours Dirty and moldy food in micro wave Cabin did not have a sense of cleanliness at all Table was di Cabin (in our opinion) way too small for 8 people. We had 4 and felt very squeezed in. Price very high for such inadequate accomodations. We rented meeting room. Room very unprepared. Mop buckets sitting around. With mops and water in the very space we were using.
Jul 26, 2021
Very high price. Nice pet area but no one cleaned up after their pets
Jul 25, 2021
Friendly, polite employees, some things need to be attended to, like cable & some electric boxes bent or knocked over But since covid it was a great experience
Jul 25, 2021
This RV Park appeared to target family's with children. Park was well maintained and great service. Had trouble accessing my site due to cars parked in the street in front of my site. This was a goid base for hiking in the area.
Jul 25, 2021
The staff was very helpful and the KOA was very nice. A real child friendly and plenty of actives.
Jul 25, 2021
We originally booked a site at Garden of the Gods RV Park, upon arrival we were warned that our neighbors mountain bikes were stolen the night before. We were carrying four mountain bikes of our own so we packed up and went to the KOA, best decision of the trip. Excellent RV spot for our truck slide-in camper and plenty of room, the paved patio area was a plus and everything was as expected.
Jul 24, 2021
Very good place to stay - though a lot of families with kids all around the park. We would stay there again if we needed too.
Jul 24, 2021
Great stay, except fir the start. Arrived about 1:00 and could not get into our site until around 4:30 due to previous camper refusing to leave. Would have liked some minor compensation for sitting in sidelines for so long (like extra points or something that didn't cost them anything).
Jul 24, 2021
The men's room seemed closed whenever I needed it, but no biggie. Great water park. Our site was rather ugly (125).
Jul 24, 2021
Great place to stay in Colorado Springs. Very nice campground. First time for staying in a cabin, which is not bad unless you're there in July/August; unfortunately we were. The A/C is lacking. Otherwise, OK for what it is. I prefer my camper.
Jul 24, 2021
Great campground! Lots of amenities and close to many outdoor activities. One of our favorite stops on our vacations traveling west.
Jul 24, 2021
Pool was closed incredibly crowded and dirty. Bathrooms being cleaned at 8 am? Makes no sense to do it at the busiest time of day. Needs more bathrooms. Cabin was clean. Cable didn't work well, need to check the connections please!
Jul 24, 2021
The office/store is clean and well-stocked. Everyone is friendly. Someone guides you to your site. The amenities for families is amazing - a water park, a jump pad, golf carts and bikes to rent. The sites themselves are level with gravel, many have a small cement patio and furniture. There are trees between sites so you do have a feeling of privacy. I would come back.
Jul 24, 2021
The campground is nice. There are not nearly enough bathrooms and they are extremely poorly maintained.
Jul 24, 2021
Place was clean, mostly quiet. Staff were polite. This one had a water play area for the kids. Very nice.
Jul 23, 2021
Amazing!! Kids loved it we loved it! Great experience. The only thing I would say they should work on is activity schedule being more consistent and planned out.
Jul 23, 2021
Friendly employees, nice cabin, disappointed w/pool, dirty and then emptied. Should have been cleaned at night.
Jul 23, 2021
Brought our grandson we loved the splash pad
Jul 23, 2021
It was great. My family and I enjoyed all you do for us. Your activity program is a destination in itself. We had a wonderful time. A SPECIAL THANK YOU TO BILL FOR THE HELP HE GAVE US IN SPOT #105.
Jul 23, 2021
RV spot was clean but that's about it. Hot tub is closed. I've seen pond water less green than the pool and the splash pad water cleanliness was also questionable. Laundry facility is unacceptable per KOA standards. It is the most disappointing KOA we have stayed at. Skip this one!
Jul 22, 2021
Campground was outstanding! All the activities for the smaller kids were all on point! It was a family reunion with about 40 people and the campground was everything we expected. The staff was a bit rude but that's pretty minor and didn't effect our vacation at all!!
Jul 22, 2021
Overall, the campground is in average condition with showing its age and a need for some updating. We stayed in vacation cabin which were in sufficient condition. There was an issue with dirty bedding in the pullout but they resolved the issue quickly. The front desk people for most part very friendly; however, there was one lady that did not want to be bothered with at all. She was very rude!
Jul 22, 2021
Nice park, would use again...
Jul 22, 2021
We had our grandchildren (2 & 4). They loved it. Some of the activities seemed a bit disorganized but really a great place to stay.
Jul 22, 2021
Great stay at the CO Springs KOA - would be 5-stars if hot tub was open and the main pool had better appearance. My young grandson had a blast in the splash pad! Campers were all happy and kampground staff was friendly and helpful.
Jul 22, 2021
Very close spaces and especially when crowded.. Expensive. Employees are nice
Jul 21, 2021
great sites. good location 20 to 25 minutes to most trails. pool closes early during the week. bathrooms are cleaned and always seemed closed when wanted to use them. other one way at other end of campsite. didn't clean when posted. slides and pool were nice though needed cleaned ,vacuumed more. would stay again.