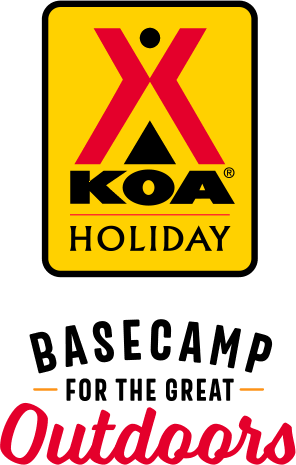 KOA Holiday Campgrounds
Whether you're exploring the local area or hanging out at the campground, KOA Holidays are an ideal place to relax and play. There's plenty to do, with amenities and services to make your stay memorable. Plus, you'll enjoy the outdoor experience with upgraded RV Sites with KOA Patio® and Deluxe Cabins with full baths for camping in comfort. Bring your family, bring your friends, or bring the whole group – there's plenty of ways to stay and explore.
KOA Holidays Feature:
RV Sites with a KOA Patio®
Deluxe Cabins with full baths
Premium Tent Sites
Group meeting facilities
Directions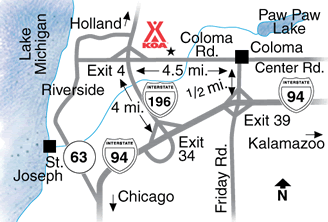 From the south / Interstate 94 use Exit 34 to I-196 North. Then drive 4 miles and take Exit 4. At the bottom on the ramp, turn left (east) and we are just 200 yards on your left hand side.
From the north / Interstate 196 use Exit 4. At bottom of ramp, turn left (east) and you will find us on the left hand side just past the highway.
For GPS coordinates: N42.186239, W86.373353
Get Google Directions
Jul 20, 2021
My family really enjoyed this campsite!! This is the first place I've ever been to where the store will deliver ice, firewood, food, and misc items to your campsite. The grounds were very clean, staff very friendly, and the amenities were good.
Jul 20, 2021
Your staff is friendly, hospitable and accommodating. It made our stay worthwhile despite the not-so-ideal weather (it was raining the 3 days we were there!). Kudos to an excellent service. This KOA is definitely in one of our list of places to go back to. Thank you!
CAMPGROUND RESPONSE / COMMENTS:
Thank you for your high-praise of our service. We are honored to have served you and look forward to seeing you again!
Jul 19, 2021
We had 2 tent sites. The sites themselves were clean and nicely shaded with electric and water hookups. The camp ground was wonderful and clean. Nice and quiet after 11. I loved how they would drive through and pick up garbage and that we could text them for ANYTHING and they would deliver it. Such a great set up.
Jul 19, 2021
It is a very family-oriented campground fun with the family lots of it
Jul 12, 2021
This was the 2nd year in a row we'd stayed here. This time we had 3 families with 5 kids ranging from 6-9, and what a fun weekend it was. We were thrilled to see all the improvements made to the property YoY, landscaping and pool area & addition of the text for help and many other elements. It is obvious that the owners/caretakers have a lot of pride in the property.
Jul 12, 2021
We had a great time! Tent sites 66 and 68, we loved it!
Jul 12, 2021
Todo muy divertido, la pasamos muy bien, este lugar me encanta, siempre muy acogedor, los dueños y empleados muy dispuestos a atender nuestras necesidades!!Me encanta el servicio a nuestro tent!! Tengo una pequeña sugerencia, yo entiendo que es imposible mantener todo al 100% limpio pero las paredes de las regaderas están muy sucias y tienen moho,podrían cepillarlas más seguido por favor! Gra
CAMPGROUND RESPONSE / COMMENTS:
Nos complace que la haya pasado bien. Gracias por su sugerencia. Trabajamos duro para mantener las instalaciones limpias y abordaremos las condiciones descritas por usted.
Jul 11, 2021
Very nice place to stay
Jul 11, 2021
I had a great tent site, enjoyed my stay. The amenities are outstanding. So many things to do. The reason for the 4 star and not 5, is upon checking in I was asked if I needed ice or firewood, and I ordered 1 bundle. 2 and 1/2 hrs later and multiple times asking for it, I finally got it.
CAMPGROUND RESPONSE / COMMENTS:
No excuse and not reflective of our usual and customary exceptional service. We apologize for the inconvenience and have addressed it with staff.
Jul 08, 2021
We enjoyed our stay at the KOA. Friendly staff, very helpful. We will plan to come back.
Jul 08, 2021
Ambiente familiar y limpio
Jul 06, 2021
This is our second time here. We love it. So much to do on the grounds, amenities are great, nearby beaches etc. staff is super friendly and helpful. Loved the daily activities too. Just an overall super happy place!
Jul 05, 2021
We enjoyed our stay. ! The kids had fun with so many activities to do in the camp. Shaded tent sites, clean bathroom and friendly staff to name a few plus about this campsite!����
Jul 05, 2021
We enjoyed our stay. Toilet and shower were always clean - thats the first thing that we check! Its easy to order food and supplies and delivered to our campsite!!! Nice campground!!!
CAMPGROUND RESPONSE / COMMENTS:
Our Housekeeping staff work hard to maintain our facilities, especially for our tenting guests who do not have an RV with private facilities. We want to ensure a clean and comfortable environment, in every way possible.
Jul 04, 2021
Very nice camping facility. The only thing change I suggest is larger sites or more trees on tent sites. Privacy when it's a full house people are close. The sites were clean and welcoming. The pool and showers were clean and updated. Good stay!
Jul 04, 2021
Owners are great! Brayden deserves a management role, Fantastic customer service at its finest. Maintenance kid ran around all weekend from open to close it seemed like. .. Highly recommend!
CAMPGROUND RESPONSE / COMMENTS:
Brayden is indeed one of our valued team members, and we're glad to help him earn money for college as he works towards a very bright future! Thank you for recognizing him and our other staff for their exceptional service. We'll be sure to share your accolades with them.
Jul 03, 2021
This was our 3rd time here and everyone is so nice and the campground is clean! There is so much for our kids to do that we booked another trip for next month before we even left!
Jun 29, 2021
We were moved from next to our friends, which we reserved 9 months earlier, to the other end of the campground to tent section. Tent campers (up wind) next to us smoked pot all the time and my family, with two kids, had to smell pot smoke for half our stay. Wish they would have kept us at our originally assigned site. Loved the Christian music they played at the camp store surrounding area.
CAMPGROUND RESPONSE / COMMENTS:
We understand how you would be upset about your neighbors, but why did you wait to tell us only in a review online??? We CANNOT fix a problem we don't know we have and would have addressed it had we known. All future guests be advised, we do not allow marijuana smoking at our private property!
Jun 28, 2021
We had such a wonderful trip. There was so much for kids to do here. Everyone was friendly and the convenience of someone dropping off firewood and ice was a bonus. We will definitely be back.
Jun 28, 2021
Campground is very nice, clean, everyone was friendly. Had a good time despite the rain. The delivery of food and wood etc to the site is great. Kids loved it. Will definitely come back. Thank you!
Jun 24, 2021
Everything was in top working condition, and the hospitality was excellant!
Jun 23, 2021
This campground is awesome! Everything was clean and nice. The people and employees were friendly and helpful.
Jun 21, 2021
Great place for families; safe, clean and full of activities. Our family had a lot of fun. Thank you.
Jun 21, 2021
I took my husband camping to celebrate Father's Day and my birthday. He was skeptical but was won over once he saw how nice the campgrounds were. We really enjoyed our stay. The lovely tree canopy and large camp spaces make it so pleasant and feel private even on a weekend that has ever space full. The camp offers so much and so close to Lake Michigan beaches! We'll be back!
CAMPGROUND RESPONSE / COMMENTS:
We are honored to have won over a skeptic, and glad to know we were able to help your husband celebrate his most special role of being a dad!
Jun 18, 2021
Everything was great. We enjoying a more luxurious camping experience. Great service and very clean campground and bathrooms - which is important to us.
Jun 17, 2021
Staff is respectful, kind, and appear happy to be there and help make the camping experience better. Facilities and grounds are always clean. Campground rules are well enforced.
Jun 17, 2021
fantastic staff! well kept property!! fun place to be!
Jun 17, 2021
Kids were exhausted. So much to do, very friendly staff, very clean. Can't wait to see what happens with your ongoing improvements!!
Jun 15, 2021
great place! The service, food, ice, pizza, firewood delivery is awesome! Very clean and super nice people.
Jun 12, 2021
Very helpful staff and lots of fun things to do while you're there. Pizza was so good. Didn't even have to leave! Wish the wood we bought from the shop would have lit, though. We tried everything!
Jun 12, 2021
Well I really didn't want my 8 year old niece smoking weed for the first time at that age!! Thats all the people did behind us and we walked in our tent and smelled like someone had just been sitting in our tent smoking for a week straight!! Umm really didn't appreciate pulling up to our site to be approached by the team leader telling me we had to options pay our bill or pack up and leave !!
CAMPGROUND RESPONSE / COMMENTS:
After making accommodations for you during your two week stay, your negative review is not only disappointing, but you also know it to be unwarranted.
Jun 09, 2021
This was our first family camping trip. We are familiar with the area and we always enjoy the beaches. We had an excellent time! It's very convenient, the facilities are immaculate! Our kids didn't want to ever leave to play on the beach!
CAMPGROUND RESPONSE / COMMENTS:
We are so pleased to have been your first family camping trip and certainly hope it won't be your last! It's encouraging for us to know that your kids were fully entertained by all the thing we have to offer. See you again soon!
Jun 08, 2021
Very professional and courteous staff. Grounds are very well maintained. Proximity to highway was mildly disruptive. Had a power outage for ~10 hours...staff was very courteous and generous (free ice cream & ice). But I was quite disappointed that they did not seem to have a plan to manage the lack of water (water pumped vs gravity fed) the restrooms were not acceptable during the outage.
CAMPGROUND RESPONSE / COMMENTS:
Fortunately, the area-wide power outage you experienced is a rare occurrence, but we recognize the inconvenience. Our staff worked hard to address immediate needs and had the restrooms cleaned and ready once power was fully restored. We are also now researching the installation of generator power.
Jun 08, 2021
This is our favorite campground. It was our 5th time staying here and it's always wonderful experience. The place is super clean, bathrooms and showers in a main building are great. There is so many activities for kids like jumping pillow, swimming pool ,mini golf ,hiking area,play ground etc. The little store is great too and fries � are so good � We had so much fun as always ���
CAMPGROUND RESPONSE / COMMENTS:
Thanks for the kind words, and for your repeat business. We greatly appreciate it and work hard to earning it by each year looking for new products or services we can offer, like adding crunchy French fries to our Cafe menu. They have been a BIG hit and we're glad you enjoyed them!
Jun 07, 2021
They were very friendly curtious and always willing to help...really love the delivery service from the general store and cafe...great place for families and their dogs too.
Jun 07, 2021
Very nice KOA! Great facilities and people. Pizza made to order was excellent! We will be back
Jun 01, 2021
Great place and great customer service .
Jun 01, 2021
Highly recommend this KOA campground. The campground was clean, the staff was friend and quick to help with anything from firewood to ice. I also loved all the amenities for kids and adults. Of course, the showers, though camp showers, were individual rooms so you had a door for privacy instead of a flimsy shower curtain. That gets 7 stars!!
Jun 01, 2021
This KOA has so many good things going for it. Pool, good bathroom, clean sites. Unfortunately my stay was soured by being surrounded by drunk neighbors staying up to 3AM each night. If there is a "quiet rule" i would expect enforcement. There was none.
CAMPGROUND RESPONSE / COMMENTS:
We're sorry your neighbors were not respectful. However, had you called our after-hours number to make us aware, we would have been happy to address it immediately. We cannot fix a problem we didn't know we had.
May 26, 2021
Staff was helpful and friendly and assisted with our needs during our stay. It was clean property and looking forward to returning - thank you for making my journey with my nieces memorAble.
May 24, 2021
Great family and pet friendly campground!!!! We enjoy ourselves every time!!!!
Jul 22, 2021
This place was by far our favorite place! A lot for the kids to do! Staff was super helpful and friendly! Pizza and ice cream were great! Super clean! Cute store! Wood and ice delivered to campsite! We will be back for sure!
- Sheila Petkus on Google
Jul 20, 2021
We were very pleased with our stay at this KOA. There are a lot of things to do at this campground. The pool and bathrooms were clean, sites were roomy, and the staff is friendly. We were impressed with how they will deliver wood, ice, or pizza right to your site. They also pick up your trash right from your site. They offer one of the best camp stores I have seen, I wanted to buy so many things. :) Our only compliant was that our site was mostly dirt. The first two days of our stay were rainy which made it a bit more difficult to keep things clean, including the dogs. We noticed that most of the sites around us had more grass so I guess it was just the luck of the draw that we got the one where grass didn't want to grow. Either way, we would definitely stay here again if we can find an open weekend in their super booked schedule. (What a great problem for a campground to have!)
- Melanie Leoni on Google
Jul 20, 2021
Beautiful campground with tons of trees and all the amenities you could want. The kids. Super close to the highway exit but you dont hear or see the highway at all. Would stay here again in a heartbeat!
- Devin Tischer on Google