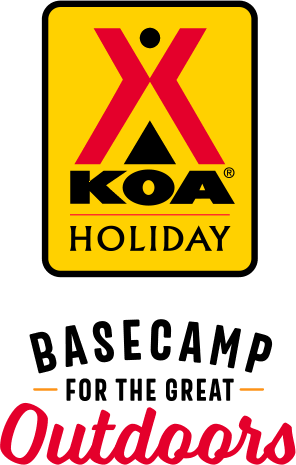 KOA Holiday Campgrounds
Whether you're exploring the local area or hanging out at the campground, KOA Holidays are an ideal place to relax and play. There's plenty to do, with amenities and services to make your stay memorable. Plus, you'll enjoy the outdoor experience with upgraded RV Sites with KOA Patio® and Deluxe Cabins with full baths for camping in comfort. Bring your family, bring your friends, or bring the whole group – there's plenty of ways to stay and explore.
KOA Holidays Feature:
RV Sites with a KOA Patio®
Deluxe Cabins with full baths
Premium Tent Sites
Group meeting facilities
Directions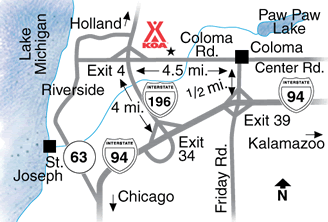 From the south / Interstate 94 use Exit 34 to I-196 North. Then drive 4 miles and take Exit 4. At the bottom on the ramp, turn left (east) and we are just 200 yards on your left hand side.
From the north / Interstate 196 use Exit 4. At bottom of ramp, turn left (east) and you will find us on the left hand side just past the highway.
For GPS coordinates: N42.186239, W86.373353
Get Google Directions
Jul 21, 2021
Loved our stay as always. We come 2 to 3 times a year for 4 years now and they are always upgrading the campground. Very clean and lots to do. Staff is very friendly and helpful. Thank you!!
CAMPGROUND RESPONSE / COMMENTS:
Since we bought the campground in 2016 from its original owners, we have fully enjoyed breathing new life into our facilities and taking our guest service to a whole new level. We are also proud of all of our staff who are equally dedicated to serving our guests!
Jul 21, 2021
The park was very clean, the owners were very nice, and they tried their best to accomodate our request to camp together as a group (we were 2 RVs traveling together). Parts of the campground were tight and closely spaced (layed out 40-50 years ago), and parts have large and spaced out sites. We stayed at the larger patio sites and they were beautiful. Lots of activities for the grandchildren!
Jul 21, 2021
Beat KOA yet. Friendly staff. Great sites.
CAMPGROUND RESPONSE / COMMENTS:
We feel we have some of the best KOA guests as well!
Jul 21, 2021
Everything was good about our stay except our site was mostly dirt which was not fun when it rained the first couple days of our stay. It was difficult to keep our dogs and feet clean. Staff was friendly, we liked the amenities.
Jul 20, 2021
The park was clean, check in and out was done swiftly and the staff was available and courteous every time we needed them! Wished we took advantage of the nice clean pool, but time did not allow, because we only stayed 2 nights! Loved having delivery service for the simple things like ice and firewood! Site 88 was level and well kept, would definitely recommend!
Jul 20, 2021
The site was not level from side to side or front to back. If it had been leveled at least from side to side it would have made set up easier. Signage going in to check in was confusing so it was easy to into the wrong lane to stop.
CAMPGROUND RESPONSE / COMMENTS:
Sorry you didn't enjoy your time with us for your one-night stay. With thousands of guests with us each year, we are confident our signage is not too difficult. We also regularly maintain our sites and most guests are able to figure out how to park and level their rigs.
Jul 19, 2021
Absolutely beautiful place! It was clean and the staff were very friendly and accommodating. They go the extra mile by providing extra amenities, delivering items to your campsite, all the fantastic family activities on site, and we couldn't get over how many people were there, yet how quiet it was. We will definitely be back for another visit soon.
Jul 19, 2021
The friendliest staff members work here. Everyone was so helpful and kind! We loved the campground and there was plenty to do. Very close to beach and we did a day at warren dunes. Sites can be pretty close together for larger campers but the cabins looked amazing and very high quality.
Jul 19, 2021
Staff was great. Grounds were clean. Lots of things for kids to do. Sites were a bit tight but tolerable as we were with a bunch of friends and they were next to us. Unfortunately the road noise and trains blowing their horns at night were horribly loud. Every camper we were with complained about terrible night sleeps.
CAMPGROUND RESPONSE / COMMENTS:
With hundreds of 5-star reviews, apparently not everyone complains about a terrible nights sleep. The train tracks are more than a mile away, but sound does travel. We're sorry that took your attention away from our other qualities.
Jul 19, 2021
I have stayed here before and will stay again the campground and buildings are always clean and the staff helpful and friendly This last weekend you could have turned down the rain a little
CAMPGROUND RESPONSE / COMMENTS:
Glad you enjoyed your time, and our helpful and friendly staff. As for the rain, please tell us how you turn it down where you live, and we'd be happy to do the same. :-)
Jul 18, 2021
Spent 6 nights at this KOA in July. Really enjoyed the amenities and trees. Grounds were very clean. We appreciated the garbage pickup throughout the day. Great location to explore St. Joseph and South Haven.
Jul 18, 2021
Disappointed by the highway noise as this is camping and should be in a peaceful environment. That is what camping is all about. The trains and traffic should be disclosed to people or noted on website.
CAMPGROUND RESPONSE / COMMENTS:
We're sorry the sounds of a moving economy took away from your stay. While at times they are noticeable, most guest appreciate the convenience with the fact that we're not off-the beaten path, and enjoy that we are close to all the areas local attractions.
Jul 17, 2021
We had a great time. Staff is very friendly and helpful
Jul 17, 2021
Always a great stay at Coloma. Mark, Karla and all their staff go out of their way to make you feel welcome and are always willing answer a question or help in anyway. The Park and facilities are always spotless and the constant improvements are hard to keep up with. The campground is our spot in Southwest Michigan and are always anxious to come back.
Jul 17, 2021
Wonderful, clean campground. Friendly staff. Great family environment.
Jul 17, 2021
Check in was a little slow, but everyone was very nice. The bath house is well kept and clean. We enjoyed all of the family activities offered. Our site (42) needed some wood chips in front of the swing due to sand and soot. Quiet campground. Loved the cafe! Pizza, ice cream and coffee were all delicious!! Lots of cute souvenirs for purchase too.
Jul 17, 2021
Great level sites The site and the employees have met all my criteria for a great camping location, we were also able to meet the owner of this KOA who was very personable and outgoing made us feel real welcome
Jul 16, 2021
We took 4 Grandchildren ages 3-12 camping for 2 nights at the Coloma KOA- They couldn't have had more fun! The 4 year old woke up each morning asking to go jump on the jumping pillow. The pool was a tad bit small, but the perfect temp! I could sit at a picnic table and watch all the kids play in different areas. Gaga ball, jumping pillow and very large sand box with toys already in it!
Jul 16, 2021
Really nice campground.Loved the pizza and ice cream and really nice owners and help. Definitely recommend this KOA
Jul 15, 2021
The grandkids love it here.
Jul 15, 2021
We loved our 1st KOA stay. The owners were not only involved and engaged but led activities. The amenities were wonderful fir our 8 & 10 yr olds. Staff were friendly and prompt. Location is close to beach and other destinations. We are already working on our next visit!
CAMPGROUND RESPONSE / COMMENTS:
We are so glad you enjoyed you time with us and that we were able to give you a great, first KOA impression. We look forward to seeing you again. If you haven't already done so already, don't forget to sign up for our KOA Rewards program so you can save 10% on all your future reservations!
Jul 14, 2021
Always great hosts. Clean facilities. Awesome activities for the kids and so much more. It's truly relaxing.
Jul 14, 2021
Always a comfortable place to camp, very nice staff and clean bathroom and showers.
Jul 14, 2021
We loved staying at KOA Coloma/ St Joseph! Everyone was so helpful and friendly. The campground is beautiful and there is so much for everyone to do. We sincerely enjoyed our time there and will definitely be back! We highly recommend making KOA Coloma/ St Joseph the top of your go to list! Thank you for a great time!
Jul 14, 2021
Very friendly and helpful staff. For being a week away from home, we felt right at home. Only suggestion would be to have more grass on your sites. We were on site 82 and it was all dirt in front of our camper.
CAMPGROUND RESPONSE / COMMENTS:
We are glad you had a nice time. As for the grass, we too would love to offer plush, green grass everywhere, but God made southwest Michigan on a sand dune, which makes it a bit challenging, if not impossible to grow grass - especially with the high traffic of our campground.
Jul 14, 2021
This is our favorite place to go. The reason it has been our favorite was because of the small charm about it. It's losing its appeal with adding all the cabins. The great thing is the quietness of the place. I feel this will change. But the staff couldn't be nicer and more helpful.
CAMPGROUND RESPONSE / COMMENTS:
The cabins are being added because it is the one site type of which we we fail to meet the demand. We are pleased to still offer and our guest with a variety of tent sites, RV sites and accommodations from which guests may choose. Plus we remain committed to providing exceptional guest service!
Jul 14, 2021
Best campground ever!! I fell in love with carpet ball! My kids and I loved the bike rentals, we loved the pool and quick access to Lake Michigan for a beach day, loved all the games and listening to the bull frogs sing at night. Pizza in the cafe is amazing!! Thanks for everything!!
CAMPGROUND RESPONSE / COMMENTS:
We are so glad to hear that you and your kids got addicted to carpet ball and enjoyed all our amenities and the area attractions. Most especially, we're glad you enjoyed the free entertainment of the performance held each night by the Bull Frog Choir!
Jul 14, 2021
Owners and park workers are all extremely friendly and helpful. Very clean campsites. They are concerned about the campers well being as they closed the swimming pool due to lightening.....however.....they offered BOGO smoothies at the camp store to keep the fun going.
CAMPGROUND RESPONSE / COMMENTS:
We hate to close the pool on a hot summer day, but safety is important, and we just can't take a chance with lightening in the area. However, we are glad we could make it up to you with the BOGO Frozen Fruit Smoothies.
Jul 13, 2021
Very nice clean campground. Plenty for kids to do. Friendly helpful staff.
Jul 13, 2021
Very friendly, loved the delivery services. And the alerts for the weather. Food was amazing
Jul 13, 2021
No issues during my stay. The owners and staff where helpful and friendly. Close to Lake Michigan and St. Joseph for day trips.
Jul 13, 2021
park was very inviting - truly liked that is was so child focused
Jul 13, 2021
Great place to stay kids had lot of fun. Very friendly stuff thank you
Jul 13, 2021
Beautiful campground, friendly staff! Loved our stay here!!!
Jul 12, 2021
We can't say enough! Loved this campground and the staff! We can't wait to make another reservation. We are 5 hours away and we will make the drive. Top notch facility!
Jul 22, 2021
This place was by far our favorite place! A lot for the kids to do! Staff was super helpful and friendly! Pizza and ice cream were great! Super clean! Cute store! Wood and ice delivered to campsite! We will be back for sure!
- Sheila Petkus on Google
Jul 20, 2021
We were very pleased with our stay at this KOA. There are a lot of things to do at this campground. The pool and bathrooms were clean, sites were roomy, and the staff is friendly. We were impressed with how they will deliver wood, ice, or pizza right to your site. They also pick up your trash right from your site. They offer one of the best camp stores I have seen, I wanted to buy so many things. :) Our only compliant was that our site was mostly dirt. The first two days of our stay were rainy which made it a bit more difficult to keep things clean, including the dogs. We noticed that most of the sites around us had more grass so I guess it was just the luck of the draw that we got the one where grass didn't want to grow. Either way, we would definitely stay here again if we can find an open weekend in their super booked schedule. (What a great problem for a campground to have!)
- Melanie Leoni on Google
Jul 20, 2021
Beautiful campground with tons of trees and all the amenities you could want. The kids. Super close to the highway exit but you dont hear or see the highway at all. Would stay here again in a heartbeat!
- Devin Tischer on Google