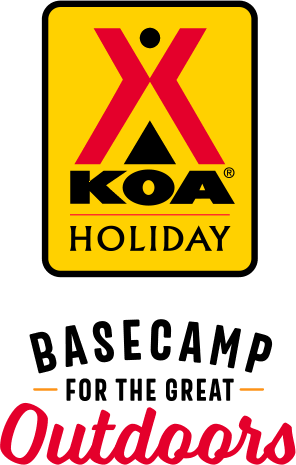 KOA Holiday Campgrounds
Whether you're exploring the local area or hanging out at the campground, KOA Holidays are an ideal place to relax and play. There's plenty to do, with amenities and services to make your stay memorable. Plus, you'll enjoy the outdoor experience with upgraded RV Sites with KOA Patio® and Deluxe Cabins with full baths for camping in comfort. Bring your family, bring your friends, or bring the whole group – there's plenty of ways to stay and explore.
KOA Holidays Feature:
RV Sites with a KOA Patio®
Deluxe Cabins with full baths
Premium Tent Sites
Group meeting facilities
Directions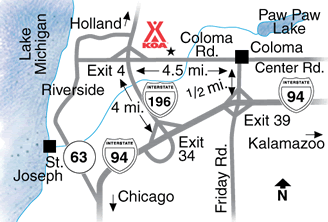 From the south / Interstate 94 use Exit 34 to I-196 North. Then drive 4 miles and take Exit 4. At the bottom on the ramp, turn left (east) and we are just 200 yards on your left hand side.
From the north / Interstate 196 use Exit 4. At bottom of ramp, turn left (east) and you will find us on the left hand side just past the highway.
For GPS coordinates: N42.186239, W86.373353
Get Google Directions
Jul 21, 2021
Pet Friendly Cabins are clean and comfortable. Wash rooms (near Pool) are clean and well-maintained. Adorable little playground and play area (ladder toss, giant chess and Connect 4).
Jul 20, 2021
Mark and his staff are top notch. They are very eager to help and ensure that you have a great stay. The facilities are clean and comfortable. I would highly recommend that anyone who is traveling through the area and need a place to camp, stop in to the Coloma KOA.
Jul 19, 2021
We loved the Glamping tents! At first we were worried about the location being so close to the pool, but it was not an issue at all. In fact, we liked being close to the bathrooms. We appreciated that the campground took the quiet time seriously.
Jul 18, 2021
The stay was ok, cabin was nice, campground was clean, pool was cold though, wish had weekday activities. Staff was for the most nice, except for last day, tried to get a extra hour due to some circumstances, would not let us and very strong stating we had to be out of the cabin by eleven, even though check in is not in to three. Showers and bathrooms could use more attention, seemed dirty a lot
CAMPGROUND RESPONSE / COMMENTS:
An overwhelming number of guests will attest our staff bend over backwards to help. Our peak summer season is a busy time. As soon as one guest leaves, another comes in. We were unable to allow you to stay longer because our Housekeeping staff needed to get the cabin ready for our next guest.
Jul 17, 2021
We stayed at the deluxe cabin and it was so nice. There was a lot to do for our kids and it was very clean there. We would definitely go back.
Jul 17, 2021
Very clean, good food delivered to ur site. Downfall is cabins are squeezed in tight with little privacy at ur campfire. In order to pick a cabin the $15 charge is much. Prices are getting up to a hotels charge for a basic cabin which has no indoor plumbing ! Tent and RV sites have more space. Overall good time for kids - lots to do. Would like itemized bill for cabin charges from store
CAMPGROUND RESPONSE / COMMENTS:
We've made numerous upgrades throughout our park, including new hickory furniture in the camping cabin you reserved. If you go to a hotel, you get a room and pool. Here, we provide numerous outdoors amenities on our 40-acre property - all with exceptional hospitality.
Jul 15, 2021
Thank you for the excellent experience. Our kids enjoyed the jumping pillow, bike rides, and swimming. The cabin was very nice, too. (Pet friendly cabins are newer/better.) We just needed more off spray for mosquitoes. 5 star!
Jul 14, 2021
So much fun!!
Jul 09, 2021
We modified our stay from a tent to a cabin, due to potential weather. It was an easy upgrade.
CAMPGROUND RESPONSE / COMMENTS:
We were so glad we could upgrade your reservation to one of our 20 accommodations, and that we could help avoid having your summer dampened by the rain!
Jul 06, 2021
It was a great time! The staff is always very nice
Jul 06, 2021
Love it here
Jul 05, 2021
We loved it!! Already booked to come back in a month!
CAMPGROUND RESPONSE / COMMENTS:
Excellent. See you again, soon!
Jul 02, 2021
The campsite and cabin were very nice and clean. It was a little cold and raining so we went to town and bought some things to put into the oven. We were then told the that the oven in the cabin did not work. It would have been nice to have been told that at check in not after we bought our groceries.
CAMPGROUND RESPONSE / COMMENTS:
We're sorry there seems to have been a misunderstanding. We do not list an oven as part of the amenities in any of our deluxe cabins. They are all equipped with a stove top, microwave, gas or charcoal grills, and of course a fire pit. A complete list of the amenities is also on our website.
Jul 01, 2021
It was amazing how many activities they had for the kids! We played with everything and loved it! The only vas part was that the firewood that I brought was wet so it took forever to light. Other then that it was an awesome trip! We will be back again!
Jun 29, 2021
Loved that there was food and coffee available. The actual sites were kind of cramped and not much privacy. We were in a camping cabin and people had to walk right in front of your site to use the restrooms. The restrooms were large, though they were always wet with puddles on the floor no matter what time of day or night. Close to warren dunes and affordable.
Jun 28, 2021
The employees were enthusiastic, helpful, positive, and always smiling. Our family of 12 stayed in two deluxe cabins that were fully stocked with supplies for 4 days, and our camper site was easy to maneuver and spacious. In spite of the fact that it rained for the 4 days, we had a great stay.
Jun 25, 2021
Everything was in pristine condition with so much for kids to do...and everyone so very friendly. We will definitely return!
Jun 24, 2021
It was noisy because of the highway nearby, which made it hard to sleep. Plus, there were deer ticks everywhere at our campsite. In fact, we decided to cut our trip short because of the deer ticks.
CAMPGROUND RESPONSE / COMMENTS:
While we spray for bugs such as mosquitos and ticks, this year there is an unusual high number of ticks across the country. As we recall, you were also foraging for wood in the woods to bring back to your site, rather than purchasing our kiln dried firewood. We're guarantee that didn't help.
Jun 22, 2021
We had a really nice time this year. The upgrades to the cabins 1-5 are really nice. The beds were better than the bed in cabin 8 last year. The pool looks great. And the second gate to get in is a smart choice. Looking forward to the deluxe cabins next year.
CAMPGROUND RESPONSE / COMMENTS:
We are always in continual improvement of our park to provide guests with an exceptional experience. We are pleased you enjoyed this year's upgrades to the camping cabins, and look forward to seeing you next year!
Jun 21, 2021
The hosts were very friendly and welcoming. Our kids had a great time throughout the campground. So much, in fact, that they never wanted to leave to explore anything in the area!
Jun 21, 2021
We had a great time staying at the KOA! Amazing facilities and even better staff! Mark and Karla and their team do an outstanding job. Loads of fun for the kids! We will most certainly be back! Thank you Mark and Karla!
Jun 19, 2021
good time! will def be back
Jun 19, 2021
The Coloma/St Joseph KOA facility was great- -good to see Michigan joining the rest of the country with less restrictions finally for the pandemic; the campground is a great way to rejoin the human race; great weather and no mosquitos which for a beautiful shaded, woodsy atmosphere is the full Monty
CAMPGROUND RESPONSE / COMMENTS:
We too are glad the restrictions have begun to follow the rest of the nation allowing our state economy to be more fully open. Fortunately, even with the restrictions of the past year, our guests were wonderful and found that social distancing was easily achieved in our outdoor setting.
Jun 18, 2021
We had another great visit, and can't wait to return in August!
Jun 18, 2021
Plan to make it a once a year family event! Great stay, only delta was noisy interstate....not your problem!
CAMPGROUND RESPONSE / COMMENTS:
We are glad to be on the list for your annual family camping trip. While the highway noise can at times be noticeable, most guests overlook it as they appreciate our proximity to all the great area attractions and the easy on/off that helps with your arrival and drive home.
Jun 17, 2021
This is a beautiful campground community. It is perfectly maintained and staff provide 5 star service. It's the perfect place to relax with access to wonderful beaches, shopping, winery's and even a nature center. We plan to visit again as soon as possible.
Jun 14, 2021
Glamping tents are awesome! Very well thought out (love the hanging hook stand, luggage rack, etc to accommodate personal items being kept off of the floor). Love the porch, fire pit, and option of using a gas grill! Showers could use better ventilation (either AC or high powered fan in shower area for better circulation). Staff was great. Emergency staff was delayed in response to racoon.
CAMPGROUND RESPONSE / COMMENTS:
We are glad you enjoyed our Glamping tent. Our restrooms do have commercial ventilation fans, but with summer humidity, at times they may be challenging to make more comfortable. While we worked to relocate some racoons recently, we're sorry their friends still wanted to say hello.
Jun 14, 2021
Everything was great. The only thing that you should change is that the doorknobs on the bathrooms are round. They should be replaced with levers as they are hard to open with wet hands and when you are carrying things. Are also a covid transmission point you can't avoid as you can't open the door with your elbow or back of the hand.
CAMPGROUND RESPONSE / COMMENTS:
Thanks for the suggestion. While we can appreciate the convenience-factor and work diligently to clean our facilities, the safety-risk is minimal as the CDC has made it very clear that there is no evidence that COVID transmits on surfaces.
Jun 12, 2021
It was a perfect memory making stay with our grandsons and kids!
Jun 11, 2021
It was excellent,relaxing.
Jun 07, 2021
The staff was GREAT!!! There was an electrical outage at the campground and surrounding towns. The staff handles it very well. They had a free ice cream social. We all loved that!!!
Jun 07, 2021
Very nice, safe, and clean.
Jun 06, 2021
The staff was extremely accommodating!!! They know what customer service is all about!!! My only suggestion is to put in the description that you provide dishes, pots, shampoo. Soap, and such. We came from out of state and I packed all of that because I was unsure. It was a nice surprise! There was nothing negative about our experience and I definitely recommend to all!
CAMPGROUND RESPONSE / COMMENTS:
We are glad you enjoyed our deluxe cabins that supply all of your dishware. Our descriptions are on our website, but we'll review whether can make that fact more prominent.
Jun 04, 2021
My family and I have been coming here for years, and it's truly just a great time every time we stay here. The staff is amazing!
CAMPGROUND RESPONSE / COMMENTS:
We agree that we have an amazing team, from adult Workkampers who live on site, a teacher, and several college an high school students on summer break. Each of them work hard so you don't have to, and they have fun while providing exceptional guest service! We'll be sure to pass along your praise
Jun 02, 2021
Great stay with helpful staff that kept everything clean, atmosphere was fantastic and the owners are always a pleasure.
Jun 01, 2021
The most pleasant staff ever -beautifully maintained facility - wood and ice delivery is a wonderful thing - YOU GUYS ARE THE BEST!
Jun 01, 2021
We been coming here for a few years already. And we love it. The memories we make, the people we meet are the things that keeps us coming.
Jun 01, 2021
Loved our stay! Our cabin was clean and adorable, the campground had a bunch of fun activities for the kids, prices were reasonable, and we felt that everything was safe and well-managed while we were there. Would definitely come back again!
May 24, 2021
Wonderful staff! Check in and out was seamless. Amenities were great; food was hot and delicious, the gift shop had wonderful souvenirs for purchase. The coffee in was awesome! Can't wait to stay again!!! Thank you for another wonderful camping experience:)
May 24, 2021
This is the best KOA. I love the property and owners do a wonderful job
May 24, 2021
�σσσ� WHAT A GREAT GET AWAY! THANK YOU FOR YOUR HOSPITALITY! CANT WAIT TO GO BACK�����
May 17, 2021
The place was clean. The campsite was open. The staff was friendly! They were accommodating! The site is close to Beaches, WIneries. Kid friendly, Pet friendly. What a wonderful place, EVERYONE HAD SO MUCH FUN!
Jul 22, 2021
This place was by far our favorite place! A lot for the kids to do! Staff was super helpful and friendly! Pizza and ice cream were great! Super clean! Cute store! Wood and ice delivered to campsite! We will be back for sure!
- Sheila Petkus on Google
Jul 20, 2021
We were very pleased with our stay at this KOA. There are a lot of things to do at this campground. The pool and bathrooms were clean, sites were roomy, and the staff is friendly. We were impressed with how they will deliver wood, ice, or pizza right to your site. They also pick up your trash right from your site. They offer one of the best camp stores I have seen, I wanted to buy so many things. :) Our only compliant was that our site was mostly dirt. The first two days of our stay were rainy which made it a bit more difficult to keep things clean, including the dogs. We noticed that most of the sites around us had more grass so I guess it was just the luck of the draw that we got the one where grass didn't want to grow. Either way, we would definitely stay here again if we can find an open weekend in their super booked schedule. (What a great problem for a campground to have!)
- Melanie Leoni on Google
Jul 20, 2021
Beautiful campground with tons of trees and all the amenities you could want. The kids. Super close to the highway exit but you dont hear or see the highway at all. Would stay here again in a heartbeat!
- Devin Tischer on Google