Camping in the Era of Social Distancing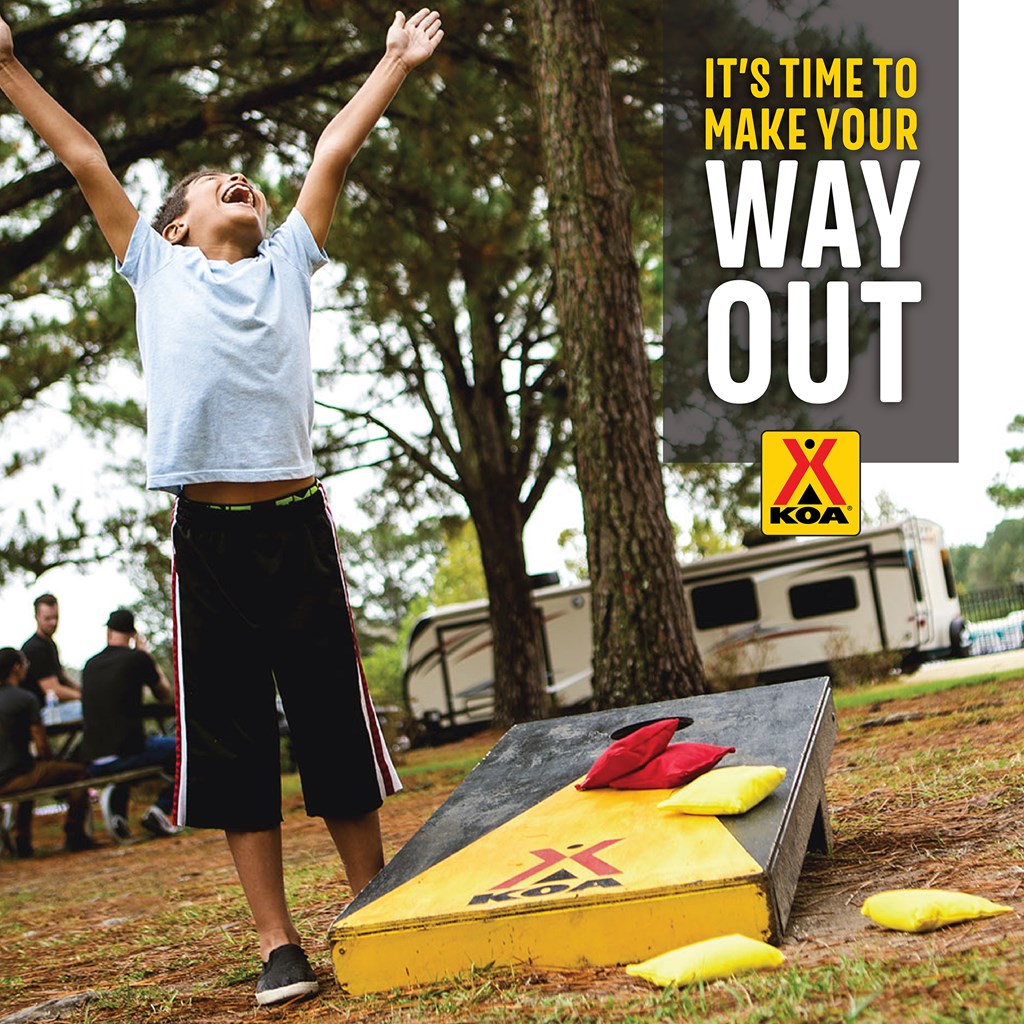 (Updated October 3, 2020) As we all adapt to the personal and professional disruptions of life that have occurred since March of this year, we too have stepped up and made necessary changes to protect the health and well being of our staff and guests, consistent with scientific evidence and guidelines recommended by the Centers for Disease Control and Prevention (CDC) for parks and recreational facilities.
Although government-run campgrounds across the state of Michigan closed their gates through mid-June, as a private, family-owned business we opened up our operations on March 15, to be of immediate support and assistance to guests who were impacted by the National Emergency. We did this by opening a small number of recreational vehicle (RV) sites earlier than usual in our season to provide limited service. During this period, we were pleased to help sustain and protect life for numerous individuals either returning back home to Michigan or traveling on their way to other states. We also proactively made these sites available to critical infrastructure workers, such as nurses serving locally at our nearby medical centers and contract employees working at the two nuclear energy plants in our area.
On April 17, when we officially opened for the 2020 camping season, we expanded our minimum basic operations to include the federally-designated essential services for groceries, take-out food, laundry and the sale of propane. We have also taken smart and responsible steps, putting several procedures and measures into place in order to limit staff-to-staff, staff-to-guest and guest-to-guest contact. As we assess ongoing developments, management has reserved the right to increase or modify these procedures and measures at any time.
Michigan residents, licensed businesses and camping activity (among other things) have been subject to 192 Executive Orders imposing a labyrinth of regulatory restrictions under the State of Emergency that was repeatedly extended by Michigan Governor Gretchen Whitmer. On October 2, 2020, the Michigan Supreme Court ruled that the unilateral extension of the State of Emergency beyond April 30, and the subsequent Orders are unconstitutional.
Since June 1, when the Governor lifted her "Stay Home" Order, we have been busy meeting the pent-up for all individuals to spend time outdoors. This included seasoned veteran campers as well as the millions of Americans who renewed their interest or decided to try it out for the very first time! We've been blessed to be a blessing throughout our 2020 season, which ends on October 12.
Although Governor Whitmer's Orders have been overturned, we still recognize ongoing public health concerns, and will continue to observe a level of social distancing.
Throughout all of human history, the first line of defense regarding one's health are the personal choices you make. We are pleased to provide a recreational space that is primarily outdoors and where there's plenty of room for social distancing. For the safety of all staff and guests, if you are feeling unwell or do not yet feel safe being around others, please stay home or remain inside the comfort of your self-contained RV.
To provide for the needs of all guests, the following list will give you an understanding of how our operations have been, and will continue to be adapted to meet the needs of our guests and partner with them to provide as safe of an environment as reasonably possible:
~ Reservations are being accepted for all guests on all sites types without any government restrictions;
~ Guests staying in our accommodations can rest with confidence that our cabins, deluxe cabins or luxury glamping tents are cleaned to our high standards and with advanced technology through the use of an Ultra Low Volume fogger that disburses a disinfectant solution over all surfaces.
~ Guests are asked to maintain social distancing while on property out of respect for your fellow campers. Furthermore, our normal restriction of no more than 6 persons per site/immediate household members will be strictly enforced;
~ Our General Store has been updated to include social distancing stickers on the floor and a plexiglas shield at the Registration desk. We discourage overcrowding and ask that you patiently wait outdoors if social distancing cannot be maintained. Please also see "Essential Services";
~ Our General Store Cafe', Take-Out food service is open, and serving guests during our normal hours, and orders can be delivered right to your site or available for pick up;
~ Essential services such as groceries, RV supplies and propane are available for purchase in our General Store. The number of guests allowed in our General Store will be limited. Guest may also call the store and place an order, utilizing our "Charge to Site" payment method. Your order can then be brought to you with "no-contact delivery" right to your site or prepared for outside pick-up in front of our main building. Credit card payments for your "Charge to Site" balance will be processed at the end of your stay;
~ Governor Whitmer's Executive Order 2020-153, regarding the wearing of face masks while inside public spaces or when outdoors and unable to maintain a distance of at least six feet from others outside of your household, has been ruled unconstitutional by the Michigan Supreme Court. Although no longer required, if you are unable to maintain social distancing or feel more comfortable wearing a mask, you are invited to do so.
Please be advised: As a business, we do not discriminate among our guests and throughout our 2020 season, we will not create nor allow a hostile environment at our campground. We welcome everyone warmly and will treat you with dignity, understanding and respect. Furthermore, we require all guests to treat one another in the same manner. Mask-Shaming (pro or against) or confrontations with our staff or guests of any kind will NOT be tolerated;
~ Our Club House is closed except for limited, staff-led opportunities and is cleaned after each use;
~ Our pool was open through Labor Day weekend. It was diligently maintained in the usual and customary manner as part of our regular maintenance, and made available to guests consistent with the scientific evidence and all Healthy Swimming CDC guidelines. In compliance with state government restrictions that were in effect during our peak summer season, we limited the number of guests allowed in the pool area to 53 in order to support and maintain social distancing. We also took voluntary measures to (1) reserving 8pm-9pm for Adult-Only swim time, and (2) allowed guests to bring their own chairs onto the deck should they prefer to do so. These measures were put into place to support social distancing compliance while maximizing enjoyment of this popular amenity;
~ Our playground and jumping pillow is open, and cleaned as recommended by the CDC and as part of our routine maintenance. To promote social distancing, parents are encouraged to take responsibility of limiting their children's time in order to share the use of these amenities for all guests during the day;
~ Our public restrooms are open and are also cleaned and maintained in accordance with our high standards and increased disinfection cycles. We are also asking all RV guests with self-contained units to use their private bathrooms, and voluntarily reserve our public restrooms for our other guests;
~Curbside check-in is available upon request, in order to avoid congestion at our Registration desk. Just give us a call when you arrive and we will assist you over the phone and bring your packet out to your vehicle;
~ Laundry facilities are available by appointment, and access to our laundry room is limited to one guest at a time;
~ Our normal Visitor policy is now in effect. Visitors MUST register at the office, and observe all guidelines, including social distancing;
~ Staff-led activities will be offered on a limited basis. We are also providing alternative self-led options for families with children to enjoy together;
~ Guests are welcome to borrow our equipment, or bring your own, for use on our basketball court, mini-golf course and fun bike rentals, so long as they remain 6-feet away from anyone not within their immediate household. CDC guidelines have more recently publicly reported that touching surfaces is NOT thought to be the main way COVID-19 spreads. However, guests are reminded not to touch your face and to frequently wash your hands or sanitizes them with your personal products or by using one of our conveniently-located sanitizing stations located throughout the park.
~ Guest are welcome and encouraged to engage in outdoor recreational activity such as walking, hiking, running, or cycling on our paved roads or throughout our 40 acre property, including our wooded nature trail (no bikes on trail);
~ Failure to comply to these and all other guidelines will result in immediate ejection without refund.
We thank you, in advance, for your cooperation!