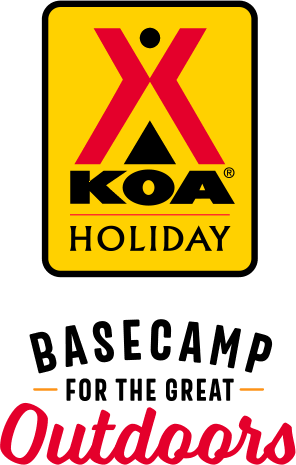 KOA Holiday Campgrounds
Whether you're exploring the local area or hanging out at the campground, KOA Holidays are an ideal place to relax and play. There's plenty to do, with amenities and services to make your stay memorable. Plus, you'll enjoy the outdoor experience with upgraded RV Sites with KOA Patio® and Deluxe Cabins with full baths for camping in comfort. Bring your family, bring your friends, or bring the whole group – there's plenty of ways to stay and explore.
KOA Holidays Feature:
RV Sites with a KOA Patio®
Deluxe Cabins with full baths
Premium Tent Sites
Group meeting facilities
Directions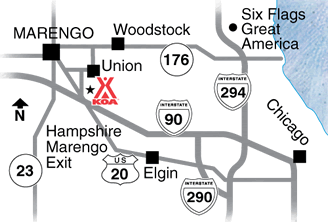 From I-90 driving West: Exit 42, IL 20 (Marengo/Hampshire); turn left (west) onto Hwy 20; 4 1/2 miles then right onto South Union Rd. Follow signs to Wild West Town.
From I-90 driving East: Exit 36, IL 23 (Marengo): follow IL 23 north, turn right onto Harmony Road, turn left unto Maple, turn right onto Beck, turn left onto S. Union Road.
Driveway entrance next to Wild West Town.
(We recommend to always check for area construction updates)
GPS: N42.206118, W88.550137
Get Google Directions
Sep 30, 2020
So easy to check in and out. Loved our stay....
Sep 29, 2020
Staff is great.
Sep 29, 2020
We arrived late and things worked out fine. We only stayed the night and it was raining, so we used the showers in the morning, dumped and left. The showers were clean and the dump station was convenient.
Sep 28, 2020
I always give details, all about 99. Need a few pots and pans, facial tissue, kitchen hand towels, microwaveable containers. When going down stairs, need hazard strips so can see steps. We had a good stay.
Sep 28, 2020
Even at this crazy time, they were friendly, efficient and found ways to make the weekend fun and exciting. Thanks for thinking outside the box and for being always accommodating. One of our favorite campgrounds first the last several years!
Sep 28, 2020
Love this KOA site! Second year that we've come with the Halloween Theme. Lot's of fun and activities for the kids. Customer service was OUTSTANDING. We received text reminders about activities and other camp communications, Loved that. The camp WiFi service was BEST I've ever had at a camp, I was actually able to stream a movie. I wish we could have stayed longer.
Sep 28, 2020
The host and staff are friendly and helpful. The sites we have stayed in were clean & mostly level. Loved the space available on the prairie view drive through sites!
Sep 28, 2020
Had a great weekend. Staff is very friendly and accommodating.We will definitely be back!! Delivery directly to the site was a great idea!!
Sep 28, 2020
our stay was wonderful! just wish we could have stayed longer than one night!
Sep 28, 2020
Clean, well organized operation. Very helpful and delivered goods direct to sites.
Sep 28, 2020
Friendly staff, site layout was a little odd with hookup in middle of sites.
Sep 28, 2020
The men's bathroom ceiling has mold and is in need of repair. Also if firewood is $5.00 for a bundle how does it come out to $6.07 is there 21% tax and a delivery fee? Also I understand that you want to be helpful but the golf carts asking if we needed anything what seemed like every 15 minutes was excessive. I wanted to hide in my camper when I heard them coming down the road.
Sep 28, 2020
The campground was doing Halloween, in September! They had site decorating contest, and trick or treating! Don't get me wrong, I love me some Halloween! But it does not belong in September! I just wanted to sit by the camp fire and throw back some cold ones with my bro. Not get evil eyes from the trick or treaters parents because I didn't have candy out. Staff on golf carts were too attentive.
Sep 28, 2020
Staff is there when or if needed! Very clean and pretty well taken care of. (Other than Mens bathroom ceiling) But its camping!
Sep 28, 2020
All the staff are very friendly and helpful. Bathrooms are clean. We can't wait to go back next year!
Sep 28, 2020
Staff was very friendly and helpful. But this was offset by the fact we were packed in like sardines.
Sep 28, 2020
Great stay, great people!
Sep 28, 2020
Nice smaller campground. We had a great site that looked over a field which was great since we had our 2 little grandsons with us. They ran and played like little kids should. Staff was friendly and nice
Sep 28, 2020
We were to ride out our remote work days so an excellent signal was must. And we were on a site that was a little uneven so they allowed us to move over a few spots which made for better reception AND just a bit of a step down with my big boot on. Overall it was quiet and people kept to themselves so great for these Covid times.
Sep 28, 2020
We enjoyed the accommodation for us and our family. Beautiful trees.
Sep 28, 2020
Friendly staffs Nice and clean bathroom. Lots of green grass. Just love it.
Sep 28, 2020
This KOA is very well managed and clean. It is also close to Chicago and apple orchards. However, our site is located very close to a busy road, and it was very loud at night.
Sep 27, 2020
The pet area was not cleaned or restocked the entire week we were there. Nice campground with lots of grass. Not sure why the playground was closed but mini golf is open? Looks like the pool need major repair.
Sep 27, 2020
Extremely helpful employees!!!!
Sep 24, 2020
We travel with our small dog and we absolutely loved the doggie play yard we had with our site. We were able to sit by the campfire while our dog ran and chased toys.
Sep 23, 2020
Nice campground. Our cabin was cute and convenient. Fan very dirty, but otherwise nice and clean. Enjoyed the patio and fire pit. Main bathroom seemed very clean. Very helpful staff. Nice getaway close to home.
Sep 22, 2020
we had a very relaxing weekend! The nice girl that drove us to our site also brought us firewood and was very friendly.
Sep 21, 2020
very clean & friendly staff and will be returning soon thank's
Sep 21, 2020
This was our first visit and it was fantastic! The sites were clean, level and the Fire pits were clean and in a good location. The staff were super nice and very helpful. The store on wheels was a big hit at our site, we bought five sweatshirts!! We will definitely be back!!! Thank you Sylvia and team!!!
Sep 21, 2020
We had a great time. Staff was awesome, always there to help, smiling and waving. We will be back for sure
Sep 21, 2020
Well maintained grounds. Clean bathrooms, friendly staff. Some sites are are little too close together, overall we always have an enjoyable experience each time we visit here.
Sep 21, 2020
Thank you for a great weekend!
Sep 21, 2020
it was a wonderful time. The staff there is amazing. very clean and friendly environment. we truly enjoy our stay there.
Sep 21, 2020
We loved site 103 with its prairie view! It was nice that the staff was highly visable and checking to see if you needed anything.
Sep 21, 2020
We had a group of about 8 friends that used this location for a getaway. Everyone was super friendly, the grounds were kept extremely well and the added bonus of the swing was enjoyed by all! All our questions were answered quickly and appreciated the various staff checking in on us. The camp site itself was great (though it would be nice to have a grate onsite) but we made due. We'll return again
Sep 21, 2020
Even with the unfortunate disruption of COVID the staff was very flexible, accommodating and super friendly. The only feedback that isnt 100% positive....and our stay was 99.9% positive, when i reserved a cabin, i indicated that we were bringing pets. KOA took my reservation and confirmed we would have our pets. When we checked out there was an additional $20 fee for pets. Disclose this upfront.
May 02, 2021
Just got back from staying here. Great time! Very clean bathrooms and showers and awesome customer service. The owner is always around and checking up on people and the staff is amazing. The ice cream social was the bomb. Would definitely come back.
- Greg Kaiser on Google
Apr 28, 2021
We camp here every year in the early camping season. Place is clean, quite and staffs are friendly.
- Spuddyboy Pineda on Google
Apr 26, 2021
This KOA is well maintained by a caring, helpful and friendly staff. The owners reinvest in the property and are constantly upgrading the sites. This year's upgrades included brick patios, wooden swings and dog pens in some of the RV sites. We highly recommend this KOA.
- Marc Merel on Google