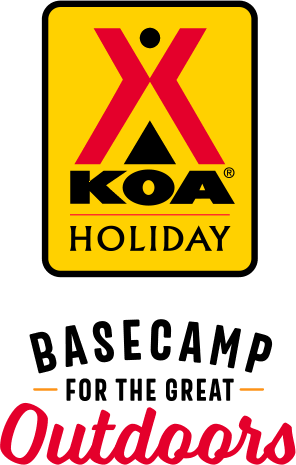 KOA Holiday Campgrounds
Whether you're exploring the local area or hanging out at the campground, KOA Holidays are an ideal place to relax and play. There's plenty to do, with amenities and services to make your stay memorable. Plus, you'll enjoy the outdoor experience with upgraded RV Sites with KOA Patio® and Deluxe Cabins with full baths for camping in comfort. Bring your family, bring your friends, or bring the whole group – there's plenty of ways to stay and explore.
KOA Holidays Feature:
RV Sites with a KOA Patio®
Deluxe Cabins with full baths
Premium Tent Sites
Group meeting facilities
Directions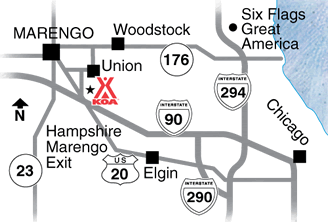 From I-90 driving West: Exit 42, IL 20 (Marengo/Hampshire); turn left (west) onto Hwy 20; 4 1/2 miles then right onto South Union Rd. Follow signs to Wild West Town.
From I-90 driving East: Exit 36, IL 23 (Marengo): follow IL 23 north, turn right onto Harmony Road, turn left unto Maple, turn right onto Beck, turn left onto S. Union Road.
Driveway entrance next to Wild West Town.
(We recommend to always check for area construction updates)
GPS: N42.206118, W88.550137
Get Google Directions
Oct 24, 2020
Excellent as always. Sylvia and Thomas did an excellent job during a very difficult situation during the pandemic!!
Oct 23, 2020
Even in the midst of the Coronavirus pandemic Sylvia and Thomas provided a safe environment and safe activities for kids. The staff was most accommodating. Our month long stay at the Chicago Northwest KOA was very comfortable.
Oct 22, 2020
Very nice, they go out of the way to make your stay enjoyable.
Oct 16, 2020
Thank you for a very nice weekend. We are new to camping, we bought our RV in June. We have been to a few places & they were nice but we just loved this one. It was so friendly & completely geared for families. Whether your children have 2 legs or 4 legs & fur. We really enjoyed the children trick or treating, We will be back�Ϧ
Oct 15, 2020
Nice area, clean, easy to get to, a little close to a main road as Friday night there was loud traffic. Our site was smaller than I had hoped for a deluxe tent site. The swing and fire pit were nice touches though! Fun fall activities. Love the delivery to site for firewood and ice- not sure if that is just for Covid- but it's great!
Oct 14, 2020
Store not open at all. General needs upkeep.
Oct 13, 2020
Plenty of activities for kids on Saturdays for Halloween. It is a bit pricey though.
Oct 13, 2020
This campground never disappoints. It's clean, the staff is always friendly, smiling and helpful, and they offer fun activities and amenities. We will continue staying at this campground several times a season.
Oct 13, 2020
Always a great time when we stay here.Staff is very friendly grounds are well kept and clean. Some of the sites are a tad small & close together but other than that, we enjoyed our stay.
Oct 13, 2020
Pull Thru drive up was convenient especially for new RV campers like us. Would be great alcohol was sold as we had to leave premises to buy some. Staff was friendly and accommodating.
Oct 13, 2020
The workers are very nice and helpful. The bathrooms and showers are clean. The park is quiet at night. Everyone was very friendly. We visited the Train museum in Union Illinois. We usually visit the Automobile museum in Vola, Illinois, but it was closed. We visited our relatives who live in the suburbs of Chicago, and they joined us for a campfire one night. The kids celebrated Holloween.
Oct 13, 2020
Very nice clean campground. Fun activities for all. Promoted social distancing. Strong WiFi was wonderful! To get firewood or ice we just needed to send a text. Very attentive.
Oct 13, 2020
The stay was excellent. Happy with the facilities like bathrooms, delivery of ice and firewood at the campsite itself. Toilets were very neat. I liked the communication via text messages for requesting firewood, for any queries etc. Only feedback I have is the staff can be wee bit more careful given the covid times. I could see some staff getting a lil too close to guests without wearing masks.
Oct 12, 2020
Seasonal guest. Everything was great; host and all staff were friendly and helpful.
Oct 12, 2020
Our only issues with our stay were the following: 1. Our cabin was not the one I was told we had reserved so we were further away from our friends. 2. The flooding of the bathrooms was inconvenient although we understand it was beyond your control. 3. Having the showers only open by the RV sites seemed backwards to us. Most of them have their own showers and no one on the cabin/tent side did.
Oct 12, 2020
We had a great stay and the owners were very accommodating! The campground was beautiful and very clean. There were lots of activities for the kids to enjoy.
Oct 12, 2020
They stay good.
Oct 12, 2020
Such a courteous & friendly staff! Clean, well operated grounds.
Oct 10, 2020
Great place to stay if you get the right spot. Our original site was less than great. After checking in with the site team (which was very accommodating and nice) we were moved to a much nicer site that allowed for us to actually enjoy ourselves.
Oct 07, 2020
We stayed here because we were having problems with our RV and needed to get it into the nearest dealer for some service. While at Chicago Northwest, the staff and especially their maintenence man went out of his way to help us. The park was clean and spacious. I would recommend this park.
Oct 06, 2020
Nicely handled pandemic precautions with staff wearing masks, delivery service, limited contact check-in, mask recommendations and reminder postings. They sent out texts with info of activities as well as site delivery receipts of charges. Anyhow, we come here every year and enjoy our stay.
Oct 06, 2020
We were lucky to get in on a last minute cancellation and even luckier to get one of the patio spots. It was beautiful! And with the precautions you have in place, I felt very safe. I haven't been there in almost 20 years. I hardly recognized the place! It's a fabulous campground!
Oct 05, 2020
It was good and we plan to come back.
Oct 05, 2020
First time staying and will definitely come back. Excellent communication process with the texting system, and customer support is everywhere for anything you need. Just a few things.... it was a busy weekend and the trash dumpster was overflowing, the pet run area was out of sanitation bags, and the handicap rest room doesn't have a paper towel dispenser (at all... it wasn't like it was empty).
Oct 05, 2020
We can't be more happy with the efficiency of this campground. Owner, Sylvia Weber has embraced technology well, using it to text us with information pertinent to our stay as well as email receipts on our purchases. We loved the painless, paperless transactions and will be back to use the campground when we visit our grandkids. BTW, they loved the scarecrow build workshop and Gem Mining.
Oct 03, 2020
I would give 5 stars, but the quality and clarity of water was not the best. We bought and used bottled water during our stay. On a good note, the park was clean and all the staff were friendly, helpful and always smiling! Security gate was nice, park was quiet. Loved all the activities too
Oct 02, 2020
Everything went well. Thanks for the hospitality and allowing us to stay with you.
Oct 02, 2020
second time this year visiting this KOA. well managed and great staff.
Oct 01, 2020
We had a very nice time. The staff is always friendly and available.. The deluxe cabin was nice and stocked. Only downfall was the shower had no hot water.. Overall this K.O.A. is a great place to stay.
Oct 01, 2020
no amenities
Oct 01, 2020
Nice park very quiet, the man there on that Friday night supper nice.
Oct 01, 2020
We stayed in the Pioneer tent and loved it. The staff are always nice and respond quickly and are quick to deliver whatever you request.
Sep 30, 2020
So easy to check in and out. Loved our stay....
Sep 29, 2020
Staff is great.
Sep 29, 2020
We arrived late and things worked out fine. We only stayed the night and it was raining, so we used the showers in the morning, dumped and left. The showers were clean and the dump station was convenient.
Sep 28, 2020
I always give details, all about 99. Need a few pots and pans, facial tissue, kitchen hand towels, microwaveable containers. When going down stairs, need hazard strips so can see steps. We had a good stay.
Sep 28, 2020
Even at this crazy time, they were friendly, efficient and found ways to make the weekend fun and exciting. Thanks for thinking outside the box and for being always accommodating. One of our favorite campgrounds first the last several years!
Sep 28, 2020
Love this KOA site! Second year that we've come with the Halloween Theme. Lot's of fun and activities for the kids. Customer service was OUTSTANDING. We received text reminders about activities and other camp communications, Loved that. The camp WiFi service was BEST I've ever had at a camp, I was actually able to stream a movie. I wish we could have stayed longer.
Sep 28, 2020
The host and staff are friendly and helpful. The sites we have stayed in were clean & mostly level. Loved the space available on the prairie view drive through sites!
Sep 28, 2020
Had a great weekend. Staff is very friendly and accommodating.We will definitely be back!! Delivery directly to the site was a great idea!!
Oct 03, 2020
Very clean. Staff was good with communication prior to our arrival. Wish we could have stayed longer than 1 night.
- Lee Hastings on Google