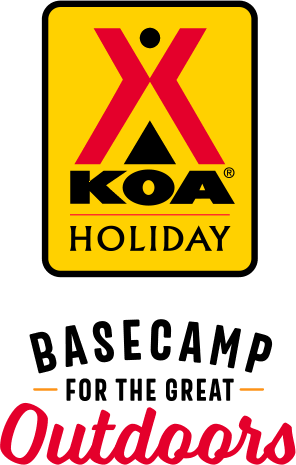 KOA Holiday Campgrounds
Whether you're exploring the local area or hanging out at the campground, KOA Holidays are an ideal place to relax and play. There's plenty to do, with amenities and services to make your stay memorable. Plus, you'll enjoy the outdoor experience with upgraded RV Sites with KOA Patio® and Deluxe Cabins with full baths for camping in comfort. Bring your family, bring your friends, or bring the whole group – there's plenty of ways to stay and explore.
KOA Holidays Feature:
RV Sites with a KOA Patio®
Deluxe Cabins with full baths
Premium Tent Sites
Group meeting facilities
Directions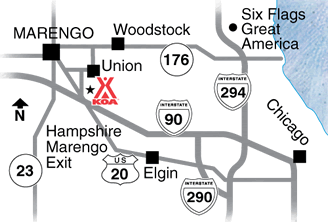 From I-90 driving West: Exit 42, IL 20 (Marengo/Hampshire); turn left (west) onto Hwy 20; 4 1/2 miles then right onto South Union Rd. Follow signs to Wild West Town.
From I-90 driving East: Exit 36, IL 23 (Marengo): follow IL 23 north, turn right onto Harmony Road, turn left unto Maple, turn right onto Beck, turn left onto S. Union Road.
Driveway entrance next to Wild West Town.
(We recommend to always check for area construction updates)
GPS: N42.206118, W88.550137
Get Google Directions
Apr 26, 2021
We had a wonderful time. I really liked how the KOA worked around COVID restrictions by delivering wood and the store to our tent. The candy hunt was an awesome surprise. In the morning I was struggling to get my fire re-started and a staff member came by to offer assistance. My girls had so much time. It was a needed break from the pandemic! We already scheduled another visit for next weekend!!!
Apr 19, 2021
This was exactly the break from life we were looking for.
Oct 13, 2020
The stay was excellent. Happy with the facilities like bathrooms, delivery of ice and firewood at the campsite itself. Toilets were very neat. I liked the communication via text messages for requesting firewood, for any queries etc. Only feedback I have is the staff can be wee bit more careful given the covid times. I could see some staff getting a lil too close to guests without wearing masks.
Oct 12, 2020
We had a great stay and the owners were very accommodating! The campground was beautiful and very clean. There were lots of activities for the kids to enjoy.
Oct 12, 2020
Such a courteous & friendly staff! Clean, well operated grounds.
Sep 28, 2020
Friendly staffs Nice and clean bathroom. Lots of green grass. Just love it.
Sep 28, 2020
This KOA is very well managed and clean. It is also close to Chicago and apple orchards. However, our site is located very close to a busy road, and it was very loud at night.
Sep 21, 2020
We had a group of about 8 friends that used this location for a getaway. Everyone was super friendly, the grounds were kept extremely well and the added bonus of the swing was enjoyed by all! All our questions were answered quickly and appreciated the various staff checking in on us. The camp site itself was great (though it would be nice to have a grate onsite) but we made due. We'll return again
Sep 15, 2020
Our first camping trip and we were greeted at the gate right away. The tent sites were spaced out nicely so neighbors weren't unnecessarily right next to each other. One late night a new camper was having trouble setting up their tent and one of the workers helped them out. All staff were friendly. Facilities were kept clean. Being able to text for supplies was very convenient.
Sep 14, 2020
I got rained out fri and sat but still enjoyed the peace.. All the employees were very nice and accommodating.
Sep 09, 2020
The overall campgrounds were great. Bathrooms were very clean and the atmosphere was great. We ended up having leave earlier than expected due to the poor weather conditions, but we had a great time while we were there.
Sep 08, 2020
Will run and organized. Nice size sites for tent camping with electric and water
Aug 31, 2020
Awesome experience. Friendly staff, quick service responses, excellent communication, super clean bathrooms, lots of shade for tent campers. We had a great time and will definitely return.
Aug 26, 2020
Lush green grass and the most spacious tent sites I've ever seen.
Aug 24, 2020
We had a very relaxing time. Anytime we texted a order for wood and ice it was delivered in a pleasant and timely manner. The staff was friendly and helpful. And we found the grounds and bathrooms to be nice and clean.
Aug 24, 2020
The only disadvantage was that we were closed to the road and it was noisy.
Aug 17, 2020
Definitely I would recommend this place to everybody. Even though the pool was closed we enjoyed our stay there. People was very friendly and helpful. Of coarse we'll be there again. Thanks
Aug 12, 2020
Pleased � to help Sylvia Weber to discern a fellow camper who frolicked boisterously well past quiet time. Anticipating this proximity conflict, Sylvia accommodated my move to a quieter facility-free campsite—233. Serendipitously, I later dodged a tortuous derecho storm that swept through my campsite only hours after I departed.
Aug 11, 2020
from the events to the polite employees it was a great time. will go back again next year.
Aug 09, 2020
Very lovely!
Aug 09, 2020
Only issue was the distance from the highway. Nice campground.
Jul 27, 2020
I was charged twice (tent $58/night) what two other KOAs (Lena, IL and Grand Island, NE, both at about $25) charged me in June. I was told that on this "Deluxe" extra wide campsite that I could park only one vehicle. Shower facilities were closed nearest tent campers. Toilet facilities were closed nearest the RV campers. The campground was run in a miserly fashion.
Jul 27, 2020
The camp was clean. The tent site had everything we needed. The staff was nice and delivered ice and wood right to our site. Lots of fun things to do. My son loved the banana bikes. Going to be camping here a lot more often.
Jul 21, 2020
The Staff is very nice, accommodating and flexible and tried to make the visit good for children with activities, However, the grass was very long and mosquito infested everywhere in the campsite. We stayed 6 nights and had to deal with mosquitos the entire time. Cutting the grass and some spraying would have helped tremendously.
Jul 21, 2020
Nice people who are eager to assist you. There were many activies which was great my our family, I dio wish some of them weren't extra charges though. Everythign we did on site was an extra charge and it really added up.
Jul 20, 2020
Dirty showers and lots of mosquitoes not a pleasant stay
Jul 13, 2020
I liked the easy check in/check out process. Was very happy about the measures taken for COVID-19 to minimize exposure to other people. The ability to text staff when something was needed at the camp site was a great feature. my kids had a good time with the activities offered like tie dye and the ice cream social. I do wish there was a discount since much of the stuff was closed ie. pool, park
Jul 11, 2020
The area was relatively clean and the firewood and ice service was great. The fire pit was nice and the picnic table good. There were some really loud guests on my first night and you were not available at the time but there's nothing you can really do about that. There is plenty of shade but few trees close to each other for a hammock. It would be nice if you could put poles on the sites.
Jul 07, 2020
It was a very awesome stay. We enjoyed every minute of it. Love that it's always clean and staff is always friendly.
Jul 06, 2020
Very clean & accommodating!
Jul 05, 2020
Small issue with some toilets being secured on one side while showers secured on the other. Inconvenient. However, the rest of the stay was great!
Jun 27, 2020
Great stay. Shame many facilities closed but that is beyond KOA control. Very impressed with attention to COVID mitigation measures and social distancing actions taken seriously .
Jun 15, 2020
Owners and Staff were great even with the restrictions due to Covid. Bathrooms were clean which is an important factor to me when deciding to return to a location.
Oct 07, 2019
Unfortunately because of the weather prior to our arrival, our campsite wasn't in the best condition. We got a premium site. It was muddy and the grass was worn down. We ended up leaving early and didn't stay a second night because the storm that came just made everything so much worse. I should have requested a different campsite when we first arrived. Site 13 and site 24 were bad.
Sep 17, 2019
My family (three generations) had a wonderful time, this weekend, camping together, talking, hiking, visiting local sites, cooking over the campfire, and enjoying the beautiful sunsets. Chicago NW KOA was very accommodating in assigning campsites and cabin in close proximity, provided clean restrooms and showers, a safe environment for the children and, of course, tetherball, a family favorite!!
Sep 17, 2019
Wonderful stay. Great fun for the kids. Very clean and tidy campground and friendly staff. Best campground I ever stayed at (and I've stayed all over the world.)
Sep 10, 2019
Friendly, clean, and awesome!
Aug 27, 2019
primary tent camping area was cramped and noisy with kids. so I ended up in an overflow area with only 3 tents out in a field. that was wonderful. trailer area my friends were in was right off the road and very hilly and uneven terrain for camper and picnic table. amenities for the kids pool and other worked out well.
Aug 26, 2019
Campground was clean and well kept. Bathrooms/showers were clean. My kids enjoyed the activities provided by the staff and everyone had a great time! I definitely recommend this campground!
Aug 06, 2019
Nice site great for visiting Illinois Railway Museum
Jul 22, 2019
We always have a great time. Maybe spray for mosquitoes? That's the only problem we had was just the attack from the mosquitos.
Jun 25, 2019
awesome and really pleasant, nice people as always, feels like home, actually it is home
May 02, 2021
Just got back from staying here. Great time! Very clean bathrooms and showers and awesome customer service. The owner is always around and checking up on people and the staff is amazing. The ice cream social was the bomb. Would definitely come back.
- Greg Kaiser on Google
Apr 28, 2021
We camp here every year in the early camping season. Place is clean, quite and staffs are friendly.
- Spuddyboy Pineda on Google
Apr 26, 2021
This KOA is well maintained by a caring, helpful and friendly staff. The owners reinvest in the property and are constantly upgrading the sites. This year's upgrades included brick patios, wooden swings and dog pens in some of the RV sites. We highly recommend this KOA.
- Marc Merel on Google