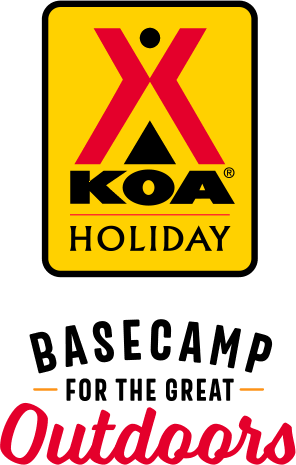 KOA Holiday Campgrounds
Whether you're exploring the local area or hanging out at the campground, KOA Holidays are an ideal place to relax and play. There's plenty to do, with amenities and services to make your stay memorable. Plus, you'll enjoy the outdoor experience with upgraded RV Sites with KOA Patio® and Deluxe Cabins with full baths for camping in comfort. Bring your family, bring your friends, or bring the whole group – there's plenty of ways to stay and explore.
KOA Holidays Feature:
RV Sites with a KOA Patio®
Deluxe Cabins with full baths
Premium Tent Sites
Group meeting facilities
Directions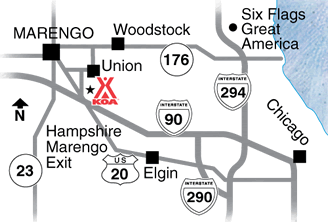 From I-90 driving West: Exit 42, IL 20 (Marengo/Hampshire); turn left (west) onto Hwy 20; 4 1/2 miles then right onto South Union Rd. Follow signs to Wild West Town.
From I-90 driving East: Exit 36, IL 23 (Marengo): follow IL 23 north, turn right onto Harmony Road, turn left unto Maple, turn right onto Beck, turn left onto S. Union Road.
Driveway entrance next to Wild West Town.
(We recommend to always check for area construction updates)
GPS: N42.206118, W88.550137
Get Google Directions
May 04, 2021
This campground is like being in paradise!!
May 04, 2021
Clean, neat and efficient customer service
May 04, 2021
We had asked at the time of reserving a site for a pull thru since we were towing our car for the first time. When we arrived we were told they were all booked up and did not have a pull through for us. We specifically asked to have this pull through and yet we're not given that. Very disappointed that even though we made reservations fire in advance our reserve site was not what we requested.
May 04, 2021
Excellent stay! Clean, friendly, quiet. Smooth fast check in, excellent service. We can't wait to come back!
May 03, 2021
great facilities, loved all of the communication, text messages and emails prior and during our stay. Will be back on your property in two weeks. Customer engagement was great thank you,
May 03, 2021
Nice campground...no amenities yet because it is too early in season. We "opened" up the season there. We may use storage too. The only disappointment no store (due to COVID), no vending BUT they did deliver ice, wood, and starter fluid to your site. We met Sylvia, the owner....very nice
May 03, 2021
We love getting away from home and this place does the trick. Every time we go we have a relaxing weekend.
May 03, 2021
Nice sized spaces, super clean bathrooms and shower house. Awesome employees. Great time!
May 02, 2021
Exceptionally nice and clean. The associates there were extremely helpful to us and very friendly. A truly great camping experience. We will definitely be staying there again!
May 02, 2021
Warm and welcoming staff and atmosphere.
May 01, 2021
Always a great relaxing place to stay. Nothing like relaxing outdoors with the smell of campfires all around.
Apr 29, 2021
Pull thru site with fenced area for dogs is fantastic. Staff is great.
Apr 28, 2021
Very nice campground. Patio campsite with view was wonderful. Staff was very friendly and helpful. This is our third stay and we hope to return again.
Apr 27, 2021
Sylvia and all the staff are absolutely fantastic. Looking forward to many more stays and loving the new upgrades with the dog yards on the sites!
Apr 27, 2021
Clean campgrounds with nice amenities. Friendly people too.
Apr 26, 2021
We have been camping at the KOA for over 20 years. The Owners and staff are all very friendly and helpful. Every year when we return we find new improvements that make our stays more enjoyable. This year they added brick patios and new fire rings plus wooden swings and dog fencing on some of the RV sites. The grounds are well kept and the facilities are clean. This KOA is very welcoming.
Apr 26, 2021
Great family camping place with activities, parks and pool for children and grandchildren. It's very well maintained, clean and the showers are wonderful.
Apr 26, 2021
Great staff!
Apr 26, 2021
We had a great time, the staff was friendly, my site was clean and the RV hookups worked exactly as expected. The bathrooms were very clean and we were very grateful for the showers when I could not get the hot water heater in my RV to work! Everything was very convenient, the kids loved the playground, we did not even need to leave the campground all weekend they just wanted to play.
Apr 26, 2021
Cute quiet place with amazing and helpful staff members.
Apr 26, 2021
Staff was very friendly and Park was clean and quiet
Apr 26, 2021
Very nice campground. The sites were a little bit close to each other and it felt cramped.
Apr 26, 2021
Friendly staff. Clean facilities.
Apr 26, 2021
Clean, well maintained campground. Friendly staff.
Apr 24, 2021
It had the cleanest bathrooms we've seen in a campground. The staff was friendly, visible, and helpful. It had things for the kids to do and we felt safe. Would definitely stay again.
Apr 20, 2021
Everyone very helpful, lots of activities on Saturday.
Apr 19, 2021
We love our local KOA - it's about an hour from where we live so easy for a weekend away. They have invested nicely in the grounds and also, very importantly for us, in their WIFI - we had ZERO issues over the past weekend and the KOA was virtually full as it was their opening weekend. Stayed in site 109 which was very easy to get in and out of.
Apr 19, 2021
It's a very clean campground and all of the staff are very nice. Couldn't ask for more.
Apr 19, 2021
Everyone at this KOA was super nice and very helpful. My family and I loved the dog fenced in site, my dogs were able to run around and play without being on leashes which was a ease on our minds. It was great to have a guide bring us to our site and all you had to do was text a number and they brought you firewood which was super convenient. Will be staying here again for sure.
Apr 19, 2021
We loved the text messages alerting us to checking in, activities, and checking out. It was also wonderful to have our hosts and their crew driving by and checking to see if all was well or if we needed anything!
Apr 19, 2021
They were very accommodating through this pandemic.
Apr 19, 2021
We have been going to this campground for decades. Since the new owners have purchased the campground it has been amazing!!! They are always updating the sites and have activities for the kids. Great place to stay close to home!!!
Apr 19, 2021
Always very clean. Friendly staff. One amazing thing that I've observed year after year is that they put money back into the campground. Whether it's new swings, firepits, equiptment, flowers, or whatever else it's great to see it look better and better each year. Love camping here! Great job Union KOA!��
Apr 19, 2021
Staff was very helpful and friendly. Site was clean with easy access. Great playground for children.
May 02, 2021
Just got back from staying here. Great time! Very clean bathrooms and showers and awesome customer service. The owner is always around and checking up on people and the staff is amazing. The ice cream social was the bomb. Would definitely come back.
- Greg Kaiser on Google
Apr 28, 2021
We camp here every year in the early camping season. Place is clean, quite and staffs are friendly.
- Spuddyboy Pineda on Google
Apr 26, 2021
This KOA is well maintained by a caring, helpful and friendly staff. The owners reinvest in the property and are constantly upgrading the sites. This year's upgrades included brick patios, wooden swings and dog pens in some of the RV sites. We highly recommend this KOA.
- Marc Merel on Google