Hiking in Cherokee, NC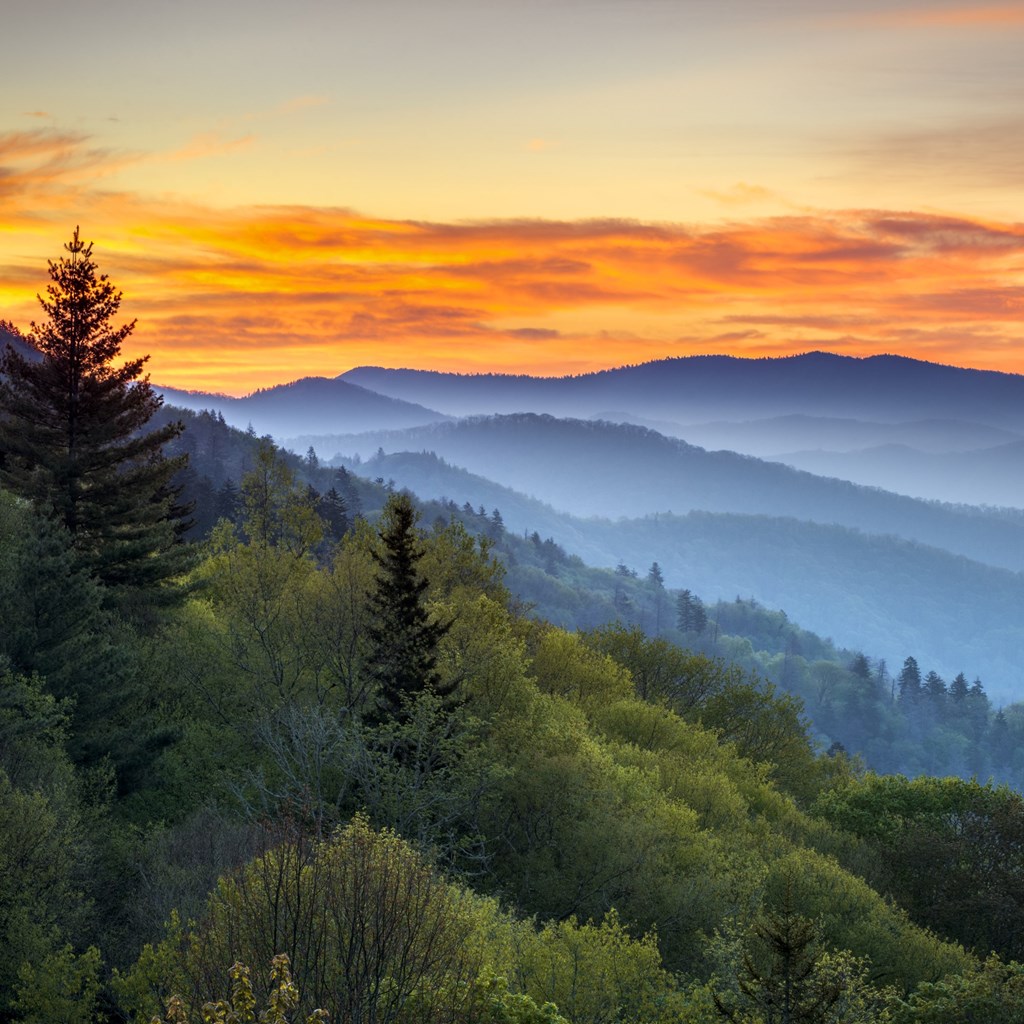 Hiking in Cherokee, NC
Cherokee is the home of the Great Smoky Mountains National Park and provides access to the Blue Ridge Parkway, the longest linear park in the United States. There is plenty to see on a trip through the Smoky Mountains, from colorful wildflowers to hidden waterfalls.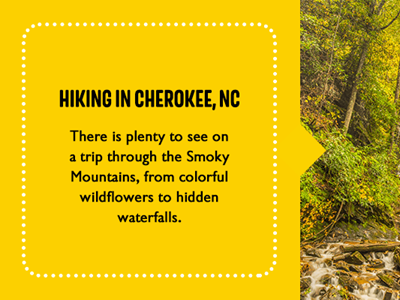 If you are looking for an ideal hiking excursion during your time in Cherokee, here are the top 10 trail systems to explore while you are in Cherokee, NC. They are organized by difficulty so you know what to expect.
1. Mingo Falls
The combination of steep terrain and high-moisture weather make waterfalls a common sight in Cherokee, but Mingo Falls is one of its most famous.
This waterfall is only about a 10-minute drive outside of town and can be reached fairly easily on a short trail. It falls from about 120 feet, making it a perfect stop for pictures. Although the hike can be handled quickly for most active campers, it does involve climbing a series of steps to see the view.
2. Soco Falls
Much like Mingo Falls, the Soco Falls hiking trail is well-known and worthwhile for campers who would enjoy walking to a picturesque viewing area. The viewing area is on the other side of a pullout, with a short trail up to a platform where you can look out at the falls.
You can drive here to see Soco Falls if you take U.S. Route 19 for about 11 miles heading toward Maggie Valley. If you are coming from Maggie Valley, you can find it a few miles after you pass the Blue Ridge Parkway.

3. Fire Mountain Trails
After a successful grand opening in 2017, the Fire Mountain Trails became the newest trail system where you can partake in recreational outings like mountain biking and nature walks. The network boasts more than 10.5 miles of winding mountain trails, with several designated for hiking.
The Fire Mountain hiking trails are steep but come with plenty of rest points and fun viewing areas like rock gardens and blinds. If you are near the Oconaluftee Indian Village in Cherokee, the trailhead shares the same parking lot.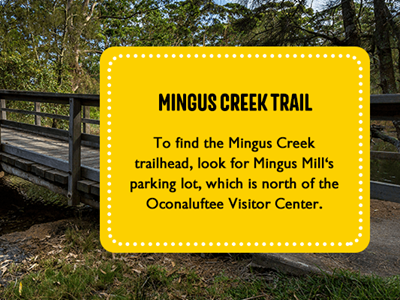 4. Mingus Creek Trail
Mingus Creek Trail is about 5.8 miles long. The elevated hiking trail starts near the Oconduftee River and passes the Mingus Mill and the creek. If you veer off the main path, a cemetery is hidden near the opening loop of the trailhead. This hiking area is accessible all year long and is moderate in difficulty due to some slopes and inclines.
To find the Mingus Creek trailhead, look for Mingus Mill's parking lot, which is north of the Oconaluftee Visitor Center.
5. Smokemont Loop Trail
The Smokemont Loop is a little challenging to find in its hiding place behind the trees, but its 6.5 miles of private views of the river valley make it a worthwhile effort. The Champion Fibre Company originally used Smokemont as a base camp, giving it a unique history.
This trail also joins with the Bradley Fork Trail if you want to extend your hike. The gradual incline makes it a moderate trail, but one portion is relatively flat and easy to walk. If you are looking for the Smokemont Loop, head north of the Oconaluftee Visitor Center on Newfound Gap Road.
6. Chasteen Creek Cascade

This 3.6-mile trail runs along a scenic creek and makes for a more leisurely hike. The Chasteen Creek Cascade is a special type of waterfall of about 30 feet tall, and after heavy rainfall, a few smaller cascades crop up downstream. The wildflowers and blooming rhododendrons are abundant in the spring, but Chasteen Creek is beautiful during every season, with some parking restrictions in the winter months.
You can access the trail from the Bradley Fork or by driving through Smokemont.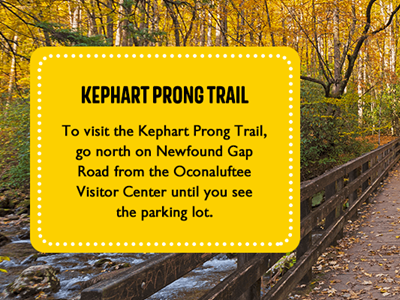 7. Kephart Prong Trail
This trail running for about 4.2 miles features some mysterious historical markers. As you hike over footbridges and around streams, look forward to seeing remains of the Great Depression-era Civilian Conservation Corps (CCC) camp. The camp is marked by a rock sign and its foundation has an old chimney and a water fountain.
To visit the Kephart Prong Trail, go north on Newfound Gap Road from the Oconaluftee Visitor Center until you see the parking lot.
8. Kanati Fork Trail
This moderate trail is named for the mythical Kanati, a hunter of Cherokee legend, and runs for about four miles over wide creeks and inclines. The Kanati Fork Trail is open during the winter when the stream is most easily viewed, but in the spring months, the local flora flourishes.
You can find the trailhead by going north on Newfound Gap Road from Cherokee for about 12 miles. The parking lot is off the right side of the road.
9. Lonesome Pine Overlook
This challenging 6.7-mile trail is more of a strenuous trek than most of the others on this list and is best suited for experienced hikers. On your way up the inclines and around tree roots, you can spot the Nantahala Mountains in the background and Bryson City below for some splendid views.
To reach the trailhead, drive into Bryson City and find the entrance to the Great Smoky National Park on Deep Creek Road.
10. Deep Creek Loop
The Deep Creek Loop is 4.6 miles of moderate, rocky terrain and winding creeks near at least three potential waterfalls, including the Indian Creek Falls. Beautiful all year round, this trail is crowded by trees and heavily shaded, making for an ideal nature walk. There are several bridges for crossing over the water and a picnic area with restrooms.
If you want to go fishing in Cherokee while you are enjoying the hikes, it is permitted to fish in Deep Creek with a permit and clearance at the park's visitor's center. You can find this trail north of Bryson City. Just drive south on Route 19 for about 10 miles and find Deep Creek Road out of Bryson City.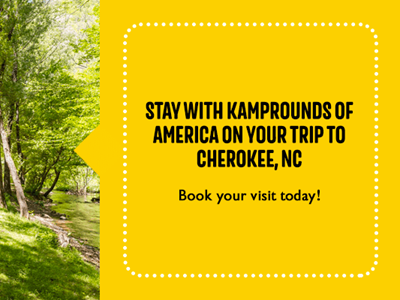 Stay With Kamprounds of America on Your Trip to Cherokee, NC
While you are hiking in Cherokee, book your stay at a campground in the mountains. Our Cherokee/ Great Smokies KOA Holiday location offers several ways to stay, including Camping Cabins, Tent Sites and RV Sites. We also host special events and provide entertainment throughout the year at our campground. Come camp with us for the open location near the trails and stay for our movie nights, fishing tournaments and holiday parties. Book your visit today!