Fall Things to Do in Cherokee, NC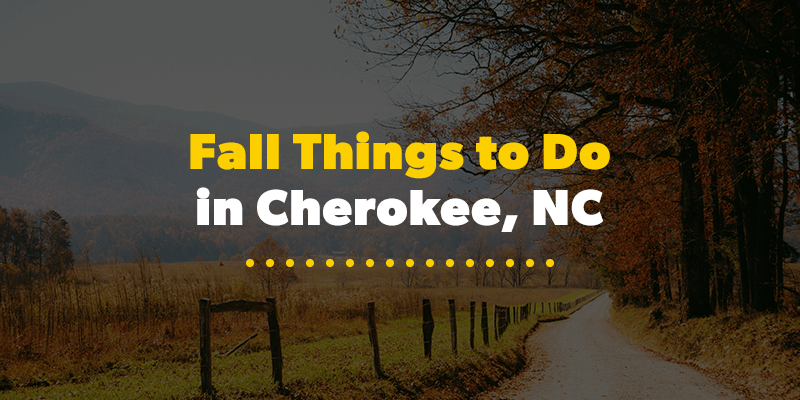 Fall Things to Do in Cherokee, NC
It's that time of the year when the leaves change colors, and the smell of fresh-baked pumpkin treats lingers in kitchens. Cherokee, NC, is a beautiful travel destination in the fall, featuring a surplus of outdoor activities for individuals, couples and families alike. From morning historical tours to afternoon hikes in the mountains, a wholesome celebration of the season awaits you. There's really no better place to experience fall in the area!
If you're looking for things to do in Cherokee, NC, in October and November, here's a list of six fun activities you can participate in during your trip.
1. Visit the Museum of the Cherokee Indian
This local museum has received several impressive awards for its contributions to preserving the Cherokee peoples' notable history. A few examples of its successes are the North Carolina Arts Council's Community Traditions Award and Western Carolina University's Mountain Heritage Award. The Museum of the Cherokee Indian offers a unique educational experience along with an intriguing sampling of Native American culture.
Visitors learn about the history of Cherokee Native Americans, beginning with the Paleo period and wrapping up with an overview of the Trail of Tears. Many Cherokee people walked the Trail of Tears in a mandated migration from their homeland, and the museum offers a fantastic opportunity to learn more about this moment in history. The museum features life-sized models of people and preserved artifacts. Additionally, the Cherokee Friends put on a live show using animations, audio recordings and authentic music. Visitors can create artwork such as clay pottery with the assistance of the staff.
An adult ticket costs $12. Children ages 6-12 get in for $7, and those 5 years old and under are admitted for free.
2. Hike Along the Fire Mountain Trail System
The Fire Mountain Trails are perfect for going on a long, winding hike or bike ride through a forest covered in vividly colored foliage. With more than 10.5 miles of trail in a variety of difficulty levels, you'll be able to find a favorite pathway through the Great Smoky Mountains. Expect to encounter surprises along the way, such as intricate rock gardens and secluded spots for observing wildlife.
These trails are located near the Museum of the Cherokee Indian, so you may want to check out the museum after taking your hike.

3. See Mingo Falls
Mingo Falls, or "Big Bear Falls," is one of the most popular waterfalls in the southern Appalachians. Visitors of the Qualla Boundary frequently stop at an elevated place to view the peaceful cascade. It's a lovely area to take a short hike and get group photographs with the cliffs in the background.
To find this hidden waterfall, take the Pigeon Creek Trail until you get to the wooden bridge that will lead you closer to the sound of rushing water. Ascend the stairway to the top, gripping the railings for support, where you can stand on the viewing platform for a closer look at this majestic waterfall and the surrounding nature.
4. Go Leaf Peeping
If you've never heard of leaf peeping, you're in for a treat. It's a fun activity for all ages, but kids specifically will enjoy viewing the leaves — especially if you let them take some home. To peep the leaves, you just have to walk or drive around and see the stunning fall foliage.
Some years bring brighter colors to the trees than others — fall leaf colors vary based on the yearly amount of rainfall and the elevation of the trees. Additionally, the type of tree plays a role in the colors you see. For example, leaves that turn mostly yellow come from the birch and black cherry. Other species have leaves that turn red, like the dogwood, sourwood and shining sumac. One tree that produces oranges and browns is the hickory, and oaks and maples produce a blend of reds and oranges.
No matter what leaves you find while leaf peeping, you'll want to create a collection of the ones you pick up. Try pressing them between pages in a journal for safekeeping. Be sure to snap a few photos of your favorite trees and leaves, as well.
5. Explore the Blue Ridge Parkway
If you'd rather do some sightseeing from your car, you can go on a long drive through Cherokee while your family sips hot chocolate and peers outside. Be sure to make your way down the Blue Ridge Parkway, which features stunning views of mountains and trees, especially during this time of year. Going on a road trip down the Blue Ridge is bound to be a memorable experience, as it's one of the most stunning scenic routes in the country.
Remember to pull off at some of the many designated points on the drive so you can truly experience the beauty of the area.
6. Attend the Rumble in the Rhododendron Fly Fishing Tournament
If you're visiting in November, you can watch some of the best fishers in the region compete in a tournament to score the largest and most valuable catches. Entry is open to all ages, so if you or your child wants to compete, make sure to sign up by early October with a trusted fly fishing partner.
The Rumble in the Rhododendron is typically held at the carefully stocked Cherokee Catch-and-Release Waters at Raven's Fork. Details are provided to competitors before the exciting weekend of fishing begins, so you'll want to keep an eye out as you're preparing for the tournament.
This event is tons of fun for fishing and hunting enthusiasts, even if you aren't competing yourself.

Stay in Cherokee, NC, With Kampgrounds of America
Many people travel from miles to experience the memorable fall events in Cherokee, NC — and you could be one of them! Make your trip special by staying at a designated campground close to the best spots for hiking, fishing and sightseeing. Our facilities are conveniently located within walking distance of several hiking trails and offer stellar views.
Stay with Cherokee KOA during your visit, and experience the local attractions at one of our RV sites or cabins. For an opportunity to get even closer to nature, we also have tent sites where you can huddle around a fire under the gorgeous fall foliage. No matter your preference, KOA offers various ways for you and your family while you enjoy all the fall events in Cherokee, NC.