Best Family Vacations in NC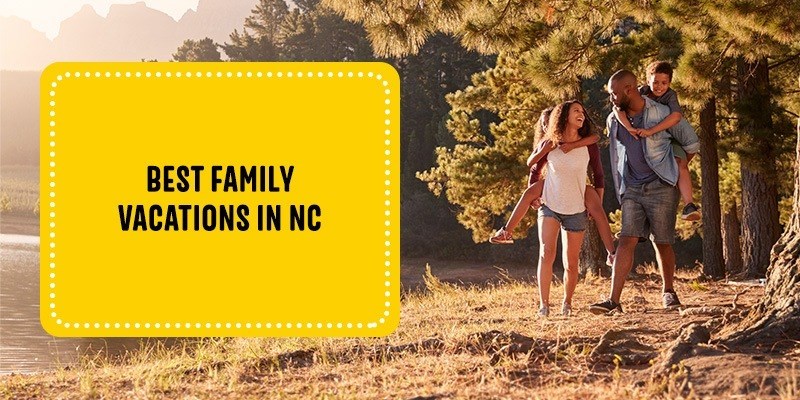 If you are looking for family vacation ideas in North Carolina, consider camping in Cherokee to enjoy all of the fun attractions the area has to offer. Enjoy exhilarating adventures, peaceful hikes in the Great Smoky Mountains and opportunities to pet adorable animals. Go back in time to experience early Native American culture and history or have fun floating on the river. Cherokee tourism offers so many fun things to do and see.
Cherokee, North Carolina Attractions
If you are looking for fun family things to do in North Carolina, Cherokee is full of fun activities for campers of all ages. You can learn about the area's fascinating history, paddle along exciting rapids, encounter amazing animals and eat in incredible restaurants. Visit Cherokee to experience the following attractions:
Explore the Great Smoky Mountains National Park
The Great Smoky Mountains National Park is full of incredible views, fun adventures and diverse plants and wildlife. Hikers of all skill levels can enjoy hiking in the Great Smoky Mountains. From easy, kid-friendly hikes to more advanced trails, there is a path for everyone to enjoy.
Hike to beautiful waterfalls or reach lookout points to marvel at incredible views. You can also enjoy changing foliage and plant life throughout each season, such as spring's beautiful wildflowers and autumn's vibrant leaves.
Visitors can also enjoy biking, picnicking and fishing in the Smoky Mountains. Bird and animal watchers may also catch a glimpse of various wildlife species such as black bears, salamanders, deer, chipmunks and over 200 bird species. If you enjoy horseback riding or want to give it a try, you can also visit the Smokemont Riding Stables to book a horseback riding adventure.
Learn About Cherokee History
Step back in time and learn about early Cherokee history. From the area's Native American history to 19th-century farming structures, there is so much to learn in Cherokee. Visit the Museum of the Cherokee Indian to explore 13,000 years of Cherokee history in the form of artifacts, photographs, films, music, computer-generated animations, artwork and life-sized figures.
For a more immersive historical experience, visit the Oconaluftee Indian Village. Here, witness Cherokee artists create incredible works of art as a tour guide explains the purpose and process of each craft. You will also have the opportunity to walk through replicas of Cherokee community structures and homes as you interact with reenactors wearing the time period's traditional clothing. Learn about Cherokee history and culture from in-depth lectures, and attend a Time of War reenactment or a traditional dance show.
Visit Cherokee's Mountian Farm Museum to explore structures from the 19th century. The collection of historic log buildings includes a house, apple house, log farmhouse, barn, springhouse, blacksmith shop and a smokehouse. The structures were originally located throughout the Smoky Mountains, but they were moved to a single location in the 1950s.
Float on the Oconaluftee River
Enjoy a fun, refreshing float on the Oconaluftee River. If you enjoy water activities or simply want to cool off on a hot North Carolina day, you can rent tubes and kayaks from Cherokee Rapids and make your way down the river for an exciting adventure. Whether you glide and splash along the river's grade I and II rapids or simply enjoy a nice swim in the river, you are sure to have a great time.
Visit Mingo Falls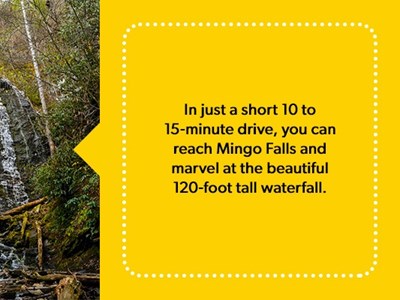 If you are looking for fun attractions near Cherokee, consider visiting Mingo Falls. In just a short 10 to 15-minute drive, you can reach Mingo Falls and marvel at the beautiful 120-foot tall waterfall. Enjoy a short, moderate-level hike on the Pigeon Creek Trail to reach the waterfall.
Encounter Animals at a Fun Petting Zoo
Get up and close with various animals at one of Cherokee's petting zoos. Visit the Cherokee Bear Zoo to watch various bear species play, run, climb and eat. Stop by the lemurs and exotic tigers exhibits before petting some adorable animals at the petting zoo.
For a unique petting zoo experience, jump into the holiday spirit at Santa's Land Fun Park and Zoo. Kids can meet Santa, and the whole family can encounter animals such as baby bears, Australian kangaroos, African porcupines, Siberian huskies and various sheep and deer. You can pet and feed certain animals, and you can even paddleboat to see ringtail lemurs on the park's small islands. Catch a fascinating magic show and ride some exciting Christmas-themed amusement park rides before you go.
Stores and Shopping in Cherokee, North Carolina
If you enjoy shopping or simply want to find a nice souvenir to remember your trip, visit some Cherokee gift shops. Stroll through Qualla Arts and Crafts to find authentic Cherokee crafts handcrafted with techniques that have been passed down through many generations. You can also find Native American pottery, wood carvings, Cherokee baskets and other crafts at the Medicine Man Craft Shop.
Browse various shops at Harrah's Cherokee Casino Resort Rivershops, a shopping center offering a wide variety of retail stores. You can also shop for clothing, jewelry, children's items and souvenirs at the following shops:
The Little People
Unique Gift Outlet
Art and Jewelry by Traditional Hands
Alan's Jewelry and Pawn
Bearmeat's Indian Den
The What's Hot Shop
Oconaluftee Indian Village Gift Shop
Restaurants and Places to Get Food in Cherokee, North Carolina
If you are looking for delicious food places in Cherokee, you will be delighted to find a wide variety of great restaurants in the area. Enjoy a delicious meal along the river at the River's End Restaurant. If you want to try some bars in Cherokee, you can stop by the Big Wesser Riverside Pub to enjoy a cold drink with beautiful river views and watch paddlers make their way down the river.
Enjoy a breakfast, lunch or dinner buffet at Granny's Kitchen. Indulge in some delicious Southern fried chicken or hand-carved roast beef, and finish your meal with a freshly baked dessert. If you are craving Italian cuisine, visit the Brio Italian Grille for a wide variety of pasta dishes.
Explore Cherokee at Kampgrounds of America
In Cherokee, you can hike, explore, visit fun amusement parks, pet animals, shop, eat or spend a day on the river. After a day of adventuring, rest your head at KOA. Relax around a cozy campfire after exploring the area and enjoy all of the convenient amenities that KOA has to offer.
At Cherokee/Great Smokies KOA Holiday, you can camp with 360-degree mountain views and explore nearby areas such as the Great Smoky Mountains, Pigeon Forge and Gatlinburg, Tennessee. Have fun at the campground watching an outdoor movie, splashing in the pool or taking your little ones to the playground. Pitch a tent in a standard Tent Site or bring your RV to stay in a Pull-Thru or Back-In RV Site. Camp with additional comfort in a cozy Camping Cabin or a Deluxe Cabin.
KOA offers campers a fun and convenient way to experience attractions in Cherokee and surrounding areas. Whether you enjoy exhilarating adventures or relaxing around the fire, KOA is your base camp for the great outdoors. Book a stay at KOA to start your Cherokee adventure.