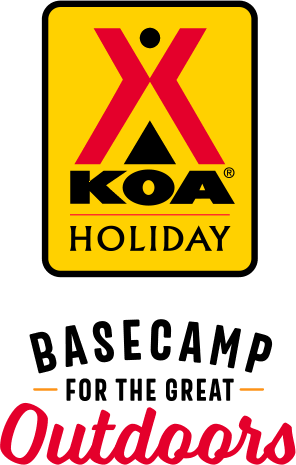 KOA Holiday Campgrounds
Whether you're exploring the local area or hanging out at the campground, KOA Holidays are an ideal place to relax and play. There's plenty to do, with amenities and services to make your stay memorable. Plus, you'll enjoy the outdoor experience with upgraded RV Sites with KOA Patio® and Deluxe Cabins with full baths for camping in comfort. Bring your family, bring your friends, or bring the whole group – there's plenty of ways to stay and explore.
KOA Holidays Feature:
RV Sites with a KOA Patio®
Deluxe Cabins with full baths
Premium Tent Sites
Group meeting facilities
Directions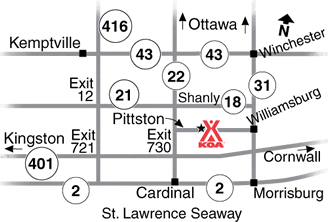 From 401: Exit 730 (Shanley Rd), north 6 km, right on Pittston Rd. From 416: Exit 12 (CR21), right (east) on 21, right (south) on CR22, left (east) on Pittston Road. From Hwy 31: Exit west CR18 Williamsburg.
USING GPS: enter 609 Pittston Road, Pittston, ON.
Get Google Directions
Oct 15, 2020
Wonderful Halloween weekend. Pumpkin walk and haunted house were great. Bingo was painful. Would have appreciated being informed that the Sunday bingo was free.
Oct 13, 2020
Just as good as last year, that's why we came back. The staff is very helpful ( Karen showed me how to operate the Keurig) lol.
Oct 13, 2020
Good times even though we had to stay mindful of physical distancing.
Oct 13, 2020
Too bad it's the last weekend of the year. But what a doozy it was. All the camper decorations were great, and the haunted house scared my wife and son. That means you guys did a great job. Really well done. Looking forward to next year. Have a great winter. Be safe.
Oct 13, 2020
The mid price cabin we stayed in was very clean and comfortable. More than enough things for the kids to do and there covid regulations were good and well enforced. Only negative, it was hard to round up my kids when it was time to leave as they had so much fun they did t want the party to end!
Oct 05, 2020
FABULOUS! Thank you for making Halloween happen! Costumes! Parade! Candy! Pumpkin Walk! Perfect.
Oct 05, 2020
Very clean and so well organized!
Sep 28, 2020
We really like the campground setting with all the shade trees and nearby cornfield. We have also been impressed with the measures to keep everyone safe during the pandemic while still offering weekend activities. Thank you for doing a couple of repairs to our cabin so promptly. We will be back!
Sep 28, 2020
Really enjoyed our stay and all the activities.
Sep 28, 2020
This was our first time at a KOA camp. We had friends staying there so they asked us to join them. We rented a cabin. I was so impressed with the activities for the kids. It was such a fun weekend. We loved the pumpkin walk! Kids loved the haunted house. Bathrooms were very clean. All public health recommendations pertaining to COVID-19 were strictly followed. We will definitely be back!
Sep 22, 2020
We had another fun packed weekend. Even played mini-golf.
Sep 21, 2020
Our first stay with you was absolutely wonderful. It was a family get-together. My sons & their families were on trailer sites & we rented one of your lovely cabins. The cabin was comfortable, having more than we expected; the campground, the activities & pride you take in your campground will have us coming back. Everything was clean and organized with hand sanitizer everywhere. Thank you.
Sep 21, 2020
Well done covid 19 management!
Sep 16, 2020
The Rustic Cabin was cosy and clean. The WiFi was weak, only good for basics, like checking your email. The campgrounds, bathroom facilities, and store were clean and well stocked. The staff was friendly and helpful. We had fun with the bingo and trivia time. Having the BBQ was great when it rained that one day. We look forward to our next camping visit.
Sep 16, 2020
It was a little disappointing that there were no activities on Sunday. But otherwise a nice stay
Sep 15, 2020
We stayed in cabin K12 this pass weekend. Luxury camping isn't the word, this was like camping Beverly Hills style. We all loved it, and that's we're coming back again this weekend.
Sep 13, 2020
Have been camping here in cabins since 2005 with our family. Always has been good time . The owners Dan and his family go out of there way especially in the current condition to keep it clean and safe for everyone all the while making sure campers have a good time.
Sep 13, 2020
The Cardinal hosts did everything they could to make our stay fun, relaxing and safe. They have done an amazing job with cleaning protocols since COVID and we're very impressed! We can't wait to get back. :)
Sep 13, 2020
Always great. Clean, friendly, my family loves it!
Sep 11, 2020
Loved K10! Want to rent that one again! Extra service by switching out the mini fridge due to not cooling food enough. My only suggestion would be to add a kettle for making tea:). Thanks for a great short getaway.
Sep 10, 2020
Wonderful visit. Extremely well maintained facility. Staff took great pains to make us feel welcome and safe despite the challenges of COVID. Not everyone takes it seriously so to see owners working hard to keep everyone as safe as possible and I only saw one or two people not respecting others and ignoring rules. This shows how effective they are at keeping a campground safe for the whole family
Sep 09, 2020
This was a weekend trip with the family. We rented a Kottage, which was very clean and spacious. We had an incident right away (gust of wind broke the umbrella) and was fixed within minutes. The kampground was extremely clean and organized. The COVID safety protocols and stations were top notch. Enjoyed the text message option to communicate with staff! Was one of my best camping experiences!
Sep 08, 2020
First time at this campground. In fact my first time camping in over 20 years. The lodge was great and i lloved all the amenities provided. I really liked all the fun events that were planned and all the play structures for my grandson who is 3. He loved his first camping trip. Would return again for another family camping weekend.
Sep 08, 2020
We had a blast! Looking forward to going back soon
Sep 07, 2020
Sam is the hardest working person I've ever seen, always available to ensure you're fully satisfied. Love the booking the pool option, would recommend keeping that even post COVID.
Sep 05, 2020
It was lovely. The cabin was so clean and comfortable. Everyone is very kind. Loved it.
Sep 03, 2020
We stayed in a lodge at KOA Cardinal for the 2nd year in a row and had an absolutely fabulous time again. Their COVID safety measures were reassuring and we did not feel like we missed out on anything. Great amenities, friendly staff and fun programming make this a go to for a glamping getaway just a hop and a skip away from home in Ottawa. Many thanks to the whole crew!
Sep 02, 2020
We always enjoy our stay at this location. We've been to other locations but always come back here. The grounds are well kept, the staff are friendly, and my kids love it. We've been going there for about 4 years now and will continue.
Sep 01, 2020
Upgraded to larger cabin, and enjoyed the cleaning living spaces. Not having to pack linens, cooking equipment was worth the added cost. With covid still going on, the park still made it's best efforts to ensure daily activities occured. Our kids loved the bubble machine activity. We have been to 2 other koas and would recommend this one.
Sep 01, 2020
It was very good family with 3 kids we rented the cabin everything was clean spacious and outside deck and bbq and firepit clean and spacious lots to do for kids and under this covid it was a great time you should be very proud of the owners and shows right down to the team members I work in retail and I know what it is like to always hear the negative and not to much possitive already can' wait
Sep 01, 2020
Great, clean facility, lots to do, and handling COVID precautions very well indeed. Will definitely be back!
Aug 31, 2020
We had a fantastic time and felt very comfortable with all the Covid 19 precautions. Enjoyed all the activities available.
Aug 31, 2020
Everything was great.
Aug 30, 2020
It was fantastic. Our cabin was clean and well equipped. The grounds had everything you could ask for, play structures, swimming pool, splash pad, mini golf, a bouncy pad, and a well stocked store. Lots of activities for the young, and the young at heart. I would definitely come again.
Aug 29, 2020
Very very clean. Well maintained and strict enforcement of rules. We had a very good time.
Aug 27, 2020
We had a deluxe cabin booked for two nights, and I forgot to pack dishes/cutlery for our stay. The staff were amazing and gathered a full set of dishes, cups, mugs and utensils for us to borrow - allowing us to avoid buying disposable kitchen stuff. Very much appreciated! When the staff goes the extra mile to make their campers' stay more enjoyable, it makes a big difference!
Aug 24, 2020
We had a great time and were very pleased with the precautions you had in place. The cleanliness is beyond top-notch. Chip truck and pizza make mealtimes so much easier and fun for all of us. The highlight of our weekend (for us parents) was BINGO and Trivia... that guy was hilarious !!! And for the kids, bubble drop, the pool, and the bouncers. Thank you much, we'll be back.
Aug 24, 2020
We had a great stay. Tons of things for our kids to do. Your staff work extremely hard and should be acknowledged for the effort they put forth. We were very impressed with the cleanliness, organization and safety measures you put in place. Not once did we feel unsafe! Great work!
Aug 24, 2020
Thanks for making it possible to get away and enjoy family time despite the restrictions in place. You made a lot of changes at the campground to make it work.
Aug 24, 2020
Was wonderful. Celebrated our daughters birthday. Was so much to do. Campground was run wonderfully, very clean, staff was very helpful & friendly. We were checked on & felt we could ask for assistance if we needed anything. wonderful time. We missed pizza pre-order and they still fit us in. Even with social distancing rules, everything ran smoothly. My daughter had the best birthday. Thank you!
Aug 21, 2020
We had a fabulous stay at the cardinal KOA. Considering Covid we felt extremely safe and confident. They have done an excellent job accommodating the new needs. Our children had a blast enjoying all the amenities. Thank you we will be back
Sep 20, 2020
So much to do and the facilities are kept clean and well cared for! They had activities day and night for kids and adults, amazing play areas, a warm pool... And I guess the theme our weekend was chocolate as we received a plate of treats drizzled in delicious chocolate. The sites were spacious and comfortable with the sand box for the tent. We will go back for sure!!
- Shannon Bonnee on Google
Sep 07, 2020
Was great, very clean.... nice camping experience
- Caroline Nowlan on Google
Oct 03, 2020
Go to this camp site every time we go to ottawa.
- tom villeneuve on Google