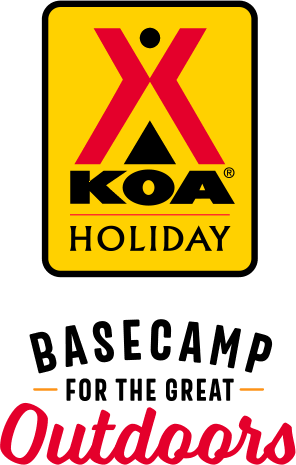 KOA Holiday Campgrounds
Whether you're exploring the local area or hanging out at the campground, KOA Holidays are an ideal place to relax and play. There's plenty to do, with amenities and services to make your stay memorable. Plus, you'll enjoy the outdoor experience with upgraded RV Sites with KOA Patio® and Deluxe Cabins with full baths for camping in comfort. Bring your family, bring your friends, or bring the whole group – there's plenty of ways to stay and explore.
KOA Holidays Feature:
RV Sites with a KOA Patio®
Deluxe Cabins with full baths
Premium Tent Sites
Group meeting facilities
Directions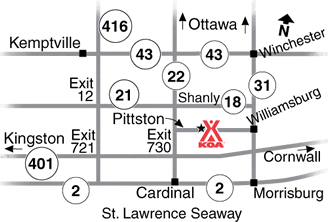 From 401: Exit 730 (Shanley Rd), north 6 km, right on Pittston Rd. From 416: Exit 12 (CR21), right (east) on 21, right (south) on CR22, left (east) on Pittston Road. From Hwy 31: Exit west CR18 Williamsburg.
USING GPS: enter 609 Pittston Road, Pittston, ON.
Get Google Directions
Oct 16, 2020
All the activities was very nice with all the COVID situation everything was done carefully like the bingo at the radio this was amazing. Thanks for all the activities the kids want to go back for sure
Oct 15, 2020
Wonderful Halloween weekend. Pumpkin walk and haunted house were great. Bingo was painful. Would have appreciated being informed that the Sunday bingo was free.
Oct 14, 2020
Owners are amazing, even with covid restrictions they were able to put on activities that the kids were able to participate in, which was great all around.
Oct 13, 2020
As always, Dan, Karen and the entire crew made everyone's stay exceptional. Especially during these trying times with COVID and still being able to keep all the usual fun going with safety in mind.
Oct 13, 2020
This campground is one of our favorites - the owners Karen and Dan run an immaculate campground with many fun activities. Their Halloween weekends are amazing and you will not find better anywhere else.
Oct 13, 2020
Wonderful halloween week end. Considering Covid, you did a wonderful job keeping us safe �
Oct 13, 2020
it was a great weekend. Activities were well thought out considering Covid-19 restrictions.
Oct 13, 2020
They run an organized campground but it's by far our most favourite!! They really go above and beyond from an amazing fireworks display at Labor Day to a pumpkin walk and they modified the usual Trick or treating with a Halloween parade - 175 treat bags!! This team is amazing �
Oct 13, 2020
Just as good as last year, that's why we came back. The staff is very helpful ( Karen showed me how to operate the Keurig) lol.
Oct 13, 2020
3rd stay this season. Thanksgiving weekend was the best! All the usual Cardinal activities, PLUS the amazing pumpkin walk and the Spooktacular haunted house at night. Props to the owners for going above & beyond at Halloween. This KOA is decidedly family friendly, impeccably maintained and we can't wait to come back next year.
Oct 13, 2020
The owners are awesome! They are always running around ensuring everyone has everything they need and having fun. The organized activities were the best, especially during covid. The kids had so much fun! Cant wait for camping season 2021!
Oct 13, 2020
This campground is always the best. This is the ONLY campsite where I see the owners doing everything. Dan does everything from helping with events, to cooking, to pumping ppl out. He leads by example.
Oct 13, 2020
Good times even though we had to stay mindful of physical distancing.
Oct 13, 2020
Amazing- we will return for sure next season
Oct 13, 2020
Vraiment un beau camping. Halloween est célébré avec une marche éclairée aux citrouilles décorées et sculptées, il y en avait des centaines. La maison hantée, Wow!
Oct 13, 2020
Too bad it's the last weekend of the year. But what a doozy it was. All the camper decorations were great, and the haunted house scared my wife and son. That means you guys did a great job. Really well done. Looking forward to next year. Have a great winter. Be safe.
Oct 13, 2020
The mid price cabin we stayed in was very clean and comfortable. More than enough things for the kids to do and there covid regulations were good and well enforced. Only negative, it was hard to round up my kids when it was time to leave as they had so much fun they did t want the party to end!
Oct 12, 2020
Well managed campground. Sites were a decent size,some shady and some sunny.large playground and clean bathrooms.
Oct 06, 2020
We had a GREAT stay. Thank you.
Oct 06, 2020
Love this campsite
Oct 06, 2020
To see all the staff working very hard in different aspects of the camping ground and seeing so many staff and campers appreciating our music playing and telling was wonderful!
Oct 05, 2020
Another great camping season. We were super impressed with all the covid safety protocols put in place. They kept everyone safe and still guaranteed a high level of enjoyment for all. Looking forward to next year!
Oct 05, 2020
The Halloween weekend was spectacular! The haunted house and pumpkin walk were so well done and fun for the whole family. We will be back!
Oct 05, 2020
Great weekend and so much preparation on behalf of the staff for Halloween weekend. These owners care about their campers and it shows in everything they do. Our 5 year old granddaughter keeps mentioning how she wants to camp at KOA Cardinal all the time.
Oct 05, 2020
One of the best KOAs around , clean , organized, and friendly to the guests. Plus it's close to towns
Oct 05, 2020
FABULOUS! Thank you for making Halloween happen! Costumes! Parade! Candy! Pumpkin Walk! Perfect.
Oct 05, 2020
Very clean and so well organized!
Oct 05, 2020
Always enjoy this KOA , close to home, super for a quick getaway.
Oct 05, 2020
Another great weekend with our grandson. Dan, Karen, & team always make our stay enjoyable. Thank you all. We will see you again next year.
Sep 30, 2020
This is a very organized KOA, and one of the best we've ever been to. It's quiet, without the usual highway or rail noise we've had before, but there are so many things to do, especially for kids. There are plenty of playgrounds according to age, which is a relief for smaller kids. There are two "bouncy pillows" and a very large pool and agility course for dogs! Great location! We will return!
Sep 29, 2020
One of the best managed KOA we have stayed at...our favourites
Sep 29, 2020
Stayed for 2 nights in September. Lucked out to have booked during their Halloween Celebration. Had an absolutely great time!!! They dropped off bags of candy for the kids, had a decorating and costume contest, bingo game organized over the radio, an incredible display of carved pumpkins and an amazing haunted house. I was really impressed with the cleanliness and organization of activities!!!!!
Sep 28, 2020
Halloween was fantastic!! I do think that certain things should be open based on temperature such as the pool and bike rentals. Both were closed but it was warm enough to swim and I am not certain why the bike rentals were closed. The activities were all fantastic and we will be back again for halloween!!
Sep 28, 2020
If you're looking for a safe place to celebrate Halloween this year, this is the place to do it! So many fun, socially distanced, SAFE activities for all ages!!! Reverse trick-or-treating (staff drop bags of candy off to the kids), a stunning pumpkin walk, and a truly terrifying haunted house. Plus crafts, pumpkin carving, costume parade....So much fun!
Sep 28, 2020
We really like the campground setting with all the shade trees and nearby cornfield. We have also been impressed with the measures to keep everyone safe during the pandemic while still offering weekend activities. Thank you for doing a couple of repairs to our cabin so promptly. We will be back!
Sep 28, 2020
Was a fantastic weekend weather was perfect, a great weekend to kick off the fall Halloween pumpkin walk and Haunted house. Thanks to all the staff for making this camping season 2020 a very safe and enjoyable one for everyone. �
Sep 28, 2020
Really enjoyed our stay and all the activities.
Mar 18, 2021
I've been to many campgrounds in North America, and for families looking for a peaceful, restful, campground, with the most activities and play structures for all ages of children, there is no better place than this KOA. I am a grandfather of 6 and they love this place.
- Gary E. Lockhart on Google
Oct 03, 2020
Go to this camp site every time we go to ottawa.
- tom villeneuve on Google