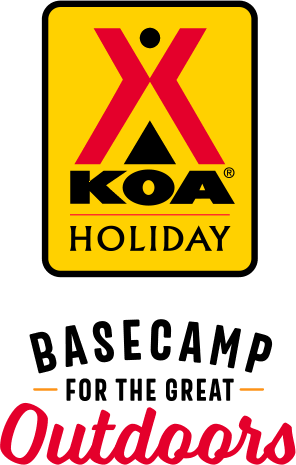 KOA Holiday Campgrounds
Whether you're exploring the local area or hanging out at the campground, KOA Holidays are an ideal place to relax and play. There's plenty to do, with amenities and services to make your stay memorable. Plus, you'll enjoy the outdoor experience with upgraded RV Sites with KOA Patio® and Deluxe Cabins with full baths for camping in comfort. Bring your family, bring your friends, or bring the whole group – there's plenty of ways to stay and explore.
KOA Holidays Feature:
RV Sites with a KOA Patio®
Deluxe Cabins with full baths
Premium Tent Sites
Group meeting facilities
Directions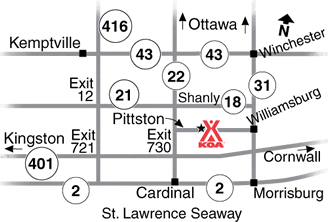 From 401: Exit 730 (Shanley Rd), north 6 km, right on Pittston Rd.
From 416: Exit 12 (CR21), right (east) on 21, right (south) on CR22, left (east) on Pittston Road.
From Hwy 31: Exit west CR18 Williamsburg.
USING GPS: enter 609 Pittston Road, Pittston, ON.
Get Google Directions
Sep 20, 2021
Thanks for the wonderful chocolate treat!
Sep 20, 2021
Fantastic service and activities! The cabin was spotless and well equiped! Very generous with the ice cream portions and the chocolate lovers plate! Everyone in my family thourouly enjoyed their weekend!
Sep 20, 2021
Always have an awesome time at Cardinal KOA
Sep 20, 2021
Very nice and clean. Kids loved the parc!
Sep 17, 2021
We had a perfect nice sized spot for our 39 foot toyhauler (G11). Was easy to get into and enough room to keep the back deck down. The dog park was very well kept and when we told a staff member that one structure was damaged it was fixed right away. Our puppy enjoyed that there was a small dog side and a large dog side. It was our second time at this park and will return again.
Sep 17, 2021
Different vibe
Sep 16, 2021
To many rules had our grandchildren with us the quiet time a little extreme, fires having to be out by midnight why we are camping enjoying sitting around a fire and I was using my phone singing around fire when I was told to shut my radio off at ten. Having fun around a fire with kids and family is part of camping and we were not loud other campers told us they were enjoying our singing
Sep 15, 2021
Fantastic- as always! Thanks to all the staff for making us feel so welcome.
Sep 15, 2021
Very clean and well organized park. Extremely friendly staff. Will be retuning and would highly recommend!
Sep 14, 2021
Very clean and peaceful.
Sep 13, 2021
Awesome very well kept campground. Only complaint was we had a small cabin rented and constant kids running through our and neighbours sites going to and from playground. Maybe a fence between cabins and playground would help
Sep 13, 2021
Phenomenal once again! We stay every year and we will be back. Everything is great with this campground, staff are awesome, grounds are pristine and the location is great. Highly recommend!
Sep 13, 2021
Fantastic stay. Clean facilities, great activities for the kids. And I finally won a bingo game!!
Sep 13, 2021
Great place for kids. Need to get the chess board set up….
Sep 13, 2021
Always a good time at this koa , great friendly staff . Well organized activities . Already reserved for next year . Keep up the great work. Xo
Sep 13, 2021
The staff was friendly, and quick to work out any issues, and the store was well stocked considering we were there the day after labour day. The cabin and campground was clean and well kept. We enjoyed our stay very much.
Sep 13, 2021
We had 3 sites, including one of the lodges (L06) for a family camping weekend. Everything was great. The campground is very clean and well maintained, staff and owners are friendly and helpful. The lodge was well equipped and perfect for a family, girls weekend, etc.
Sep 13, 2021
I was disappointed that the pool was closed already for what was a family weekend. The propane dispenser was not working so I could not top up the propane in my RV. The site was clean, staff very friendly and very well laid out. There were lot's of activities for families, we would come again.
Sep 13, 2021
Nice park, well organized activities, a little expensive compared to all other parks we've been at, no sewers.
Sep 13, 2021
Really enjoyed our stay. Next time, would prefer not being so close to the main entrance and maintenance.
Sep 10, 2021
We were very impressed with everything. The staff were outstanding and went out of their way to ensure there was a great deal of activities and equipment to keep everyone busy and happy. Best KOA we have we been to. And looking forward to many more visits
Sep 10, 2021
We have been very careful with Covid, we have family members that are immunocompromised and that has been a concern of ours. The staff was so accommodating and friendly. As a family we made some incredible memories and loved our time on your campsite.
Sep 10, 2021
Beautiful clean campground however when two seniors drop in for one night just as a stop over on our travels and not use pool, bouncy pillow, mini putt, children's playground.... I don't expect to have to pay for all this. 10 hour rest stop was too pricey for us. So won't stay there again unless we have our grand children.
Sep 09, 2021
This,was the nicest koa we have stayed in to date. The people working there were nothing short of fantastic. Their customer service was excellent & friendly at all times. I would recommend this park to everyone with or without kids. I have never been to a koa where they have thought of items you would need ahead of time We will certainly be returning in the near future Thank you for great ti
Sep 08, 2021
Toujours amusant pour la famille avec les activités et les installations! Même après plusieurs années, les enfants nous disent toujours que c'est leur camping préféré.
Sep 08, 2021
As always we had a great stay.
Sep 08, 2021
All the staff members are awesome, always there to help with a smile. A lot of fun activities for all family A great weekend, we will go back for shire
Sep 08, 2021
Séjour parfait ! Propreté parfait Propriétaire parfait! Merci
Sep 07, 2021
The facilities are exceptionally clean as always and the staff are always helpful and polite. Although the pandemic has resulted in a change in the way activities are executed, they still have Family Bingo, Trivia, and crafts to keep us and our children occupied.
Sep 07, 2021
Your staff was very friendly and helpful. The children loved it.
Sep 07, 2021
As always, great stay, clean facilities, wonderful amenities, and great weekend schedule! Can't wait until next year!!
Sep 07, 2021
Outstanding campground. Clean. Well organized. Great activities. Rules are family friendly and enforced. In fact, even though some folks complain about it, this is one of the main reasons we keep coming back. See you in a few weeks.
Sep 07, 2021
Everything from check in to check out was great. We will see you in 2022!
Sep 07, 2021
Service and staff were very friendly. Grounds were clean. We will be back.
Sep 07, 2021
Perfect place for kids. They all had a blast!
Sep 07, 2021
Pas la première fois à ce camping. C'est toujours agréable. Plein d'activités. Le camping est propres, boisés et les terrains sont grands.
Sep 07, 2021
It was awesome
Sep 19, 2021
Camped here many times this year. Enough said. Well done Cardinal KOA!
- Adam Arthur on Google
Sep 17, 2021
Awesome very nice and clean facilities 🤗
- Kathy Mireault on Google
Sep 13, 2021
Great staff, helpful Well maintained and very clean Definitely will be going back.
- Pauline Aubertin on Google