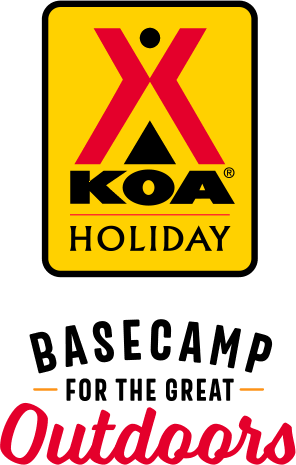 KOA Holiday Campgrounds
Whether you're exploring the local area or hanging out at the campground, KOA Holidays are an ideal place to relax and play. There's plenty to do, with amenities and services to make your stay memorable. Plus, you'll enjoy the outdoor experience with upgraded RV Sites with KOA Patio® and Deluxe Cabins with full baths for camping in comfort. Bring your family, bring your friends, or bring the whole group – there's plenty of ways to stay and explore.
KOA Holidays Feature:
RV Sites with a KOA Patio®
Deluxe Cabins with full baths
Premium Tent Sites
Group meeting facilities
Directions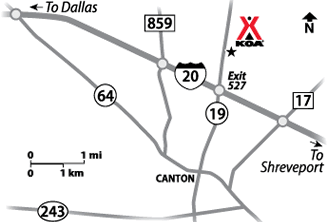 From Interstate 20 take the #527 exit (HWY 19 exit) off of Interstate 20. Go north on Hwy 19 for 1/2 mile. When you go over the small bridge start slowing down.  The entrance to the KOA of Canton is on the east side (right side) of the road. There will be a large entrance sign that reads Silver Spur Resort. The KOA of Canton is within the Silver Spur Resort.
Get Google Directions
Nov 02, 2020
Always very clean and everyone is always so nice and helpful.
Nov 01, 2020
Newer resort style with lot of amenities. Clean, well organized and convenient. General store and restaurant on the faculty grounds. Will be a beautiful place once the trees grow in. �
Oct 31, 2020
Very well laid out,, clean facilities, one of the better RV sites in the nation.
Oct 31, 2020
Fun place. We enjoyed the restaurant and visited the Yesterland Farms nearby. Friendly people. We enjoyed the little pond with a nice walk around it in the afternoon. enjoyed looking at the wagons, roping, playing the outdoor games. Wish we would have had time to do an Escape room. Sites are easy to get in and out of. Interested in premium sites but weren't available.
Oct 31, 2020
Great place to stay definitely will come back when traveling thru. The young lady working there was so nice polite and helpful. Thanks KOA!
Oct 29, 2020
Requested henhouse inquired early arrival told to call. I did at 9:48. room to be ready in 30 min. showed up at 1 given coop inquired why stocky arrogant man informed me trying to accommodate since I arrived at 1. yellow package already prepared for guests all the man had to do was apologize instead of being arrogant and making excuses young man at desk and woman with colored hair extremely nice.
Oct 28, 2020
We were there only one night. But it is a beautiful rv park, with a pond and ducks. Wagon cabins, regular cabins, large and small. Restaurant on the grounds also. Big clean spots. Trees are still growing so there not alot of shade. We plan on going back someday and stay a little longer.
Oct 27, 2020
It was awesome, cabin was spacious, furnished well. The extra coffee and towels were a blessing. Just one glitch, The broken sofa bed, BUT fixed immediately (the next day). 5*'s to the "Hen House", The Brew Restaurant and the KOA crew. P&J ~~ The Woodlands, Texas
Oct 27, 2020
Beautiful setting and very nicely maintained. Level cement pad sites, convenient restaurant on site and easy on and off the highway. Will definitely stay again without hesitation.
Oct 27, 2020
When we arrived I found the box and it had our site info on it, problem was it appeared to have a RV in it. I spoke to a lady outside who worked there and she went in and told me a different spot (not what I had reserved) finally got it worked out but the site barely held our MH and toad. When paying a premium price I kinda expect that level of service. The lady was fine but the guy not so much.
Oct 26, 2020
Key to door was a problem. Hard to lock and unlock. Front desk forgot to give us keys so we had to go back.
Oct 26, 2020
Friendly staff, wonderful location. This should be the model of what a KOA RV park/resort should be.
Oct 26, 2020
Everything about this RV park was fabulous!! The Q & Brew was a bonus! We ate there twice. We loved the premium camp site!! Thank you!
Oct 26, 2020
Very clean and beautiful campground. Lot's of things to do. We will definitely be back.
Oct 26, 2020
Tons of amenities! Friendly staff! And they're still expanding! If you're looking for a one stop getaway head here! The kids even caught fish in the catch and release pond!
Oct 26, 2020
It was very enjoyable! Several things to do, was a beautiful place, good food and very clean!
Oct 25, 2020
Was a wonderful 2 weeks. All of the help was wonderful and took pride in keeping the grounds clean for the guests. Cannot wait to all the changes in the future. Sad that we are missing the Halloween fun. Until next time Happy Camping!!!
Oct 23, 2020
Only problem I have is there's no cable TV. Which I have found common with KOA's. They are expanding which is nice. Friendly family run business..cool...
Oct 22, 2020
Very nice. Clean and friendly.
Oct 21, 2020
Very well maintained grounds.
Oct 21, 2020
Very nice people. Always helpful. Treated like royalty. Great family environment. Will definitely be back.
Oct 21, 2020
We stay here at least once a month and have been for over a year. This time the shower drain was stopped up, hide a bed was broke and overall cleanliness lacked.
Oct 19, 2020
We stayed at the wagons, but were not able to enjoy the campfire area because people who were not staying in wagons were using the fire rings.
Oct 19, 2020
Great place with great employees!! Good amenities on site
Oct 19, 2020
It was very relaxing and very clean place. We will be back soon.
Oct 19, 2020
The cabins & grounds are very clean, close to restaurants, stores & Trade days. They do not have TV or ovens. We had our dogs and enjoyed walking them around. We asked for a grill & they came out with one quickly. When we left I had some questions about the charges & the girl was very short with me & didn't allow me to understand them, so I had to come home & figure that out myself. So 4 stars...
Oct 19, 2020
Clean, Calm, and relaxing!
Oct 19, 2020
My third stay at the Canton KOA, and thoroughly enjoyed it once again. I love it because it's not far from home so it's a nice retreat from the big city. The staff is always friendly the grounds are clean sites are level and extremely well spaced apart. A great place to camp
Oct 18, 2020
We had the best time! The cabins are cozy, the beds are comfy, and the staff is super friendly! We ate at the restaurant several times and the service and food were always on point. Kids loved fishing at the pond, playing at the playground, and the escape room! We even stayed in a covered wagon one night-definitely an experience worth doing again. Thank you Canton KOA, can't wait to come back!
Oct 18, 2020
Clean and relaxed atmosphere. Nice level sites with great WIFI - we plan on staying here again when we are in the area.
Oct 17, 2020
One night only, the grounds and facility are very clean. Ordered food delivered to my site from restaurant on premise, very good burgers.
Oct 15, 2020
Paid for a premium rv spot which was a really nice one but I believe there should be a 2 night minimum in the premium spots due to the premium spot right beside was used by those traveling off the highway and first morning we were woke up at 6 by them goofing up to leave and talking pretty loud or loud enough to wake us & then on next morning same thing except for it was 4:30 am and they were loud
Oct 14, 2020
The staff was awesome— friendly and professional! Our campsite was spacious and easy to get into and back out of. Everything at the site was clean and neat and well maintained! We had a great stay and even extended for two more nights!
Oct 14, 2020
Clean and level sites. Little shade has planted trees have several more years (5-10 years to mature). On-site restaurant a bonus with good food.
Oct 14, 2020
We loved our stay in Canton! Everything was clean and the staff were so nice. We will be back!
Oct 14, 2020
Was able to order food and had it delivered to our pad. Very easy and food was great. Campsite very nice. Will be back.
Oct 13, 2020
We had a wonderful time! Wish there were trails we could walk but lots of other great amenities were available to entertain us and our young kids. Definitely will be back!
Oct 13, 2020
We have stayed in many KOAs around the country, and so far, this is by far the best. The grounds are very well maintained and all the public areas are very clean. The people are extremely helpful and friendly. The on site restaurant( Q and Brew) is fantastic! There are plenty of activities for all ages, such as fishing, swimming pool, kids playground and an Escape Room!
Jan 05, 2021
Brew and Q is a awesome place to eat the food and beer was great
- John Gibson on Google
Dec 31, 2020
Beautiful campground, emaculate facilities!!
- Ernie Turbyfill on Google
Dec 24, 2020
Very nice and friendly service, really enjoyed my night there while traveling west.
- Harold Honeyman on Google