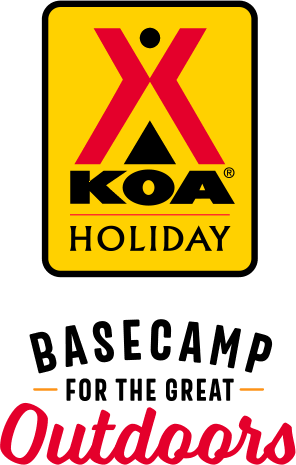 KOA Holiday Campgrounds
Whether you're exploring the local area or hanging out at the campground, KOA Holidays are an ideal place to relax and play. There's plenty to do, with amenities and services to make your stay memorable. Plus, you'll enjoy the outdoor experience with upgraded RV Sites with KOA Patio® and Deluxe Cabins with full baths for camping in comfort. Bring your family, bring your friends, or bring the whole group – there's plenty of ways to stay and explore.
KOA Holidays Feature:
RV Sites with a KOA Patio®
Deluxe Cabins with full baths
Premium Tent Sites
Group meeting facilities
Directions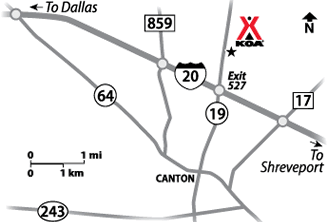 From Interstate 20 take the #527 exit (HWY 19 exit) off of Interstate 20. Go north on Hwy 19 for 1/2 mile. When you go over the small bridge start slowing down.  The entrance to the KOA of Canton is on the east side (right side) of the road. There will be a large entrance sign that reads Silver Spur Resort. The KOA of Canton is within the Silver Spur Resort.
Get Google Directions
Jan 12, 2021
Very nice campground. Very clean and quiet .
Jan 09, 2021
Good but loud traffic
Jan 08, 2021
The Canton KOA is one of our favorites. The grounds are exceptional. If you have kids that like to swim, trail walk, play yard game and fish, this is the place. The restaurant on site is fantastic and everyone that is on staff (no workers because they all are happy people) are great. Recommend this campground, the venue and cabins.
Jan 08, 2021
Great place - clean neat and well kept! This is our forth stay! Twice in Oct and once in Dec and two nights in January!
Jan 07, 2021
The area was nice. The wifi was terrible, would give 5 stars if wifi was better. Showers very nice and clean! The pad we were on flooded severely and made it worrisome Amit plug in power during the rain. Also the sewer ports were buried in the mud due to all the rain. Otherwise great and peaceful stay.
Jan 04, 2021
Great place from what I understand it is new to KOA. Just wanted the owners to know I found the park and came because it is a KOA. We will be back.
Jan 04, 2021
I paved roads that were in very bad shape. The park was built in a low land. It had rained somewhat but not flooding by all means and the sites were under water. The roads that were not paved were a mud pit. I would in no way stay in the park if it rained a lot. Other than that the park was ok but we will never go back. Worst KOA park I have been to.
Jan 04, 2021
When we got there it was raining and it had rained a lot but the campsites were flooded. Needs to have better drainage. There was no fire ring like it showed in the pictures. Our reservations were messed up. Everything else was ok. The restaurant was fantastic!
Jan 04, 2021
We really love this KOA. We have stayed about 5 times now. It's close to home for us, but yet makes us feel like we are getting away. The Park is very clean, well taken care of, and they are constantly adding new features. The staff is super nice and helpful.
Jan 04, 2021
First time at this campground and the staff were awesome to accommodate our request to be next to friends if possible. Initially told they would try to get us as close together however it was a very busy weekend due to the New Year holiday. Our friends had checked in just and hour before us but we did not know we would be in the site right next door until we checked in. Thank you so much !
Jan 04, 2021
Nice relaxing weekend. Very clean KOA campground with a nice restaurant that has good food.
Dec 31, 2020
Spotless from top to bottom!!!
Dec 29, 2020
Clean, quiet, restrooms and shower well lit, clean, warm, and private and roomy
Dec 29, 2020
Will be back for a longer stay!
Dec 25, 2020
Very nice campground! Convenient to the interstate - onsite restaurant was very good. We will stay here again!
Dec 24, 2020
Super helpful staff! Clean neat and well kept community!
Dec 22, 2020
very helpful staff. clean. family friendly.
Dec 22, 2020
It was very nice. Wonderful amenities. The staff and owner were readily available. Also were very transparent about not so great internet service and cable when I called to make the reservation. That way we were prepared for that when we arrived. Wonderful facility! Hope to go back and take advantage of the other amenities there like restaurant, Escape room, fishing pond.
Dec 18, 2020
Very nice. Will stay again
Dec 18, 2020
I was able to change my site when I got there to get closer to my group. The facilities are very clean and got help every time it was needed with a smile from the staff. The restroom was fairly clean. It had been raining and had some mud and one was out of to, but it was very late in the evening. I would go back.
Dec 17, 2020
Excellent for a night or an extended stay.
Dec 16, 2020
Excellent service , beautiful resort, everything very convenient. Will definitely be going back
Dec 16, 2020
Best KOA ever. On site brewery and restaurant. Service is great!!. Picked fresh veggies at there farm. I can't say enough about good things about this rv park
Dec 14, 2020
So nice and clean. Great spaces.
Dec 14, 2020
Very nice staff, clean facilities, and the restaurant is wonderful!
Dec 14, 2020
We only stopped for one night while traveling from the East Coast to the West Coast... late check-in was efficient, we found our site clean and easy to back into. Simple stay but that's why we love the KOA Campgrounds.
Dec 12, 2020
Lovely grounds, spacious campsites, nice staff and a terrific BBQ restaurant on site.
Dec 11, 2020
It's clean and well kelp place to stay. If I had to say anything negative it would be road noise from hwy 19. Other than that, a Great Place to stay.
Dec 11, 2020
The people here are very accommodating and friendly. The park needs cable. It's inconvenient to work other forms of entertainment. If I weren't somewhat prepared for this, it would not have been good.
Dec 11, 2020
Everyone was very friendly. The campgrounds were very clean.
Dec 09, 2020
Very nice and clean Campground, nice wide and long paved sites. Very convenient to Interstate and to Canton Marketplace!
Dec 09, 2020
Overall we enjoyed the campground and restaurant. Our site had muddy ruts in the grass area in front of door from previous campers.
Dec 09, 2020
We were surprised by this KOA. Very clean, staff was great. Restaurant was very good. We didn't have our meal delivered to us in our camper, but what a convenient service after a long day walking. Great stay and very close to downtown Canton and all the shopping.
Dec 09, 2020
Grounds very clean, sites large , loved the tables and fire pits! Staff extremely friendly and helpful! Restaurant so handy, food excellent and prices reasonable!
Dec 09, 2020
Very nice place with awesome staff members! The Chuckwagon dinner and live music was the best!!! You must give it a try! I am not one to leave comments. However, this place was such a great stay with a tremendous staff, I felt the need to do my part and leave good feedback. Keep up the great work and we look forward to coming back.
Jan 05, 2021
Brew and Q is a awesome place to eat the food and beer was great
- John Gibson on Google
Dec 31, 2020
Beautiful campground, emaculate facilities!!
- Ernie Turbyfill on Google
Dec 24, 2020
Very nice and friendly service, really enjoyed my night there while traveling west.
- Harold Honeyman on Google