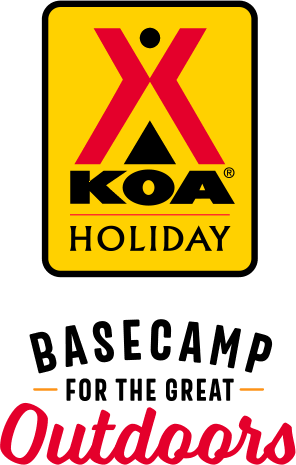 KOA Holiday Campgrounds
Whether you're exploring the local area or hanging out at the campground, KOA Holidays are an ideal place to relax and play. There's plenty to do, with amenities and services to make your stay memorable. Plus, you'll enjoy the outdoor experience with upgraded RV Sites with KOA Patio® and Deluxe Cabins with full baths for camping in comfort. Bring your family, bring your friends, or bring the whole group – there's plenty of ways to stay and explore.
KOA Holidays Feature:
RV Sites with a KOA Patio®
Deluxe Cabins with full baths
Premium Tent Sites
Group meeting facilities
Directions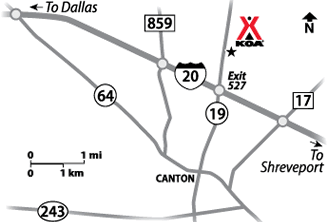 From Interstate 20 take the #527 exit (HWY 19 exit) off of Interstate 20. Go north on Hwy 19 for 1/2 mile. When you go over the small bridge start slowing down.  The entrance to the KOA of Canton is on the east side (right side) of the road. There will be a large entrance sign that reads Silver Spur Resort. The KOA of Canton is within the Silver Spur Resort.
Get Google Directions
Apr 06, 2021
Very nice park. Loved the restaurant on the premises. Beer and food were top notch. Management was great.
Apr 06, 2021
Very clean and well equipped facilities. Great location for attending First Monday events.
Apr 06, 2021
Great RV park. Q & Brew is awesome. Clean facilities and staff are on top of things.
Apr 05, 2021
We stayed for 4 nights for fishing at Lake Fork and Canton First Monday. Great facilities, and friendly staff. Nice level concrete pads. Loved the restaurant/micro brewery onsite. We will definitely be back again.
Apr 05, 2021
We stayed in a Premium site and loved it. Great concrete parking and patio with fire pit. Very quiet park. Very friendly and helpful staff. We also enjoyed food from the on site restaurant.
Apr 05, 2021
Was our first time camping. We were guided to our camp site by the staff. Had to use their bath house the first night. It was very clean and nice. We ate at the restaurant on site the Q & Brew. Great food and very nice to have right on site. Would definitely recommend and stay again.
Apr 05, 2021
We were there for first Monday days . The year before the campground we stayed at had a Suttle which made it convenient. Your campground is very nice and there was nice places to walk. 2 things I did not like was the very loud ice truck and the boys who kept walking thru our site next to our motorhome. They were old enough to know better. Some koa ask people not to do this.
Apr 05, 2021
It is a wonderful place to stay at
Apr 05, 2021
Such a cute place! Has lots to do and very clean! Will definitely be back!
Apr 05, 2021
Very convenient for the Trade Days, nice setup for 5th wheel with full hookups on concrete pads. Internet was some slow on the days we stayed, but we managed.
Apr 05, 2021
It is a beautiful campground! The Service is excellent! We absolutely love staying there. Everyone is so helpful and kind. They areso accommodating!!!
Apr 05, 2021
it was great! Pads were large, level and well spaced with a nice size grass area.
Apr 05, 2021
Our heater/ac did not work during the first night of our stay and it was very uncomfortable. The bathrooms needed to be cleaned more often.
Apr 05, 2021
Tent sites should be near restrooms.
Apr 04, 2021
Very nice KOA. We stayed in the covered wagon which was very comfortable and fun experience.
Apr 03, 2021
Great location and quality facilities. Staff was top notch. Love the banana pudding!
Apr 02, 2021
Campground is very nice and clean, well kept and staff is very friendly and helpful. The recommended a mobile rv repair service which was excellent. Excellent park.
Apr 02, 2021
We had such a relaxing and enjoyable stay - love that the facility had a restaurant - the food was amazing! The escape room on site was super fun - we will have to plan another visit just to see if we can get out next time - the property was so well kept and beautiful - the staff was incredibly helpful and accommodating - wish we could have stayed another week - so peaceful and charming
Apr 02, 2021
We rented a cabin to celebrate my 11 year olds birthday party and try to make it through the escape room. She had a blast and the park is so clean. Would do it all again.
Apr 02, 2021
We only stayed for one night, but it was very nice. Love the restaurant delivering food right to your camper & it was delicious.
Mar 31, 2021
The Cabin was clean and welcoming. The camp ground was well kept. The workers were friendly and helpful.
Mar 31, 2021
We will go back. Public Restrooms did not have toilet paper.
Mar 31, 2021
We've stayed at this campsite several times and have always had a great time. We'll keep coming back.
Mar 31, 2021
Very poor wifi, no cable, only one over the air network available. This place has amazing potential, but need to improve the wife and get cable in.
Mar 30, 2021
The tiny house Lil' Hoss was clean, comfortable, and cozy. The property was fun to walk around on, and had good views. Having the the full bath in the room was nice. The loft bed was comfortable. Make sure you are comfortable climbing a built in ladder to get to bed. No problem with it for us.
Mar 28, 2021
Great place to stay , clean, plenty for the kids to do, good eats,easy in and out
Mar 28, 2021
This place is amazing! The best KOA we ever stayed at. Beautiful, clean and tons of stuff to do. Bathrooms are new and private. Very friendly helpful staff. They have tons of activities for the smaller kids. (check out the mini camper for kids to play on), older kids, and for us grandparents, a huge pond, and even a farm with chickens, turkeys and plants. So much fun for all ages.
Mar 28, 2021
Wonderful place and management was great.
Mar 28, 2021
Very nice campground with a lot of amenities. We enjoyed our stay very much.
Mar 28, 2021
Beautiful new park, still building but it's so unique!! Level concrete spots, very helpful employee at the front, the restaurant food is SO good!! Plenty to entertain yourself: pool, cornhole, scavenger hunt on premises and even an escape room. The place is gorgeous and apparently they even have weddings here. Been full time in my RV 6+ years, this hidden gem we stumbled on is now my favorite!!
Mar 26, 2021
Canton KOA is one of the campground we were ever experienced. It is spacious and clean.
Mar 24, 2021
Wagon was great! It was very clean. We just happened to pick a night that a huge thunderstorm came. I was a little worried that the wagon would not hold up with the amount of rain but everything was fine. Bathrooms were also very clean!
Mar 24, 2021
Very nice area, well kept sight staff was very helpful and courteous would recommend to all who are looking for a good place to stay
Mar 23, 2021
Would definitely stay again. This was our 2n stay here. Wanted to leave the truck connected to the 5th wheel. The pad was long enough to accommodate the truck remaining connected, however with the electrical power connection at the rear of the camper, the camper had to be pulled forward enough for the 30' cord to reach the elec. pedestal resulting in the truck in the road. Had to disconnect.
Mar 23, 2021
Great place to stop right off I20. Got a restaurant/brew pub located on property. Golf coffee and Walmart/food stores located within miles.
Mar 23, 2021
Great sites, grounds and amenities. Very much appreciated the texts informing us about the campground and when they were ope. And closed for the evening. Our stay was only for one day, however the next time through we will linger longer.
Mar 22, 2021
Clean, spacious sites and a well kept facility.
Mar 22, 2021
Pro's, Park is very clean and nice. Fishing ponds, playgrounds, pool and a inhouse escape room for the kids and adults alike.the upgraded campsites near the ponds offer nice patio tables, a concrete patio and a firepit. Cons Its a newer park and trees are young so limited shade. Escape room was a expensive fiasco. Staff refused to refund or offer another trip after they failed to reset room.
Mar 22, 2021
The devil is in the details. The front porch lights were shorted out making it difficult and dangerous to move my luggage into the cabin after dark. When I mentioned it to the young lady at check out she seemed to be indifferent. We'll see if she took any heed to my maintenance request because I'm scheduled to stay there on the back leg of my trip to Texas.
Mar 22, 2021
We stayed at the Wagons for a great experience. The girls loved the area and peaceful retreat in the back of the campground. Some suggestions: 1) Check for wasp nests around the Wagon. I had to take down 3 nests cause we were getting wasps inside the Wagon.. .easy fix 2) I would suggest to put a small area with a water outlet to wash off things. (shoes, pots/pans, etc)
Mar 22, 2021
Great camp ground. Campsite and all facilities were very clean and maintained. They had a lot to offer on their camp ground. All the staff were very nice. My family and myself had an enjoyable.
Mar 22, 2021
Perfect. One of the best KOA's in the USA..
Mar 22, 2021
Very nice. Sites are very level and they are concrete. We had supper delivered to our door. They are close to everything.
Mar 27, 2021
Nice folks. Beautiful restaurant. We enjoyed the firepits. Close to everything.
- Sheryll on Google
Mar 14, 2021
A very nice, new, clean, and visually appealing KOA. Our first time here but will come back later this year.
- Daniel DeRenzy on Google
Feb 26, 2021
Beautiful campground! Plenty of amenities
- Alisha Dunn on Google