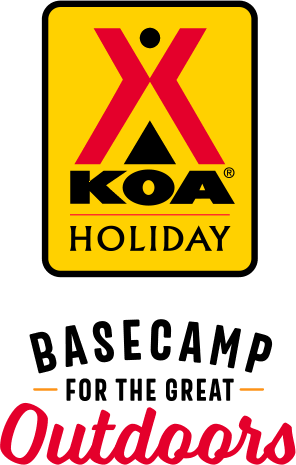 KOA Holiday Campgrounds
Whether you're exploring the local area or hanging out at the campground, KOA Holidays are an ideal place to relax and play. There's plenty to do, with amenities and services to make your stay memorable. Plus, you'll enjoy the outdoor experience with upgraded RV Sites with KOA Patio® and Deluxe Cabins with full baths for camping in comfort. Bring your family, bring your friends, or bring the whole group – there's plenty of ways to stay and explore.
KOA Holidays Feature:
RV Sites with a KOA Patio®
Deluxe Cabins with full baths
Premium Tent Sites
Group meeting facilities
Directions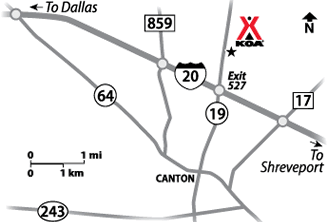 From Interstate 20 take the #527 exit (HWY 19 exit) off of Interstate 20. Go north on Hwy 19 for 1/2 mile. When you go over the small bridge start slowing down.  The entrance to the KOA of Canton is on the east side (right side) of the road. There will be a large entrance sign that reads Silver Spur Resort. The KOA of Canton is within the Silver Spur Resort.
Get Google Directions
Nov 16, 2020
We stayed in the covered wagon and everything was amazing. Friendly and helpful staff and great facilities!
Nov 15, 2020
This has become One of our Favorite KOA'S!!!! We loved it! Friendly folks. Well maintained campground. Great, fresh, smokehouse restaurant on the property....so dinner was a cinch! We will definitely make this our "stop"/"layover" when traveling West! Thanks for great Hospitality! Plus, your staff was very good at "masks" & "social distancing" during these unusual times, so we fe
Nov 14, 2020
Great, spacious cabin close to a delicious restaurant. There was also a nice pond to walk my dog around. Nice outside area as well!
Nov 13, 2020
We really enjoyed the cabin. It was warm and cozy with the ability to experience camping with the fire pit, table and the grill being provided. When we come for another family visit we plan on making reservations again. The campground offers so much for different ages. Thank you for an enjoyable stay.
Nov 13, 2020
Decent amount of space between spots. Very much liked the fire pit/Adirondack chairs. Clean and friendly. Also loved the catch release pond and grounds. Peaceful
Nov 13, 2020
Beautiful campground. Well maintained, spacious sites. Good restaurant on site.
Nov 13, 2020
Even though it was just for a night we could appreciate the setting, the pond and the cleanliness. Staff was friendly. Would recommend to anyone.
Nov 12, 2020
I was pleased with my stay overall. A couple suggestions I have is that they offer a pickup type service for the restaurant. We were in a spot far from the restaurant. It would have been a little easier instead of walking up there.
Nov 12, 2020
Best RV park on our cross country trip,,well kept grounds, nice walking trail around a beautiful pond, quiet & great take out food!!
Nov 10, 2020
Very nice campground. Will stay again if in area
Nov 10, 2020
The Cabin was very clean and ready for us. The only issues were: The mattress needs replacing, it offers very little support and is too soft in the middle; there needed to be an extra roll of paper towels (we ran out) and a box of Kleenex tissues in the cabin. We were surprised to find no silverware but understand that it is COVID-19 related since there is no dishwasher.
Nov 09, 2020
Great location off I-20...friendly service...on-site full service restaurant is great...very dog-friendly
Nov 09, 2020
Clean, very accommodating. Hardly any wifi strong enough to do anything. This would be why 3 stars. People need this in today's world more than ever. I would focus here.
Nov 09, 2020
We had a wonderful weekend. The cabin was very comfortable and quiet. The kids loved the playground. The cabin was spacious, beds were very comfortable, the food delivery from the restaurant is a plus too!!
Nov 09, 2020
The property was very clean and the staff was wonderful. All hookups worked as they should. If it weren't for the poor WiFi it would be 5 stars!
Nov 09, 2020
It was a great weekend. The place is beautiful, the garden bountiful, and the people super friendly. Wayne cooked the best Ribeye we have ever had and we will definitely be camping with you again very soon!
Nov 09, 2020
Absolutely fantastic!!!
Nov 05, 2020
Beautiful RV park. Very friendly staff. Already book for next year.
Nov 04, 2020
Some roads on the grounds need to be paved.
Nov 04, 2020
Beautiful clean park. Loved it.
Nov 04, 2020
Being called a Resort you would expect basic Cable there was none. Also we had an extended stay 3 weeks and was out back in the least likely nice spot near live ins was told best spots are not given for extended stays. Unfortunately for these reasons we won't go back.
Nov 03, 2020
Wonderful camp site. Wonderful staff. My wife loved the fishing pond. I gave you five thumbs up because I couldn't give you six thumbs up.
Nov 03, 2020
Great place, excellent people running the KOA. Was greeted every morning by the workers and was thanked for staying there. Already booked another trip there. campground and bathrooms were kept very clean. Thanks for the great stay. Telling everyone I can to keep this place on trip in the area. The restaurant was excellent also.
Nov 03, 2020
Check-In was fast and easy. Our original site had some issues and we were directed to a different one immediately. No waiting at all. Impressed with the ease of the change.
Nov 03, 2020
The Halloween drive thru trick or treat and haunted house was great fun! The staff did a great job including everyone and making sure it was family friendly, especially for the young kiddos!
Nov 03, 2020
Canton KOA is by far the best one we have stayed at to date!!! There are so many different things to do and the amenities are top notch! Jana is a jewel! Sites are spacious and clean. There are even 2 black hookups at every site. Trash collected daily. Lots of space between all sites. And make sure to try the Q and Brew on site at the Silver Spur Resort next door.
Nov 03, 2020
Loved you did the Haunted Car Trail for the locals to come thru. Loved your Q & Brew restaurant. AND loved the musical group you hired (Zombies/Beetlejuice makeup). Seemed like we were the only ones the played to, but we really enjoyed them. We are very happy we picked your KOA out of all the RV parks we had to choose from!!
Nov 03, 2020
Beautiful campsite. Will stay here again!!
Nov 03, 2020
The roads are very narrow. The pull-through site #52 was short and narrow and the pad itself was very small. It had been raining and the grass was soaked, muddy and incapable of rapidly draining. Many of the roads are not paved yet. I also thought the food and drink prices at their restaurant were pretty high. There was also no fire ring. I will not stay at the Canton KOA park again.
Nov 02, 2020
It is a new KOA and still is under construction so roads are not finished and drainage is a real problem but hopefully during our next stay it will be great The staff is outstanding and the barbecue restaurant was great
Nov 02, 2020
It was wonderful. The staff was friendly, and we had the best time. The grounds were clean. The only concern was the restaurant; we ate there our first night at the KOA. I know the facility was new, but the food was not good. In fact, I had to send back my burger because it was so rare. The starter beans and cornbread was a nice touch. And the decor was kitschy-cute. Craft beers were good.
Nov 02, 2020
Everything was great. Will definitely be back
Nov 02, 2020
Very nice new campground. I understand it is a new and developing campground, but I would prefer to keep my bus on concrete the whole time. Some of the roads in the campground are not paved and when we arrived were covered in water due to recent rains. Those roads were muddy and messy. Hopefully these roads will be hard surface when we return next year. Otherwise, an excellent stay!
Nov 02, 2020
Great park, friendly accommodating staff, wonderful restaurant. Very clean and well run.
Nov 02, 2020
very nice. well kept. Only issue was the large mud holes we had to drive thru to get to our parking pad.
Jan 05, 2021
Brew and Q is a awesome place to eat the food and beer was great
- John Gibson on Google
Dec 31, 2020
Beautiful campground, emaculate facilities!!
- Ernie Turbyfill on Google
Dec 24, 2020
Very nice and friendly service, really enjoyed my night there while traveling west.
- Harold Honeyman on Google