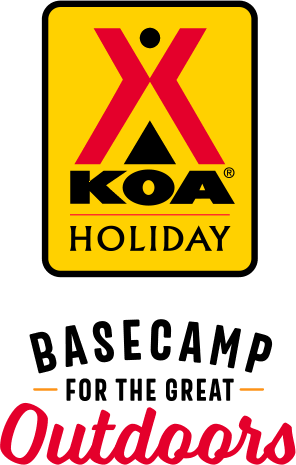 KOA Holiday Campgrounds
Whether you're exploring the local area or hanging out at the campground, KOA Holidays are an ideal place to relax and play. There's plenty to do, with amenities and services to make your stay memorable. Plus, you'll enjoy the outdoor experience with upgraded RV Sites with KOA Patio® and Deluxe Cabins with full baths for camping in comfort. Bring your family, bring your friends, or bring the whole group – there's plenty of ways to stay and explore.
KOA Holidays Feature:
RV Sites with a KOA Patio®
Deluxe Cabins with full baths
Premium Tent Sites
Group meeting facilities
Directions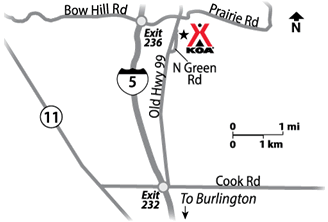 20 miles south of Bellingham. From I-5 Northbound Exit 232: North on old Hwy 99 3 1/2 miles. Southbound Exit 236: Left on Bow Hill Road, right on old Hwy 99.
Get Google Directions
Aug 16, 2021
Awesome KOA !!!!!!This is the BEST Campground Howard and Sunni are the BEST!!!! All the staff are so Friendly and helpful ..We choose this KOA over any in the State to stay at lots to do for Kids...:)
Aug 16, 2021
Very neat, clean and safe camp ground and the staff always go above and beyond the call of duty to help!
Aug 15, 2021
Two things other than spectacular… Could you please turn down the thermostat. Your guest policy leaves a bit to be desired and does not exploit another profit source. We'll be back next year.
Aug 15, 2021
Very nicely checked in. Very friendly. The bathrooms are amazing. Not real noisy.
Aug 15, 2021
We stayed in a camping cabin. It was very clean as were the facilities. We chose not to use the indoor pool as we are still in a pandemic. Our daughter enjoyed the grounds including the playground, bounce house and maze. Overall, a lovely little KOA. We would certainly stay there again once the pandemic is over. It's about a 20-25 minute drive from Anacortes and Deception Pass State Park.
Aug 13, 2021
There are 2 upgrades needed: 1. The bridge to the back section is treacherous and way too narrow 2. The sites, while nicely level and plenty of room, could be refreshed with new gravel or paved. Very nice and quiet. The bridge was the real issue for us that prevented us from rating higher.
Aug 13, 2021
Beautiful secluded campground off the beaten path but close enough to all the sights to see in the area. We loved this place and would definitely stay again.
Aug 12, 2021
I love the new section we have been coming to this kOA for years and it's wonderful to see the changes
Aug 11, 2021
First of all I would like to thank Ruthie and Mary for smooth check-in even though there were confusions around our reservation and last minute changes. Both helped us with a big smile all the time during check-in and waived the additional charges. I really appreciate it. We could not enjoy the stay due to rain but definitely we will go back and stay there. Thanks!
Aug 10, 2021
I was very nice, very clean. Hosts were friendly and informative, except posting that the pool wouldn't be open until noon on Sunday. We went home with a very disappointed grandson. Check out is 11 and pool doesnt open until 12? Other than that, all was good, we hope to be treated the same way in every KOA we visit.
Aug 09, 2021
It was ok. It seemed most amenities had a cost and the cost out weighed the products. I feel that if we are paying for the koa, mini golf, and game room should be free especially since the games were not top rated. We had to wait until 3 to get into our cabin sure to covid-19 and the extra cleaning involved, which I understand, however our room had spider webs and under the beds were not cleaned.
Aug 09, 2021
Campground in a beautiful area, the sites are large and the staff is friendly and Wi-Fi is great, a full 5G that worked wonderfully. Definitely will come back. Gil and Pam
Aug 09, 2021
The property was well taken care of and clean. The issue I had was needing to pay for a friend and his wife to come visit for a few hours. They are also staying at a KOA near by.
Aug 09, 2021
every one was very friendly and we had a great time
Aug 08, 2021
Great stay. Laundry was really expensive - 7 to 8$ a load… All quarters and no change machine - had to wait for store hours 10 am to get change - very inconvenient for a family.
CAMPGROUND RESPONSE / COMMENTS:
Not sure where you washed clothes, but our washers are $2 and dryers are $2. Did you ask for quarters the evening before you planned to wash? Maybe preplanning would have helped you.
Aug 07, 2021
Over all the camp site was very nice and the bathrooms were very clean. But they nickle and dime you too death. This area is near to our family and friends. It cost $10 per person to just come and visit for a couple of hours and have dinner. Didn't use any of their amenities.
Aug 07, 2021
Clean, quiet, friendly outdoor staff. Sites in the front section are too close together for the cost.
Aug 06, 2021
The campground was clean and very well maintained. However, I was charged $2 more per night than my reservation confirmation. The owner stated that the rates increased - no other explanation. She would not honor the reservation price. Also they changed the gate code and the bathroom codes in the middle of our stay and didn't let us know. Nothing like not being able to get into the campground
Aug 06, 2021
Nice place to stay at
Aug 06, 2021
Love this amazing KOA! What a gem in the Pacific Northwest. Convenient to everything you wish to do in the area. Lots of things for the kids to do to stay busy. New mini golf course is beautiful and so much fun. The charge for mini golf is $5.00 per person per DAY! Pay in the morning and play as many rounds during the day as you wish. What a bargain! My kids loved it. A must visit spot!
Aug 05, 2021
The main bathrooms were extremely clean and recently updated! We enjoyed camping in the grassy area with another family.
Aug 05, 2021
Beautifully clean and well maintained. The staff were very helpful and friendly. Five Stars ����
Aug 04, 2021
First time staying at this KOA. There was plenty of things for the kids to do, but too many restrictions. They don't allow visitors, but make exceptions for a $10 per person fee. Activities are overpriced, the arcade is nothing to speak of & they require a $10 deposit & signature just to play. Pool/hot tub heaters were broken the entire time. There is a code for all doors. We won't be returni
Aug 04, 2021
The campground is actually great. The front office, however, needs customer service. It wasn't even directed towards me, but directed towards other campers or on the phone. The ladies in the front are rude, aggressive, condescending and really unpleasant and unprofessional. Simple questions were met with aggression and lecturing. Sunny and Jim were top notch tho!
Aug 04, 2021
The staff are...a real treat. � We walked in on one gal yelling at a customer on the phone for asking a question about tents. YELLING. (Sunny & Jim were both amazing and really made our stay comfortable and fun.) They have lots of fun activities, foam party, pool, a creek, & clean bathrooms. Curfew is 10 (even on wknds) & don't you dare make a peep after, or Mr. Business will come and get ya.
Aug 03, 2021
While the campgrounds, bathrooms, and pool are well kept and very clean thats about where the positives end. They upped my rate and others the day I showed up for no reason. The cabin mattress is so hard It might as well have been the floor. The mini golf isn't free, and the real PIA is the door codes to the bathrooms. The last thing on my mind when I need to do my business is a passcode.
Aug 03, 2021
I have stayed at Burlington koa several times and have always been very happy with the experience. We chose this place for the heated pool but this time was a little disappointed, the pool was so cold we couldn't swim. We were never advised of this at check in.
Aug 03, 2021
Great stay. Staff was helpful and organized
Aug 02, 2021
Staff was friendly and helpful. Location was a perfect base camp for local hiking, casinos and general exploration/vacationing. Quiet and clean overall.
Aug 02, 2021
Very nice and quiet. Need cable to work however.......
Aug 02, 2021
An army of staff is making sure the place is well cared for (which it is). All staff people were so nice. The security guard even opened the store up for us after hours (around 8pm when they close at 6pm) so we could get some s'mores fixins. The only minor complaint is that the pool was pretty cold which is surprising since it's an indoor pool. But will we certainly return next year. Great place
Aug 02, 2021
They are very rude and cranky. They jump on me like I was going to scam them on their over priced campsites. If they would of kindly explained to me my misunderstanding I would of felt better.We felt like we were in a prison with all the rules. It was hard to relax. 5. Min down the road there is a Thousands Trails that are other group was staying in. We decided to hang out there.
CAMPGROUND RESPONSE / COMMENTS:
We accused you of trying to scam us?A bit confused since you registered 2 adults and 0 children per site. Of course you then registered the 2 children per site once questioned. Not to mention the many people you then snuck in.
Aug 01, 2021
We stayed 6 days & left a day early due to a pit bull running loose, aggressive lg dogs tied to truck bumpers that tried to attack our leashes dogs, and a pretty low class & campground. When I told the mgrs why we left early, they replied with defensiveness & anger. WILL NOT RETURN.
Jul 31, 2021
Welcome staff
Jul 31, 2021
A very nice park for kids! Lots for them to do. I do think they should let you pick your sites upon arrival among the available because they are so different by area. Really, WHY charge for early arrival, that's just greedy!!
Jul 30, 2021
Very clean cabin, quiet surroundings; didn't get to enjoy all the activities and amenities, but they looked very fun! Pool was a bit dirty the one time that my kids used it.
Jul 30, 2021
Campground itself is good. Much more space between sites than in typical KOAs. No highway noise. Disappointing that they charge for early checkin. We have never had that problem anywhere else.
Jul 29, 2021
My family traveled from Virginia Beach for a week's much needed vacation. We are so thankful we landed in one of the beautiful Deluxe Cabins at this KOA, Everything from the cabin, grounds, facilities and staff was AMAZING. This will be our go to spot on the West Coast!!! Thanks!
Jul 29, 2021
This is the best KOA experience we've had! Friendly staff, well kept grounds, and excellent WIFI.
Jul 29, 2021
Wonderful staff and a lovely campground.