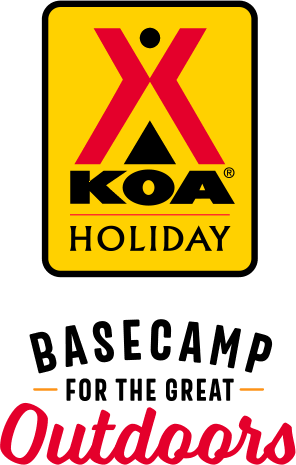 KOA Holiday Campgrounds
Whether you're exploring the local area or hanging out at the campground, KOA Holidays are an ideal place to relax and play. There's plenty to do, with amenities and services to make your stay memorable. Plus, you'll enjoy the outdoor experience with upgraded RV Sites with KOA Patio® and Deluxe Cabins with full baths for camping in comfort. Bring your family, bring your friends, or bring the whole group – there's plenty of ways to stay and explore.
KOA Holidays Feature:
RV Sites with a KOA Patio®
Deluxe Cabins with full baths
Premium Tent Sites
Group meeting facilities
Directions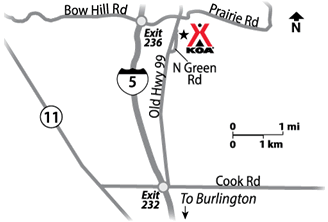 20 miles south of Bellingham. From I-5 Northbound Exit 232: North on old Hwy 99 3 1/2 miles. Southbound Exit 236: Left on Bow Hill Road, right on old Hwy 99.
Get Google Directions
Oct 19, 2021
Only complaint is that the pool/spa was closed which did not meet the online post which said closing Nov 1st. Also there is NO LIGHT on the back of the cabin which is the only place to prepare food. They need to install a gravel path to the backyard and lighting. Staff was super nice however and the cabin was well accommodated.
Oct 18, 2021
The site was very clean, quite and easy to get to. We rented the large cabin, it was very clean and well stocked. The customer service was excellent especially since we were there off season. We would definitely stay here again.
Oct 04, 2021
Room was good but we didn't like the strict checkout procedures and the fact that they were charging extra if someone checks out even a few minutes later than 11 am. We have never seen this in any other KOA and we have stayed in many other KOAs.
Sep 28, 2021
I was with the ladies' retreat group & the KOA folks were very kind to us. About the only things that I could ask for differently is some extended pool/spa time for our group & hold off on the pool chemicals until guests have checked out or do the pool servicing on off hours so that we could have full use of the pool & spa during our stay. Thank you!
Sep 28, 2021
It's always good to hear the great thing about this is they usually have places to stay and they have lots of fun things you can do there the restrooms are very clean the only thing that maybe can be better is the front desk people should smile more and be more friendly they do a good job but a little to anal
Sep 27, 2021
We had a cabin and it was cozy. Access to bathroom were close and easy to get too. There was plenty of space between site. Very clean and there was a real feeling of camping. Very clean, well kept grounds, and cabin had everything we needed. Will be back and will recommend to others, plus price was reasonable. I thank you KOA
Sep 14, 2021
This was my first time camping at a KOA campground, and camping in cabins. It was a wonderful experience. The cabins were comfortable and warm enough (without heat and in the rain) the bathroom and shower facilities were super clean and there were so many things for the kids to do. We will be back again for sure!
Sep 14, 2021
Very clean lodging and bathroom/showers, all amenities are great for kids. Had a great time !!!
Sep 11, 2021
We really like this KOA. Good location and a very good indoor pool. The resort is very well maintained. the employees are very nice. All RV resorts , the base price is for 2 adults and 2 children. This KOA the base price is for 2 people not 4. So the price is $65.00 for 2 and $5.00 to $10.00 for over 2. We had 5 people for $85.00 per night. TO EXPENSIVE. The miniature golf should be free.....
Sep 08, 2021
The grounds and cabin were very well kept and clean. The security was nice as well not something we have had before. However the mining, mini golf, bikes and Sunday Pancake Breakfast were extra costs despite having spent a good amount on the cabin already. The website was misleading in this regard. We stayed cause it look like there was a lot for kids to do which there was at extra cost.
Sep 07, 2021
Staff was friendly and nice. Grounds were nice but the times for things were not helpful. Office opens at 10 am closes at 6pm what if something happened or needed and the store is so bare ( nothing is in there )that if you ran out or forgot something The store is probably closed and won't have what you need and you will have to drive a few miles to get anything.
Aug 30, 2021
The cabin was nice and cozy and the bathroom and shower were very clean. We might never go back to tent camping.
Aug 30, 2021
The campsites were very clean and maintained. There were lots of fun things to do for the kids and everyone there was super polite and helpful. We had a wonderful time!
Aug 30, 2021
Clean bathrooms, a plus. But overall not the best KOA experience I've had.
Aug 29, 2021
Great location. Cabin was very clean.
Aug 26, 2021
We had a wonderful stay, the people there are friendly and very nice, and helpful. We had many conversations with the workers there in the mornings when we went for our morning walk. They keep everything so nice and clean in the park, it is so peaceful. The cabins are wonderful, very comfortable, always clean. The ladies in the office are very nice and helpful. We will be back again!
Aug 25, 2021
The cabin door latch was awful. Made terrible noises when you open and close the door! Wakes you up when you're asleep!
Aug 24, 2021
The park was clean and quiet but we were disappointed with our "deluxe cabin". It is placed right on the road behind what looks like a residence. We have stayed at alot of koas in the past, and the cabins are usually a small log cabin kit. This is the first time we have encountered trailers. You could feel the suspension when you walked around, it ooked and felt like a trailer. Not worth 160/night
Aug 23, 2021
Amazing customer service! All the people at the front desk were so helpful with everything we needed. The gentleman who cleaned the bathrooms/cabins was friendly and also very helpful. We will be back to Burlington again, we had nothing but wonderful experiences in large part thanks to the staff.
Aug 17, 2021
We are definitely used to more laid back KOAs, this one was a little on the strict side. Kind of felt like they didn't want us there. Everything was clean though and the cabin was in good condition. It was a bummer that the mini golf cost extra. Just wrap the cost into the campground fee and let people play. Also not allowing guests to come by for dinner was overly strict, too.
Aug 15, 2021
We stayed in a camping cabin. It was very clean as were the facilities. We chose not to use the indoor pool as we are still in a pandemic. Our daughter enjoyed the grounds including the playground, bounce house and maze. Overall, a lovely little KOA. We would certainly stay there again once the pandemic is over. It's about a 20-25 minute drive from Anacortes and Deception Pass State Park.
Aug 11, 2021
First of all I would like to thank Ruthie and Mary for smooth check-in even though there were confusions around our reservation and last minute changes. Both helped us with a big smile all the time during check-in and waived the additional charges. I really appreciate it. We could not enjoy the stay due to rain but definitely we will go back and stay there. Thanks!
Aug 09, 2021
It was ok. It seemed most amenities had a cost and the cost out weighed the products. I feel that if we are paying for the koa, mini golf, and game room should be free especially since the games were not top rated. We had to wait until 3 to get into our cabin sure to covid-19 and the extra cleaning involved, which I understand, however our room had spider webs and under the beds were not cleaned.
Aug 03, 2021
While the campgrounds, bathrooms, and pool are well kept and very clean thats about where the positives end. They upped my rate and others the day I showed up for no reason. The cabin mattress is so hard It might as well have been the floor. The mini golf isn't free, and the real PIA is the door codes to the bathrooms. The last thing on my mind when I need to do my business is a passcode.
Jul 30, 2021
Very clean cabin, quiet surroundings; didn't get to enjoy all the activities and amenities, but they looked very fun! Pool was a bit dirty the one time that my kids used it.
Jul 29, 2021
My family traveled from Virginia Beach for a week's much needed vacation. We are so thankful we landed in one of the beautiful Deluxe Cabins at this KOA, Everything from the cabin, grounds, facilities and staff was AMAZING. This will be our go to spot on the West Coast!!! Thanks!
Jul 27, 2021
My son and I took an unexpected trip to the PNW and chose this campground to stay 4 nights at. This is the very best get away we have had in a very long time. Beautiful, peaceful setting with amazing landscaping. The hard working staff were always onboard with a helping hand if needed. Thanks Burlington KOA for a remarkable visit. We will be back
Jul 19, 2021
We had a great stay. The park was quiet. Cabin was clean and my kids loved the bunk beds. They also loved all the activities!
Jul 19, 2021
We've stayed at this campsite often. Out of all of the KOA's near us, Anacortes/Burlington is our absolute favorite. We recommend the cabins to our friends often! The staff is incredible! Always friendly and cheerful. Best group of KOA staff I've ever seen. The campground is kept immaculately clean and it's such a lovely campground.
Jul 12, 2021
Best campground ever! We had such a great family weekend with our kids and grandkids with so much to do. The staff was so friendly and helpful. We plan to go back! Thank you for a great memory maker!
Jul 10, 2021
The deluxe cabin was clean and like new. Patio/fireplace was fantastic. Staff was kind and helpful. WiFi worked perfectly! This was an extremely quiet KOA campground, and even though we had 3 little kids with us, we never felt unwelcome. Would highly recommend and would stay again.
Jul 09, 2021
We had an amazing time! Everyone was so friendly and nice!
Jul 05, 2021
Office staff were SO FRIENDLY! Clean grounds and bathrooms.
Jun 24, 2021
Me and my family has the pleasure of staying in a deluxe cabin for a few days. The entire staff was friendly, polite and always had a smile. If you have kids this is the one stop vacation spot. Multiple playgrounds, inflatible maze and bouncy house. Put put golf and even a gem prospecting station that kids can pan for gemstones and fossils. Truly a family retreat. 100 out of 100.
Jun 16, 2021
Clean bathrooms and grounds. We spent most our time in the SJI, so unfortunately didn't get to use the amenities at the park. They sure seemed plentiful though!
Jun 15, 2021
The Cabin was clean and well maintained. That is all that was positive here. Unfriendly front desk staff, ridiculous pool and store hours. The race track nearby has cars racing until 10 PM. Left us more stressed after the weekend. The playground is very dated and has gravel all over, dusty and even dangerous for kids. The hot tub is old and was closed, probably for a while judging by the sign.
Jun 15, 2021
Very accommodating and friendly staff. The campgrounds and restrooms are very clean. Highly recommend this KOA.