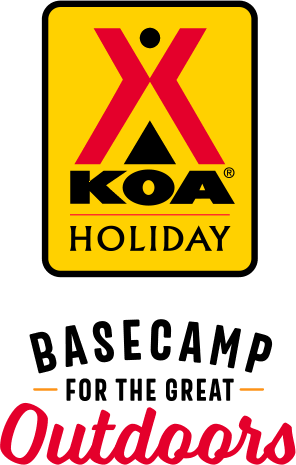 KOA Holiday Campgrounds
Whether you're exploring the local area or hanging out at the campground, KOA Holidays are an ideal place to relax and play. There's plenty to do, with amenities and services to make your stay memorable. Plus, you'll enjoy the outdoor experience with upgraded RV Sites with KOA Patio® and Deluxe Cabins with full baths for camping in comfort. Bring your family, bring your friends, or bring the whole group – there's plenty of ways to stay and explore.
KOA Holidays Feature:
RV Sites with a KOA Patio®
Deluxe Cabins with full baths
Premium Tent Sites
Group meeting facilities
Directions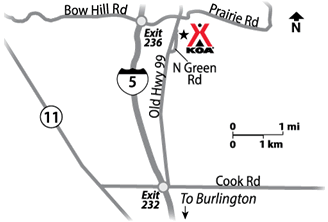 20 miles south of Bellingham. From I-5 Northbound Exit 232: North on old Hwy 99 3 1/2 miles. Southbound Exit 236: Left on Bow Hill Road, right on old Hwy 99.
Get Google Directions
Oct 20, 2021
In a bad part of town and NOT near Anacortes, as advertised.
Oct 19, 2021
Only complaint is that the pool/spa was closed which did not meet the online post which said closing Nov 1st. Also there is NO LIGHT on the back of the cabin which is the only place to prepare food. They need to install a gravel path to the backyard and lighting. Staff was super nice however and the cabin was well accommodated.
Oct 18, 2021
The site was very clean, quite and easy to get to. We rented the large cabin, it was very clean and well stocked. The customer service was excellent especially since we were there off season. We would definitely stay here again.
Oct 18, 2021
This koa is one of the best my family has experienced Durning our travel across 9 States. Very well runned, clean and heated washrooms new mini golf course and my kids loved there large playground. Highly recommend.
Oct 17, 2021
Cleanest and well kept KOA we stayed at all summer. Really nice Staff! Can't wait to stay again!
Oct 14, 2021
Looks like there is every fun activity here. But when we checked in the woman wrote the gate code and put a line thru the bathroom code. Turned out that a code was required but office wasn't open. I had to drive to a gas station. The next day another camper kindly gave us the code and said that they had to go back ask for it. It's expensive and I should not have to beg for the bathroom
Oct 14, 2021
Grounds were clean ,well maintained. Quiet
Oct 12, 2021
Beautiful place, loved seeing the squirrels, grand daughter enjoyed the playground, dog park was well cared for and parkway nicely maintained. We will be back
Oct 12, 2021
Stayed 2 days at this koa while our family was waiting covid test to cross the border to go home to alaska, This is the best koa we have experienced during our travel, super clean bathrooms, great security, well kept and staff was friendly the only downside was my kids being disappointed the indoor pool was closed for the season being a business owner myself i can completely understand the reason
Oct 11, 2021
Super awesome hosts that went above and beyond in making our weekend as much fun as it could be!! Our kids love the playground and walking around the park. The river is also fun for them. Well maintained and beautiful.
Oct 05, 2021
Great Koa! Very quiet and peaceful. The indoor pool and hot tub was fabulous. Extra fees for visitors was high and not expected. Still a great place though. Very clean and staff were great.
Oct 05, 2021
We enjoyed our stay and will return. The property is beautiful, expansive, and well maintained. There are a lot of amenities, including good WiFi. The only downside was extremely loud construction over our weekend that also affected our ability to come and go - but it was on the road next door, not within the control of the KOA. I highly recommend this location.
Oct 05, 2021
This was the maiden voyage for our family's first rv. This place was family friendly, the pool, mini golf and panning for gems was a huge hit. All the other campers were super friendly and there was a bunch of kids around the ages of our kids, so it was a win.
Oct 04, 2021
Room was good but we didn't like the strict checkout procedures and the fact that they were charging extra if someone checks out even a few minutes later than 11 am. We have never seen this in any other KOA and we have stayed in many other KOAs.
Sep 30, 2021
My husband and I arrived here in June following the sale of our home. We are building our new home in an HOA and needed to install septic prior to having the travel trailer on our property. We have enjoyed our stay here so much that we plan to stay until the completion of our home. All facilities are well maintained and cleaned by friendly/helpful staff. Howard and Sunny are wonderful owners.
Sep 29, 2021
The KOA RV Park was very good. Unfortunately it was raining during our stay. Would stay there again.
Sep 28, 2021
I was with the ladies' retreat group & the KOA folks were very kind to us. About the only things that I could ask for differently is some extended pool/spa time for our group & hold off on the pool chemicals until guests have checked out or do the pool servicing on off hours so that we could have full use of the pool & spa during our stay. Thank you!
Sep 28, 2021
We have stayed there a couple of times. Friendly staff and very clean facilities. Will be going back.
Sep 28, 2021
Burlington/Anacortes KOA is our go to camping home.
Sep 28, 2021
It's always good to hear the great thing about this is they usually have places to stay and they have lots of fun things you can do there the restrooms are very clean the only thing that maybe can be better is the front desk people should smile more and be more friendly they do a good job but a little to anal
Sep 27, 2021
We had a cabin and it was cozy. Access to bathroom were close and easy to get too. There was plenty of space between site. Very clean and there was a real feeling of camping. Very clean, well kept grounds, and cabin had everything we needed. Will be back and will recommend to others, plus price was reasonable. I thank you KOA
Sep 27, 2021
Great facilities. Some rate confusions for people in our group. We had a wonderful time.
Sep 27, 2021
Put in spot on main road directly across from what I assume is normally a community space that was taken over by a womens convention. We had those women smoking and laughing outside our camper all day and night. We have three kids and a dog and after a while it got really old having to be nice to a constant supply of smoking strangers and keep kids out of road. Pool was nice. Beware of spot#!
Sep 27, 2021
Always clean and the staff is amazing!
Sep 27, 2021
We were camping with friends and parked door-to-door and were told that it was against the rules to park that way "for safety reasons". We verified the rule in the information that we received at check in and turned around in order to comply with the rule but feel that it's a really weird rule and cannot determine what safety issue might be involved.
CAMPGROUND RESPONSE / COMMENTS:
Thanks for your review the safety issue is a tripping hazard having your electric and water hose running under your rig when everything is set up on the left side there has been accidents at our location in the past so we had to make this rule
Sep 24, 2021
The facility is clean and well maintained. There are a lot of things to do for families. The set up for large rigs is really nice with pull through sites. The only slight downside is the bridge to get to the back lot is narrow with quite a drop off that could cause issues for some rigs.
Sep 24, 2021
This is a fantastic campground!! We stayed there four days and i can't think of anything negative about this place! Big sites, very level, Grass and extremely clean!! Very well run with a friendly and helpful staff!!
Sep 24, 2021
Amazing park! You arrive as strangers and leave as friends/family. See you again soon
Sep 23, 2021
Stayed 2 nights with our 3 young kids and 2 dogs. Staff was amazing, campground was very clean, lots of stuff for kids to do. We'll be back!
Sep 22, 2021
Nice park, driving is a bit tight in places. No shade near our site. A convenient location. Required payment in full. On arrival we were charged for a price increase? Lost power on first night, no communication from the park. Patio sites are smaller than most. Sites were level, gravel. Bathrooms were very clean and heated!. Friendly staff.
Sep 22, 2021
Nice campground, your new mini golf course was awesome lots to do in the area.staff are friendly Will be back when in the pacific northwest.
Sep 22, 2021
If you want a clean, friendly campsite while touring the PNW, this is your spot. Convenient to local attractions and our go-to spot :) Amazing staff, manicured grounds and clean facilities/bathouse. Thanks once again
Sep 21, 2021
Friendly, helpful and great amenities - love this place!
Sep 21, 2021
Thanks for a great trip guys! Amazing campground with beautiful surroundings Close to everything. Plenty to do in the area and can come back and relax around the campfire with new friends/fellow campers. Clean bathhouse and showers. Excellent staff
Sep 20, 2021
Camp ground was very clean, the Hosts were very friendly & enjoyable to talk with. They went out of their way to make us feel welcome!!!! I will definitely return.
Sep 19, 2021
This place was wonderful! Friendly staff! Clean grounds! Definitely will be staying here again!
Sep 18, 2021
too many barking dogs
Sep 18, 2021
I spent the summer here as a workamper, when you choose a park to work and live at you want one that is comfortable, welcoming, secure, and well maintained. This park is all of that, Sunny and Howard and the rest of the staff are GREAT people. They have all become like family to me. The park is strict about rules but that is part of what makes this park so nice. It is quiet, safe, and friendly!
Sep 16, 2021
Nice place. Staff very friendly and helpful. Made reservation for two night stay months ago to take advantage of Free Night Stay. Arrived and was informed that manager of site decided they were now NOT going to honor the free night. No rxplanation, no apology and no contact by weak manager. I'll never return there, and I will make sure everyone that I know is well-informed about my experien
Sep 16, 2021
Fantastic koa! super clean the staff go beyond and above to make our first camping trip a wonderful experience. This koa has a security gate and onsite security guard so that made our family feel safe. We would highly recommend.
Sep 16, 2021
Great KOA. The Pacific Northwest is our favorite. Outstanding facility, amenities and employees. Thanks for a great visit. See ya again soon
Sep 14, 2021
The property is nice, we enjoyed our stay. We were not a big fan of the gravel and rock pet area, that is not something our dogs enjoy running on.
Sep 14, 2021
This was my first time camping at a KOA campground, and camping in cabins. It was a wonderful experience. The cabins were comfortable and warm enough (without heat and in the rain) the bathroom and shower facilities were super clean and there were so many things for the kids to do. We will be back again for sure!