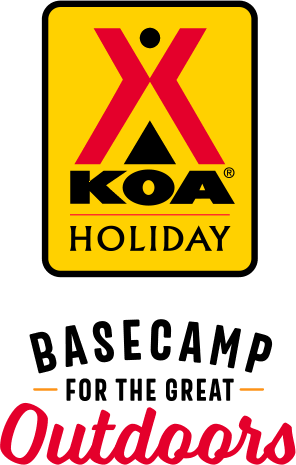 KOA Holiday Campgrounds
Whether you're exploring the local area or hanging out at the campground, KOA Holidays are an ideal place to relax and play. There's plenty to do, with amenities and services to make your stay memorable. Plus, you'll enjoy the outdoor experience with upgraded RV Sites with KOA Patio® and Deluxe Cabins with full baths for camping in comfort. Bring your family, bring your friends, or bring the whole group – there's plenty of ways to stay and explore.
KOA Holidays Feature:
RV Sites with a KOA Patio®
Deluxe Cabins with full baths
Premium Tent Sites
Group meeting facilities
Directions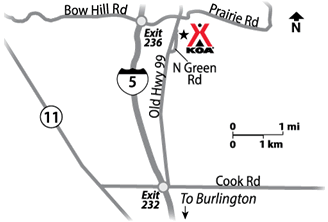 20 miles south of Bellingham. From I-5 Northbound Exit 232: North on old Hwy 99 3 1/2 miles. Southbound Exit 236: Left on Bow Hill Road, right on old Hwy 99.
Get Google Directions
Sep 21, 2021
Friendly, helpful and great amenities - love this place!
Sep 21, 2021
Thanks for a great trip guys! Amazing campground with beautiful surroundings Close to everything. Plenty to do in the area and can come back and relax around the campfire with new friends/fellow campers. Clean bathhouse and showers. Excellent staff
Sep 20, 2021
Camp ground was very clean, the Hosts were very friendly & enjoyable to talk with. They went out of their way to make us feel welcome!!!! I will definitely return.
Sep 19, 2021
This place was wonderful! Friendly staff! Clean grounds! Definitely will be staying here again!
Sep 18, 2021
too many barking dogs
Sep 18, 2021
I spent the summer here as a workamper, when you choose a park to work and live at you want one that is comfortable, welcoming, secure, and well maintained. This park is all of that, Sunny and Howard and the rest of the staff are GREAT people. They have all become like family to me. The park is strict about rules but that is part of what makes this park so nice. It is quiet, safe, and friendly!
Sep 16, 2021
Nice place. Staff very friendly and helpful. Made reservation for two night stay months ago to take advantage of Free Night Stay. Arrived and was informed that manager of site decided they were now NOT going to honor the free night. No rxplanation, no apology and no contact by weak manager. I'll never return there, and I will make sure everyone that I know is well-informed about my experien
Sep 16, 2021
Fantastic koa! super clean the staff go beyond and above to make our first camping trip a wonderful experience. This koa has a security gate and onsite security guard so that made our family feel safe. We would highly recommend.
Sep 16, 2021
Great KOA. The Pacific Northwest is our favorite. Outstanding facility, amenities and employees. Thanks for a great visit. See ya again soon
Sep 14, 2021
The property is nice, we enjoyed our stay. We were not a big fan of the gravel and rock pet area, that is not something our dogs enjoy running on.
Sep 14, 2021
Dog park in back all rocks, hard for dogs to walk on. No shade during day. Lots of room between RV spaces. Lots to see in the area.
Sep 14, 2021
Very clean campground, really enjoyed the stay. Staff was very friendly.
Sep 13, 2021
We enjoyed are stay, the grounds and the facilities including showers and restrooms were always immaculate during our stay. The owners Howard & Sunny along with all the staff are friendly, helpful and a pleasure to deal with. We always felt secure leaving our motorhome unattended when we left for the day or an overnight away. We stayed here from 7/1/21 ~9/11/21. George & Marceyle
Sep 13, 2021
We stayed here to access various bike rides in the area (i.e.: San Juan Islands). It was a great location for our intended plans. The campground was very nice and well maintained. We would stay here again when in the area.
Sep 13, 2021
Nice and well maintained facilities.
Sep 13, 2021
A little too expensive for the quality of park surroundings but overall nice with good service.
Sep 12, 2021
Thoroughly enjoyable. Looking forward to our next stay.
Sep 12, 2021
Howard is a gentle host! The facilities are very well maintained, showers and bathrooms very clean! The sites are very narrow, so if the campground were busy, your neighbors would be very close. It was nearly empty during our stay. Welcoming, friendly staff, but not wearing masks in the office with you. The location is in an industrial area.
Sep 10, 2021
very pleasant stay for a busy holiday weekend. plenty of space, staff was very friendly and helpful. clean restrooms and well maintained park. Thanks
Sep 09, 2021
Another wonderful experience staying at this KOA property. Very clean, quiet, easy access, friendly associates, we love to stay here. Can't wait to stay with you again next year. Thanks for everything!
Sep 08, 2021
We love camping at the Burlington KOA so we go back every Memorial & Labor Day weekends each year.
Sep 08, 2021
Enjoyed meeting everyone who we met during our stay. Great place to stay.
Sep 08, 2021
This is a super convenient location for us. The staff is very kind.
Sep 07, 2021
This place is fantastic! The staff is super nice and helpful. There are tons of activities for kids and families. We especially loved mining for gems and the foam party. We originally planned to do sight seeing in the area, but there was so much to do in the campground, we stayed there the entire time.
Sep 07, 2021
Park is nice. Disappointed that our two guests had to pay $20.00 to join us for dinner and leave the park by 7 PM especially since we already paid $70.00 a night for the stay.
Sep 07, 2021
We have stayed here before and we love staying at the campground. Look forward to coming again.
Sep 07, 2021
I have so many words to describe this campground! AMAZING, AWESOME EMPLOYEES, SPOTLESS CLEAN BATHROOMS, ACCOMMODATING. The employees go over and above to make our stay incredible. Employees always on the move to make sure things are as we expected. Great job Guys!
Sep 07, 2021
They could turn the pool up a couple degrees but other than that worth the money. Staff is great and facilities are well kept.
Sep 07, 2021
Fun weekend with most of the amenities open now. Very clean campground
Sep 07, 2021
nice park with a great staff !
Sep 07, 2021
Meticulously maintained RV Park with friendly and helpful staff. We loved staying here!
Sep 02, 2021
Traveling with our new trailer. This KOA is easy to navigate. This KOA is centrally located to many sites in the area.
Sep 01, 2021
Staff is VERY friendly and the campground is ALWAYS immaculate.
Sep 01, 2021
Having not stayed at Burlington KOA for many years, we were extremely pleased at the updating and increased campsites. Every staff person was pleasant and very friendly. We will definitely be back sooner.
Sep 01, 2021
We had our maiden voyage with our little vintage trailer. The staff was as excited as we were. We met some of the nicest camp staff ever. The foam party was the best!!!! The campground and facilities were spotless. We will be back
Sep 01, 2021
Very clean park. Friendly staff. Would go back.
Aug 31, 2021
We have always loved to stay here, but the terrible price is ridiculous. We are members, and asked for 2 spots together for us seniors and our daughter and son-in-law. We were charged $15.00 cause we requested a certain spot, but we only asked for close together if possible. We were both charged the $15 extra. Not a bit happy with the prices you charge. Bob & Karen Knapp Brandon & Keri Powell
Aug 30, 2021
We were invaded with sugar ants coming out of the crack in the "patio". I mentioned in to one of the men driving around the site. He came over and sprinkled something. I asked if it was safe for my dogs. He had no clue. I read the label and couldn't find anything saying it was safe. After he left, I had to clean the patio off so I wouldn't end up with dogs in the vet. Otherwise, a nice s
Aug 30, 2021
Dog poo everywhere, rv sites way to close together, filthy playground equipment, signs everywhere with don't do this don't do that which included yellow highlighter to emphasize the "NO's" just in case you didn't understand. Will not be going back nor would I recommend this KOA to anyone.
Aug 30, 2021
It is a nice RV camp. It's dated and the sites need to be freshened up. The grass is dead between sites. We felt safe and it's away from a busy highway making it quite.
Aug 29, 2021
Clean and quiet. The staff was helpful and kind We will come back
Aug 28, 2021
Wonderful, clean and friendly staff. Perfect place for us.
Aug 28, 2021
Very nice ladies in the office. Alot to do to stay busy lots of improvements highly recommend home away from home.
Aug 28, 2021
Great time camping. We love the pool and hot tub! The staff is awesome and facilities are always very clean.