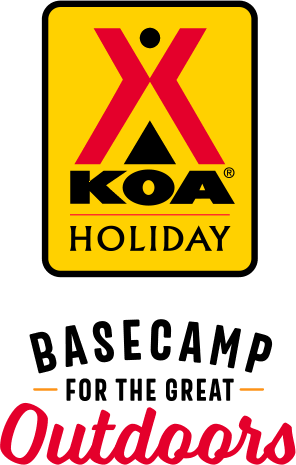 KOA Holiday Campgrounds
Whether you're exploring the local area or hanging out at the campground, KOA Holidays are an ideal place to relax and play. There's plenty to do, with amenities and services to make your stay memorable. Plus, you'll enjoy the outdoor experience with upgraded RV Sites with KOA Patio® and Deluxe Cabins with full baths for camping in comfort. Bring your family, bring your friends, or bring the whole group – there's plenty of ways to stay and explore.
KOA Holidays Feature:
RV Sites with a KOA Patio®
Deluxe Cabins with full baths
Premium Tent Sites
Group meeting facilities
Directions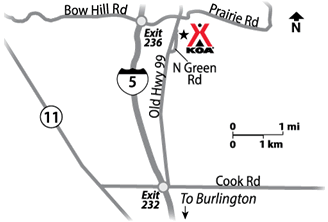 20 miles south of Bellingham. From I-5 Northbound Exit 232: North on old Hwy 99 3 1/2 miles. Southbound Exit 236: Left on Bow Hill Road, right on old Hwy 99.
Get Google Directions
Aug 22, 2021
It was great the first night but the second night a huge group came and set up multiple tents. Even though your website says one small tent for sites. They took over the whole tent area and were extremely loud all night. They got up at 6 am and were very noisy. I will still come back. My 3 year old loved it. But we will never stay in a tent at this koa again. I will rent a cabin next time.
Aug 02, 2021
They are very rude and cranky. They jump on me like I was going to scam them on their over priced campsites. If they would of kindly explained to me my misunderstanding I would of felt better.We felt like we were in a prison with all the rules. It was hard to relax. 5. Min down the road there is a Thousands Trails that are other group was staying in. We decided to hang out there.
CAMPGROUND RESPONSE / COMMENTS:
We accused you of trying to scam us?A bit confused since you registered 2 adults and 0 children per site. Of course you then registered the 2 children per site once questioned. Not to mention the many people you then snuck in.
Jul 27, 2021
Great place for the family
Jul 19, 2021
Tent site 97 was very close to the road and neighboring barking dogs. Would have preferred more space between tent sites. The amenities were great and very kid friendly. Will definitely be back but bring a camper next time.
Jul 19, 2021
Small tent sites, but great facilities & service.
Jun 01, 2021
DONT go here. Very rude women at the desk. Amenities are old & worn down. Badly need replacing. Greedy KOA. No visitors. No military discount. Tiny ice bags. Miserable stay. Tent sites are 5 feet from playground & 2 feet apart. Not relaxing. Screaming kids & rocks being thrown from 8am-9pm. No outside wood. $7 a bundle for 4-5 small "logs" cost $$$. Store is dirty & empty. Will never come ba
Aug 18, 2020
While the staff are nice, the campground is near a loud and busy road. Across the road from the campground is a loud and busy residence, with loud barking dogs and trucks, and obnoxious political signs. The playground is great, and we enjoyed our time there, but we will camp elsewhere in the future.
Aug 04, 2020
Most described items and activities that were said to happen during our stay never happened! WiFi service was very slow. If you are tent camping you better whisper so you don't get complained about especially if you have more than one child!
Aug 03, 2020
Easy check-in, and appreciated that they accommodated a late check-in. Very convenient to areas of interest. Tent sites are a bit small and packed close together. Located near cow farms, so there was an associated smell wafting through at times, but it wasn't too bad. Very clean site and restroom facilities.
Jul 27, 2020
My family had a great time at this KOA. The staff was extremely helpful and so friendly. My kids can't wait to go back again.
Sep 03, 2019
Friendly, clean, family friendly, would definitely recommend to others to stay here.
Sep 03, 2019
The remodel to the restrooms was very nice. Not much grass for #97, mostly dirt. Need tent sites away from the noisy kid area.
Sep 03, 2019
The campground is generally clean and well taken cared. The owners are friendly & they live in the site which is an advantage. Most of all, I like the activities that are geared mostly towards kids.
Aug 19, 2019
The staff was mostly super kind there was only one lady that wasn't the most friendly but she was only there right when we checked in. The rest of the staff that was there all weekend was amazing! The ladies at the main desk/store were kind and funny. The men working around the campsite were kind and very helpful. Very clean site. Rootbeer Floats on Saturday made the trip even more fun.
Aug 06, 2019
Very clean and well maintained showers and bathrooms. Great amenities/activities on site. Camp site was quiet at night meaning we could all get some sleep :) Overall we really enjoyed our stay and are considering coming back again next year. One minor problem - the large "Trump/Pence - No More Bullshit" banners on the business/residence opposite the office. Might seem unwelcoming to minorities.
Aug 05, 2019
My family loved it will be back soon.