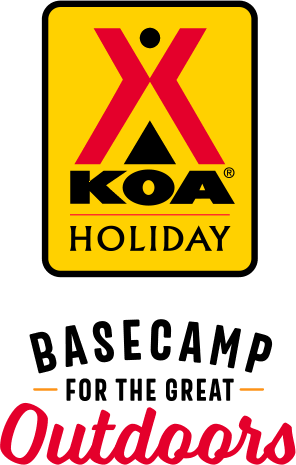 KOA Holiday Campgrounds
Whether you're exploring the local area or hanging out at the campground, KOA Holidays are an ideal place to relax and play. There's plenty to do, with amenities and services to make your stay memorable. Plus, you'll enjoy the outdoor experience with upgraded RV Sites with KOA Patio® and Deluxe Cabins with full baths for camping in comfort. Bring your family, bring your friends, or bring the whole group – there's plenty of ways to stay and explore.
KOA Holidays Feature:
RV Sites with a KOA Patio®
Deluxe Cabins with full baths
Premium Tent Sites
Group meeting facilities
Directions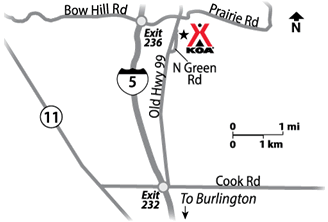 20 miles south of Bellingham. From I-5 Northbound Exit 232: North on old Hwy 99 3 1/2 miles. Southbound Exit 236: Left on Bow Hill Road, right on old Hwy 99.
Get Google Directions
Aug 30, 2021
The cabin was nice and cozy and the bathroom and shower were very clean. We might never go back to tent camping.
Aug 30, 2021
The campsites were very clean and maintained. There were lots of fun things to do for the kids and everyone there was super polite and helpful. We had a wonderful time!
Aug 30, 2021
We were invaded with sugar ants coming out of the crack in the "patio". I mentioned in to one of the men driving around the site. He came over and sprinkled something. I asked if it was safe for my dogs. He had no clue. I read the label and couldn't find anything saying it was safe. After he left, I had to clean the patio off so I wouldn't end up with dogs in the vet. Otherwise, a nice s
Aug 30, 2021
Clean bathrooms, a plus. But overall not the best KOA experience I've had.
Aug 30, 2021
Dog poo everywhere, rv sites way to close together, filthy playground equipment, signs everywhere with don't do this don't do that which included yellow highlighter to emphasize the "NO's" just in case you didn't understand. Will not be going back nor would I recommend this KOA to anyone.
Aug 30, 2021
It is a nice RV camp. It's dated and the sites need to be freshened up. The grass is dead between sites. We felt safe and it's away from a busy highway making it quite.
Aug 29, 2021
Great location. Cabin was very clean.
Aug 29, 2021
Clean and quiet. The staff was helpful and kind We will come back
Aug 28, 2021
Wonderful, clean and friendly staff. Perfect place for us.
Aug 28, 2021
Very nice ladies in the office. Alot to do to stay busy lots of improvements highly recommend home away from home.
Aug 28, 2021
Great time camping. We love the pool and hot tub! The staff is awesome and facilities are always very clean.
Aug 26, 2021
Stayed for a week and park was clean we were in the pull through site bathrooms and showers clean. Water pressure was on the low end but worked fine. They have a security gate with a keypad to get in. A little bit on the low side have to get out to push the buttons. I drive a jeep so it is taller than a car also my left arm does not work. Next trip will have a helper stick to push the buttons
Aug 26, 2021
We had a wonderful stay, the people there are friendly and very nice, and helpful. We had many conversations with the workers there in the mornings when we went for our morning walk. They keep everything so nice and clean in the park, it is so peaceful. The cabins are wonderful, very comfortable, always clean. The ladies in the office are very nice and helpful. We will be back again!
Aug 26, 2021
Clean, quiet, beautiful location, friendly staff and guests.
Aug 26, 2021
Warning- your fee to stay doesn't cover using any the activities which are extra charges. Even had to pay to have a local friend join me for dinner at the site. The women in the store /check in were rude and bitter. And they would close early/open late. Fire pit location at the site was poorly thought through and created a hazard. Has to sign a waiver that we wouldn't cook in the cabin
CAMPGROUND RESPONSE / COMMENTS:
Totally confused on this review. You were in a water power rv site.You would not have to sign a waiver for cooking in a CABIN.cooking in your rv is FREE and allowed. All activities are free except mini golf which is $5 per DAY per person.
Aug 25, 2021
Great Staff, very skilled and knowable! Enjoyed our stay greatly. Extremely well maintained, sites are comfortable with easy access and great hookups. One of the nicest and best KOA RV parks we have stayed at. Wish the park could add cable TV.
Aug 25, 2021
The cabin door latch was awful. Made terrible noises when you open and close the door! Wakes you up when you're asleep!
Aug 24, 2021
The park was clean and quiet but we were disappointed with our "deluxe cabin". It is placed right on the road behind what looks like a residence. We have stayed at alot of koas in the past, and the cabins are usually a small log cabin kit. This is the first time we have encountered trailers. You could feel the suspension when you walked around, it ooked and felt like a trailer. Not worth 160/night
Aug 24, 2021
So much to do for the kids! Overall was very clean, and beyond helpful staff always ready to go! We'll be back!
Aug 24, 2021
Sites are close together. Management is hyper-vigilant, not in a good way. Watch through security cameras then send staff in the cart to inform you of your real or imagined rule infractions. While all hookups work well, and other guests are friendly; won't be back.
CAMPGROUND RESPONSE / COMMENTS:
So sorry that a guest witnessed your dog messing in the dog park and you did not pick it up. Actually there is a sign on the fence that there is a $250 fee for such an act. Luckily we asked you to clean it up instead of charging you.
Aug 23, 2021
Great stay. Beautiful part of our country. Weather was fabulous. Golf was fantastic.
Aug 23, 2021
GREAT LOCATION, SO MANY THINGS TO SEE AND DO NEARBY, WILL BE BACK FOR SURE
Aug 23, 2021
it was my wife and i first stay at the koa. we really enjoyed the place. the staff was awesome, very friendly. the campgrounds we very nice and very clean. good place for the whole family. nice playground and lots of things for kids. WE WILL BE BACK TO STAYAGAIN
Aug 23, 2021
Amazing customer service! All the people at the front desk were so helpful with everything we needed. The gentleman who cleaned the bathrooms/cabins was friendly and also very helpful. We will be back to Burlington again, we had nothing but wonderful experiences in large part thanks to the staff.
Aug 23, 2021
The park is clean and well maintained. It s a very nice, family friendly place to stay.
Aug 23, 2021
This place is great. We loved it so much we extended our stay by two days. The staff is so incredibly nice and friendly.
Aug 23, 2021
Spots were a little close, but the campground and staff were awesome!!
Aug 23, 2021
We Loved our stay our Grandkids especially Loved it! This was Grandkids Camping Weekend and we would have normally gone on an outing on Saturday but there was so much to do and the camp they didn't want to leave! Swimming! Amazing playground! Bounce pad! And so much more Thank You So Much we will be back for sure!!!!
Aug 22, 2021
It was great the first night but the second night a huge group came and set up multiple tents. Even though your website says one small tent for sites. They took over the whole tent area and were extremely loud all night. They got up at 6 am and were very noisy. I will still come back. My 3 year old loved it. But we will never stay in a tent at this koa again. I will rent a cabin next time.
Aug 20, 2021
The campground is beautiful. The owners and staff work hard and are responsive to campers needs. There are lots of fun things for kids. We have had several extended stays here and always look forward to our time here.
Aug 20, 2021
Very quiet and nice park. Very nice staff.
Aug 18, 2021
Great place to have a base camp to go to the area's attractions. Friendly, helpful staff with clean facilities.
Aug 18, 2021
A park with rules and regulations that are enforced. We felt safe. The Park was very clean.
Aug 17, 2021
We are definitely used to more laid back KOAs, this one was a little on the strict side. Kind of felt like they didn't want us there. Everything was clean though and the cabin was in good condition. It was a bummer that the mini golf cost extra. Just wrap the cost into the campground fee and let people play. Also not allowing guests to come by for dinner was overly strict, too.
Aug 17, 2021
Great place. Quiet and peaceful. Very organized check in. Only downside was the entrance and parking for check in process. If there wasn't a road closure that forced a different route to entrance all would be good..
Aug 17, 2021
Very nice spacious sites in the rear of the park with no trees overhead. Loved visiting the local area and North Cascades National Park.
Aug 17, 2021
Great campground, plenty of room, only thing the gate keypad was at the height for a mini cooper.
Aug 17, 2021
Enjoyed my visit to the Skagit valley lots to do in the area wale watching, hiking and casino 3min away my kids enjoyed the foam party and new mini golf this koa is well kept and washrooms very clean wonderful and friendly staff I do wanna say thank you to your security for making my family feel safe he is top knotch and don't miss anything. "BE AWARE" I highly recommend this koa.
Aug 17, 2021
This KOA is one of our favorites. Quiet, clean, and well kept.
Aug 17, 2021
Everyone in the office was SUPER HELPFUL when we wanted to extend, when we needed change for the laundry, etc. The laundry and bathrooms were very clean! The location is convenient to both Bellingham and Anacortes. We enjoyed our stay a lot.