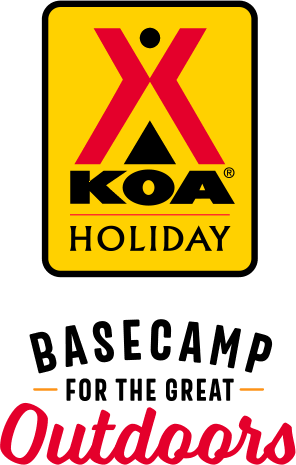 KOA Holiday Campgrounds
Whether you're exploring the local area or hanging out at the campground, KOA Holidays are an ideal place to relax and play. There's plenty to do, with amenities and services to make your stay memorable. Plus, you'll enjoy the outdoor experience with upgraded RV Sites with KOA Patio® and Deluxe Cabins with full baths for camping in comfort. Bring your family, bring your friends, or bring the whole group – there's plenty of ways to stay and explore.
KOA Holidays Feature:
RV Sites with a KOA Patio®
Deluxe Cabins with full baths
Premium Tent Sites
Group meeting facilities
Apr 06, 2021
wonder experience!!
Apr 05, 2021
Campground was clean and beautiful. Love the "Adventure Golf".
Apr 05, 2021
This was our very first outing! Staff and fellow campers were so friendly and helpful. Great putt putt, bathrooms, and playground upgrade! The river & birds were awesome too.
Apr 05, 2021
Everyone, staff and campers were friendly and relaxed. A much needed oasis.
Apr 04, 2021
We showed up on the first day of the season and was pleasantly surprised! It was very clean, great spaces. Easy to maneuver a 35ft rv towing a car. We will definitely visit again!
Apr 03, 2021
We were really pleasantly surprised at how nice this campground is. We had a nice pull through spot, close to the most clean private showers. We played miniature golf, basketball, walked the gorgeous grounds. Shopped the store for items we forgot to pack. Seriously. This spoiled us for the rest of our trip.
Apr 03, 2021
Even though we stayed only for 1 night, we were impressed with the condition of Billings KOA. It had a resort feel to it. I think in the Summertime, it would be a great place to stay and use all the amenities.I loved the shower facilities and no need for quarters! The office staff was so friendly. Close to town but a world away. Very quiet and serene.
Nov 02, 2020
Loved our stay there.
Oct 31, 2020
Are stay was great and the facility was clean. The only thing I wish was they were open Year around and that we didn't have to turn our water off at night due to cold weather. There are lots of good products to prepare for snow. The other thing is it would have been great if the office had a list of services RVers use/need like Simone that comes to the park and refills propane. Park was grea
Oct 30, 2020
Park had many open sites, but we were put between two long-term campers whose sites were very cluttered and trashy. Our site had trash throughout and pets from the two sites had urinated all over our site. Showers were great though
Oct 29, 2020
we had a nice stay.
Oct 27, 2020
Wonderful bathrooms and showers. Nice people too!
Oct 26, 2020
Was very thankful that you were open and we were fortunate to be there as the weather was nasty but we had a safe place and all the comforts of home
Oct 25, 2020
The weather was less than desirable but the campground was very nice. We would like to come back sometime in the warmer weather so we could take advantage of the nice facilities there!
Oct 25, 2020
I don't think I should be paying full price for a "full hookup" site if I am being asked to disconnect my water every night
Oct 24, 2020
Nicest bathrooms since Virginia! Beautiful setting. Close to resources
Oct 23, 2020
At night the road is not well marked drove through site thought it was the road at first. When we got to site trash on table and ground. Dog park trash can over flowing onto the ground. Need to clean their roads after it snows. Positive is that it is close to freeway and is well marked.
Oct 22, 2020
I'd give 5 stars if it wasn't for the construction. To be fair I stayed in the off season & that obviously is the best time to do it. The place was scenic with well appointed facilities that where clean.
Oct 20, 2020
This is the best campground in the world, even beats the mountains. The staff are the best and the campground is very clean and well kept. Thanks to the staff and owners for a wonderful time. You WILL see us again.
Oct 20, 2020
Rating the shower, 1-10, with 10 being the best, I would rate the shower facilities a 15! The best I have ever seen. As a plumber, one issue. The placement of the urinal, in the shower room, should have a manual flush valve on it. Instead it has an automatic sensor type flush valve so everytime you moved in the shower room the urinal would flush, wasting a lot of water.
Oct 20, 2020
Things were fine for a late season one night only stay. It would have been helpful if at our afternoon check in time we had been informed that the water system in our part of the park would be shut off and drained at 9 a.m. the following morning. Fortunately having some water on board our rig worked out. We would stay again on a future trip through Montana.
Oct 19, 2020
We had a nice stay here.
Oct 19, 2020
Planned to stay 1 night, high winds caused me to stay a second night. Nice campground......should be since it is the 1st KOA to be built.
Oct 18, 2020
Excellent facility. Big rig friendly. Next to Yellowstone River. We will be back yearly!!
Oct 18, 2020
Very nice campground.
Oct 18, 2020
This flagship KOA is the best one we've been to.
Oct 17, 2020
My first stay there was wonderful. The second time I was put right next to where they had heavy equipment running and I didn't get the vest sleep.
Oct 17, 2020
Due to car trouble, we needed a last minute spot late in the evening. Billings KOA responded immediately. Paperwork was waiting as promised when we arrived. We were given a beautiful remote site. The shower and bathroom facilities were immaculate. Literally could not have asked for a better experience.
Oct 16, 2020
Much quieter than previous parks. Easy access and friendly, helpful staff.
Oct 16, 2020
Great campground. I would definitely return here for a longer stay.
Oct 15, 2020
The place itself seemed to be well kept and clean and the staff attentive and helpful. The only negative was we asked for a local pizza place recommendation and got one from the staff member which added they will deliver to your site. We placed an order and nothing was delivered. I am working with my Credit card to get a refund. Real damper on the stay. Otherwise nice place.
Oct 14, 2020
Very nice stay. Note that the electric box and water valve were very close together and cover on electric box is difficult to open. It is very difficult to call to make of change reservations. It took 29 attempts over 6 hours to talk to someone. p.s. not everyone wants or desires to use a computer and you can't change a reservation on the computer.
Oct 14, 2020
Great site with nice patio! Very well kept!
Oct 14, 2020
This was our first stay ever in a KOA and our expectations were exceeded. The washrooms were immaculate, as were the showers. We appreciated your willingness to move us when we asked for a little more space. The view of the one and mountains were a pleasant surprise when we woke up, (we arrived in the dark.) overall great experience!
Oct 13, 2020
We stayed only one night but found the campground well maintained with level, easy access site. No complaints.
Oct 13, 2020
The property is lovely with a lot of grass, mature trees, and wildlife. Everything was in good working order, and the staff was friendly. Our site type was downgraded with no notice - we just got to our site, found no sewer hookup, and then found a refund email. It would have been nice to have known from them. Construction started early in the morning during our visit. WiFi very limited.
Oct 12, 2020
We really liked the deluxe patio and location near the river. The pull through site was a little tight for our 41 ft. RV in that there wasn't much room to park our tow vehicle.
Oct 12, 2020
The staff at Billings KOA is always friendly, helpful and professional! We have stayed at this KOA location on several occasions and have always enjoyed our experience. COVID-19 restrictions put a slight damper on available activities, e.g., the swimming pool, but we were able to enjoy those activities still available. Will continue to visit this KOA facility in the future.
Apr 10, 2021
Clean, friendly staff. Will definitely be back and highly recommend.
- Jennifer Frantzich on Google
Apr 07, 2021
Located along the Yellowstone River, this is the nicest KOA we've ever stayed at. The grounds and facilities are immaculate and the bathrooms/showers are spotless with modern finishes. We highly recommend it.
- Mike and Karen Wright on Google
Apr 06, 2021
We stayed April 1 and we're aware we would not have a full hook up. The showers are private rooms and very modern and clean, in fact so nice that it spoiled the rest our trip. We really enjoyed the miniature golf - played 2 rounds. The spots might be small, but they are nearly level & have swings, tables and fire pits. Well maintained and enough space for our pop outs. We felt like we had enough privacy for sure.
- JulietteND on Trip Advisor