Billings KOA Holiday Recreation
Activities generally run from Memorial Day to Labor Day, and offer a great way for kids and parents alike to get outside and enjoy some fun. Our Adventure Golf is $5/person and our Fun Cycles are $6/half hour, or you can purchase a $10 wristband which allows unlimited access to both Adventure Golf and Fun Cycles for the day. 
Trailhead Adventure Golf Summer Hours: 7am - 10pm
Fun Cycle Summer Hours: 4pm - 9pm (last rentals 8:30pm)
Pool & Hot Tub Summer Hours: 9am - 10pm
Yellowstone Yum Yums Summer Hours: 6pm - 9pm
Horseshoes Summer Hours: 7am - 10pm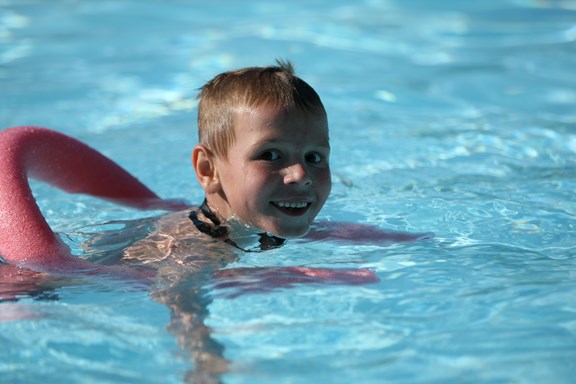 Heated Swimming Pool & Hot Tub
What better way to unwind and enjoy a warm summer afternoon than by taking a dip in our heated pool, or a soothing soak in the hot tub. Situated on the bank of the Yellowstone River, our pool is the perfect place to soak up the sun. It wont take you long to understand why Montana is called "Big Sky Country" while spending some time relaxing by our pool.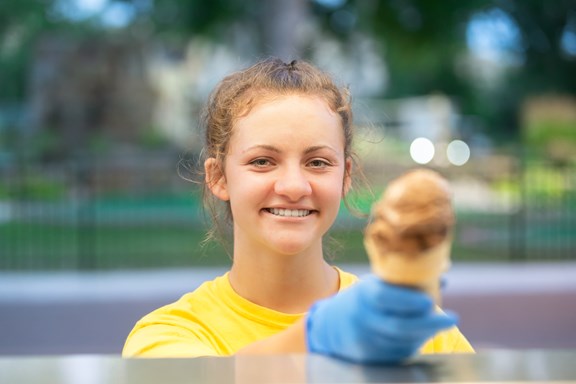 Ice Cream Social
In the summertime we have a real treat in store for you! When evening rolls around we serve up Wilcoxson's Ice Cream. Locally made right here in Montana with flavors to tempt any sweet tooth, such as Moose Tracks and Chocolate Runs Thru It. And of course you know you're in Montana when you try Huckleberry ice cream the way Wilcoxson's does it. The only thing left is to decide, one scoop or two?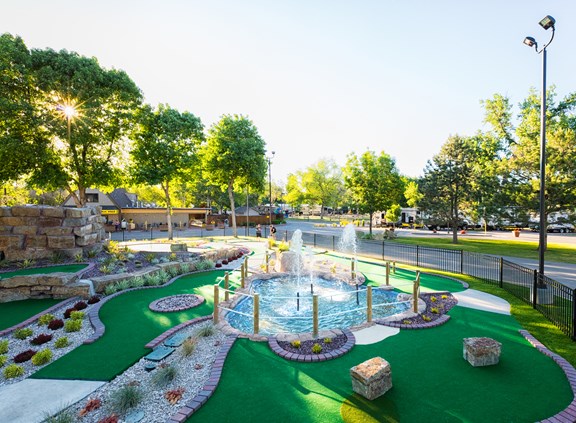 Trailhead Adventure Golf
Brand new in 2016 Trailhead Adventure Golf offers our guests with a fun and challenging experience that will leave them hooked and wanting to play again. Comprised of 18 holes the course is sure to be a highlight with people of all ages.  The cost to play is $5/person or take advantage of our $10 activity band which provides unlimited access to the course for the whole day.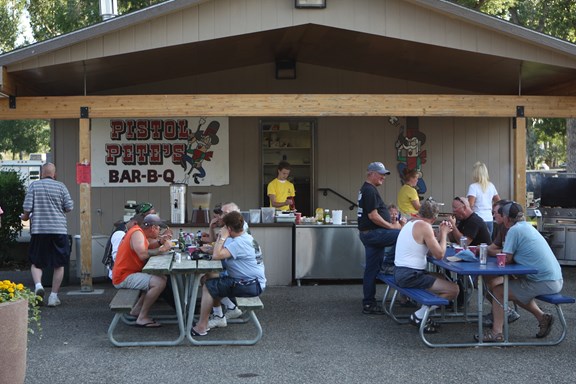 Pistol Pete's Pancake Breakfast & Evening BBQ
Don't exactly feel like cooking for everyone while you're on vacation? No problem. Leave the hassle to us and enjoy a great made to order meal while you relax and enjoy your vacation. Located in the heart of the campground is our charming sidewalk cafe called Pistol Pete's. Serving up hearty breakfasts and delicious dinners in the summer months is our specialty! Great Campground Activities
Game Room Basketball Court Horseshoe Pit Two Playgrounds