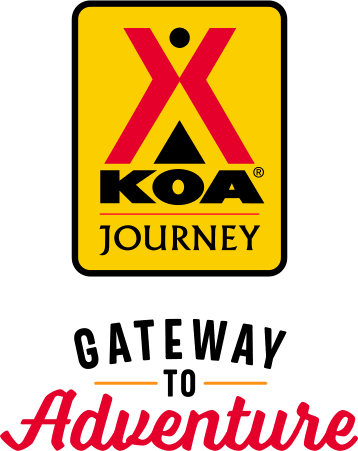 KOA Journey Campgrounds
KOA Journey campgrounds are the perfect oases after a day on the road. Whether it's along the way or a quick getaway, they've got you covered. Located near the highways and byways of North America with long Pull-thru RV Sites, they deliver convenience to the traveling camper. Pull in, ease back and take a load off.
KOA Journeys Feature:
Pull-through RV Sites with 50-amp service
Premium Tent Sites
Well lit after hours check-in service
Directions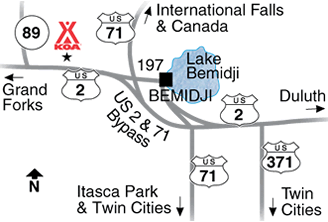 1 mile west of Bemidji, north side of Hwy 2. Between mile marker 109 and 110.
Get Google Directions
Jun 17, 2019
We love this campground we come back once or twice a year
Jun 16, 2019
Sites were easily accessible & spacious. Staff courteous & helpful. We appreciated the security.
Jun 15, 2019
Excellent stay. Added another day because of the warm welcome by Sharon and John! Well stocked store, cute and clean facilities, and a great pull through site! Adults and kids were enjoying the heated pool and others just relaxing at their campfires. A great stay!!!
Jun 14, 2019
Clean nice campground and owners and staff all very accommodating and very easy to get along with would stay here again and would recommend to freinds
Jun 14, 2019
We ask for a 30 amp site but when we came to check in, was told that only a 50 amp was available so we were charged for that and wouldn't switch us because "there was none available because they were booked up". The next morning we saw that the campground had many sites that were open to accommodate our request and for 3 days it was maybe 1/4 of the sites occupied. Very disappointed .
CAMPGROUND RESPONSE / COMMENTS:
We only allow 50 amp rvs to go in 50 amp sites not 30 amp sites
Jun 11, 2019
Very well managed campground, clean, and with extra activities for families and seniors. I highly recommend this facility.
Jun 10, 2019
staff was great. Cabin had an ant issue and we were a little disappointed with the cleanliness of the cabin
CAMPGROUND RESPONSE / COMMENTS:
In the future if there is a problem let us know when you are here so we can try to correct the issue.
Jun 08, 2019
great stay people super friendly helped me out with tv proplem
May 31, 2019
The staff was very friendly, the laundry room and campsites were clean. Nice store to buy campfire wood and many other items.
May 29, 2019
It was a great stay.
May 28, 2019
We really enjoyed our stay. The bathrooms were really clean and seemed to be stocked well. All the employees we interacted with were very nice.
May 28, 2019
Very friendly staff. They even helped with problems with the awning on our camper. Nice pool, playground and dog park.
May 25, 2019
Great bike trails in Bemidji. Campsites were large. Clean showers. Polite and friendly staff.
May 25, 2019
Very nice facility. Clean bathrooms and helpful staff. Would definitely stay here again the next time we pass through.
May 24, 2019
Nice friendly people that own it, and the workers. Very clean place.
May 24, 2019
extremely friendly and helpful host and hostess. Campground was exceptionally clean and well tended.
May 23, 2019
Standing water 4 inches deep around sewer and electric. Trains right next door. Blow horns. Rattle thru. Maybe better in drier weather. Bit off the highway. Disappointing.
CAMPGROUND RESPONSE / COMMENTS:
I believe you have the wrong campground we do not have any trains by us.
May 14, 2019
Needs exit signs within park. New person at front desk, took three times longer than necessary, then called for help.
Oct 24, 2018
stayed two nights. at that time of the year was quiet in the park. if in the area would stay there again
Oct 19, 2018
A might cold but had a great time!
Oct 19, 2018
Received a phone call on the day of our arrival that KOA Bemidji had closed early for the season; however, our reservation would be honored and we would have water and electricity. This was very helpful.
Sep 22, 2018
Great, helpful owners, nice sites.
Sep 19, 2018
Clean, quiet and roomy. Great service by the on site personnel. With excellent WiFi and cable, what's not to like?
Sep 18, 2018
friendly hosts and nice quiet layout for the campground with plenty of fairly large pine trees
Sep 17, 2018
Our third time at Bemidji KOA, guiet, relaxing, serene, staff and fellow campers are friendly and welcoming. We will camp here again.
Sep 16, 2018
camp sites nice size, clean, and very attractive. We have pets so the pet area was very spacious and they loved it. owners very friendly and accommodating.
Sep 16, 2018
Nice peaceful campsite. Didn't use the facilities
Sep 13, 2018
Enjoyed our stay there. Everything seemed well maintained and the staff was friendly and helpful.
Sep 13, 2018
Friendly atmosphere. Quiet
Sep 13, 2018
Good stay, just wish the woul keep pool open longer in the fall.
Sep 12, 2018
Nice campground, quiet
Sep 12, 2018
Other than the noise from the airport, I enjoyed my stay. At least the noise level was tolerable and no worse than being near train tracks!
Sep 11, 2018
very nice koa we had a nice spot and lots of shade, the staff was very nice