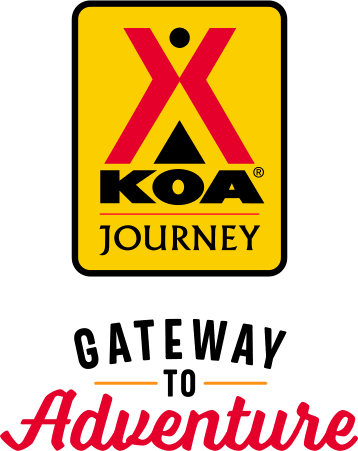 KOA Journey Campgrounds
KOA Journey campgrounds are the perfect oases after a day on the road. Whether it's along the way or a quick getaway, they've got you covered. Located near the highways and byways of North America with long Pull-thru RV Sites, they deliver convenience to the traveling camper. Pull in, ease back and take a load off.
KOA Journeys Feature:
Pull-through RV Sites with 50-amp service
Premium Tent Sites
Well lit after hours check-in service
Directions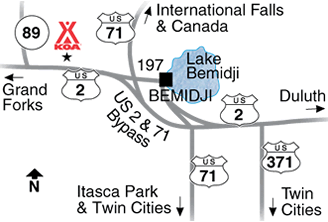 1 mile west of Bemidji, north side of Hwy 2. Between mile marker 109 and 110.
Get Google Directions
Oct 06, 2020
The hosts very kindly accommodated us on the last day of their season...plus one more night! We had a couple of brief pleasant visits with them. The women's restroom was charmingly personalized with custom painting on the stall doors and mirrors. Disappointingly, the shower floors were slippery and their was no soap dish of any kind.
Sep 18, 2020
Beautiful setting.
Sep 14, 2020
Campground was clean, but very dated. Staff seemed worn out and grumpy. We were chewed out by two separate staff members for having lost two golf balls while playing minigolf. I felt like giving them $2 in cash so they'd lighten up. Sites crammed together. Highway noisey. Will not return.
Sep 14, 2020
We love the area & lakes. Campground is very clean & well cared for. The amenities are great. Service was excellent too. The staff are very accommodating. My only complaint is slow internet & needing to log back in multiple times.....We will definitely stay again.
Sep 13, 2020
Very friendly employees who went out of their way to answer any questions and provide assistance when needed. The grounds were easily accessible and well maintained
Sep 11, 2020
The site was great. The campground was very clean, well maintained and the staff was great .
Sep 11, 2020
Away from Hwy 71 but easy access to town Hwy 2. Level sites, just wish there was a little more space between our site 11 and the off door site which kept suitcases and a wheelbarrow outside. Campground is well maintained, large fenced dog park, playground, pool, mini-golf, badminton and volleyball. Clean laundry.
Sep 08, 2020
The stay was ok, sites are so close together and their wood was very wet. Don't buy wood from them for your campfire. One of their deluxe sites is a joke, site 6 avoid at all cost. Just a regular site with a tiny patio. Employees drive their golf cart steady around the park. Makes on feel like they are trying to catch you doing something wrong.
Sep 08, 2020
Great staff, location and service.
Sep 08, 2020
Very relaxing place to stay.
Sep 07, 2020
First time staying in this koa. Very nice place. Easy access to hiway clean facility.
Sep 07, 2020
Great location. Clean and roomy with treed lots. Good internet and cable. Great friendly service staff too.
Sep 06, 2020
Very nice. Large sites with cement pad adjacent for steps and chairs. Clean. Kind of odd but in men's shower/restroom only one of the sinks has a faucet to allow water temperature control. So one person shaving at a time if you use their facilities.
Sep 02, 2020
The KOA is conveniently located. Clean, staff was friendly and helpful.
Sep 01, 2020
We used the site as a base to see and hike around Lake Bemidji see the town of Bemidji, and up to the Itasca State Park and the headwaters of the Mississippi. Site was fairly level with good access to the utilities. WiFi was extremely slow but not unusual for KOA campgrounds. Staff was very friendly and accommodating.
Sep 01, 2020
Nice park, friendly staff...clean!
Sep 01, 2020
Everything was really nice. Sites were a little tight and you're really close to your neighbor but besides that everything was wonderful and the staff was wonderful.
Sep 01, 2020
Pleasant place. Plenty of room in between campers.
Aug 31, 2020
The Bemidji KOA was so incredibly clean. It was impressive! Eileen was so kind and welcoming. She is a gem!
Aug 31, 2020
We were at site 25. It would have been nice that the tree root was ground down to prevent tripping at night. We definitely would stay again.
Aug 29, 2020
Need to distance camper sites better
Aug 26, 2020
The laundry room was adequate. I don't understand why no one thinks to put some type of a rod in the laundry room for handling clothes. So simple to do.
CAMPGROUND RESPONSE / COMMENTS:
There is actually 2 rods above the doors.
Aug 25, 2020
Had a great time, everyone was very accomadating, good deals in the store, fun mini golf, we'll go back
Aug 24, 2020
Our stay was amazing:) staff is great! Grounds are clean. Every thing was amazing
Aug 24, 2020
Nice place to stay. Little store had what we needed and then some. Friendly staff, they even deliver your food to your site if you happen to order any food from them. They also deliver your fire wood at no extra cost unlike some of the other places we've stayed at.
Aug 23, 2020
Wonderful camp site. The entire KOA was kept clean and tidy. Staff was always helpful and available.
Aug 23, 2020
Nice place to stay, helpful and peaceful place.
Aug 21, 2020
Friendly workers, nice camper neighbors.
Aug 20, 2020
Nice clean Campground and a very friendly and helpful staff.
Aug 20, 2020
2 nights stay. Very helpful personnel. Got our TV working for us
Aug 18, 2020
Great place to stay with kids. We enjoyed the pool, mini golf and other games. The WiFi was spotty, but that is our only complaint. Very friendly staff, helpful and cheerful. COVID safety procedures were in place and we felt safe with our kids. Thank you!
Aug 17, 2020
We enjoyed our stay and will go again. 1st time at a KOA. Check-in was easy and the employee that led us to our spot was very helpful and pleasant. The campground was clean. Pool area was clean. When you can, the miniature golf needs to be updated. We were very pleased with our stay.
Aug 17, 2020
Playground was outdated and small. Our fire pit was a hole in the ground with no perimeter. You could easily Fall in it.
Aug 17, 2020
The campground was very well run our son loved the pool. The campsites were a little narrower than other campgrounds and we were unable to extend our awning because trees were to close but that was really the only negative.
Aug 17, 2020
Justin was awesome. He helped us get into our site when we arrived after dark. We were on our first trip (newbies!) and had some difficulty maneuvering our trailer. Lifesaver. Otherwise, very pleasant stay. We will return.
Aug 17, 2020
Everything was awesome but the WiFi drops all the time that was a big pain but everything else was great!