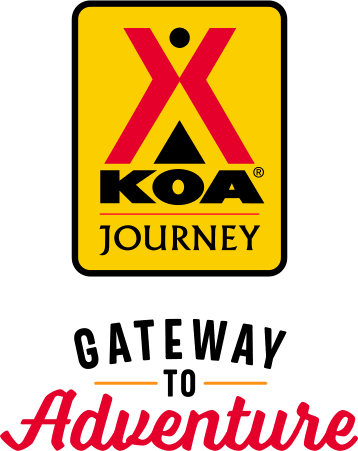 KOA Journey Campgrounds
KOA Journey campgrounds are the perfect oases after a day on the road. Whether it's along the way or a quick getaway, they've got you covered. Located near the highways and byways of North America with long Pull-thru RV Sites, they deliver convenience to the traveling camper. Pull in, ease back and take a load off.
KOA Journeys Feature:
Pull-through RV Sites with 50-amp service
Premium Tent Sites
Well lit after hours check-in service
Directions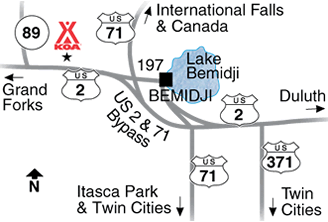 1 mile west of Bemidji, north side of Hwy 2. Between mile marker 109 and 110.
Get Google Directions
Jun 16, 2021
The staff was super friendly! I had made a mistake with my reservation and they were so kind to help us fix it and we ended up getting just what we needed! My daughter had a great time in the very clean pool. Will for sure stay here every time we are in Bemidji. Thanks!!
Jun 16, 2021
Very nice - only downside was the area is in a drought and it was very dusty - some dust control on the road would be nice.
Jun 14, 2021
Easy campground to stay, great for families!
Jun 14, 2021
Staff was super friendly. Campground was clean quiet and we had a great time. Will go again!
Jun 14, 2021
Very kind, helpful staff and owners. Nice, clean, quiet campground. Easy in/out pulling our unit. Pool was refreshing in the heat. Trees provided nice shade!! The only reason for 4 stars instead of 5 is because of price. KOA's are always more expensive per night than other campgrounds that are just as nice with the same amenities.
Jun 13, 2021
Friendly staff. Clean facilities. Warm pool. Happy campers
Jun 13, 2021
Very friendly and helpful,Thanks
Jun 11, 2021
Very friendly staff, new management. They are keeping the grounds very clean and again very friendly
Jun 10, 2021
The campground was clean, restroom spotless. Treated well by man attending office. I was very impressed when I called to make reservation.
Jun 09, 2021
Spent 4 days decent location to vist the area from. Pool was open and clean. Bathrooms were always spotless. People were very friendly and nice.
Jun 08, 2021
Way over priced! not much there to pay that much
Jun 08, 2021
great place to visit
Jun 07, 2021
Met our expectations
Jun 07, 2021
Beautiful campground. Well maintained. Nice facilities. Sites are level and wide with picnic tables, fire rings and a few nice trees. Lots of cable TV Channels.
Jun 07, 2021
Loved the campgrounds, the friendly staff and the Kamping Kabin. However, our cabin had no cross ventilation and it was 100° that weekend. It took hours for the cabin to cool down enough to comfortably sleep. Suggestion: find a way to use that front window!
Jun 07, 2021
Very friendly and clean!!!! Very easy to park your camper and easy hook ups.
Jun 04, 2021
Only thing to many dogs that barking when people leave them locked up in the camper.
Jun 04, 2021
We only stayed 1 night. The staff was very friendly, the park was neat and clean. I did laundry because the rate was so reasonable out of the 5 KOA's we had stayed in over the last few weeks.
Jun 04, 2021
Campground is under new ownership. They plan on upgrading the place substantially. The campground is nice as is. We stayed at a full hookup pull thru patio site with a pull behind toy hauler. The place is clean and everything works as advertised. I cannot say enough about the friendliness and promptness of the new owners. We are planning on having a family event here in the future.
Jun 04, 2021
Basic campground; roads and sites are gravel/sand and had some trouble leveling, but very nice people at check in, and Bemidji is a neat town to spend time in. Had a great time.
Jun 03, 2021
This was an amazing KOA to stay at. We loved the staff and found them to be warm and welcoming. The grounds were well kept. We loved the bikes that we were able to rent. We will definitely be back to this one!! If we had to request one thing to change it would be the WiFi...it was slow and always kicked us off. But we find that to be a minor thing. It was a pleasant experience!!
Jun 02, 2021
Very clean and welcoming. Great place to stay.
Jun 02, 2021
Nice level sites and hookups but the entire campground has an ant problem. Staff was competent and courteous.
Jun 02, 2021
Very Friendly, kind, caring staff. Nice, clean facility. Easy access and environment.
Jun 01, 2021
Very clean campground. The staff were friendly and helpful. The campsites were good sized and most other campers were friendly and respectful. The noise level was quiet at night. The pool was clean and in good shape, and my kids LOVED the pedal carts and the playground!
Jun 01, 2021
We had a great time! Pool was great, mini golf was so bad that it was good LOL Our dog LOVED the Kamp K9! Friendly staff and clean facilities. Would definitely come back.
Jun 01, 2021
Nice campground clean sites roomy not on top of the next site. Pool playground was well kept bathrooms clean.
May 30, 2021
This campground was under new management. They are extremely friendly and very helpful. Very clean and well kept. Will definitely be returning!!
May 29, 2021
Great place. Clean friendly and helpful we will definitely return. You should go.
May 28, 2021
It was short, but the staff was very pleasing and helpful and will stay again.
May 25, 2021
older park but very clean, peaceful (other than Highway 2) but far enough away that the traffic is not disturbing. and very friendly and helpful staff. For a dated park the bathrooms are kept exceptionally clean, and maintenance and upgrading was evident. Enough staff so that it seems you can get help at any time during "business hours" but not too many where you feel you are being "monitored".
May 23, 2021
Dennis and all of the staff were unbelievably helpful and service oriented. They helped to make our stay extremely enjoyable. I highly recommend this KOA.
May 23, 2021
Great campground. Staff was very pleasant...led us to our spot and had a real nice talk with him. He didn't just drop us off and leave. Lots of things to do there...pool, bikes to ride, play area. Nice and quiet. Great place.
May 20, 2021
Nice location but needs a lot of work I know they just bought it and they're doing their best staff was pleasant
May 18, 2021
Very sandy soil and buggy
May 18, 2021
It was early in the year there wasn't a lot of things open in the area, the wonderful family of hosts were very accommodating and did all they could to make it an enjoyable stay for the whole fam � we will definitely be visiting again!
May 17, 2021
Very family friendly and pet friendly campground! Bathrooms with showers were very clean. Nice areas for dogs. Kids enjoyed volleyball, horseshoes, and mini golf…but the bikes were their favorite. Ownership was extremely nice and helpful. They went above and beyond: called ahead to warn of hwy construction, helped when my dog escaped, and more. Great family atmosphere!
Jun 01, 2021
Very nice and clean campground. The staff are friendly and helpful. Noise level is low at night. Fun play area and the pedal carts were my kids favorite! Campsites are decent sized and kept clean. The pool was clean, and in good shape. Overall, a great place to stay!
- nathan willette on Google
May 30, 2021
We just left there due to a problem with our daughters camper. The new management was very accommodating and offered to assist us with the problem. We have been to this KOA before and love this campground. Our spot was very nice and close to everything. Even though it is close to airport and the road (as most KOA's are conveniently located and easy to find) the large planes do not fly at night and the sound of the road is minimal at night. The campground was active during the day but quiet at night. We enjoyed our trip even with our camper problem and will definitely return again. Thank you to this KOA!!!
- Sue Cleary on Google
May 16, 2021
Very family friendly and pet friendly campground! Bathrooms with showers were very clean. Nice areas for dogs. Kids enjoyed volleyball, horseshoes, and mini golf…but the bikes were their favorite. Ownership and staff were extremely nice and helpful. They went above by calling ahead of time to let me know about construction in the area, and offered for me to call if I needed help finding/getting in due to construction. Our dog ended up escaping, and the owner's family were all out there to help. They were all great, and super friendly. Will definitely return when in the area!
- Rhonee Freeman on Google